Just Add Water Camping Food: The Easy Way to a Camp Meal
Who hasn't been there: Tired after your hike or afternoon trip, and you're looking for a quick way to get sustenance. Get those taste buds fired up because today, you will learn how to. Get ready because we're about to plunge headfirst into quick-and-easy camping cuisine.
No, this isn't just your everyday educational series. These recipes are all about fueling your body, but they're even more about elevating your outdoor dining experience. We've covered what every camp dinner looks like. Now, picture this: dining under a blanket of stars, savoring flavors that will make your taste buds do a happy dance.
5 just add water camping food recommendations
Finally, a quick and tasty delight: Step into the tantalizing world of just add water camping cuisine. This is a place where convenience meets flavor. These are the ideas that are tailor-made for adventurers; they offer nourishment and excitement amidst the great outdoors.
1. Instant Noodle Bliss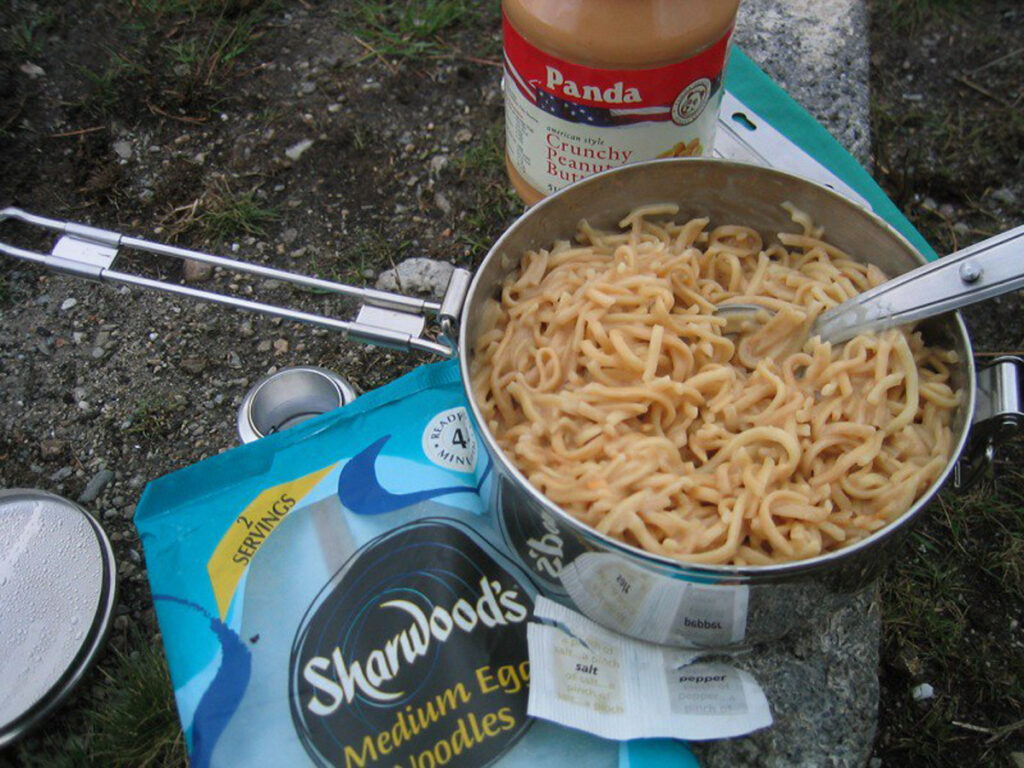 Originating from the bustling streets of Asia, our Inoodles bring the flavors of far-off lands to your campsite. These dehydrated noodles are the embodiment of convenience, requiring a mere few minutes of your time.
Now, how can one prepare them at camp? Just add boiling water to the pouch, and within no time, a steaming bowl of savory noodles awaits you. What about the taste? Unmistakably delicious, it is a fusion of savory and slightly spicy notes that tantalize your taste buds.
If you ask us, it's a perfect go-to choice for campers, hikers, and backpackers who need a quick, hearty, and compact meal to keep them energized during their adventures.
2. Couscous Concoction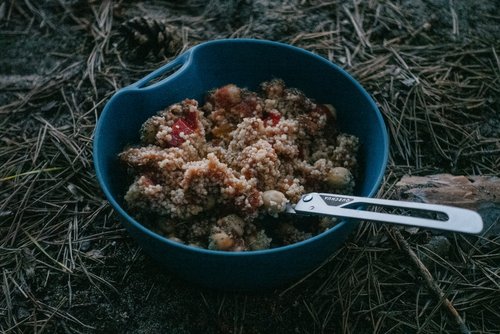 Now, this is a camp favorite. Derived from the traditional dishes of North Africa, our Couscous Concoction is an exotic camping feast in a pouch. Dehydrated couscous forms the heart of this flavorful, vegetarian delight.
As you might expect, preparing it is a breeze – just add hot water, seal it up, and let the magic unfold. In a matter of minutes, you'll be savoring a fluffy, aromatic couscous, ready to complement your adventure.
It doesn't matter whether you use it as a side dish or make it the star of your camping meal; its ease of preparation and rich, aromatic taste are what make it so special and versatile. This is why it is a must-try for campers everywhere!
3. Oatmeal Magic
I mean, who doesn't love oatmeal? We sure do! The roots of our Oatmeal Magic lie in the hearty breakfasts of North America. Since forever, oatmeal has been offering campers a wholesome and energy-boosting start to their day.
You know you've tried it. It's because this morning's delight is incredibly easy to prepare – just open the pouch, add water, and witness the oats swell and absorb the moisture. That's what we call a warm and nourishing bowl of oatmeal.
The taste is comforting, with a natural sweetness that comes from the oats themselves. That is why it is a top choice for campers who need a hassle-free, nutritious meal to kickstart their day.
4. Mashed Potato Perfection
Campfire classics get an upgrade with our Mashed Potato Perfection. What is that, you might ask? Just plain instant mashed potatoes. Dehydrated mashed potatoes are not just that, they offer you a great way to nourish yourself.
If you ask us, they are a game-changer for campers craving comfort food in the wilderness. Preparing this dish is as easy as it gets – just add hot water, give it a good stir, and you'll be rewarded with creamy and delicious mashed potatoes.
They pair perfectly with any camping dish, adding a touch of familiarity and warmth to your outdoor dining experience. For campers, it's the ideal solution!
5. Rice Ready-to-Eat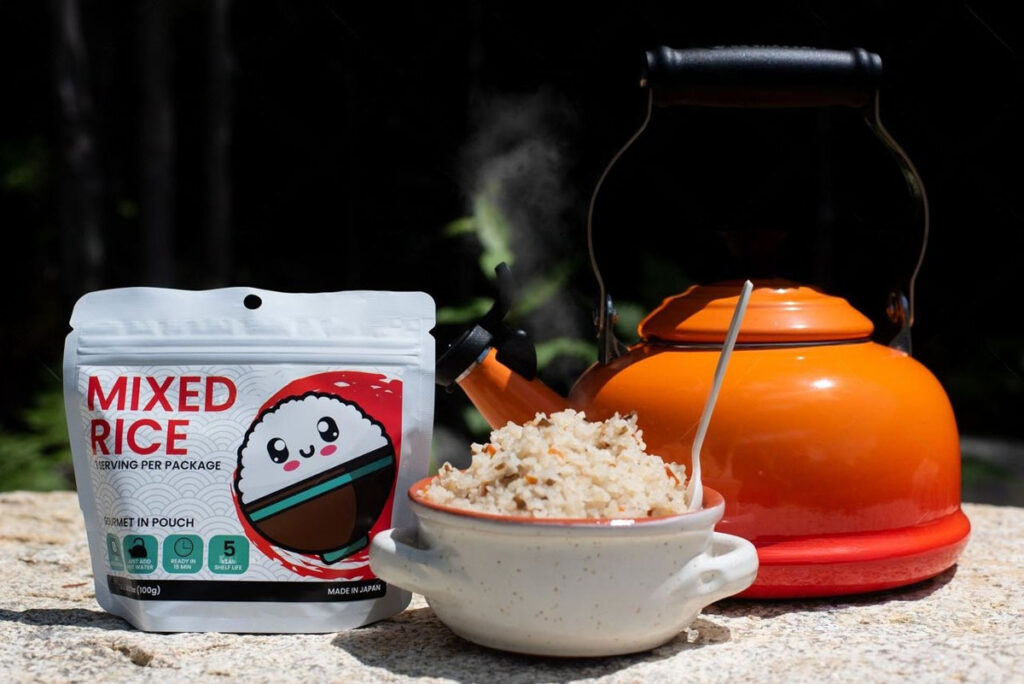 Now, this one is delicious and simple to make, a true just-add-water staple. The beauty of this dehydrated rice is its convenience. Simply add boiling water to the pouch, seal it, and let the rice absorb the liquid.
In just a few minutes, you'll have fluffy, perfectly cooked rice to accompany your outdoor meals. What's the best part? Say goodbye to the hassle of traditional rice cooking while on the go and welcome the flexibility of this camping essential.
Experience the delectable flavors of our Freeze-Dried Dehydrated Japanese Gomoku Mixed Rice, offering a delightful meal option for your camping and backpacking adventures. This versatile food is ideal for on-the-trail dining or a convenient and speedy meal at home.
These "just add water" camping food ideas not only save you precious time but also deliver delectable flavors that enhance your outdoor dining experience. So, adventurers, get ready to elevate your camping culinary game and savor every moment of your wilderness journey!
Just Add Water Backpacking Recipes You Need to Try
Camping doesn't do it for you? Do you want to carry your sleeping gear on your back? No worries, with these recipes right here, you are sure to keep your pack weight low. We are here to help you discover the realm of delightful backpacking recipes.
They require nothing more than a dash of water to transform your outdoor experience into a gourmet adventure. Stay tuned because these four delectable dishes are tailor-made for intrepid souls seeking nourishing and flavorsome sustenance during their wilderness escapades.
1. Chickpea Delight
Now, we will cover the amazing delights of couscous, inspired by the rich flavors of Middle Eastern cuisine. This dish offers campers, hikers, and backpackers a quick and convenient source of protein and flavor. You might not expect it, but this dish is packed with protein.
It is easy to prepare, simply pour hot water into the pouch, seal it, and let the chickpeas absorb the moisture. You can make it in just a few steps, in around 2 minutes. It is a true canvas for any culinary creations in the wilderness. You can add it to all kinds of meals, from spiced stews to savory salads.
2. Ramen Revival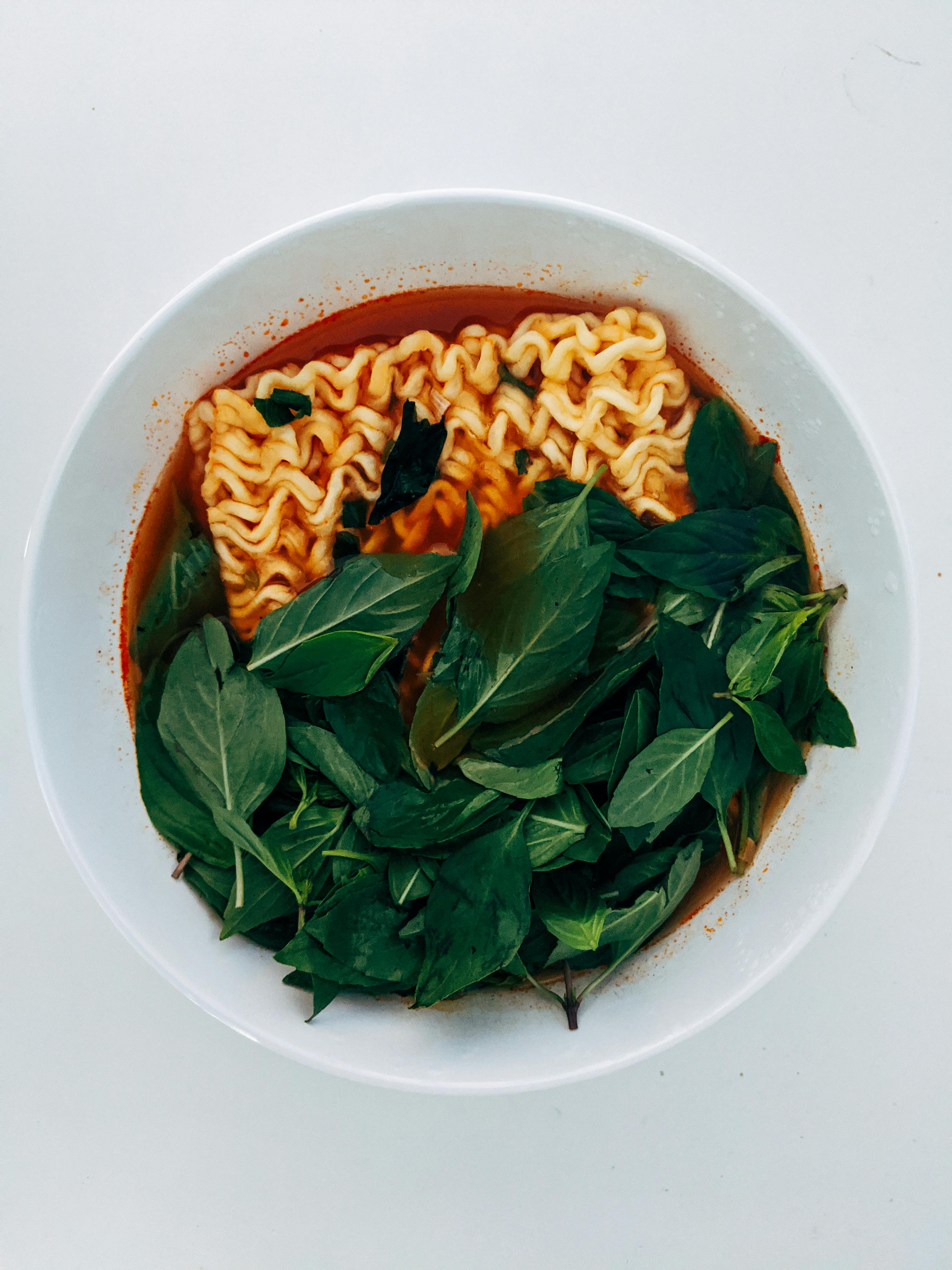 Now, this is a true staple, not just for campers. These dehydrated noodles are a beloved staple for backpackers and families alike. They are perfect for those looking for a quick and flavorsome meal on the trail.
Preparing it couldn't be easier! All you have to do is just add hot water to the pouch, wait a few minutes, and behold a piping hot bowl of savory ramen. It's the quintessential comfort food for your outdoor escapades. But what is it like? We don't have to remind you that the taste is an explosion of umami flavors.
3. Pasta Pleasure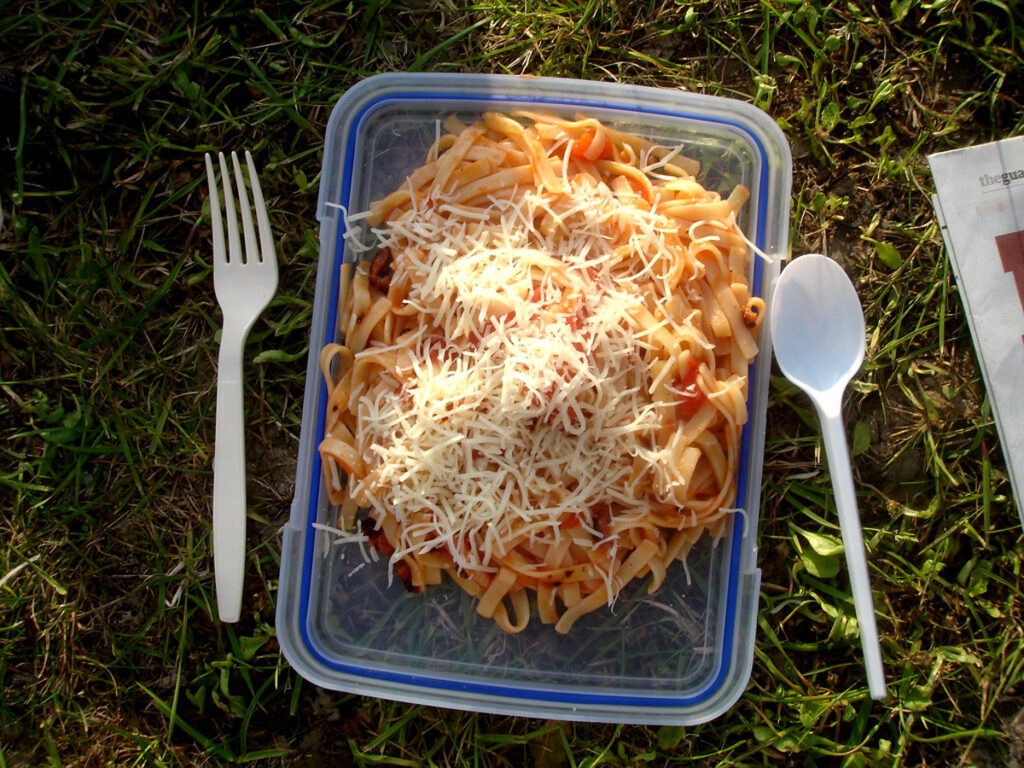 Our Pasta Pleasure is a nod to Italian cuisine, providing campers with an authentic taste of the Mediterranean. Tailored for those with discerning palates, this dehydrated pasta is a cinch to prepare. All you have to do is simply open the pouch, add boiling water, and let it sit for a brief duration.
You are sure to find a delectable plate of perfectly cooked pasta. Pasta goes with everything. It doesn't matter whether you're in the mood for a classic marinara or a zesty pesto, this dish accommodates your gourmet desires.
4. Legume Luxury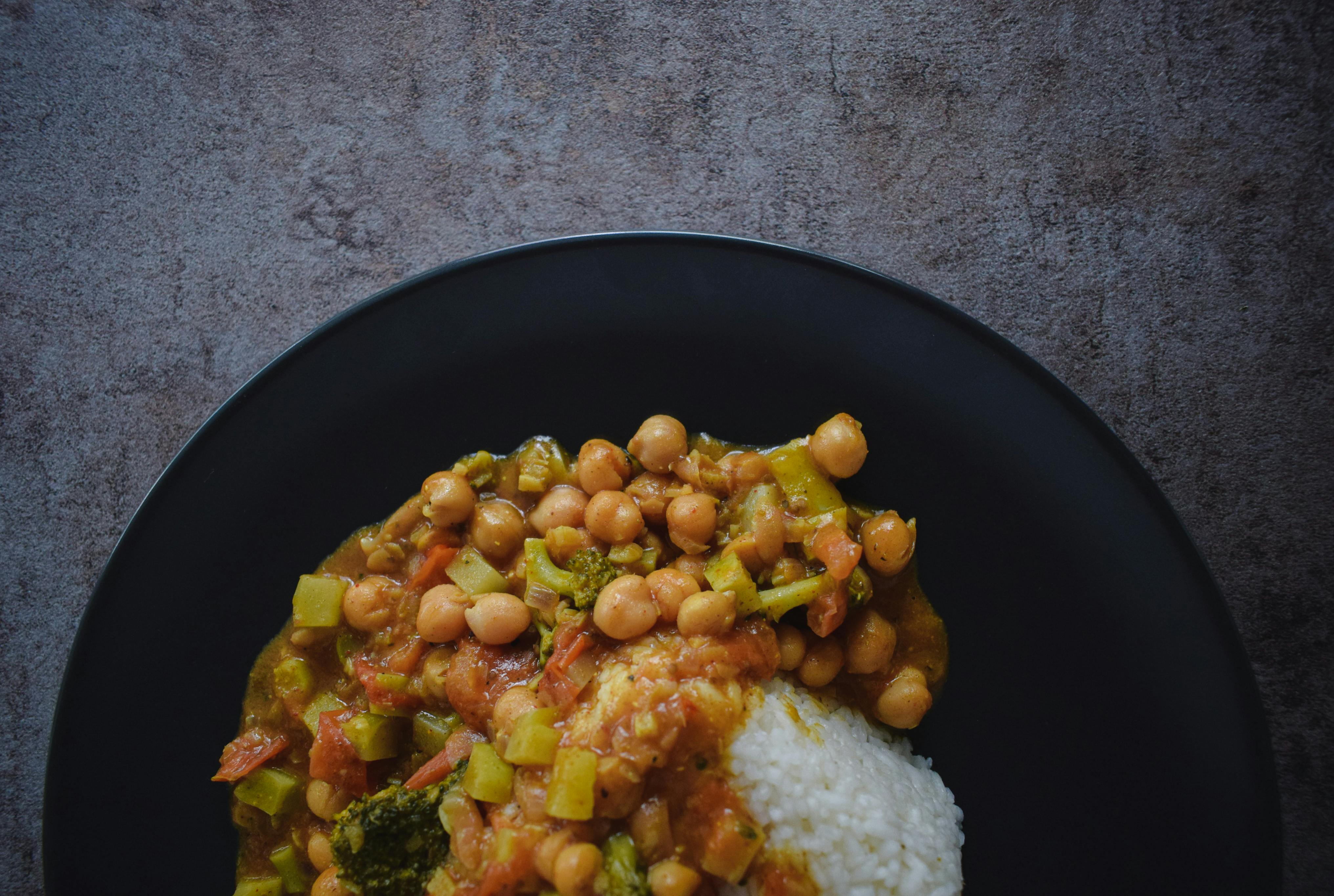 Now, this is a simple but luxurious idea. It is a versatile addition to your backpacking menu. Derived from global culinary influences, this dish opens the door to a world of hearty flavors. There is no part of the world that doesn't cook with legumes, and your campsite should be one of them, too.
Preparation is a breeze – open the pouch, add boiling water, and let these legumes soak up the liquid. In just minutes, you'll have a nourishing and robust dish. Be it that you're serving them as a side or main, this is a wholesome camping meal. It's perfect for campers who value the ease of preparation.
What foods can you just add water to?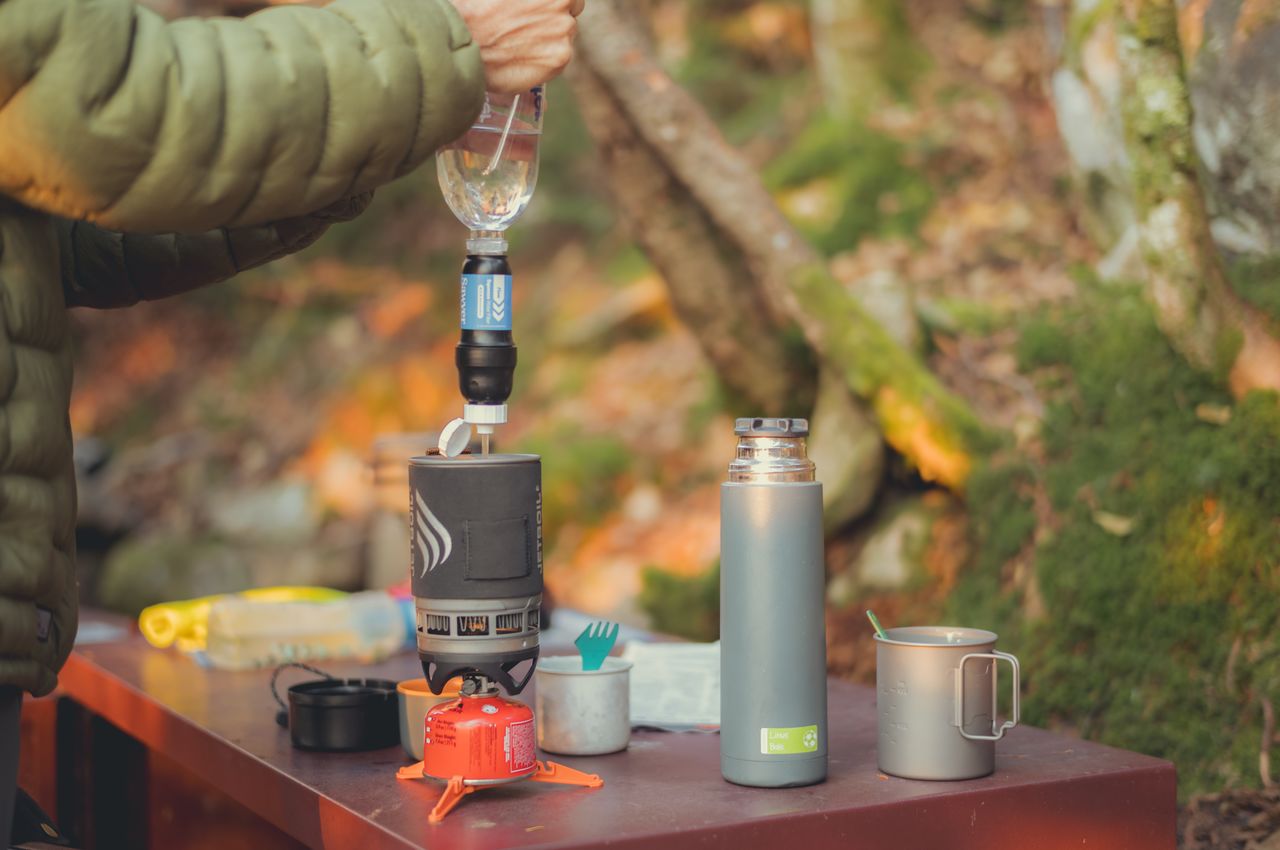 Ah, the beauty of convenience in the wilderness! When it comes to foods you can simply add water to, freeze-dried delights take the cake. Imagine savoring a hot bowl of hearty soup or a steaming plate of pasta—all with the magic touch of water. These lightweight, space-saving wonders include everything from scrambled eggs and oatmeal to lasagna and curry. Just add water, wait a bit, and voilà! You've got yourself a gourmet camping meal fit for adventurers like you.
What meals can you make with just a kettle?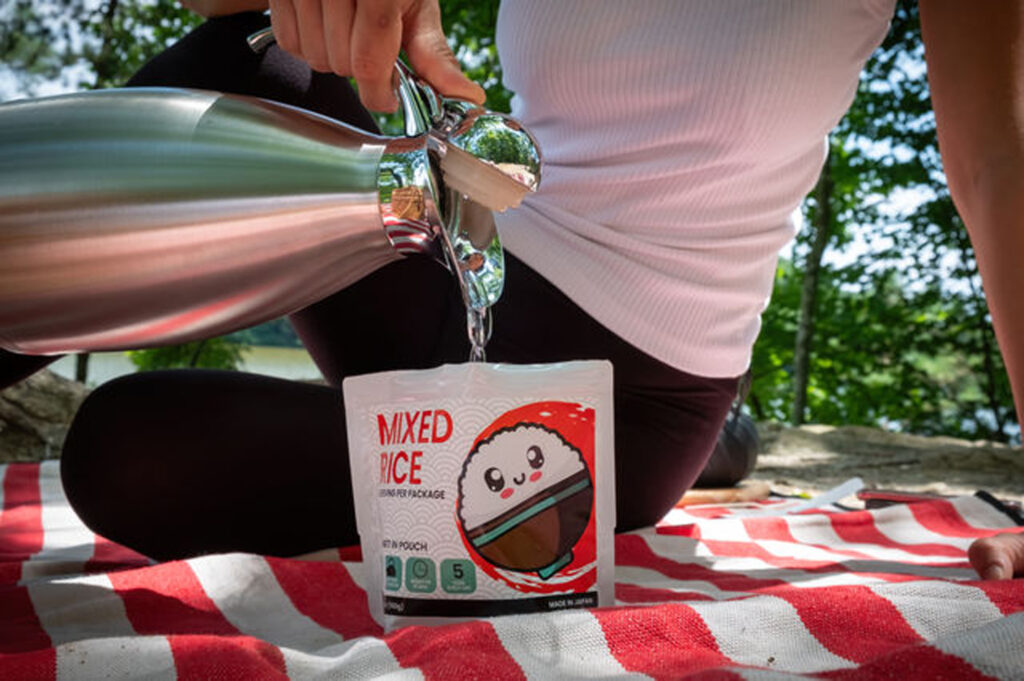 Well, if you've got a trusty kettle at your campsite, you're in for a treat. You can whip up all sorts of culinary delights with just a kettle and a dash of imagination. Think instant noodles, couscous, or even a delightful cup of cocoa to warm your adventurer's heart. Don't forget the instant coffee for those early morning wake-up calls. So, adventurers, with a kettle in hand, you're not just making hot water; you're making memories and satisfying those outdoor cravings. Cheers to culinary creativity in the great outdoors!
Conclusion
These camping food ideas are guaranteed to tickle your taste buds and fuel your adventures. In fact, they grace our campfire menu almost every month.
Whether you're conquering the rugged trails of the Rockies or having a laid-back backyard campout with friends, one thing is for sure: your hunger will be vanquished, and your taste buds will rejoice!
But remember, it's not all about the food. The great outdoors is about forging connections with nature, creating unforgettable memories, and sharing stories around the campfire. So, go out there, adventurers, explore, savor, and make those camping moments unforgettable!
Made with 100% Japanese rice
Authentic taste of Japanese cuisine
Tasty freeze-dried meal
Add hot water. Ready in 15 minutes