44% OFF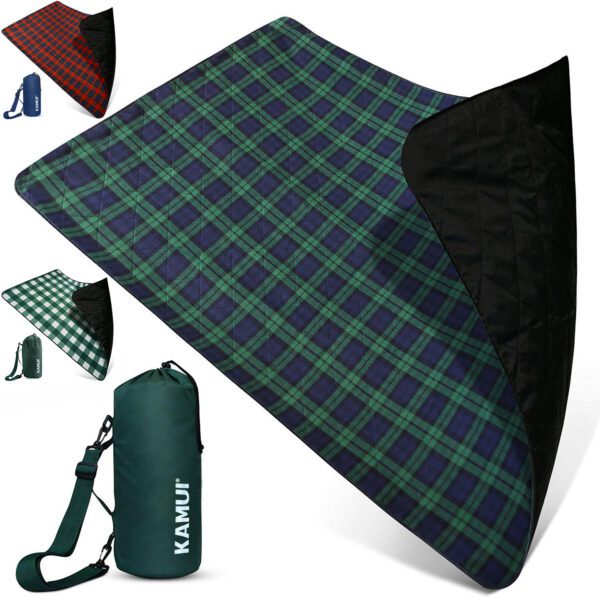 Outdoor Blanket

– (92 Reviews)
KAMUI outdoor blanket can be great for carrying to any of your family picnic adventures. Our waterproof fleece blanket will provide comfort while you are enjoying the outdoors with your loved ones.
Designed to provide comfort for your family picnic with a waterproof backing. Grab our blanket and plan your next picnic or camping adventure.
Orders over $25 qualify for FREE standard shipping and will arrive within 2-7 business days.
All purchases come with our no questions asked 30 day return policy.
Description
When compared to many other picnic blankets on the market, KAMUI outdoor blanket best provides multiple benefits for families who love the outdoors.
High-quality 200D nylon waterproof material can assure you that your belongings will stay dry. Liquid, sand, and dirt can be easily wiped off for easy maintenance.
Cleaning KAMUI outdoor blankets can be effortless after you enjoy any outdoor experience. All you need to do is to load it to your washing machine and enjoy the backstories of your adventures with the family.
Our product is perfect for 2 to 4 people as it has 79 X 55 inch (201 X 140 cm) properties, so more people in the group can share the comfort.
In case it is cold outdoors, you can also use it as a wrap-around blanket, which is usually enough for 2 adults.
KAMUI blanket is a perfect companion for your next picnic adventures when it comes to transportability. With a maximum of 14.5" (36.8 cm) in length and 6.2" (15.7 cm) in diameter.
Also, as it comes with a carrying bag, our transportable blanket will always be handy when you need it.
FAQ
What kind of blankets are good for the outdoors?
An outdoor blanket should be made of quality materials, has a waterproof backing, easily rolls up into a carrying case, and is portable to bring to many outdoor activities. Read more features to consider when buying one here.
What blankets are good for a picnic?
A picnic blanket should be soft and insulating. The top layer is usually made of fleece, and the bottom layer is made of waterproof fabric like nylon to keep you protected from moist surfaces during picnics. In this article, find out other qualities you should look for in a picnic blanket.
What is a good size for a picnic blanket?
It is essential to consider a blanket's size to ensure everyone's comfort when planning an outdoor event. We came up with a size chart for you to quickly decide which blanket size to select. Check it here.
How does a waterproof blanket work?
A waterproof blanket will keep you dry when sitting on wet grounds because the bottom part is made of a water-resistant layer. It can also double as a portable blanket to keep you warm and protected during a cold or rainy day. You'll find the other uses of an outdoor blanket in this article.
How do you wash waterproof blankets?
Put your waterproof blanket in the washing machine, and choose the lightest setting. If you don't have this setting, try putting it on the most gentle cycle, like cold water wash or delicate cycle. Please read the complete steps and the proper care for it here.
What material is a picnic blanket made of?
Most blankets are fleece, acrylic with cotton blends, nylon, or a combination of these three materials. Fleece blankets offer a lot of comfort through insulation and are soft and fuzzy. It is quick-drying, machine washable, lightweight, and breathable. Find out more here.
Additional information
| | |
| --- | --- |
| Color | Blue and Green, Blue and Red, Green and White |