What is the Most Comfortable Folding Chair: 2023 Buyer's Guide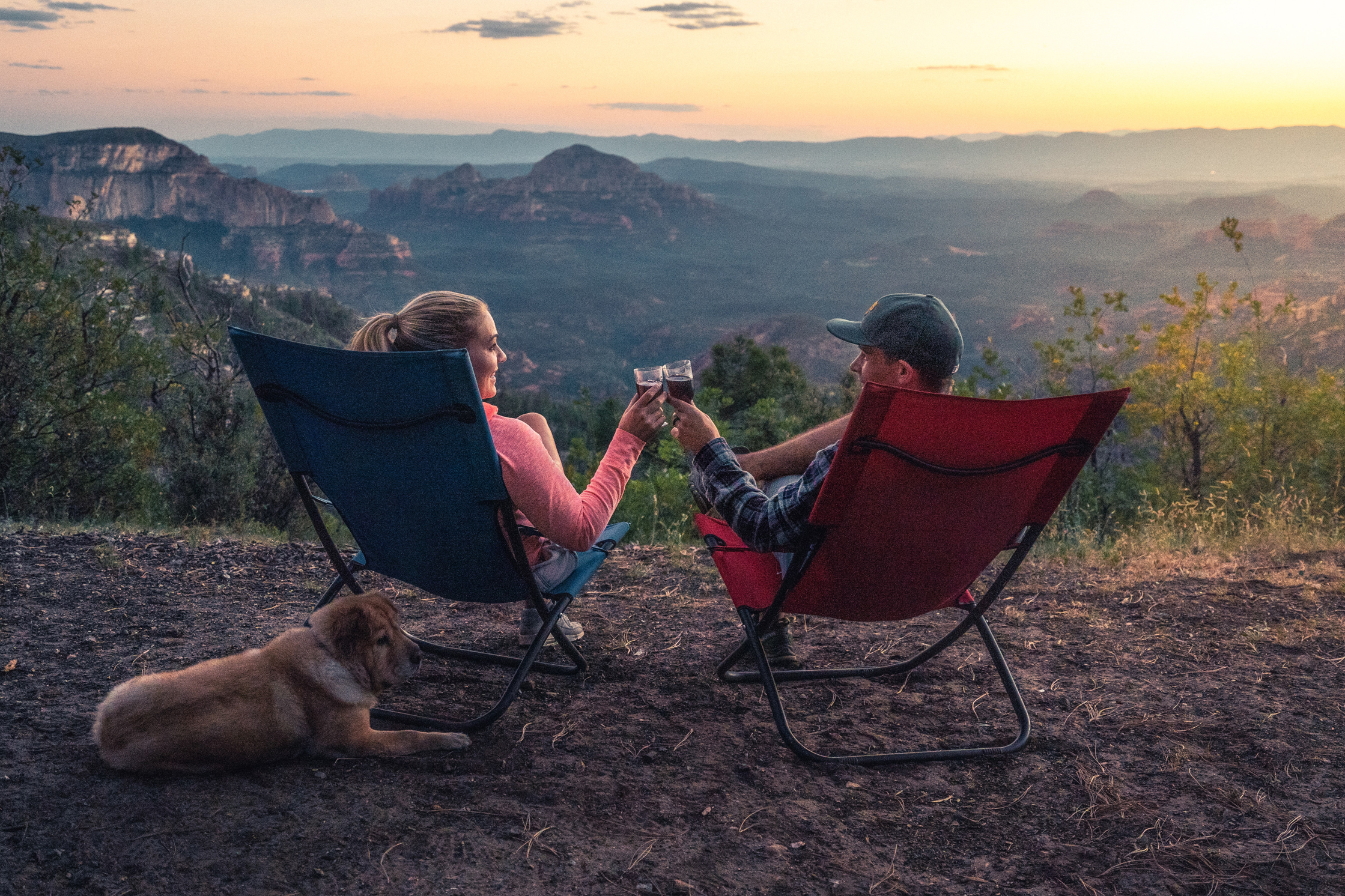 Most people's aversion to spending time outside is the lack of comfort. Having the most comfortable folding chair can change that perspective and enhance even the most veteran outdoor enthusiast's experience.
Luckily, folding chairs are multifunctional and can improve an individual's sporting event, concert, tailgate, or beach experience. We've compiled a list of factors you should consider when searching for a folding camp chair. We took it one step further by sharing the pros and cons of the top 5 chairs on Amazon and a few frequently asked questions. Let's take a look at what makes a camp chair comfortable.
What Should I Consider When Purchasing a Folding Chair?
There are several factors to consider when purchasing a comfortable folding chair. It's important to have a chair style in mind, although you might choose it based on other characteristics. Refer to this guide to see our quick recommendations.
The dimensions, portability, material, capacity, complexity, and additions or extras are essential characteristics to consider. We'll break down the important aspects of each characteristic and questions to ask regarding each.
Styles of Camp Chairs
There are many different styles of camp chairs for you to choose from. Some types are more practical than others, easier or more challenging to set up, and more or less expensive. Look at the different options and choose which style would be the most comfortable folding chair for you.
Classic camp chairs: A classic camp chair has four legs creating a similarly broad, stable base. They're generally stable and high enough for you to sit and stand easily.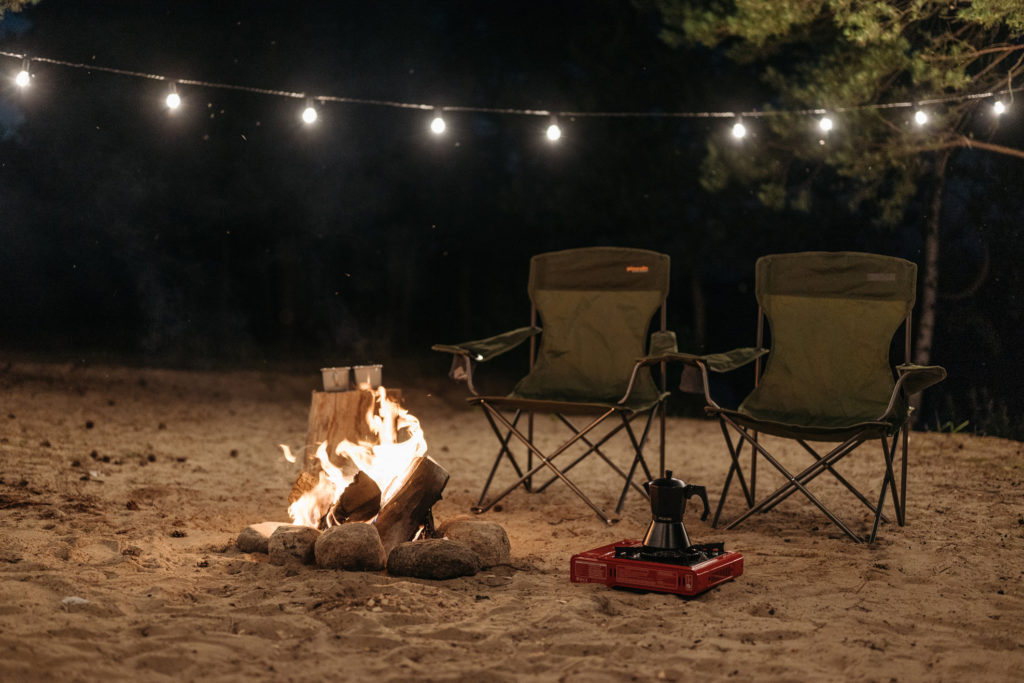 Low chairs: Low chairs sit closer to the ground, making them perfect for uneven surfaces like sand. The distance between the ground and your buttocks is only a few inches, so getting in and out of these chairs can be challenging.
Loveseat: A folding chair that opens up to seat two with a back and armrests. Similarly, you can also purchase a folding bench similar to a loveseat but doesn't include armrests or a chair back.
Oversized Chair: These are extra-large folding chairs designed for the campfire. They're great for anyone looking for a bit of a sturdier option.
Rockers and gliders: Rockers and Gliders work great for folks who can't help but tip in their classic camp chairs. These chairs are best used on even ground.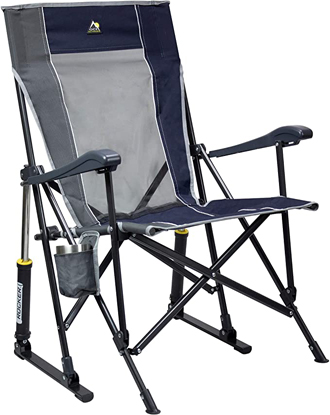 Suspended chairs: With these chairs, no even ground is needed! The seat hangs from the frame and is hammock-like in comfort and usability.
Three-legged chairs: A camp stool with a lean back that saves space and weight when backpacking and camping.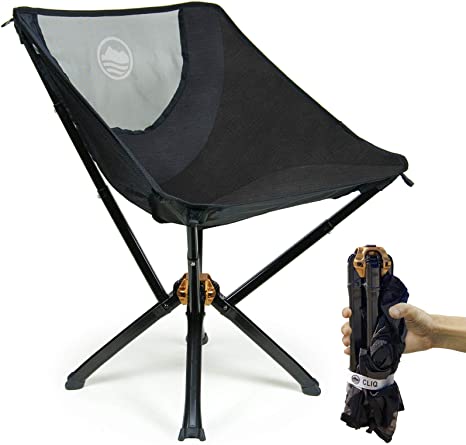 Two-legged chairs: Two-legged camp chairs aren't for everybody but for people looking to save weight and space! Your legs act as the front feet of your chair, meaning you'll have to put a little effort into your relaxation.
Dimensions
Look into the size of your camp chair when it is folded and also when it is open.
When looking into dimensions, you should ask yourself the following questions:
How high off the ground is the seat?
What is the back height for this seat?
How wide is the seat?
What are the packed dimensions?
These are essential questions when looking for the most comfortable folding chair. For example, a seat that sits too low to the ground might be difficult to get out of. A backrest that isn't tall enough might feel unsafe, and a chair that isn't wide enough might feel restraining while you're trying to lounge.
The packed dimensions are important for storage purposes and the overall portability of your chair.
Portability
Portability references the ability of your camp chair to be easily carried. When looking into portability, you should ask yourself the following questions:
How easily does this camp chair fold up?
Does my camp chair come with a bag or trap for easy carrying?
How much does this camp chair weigh?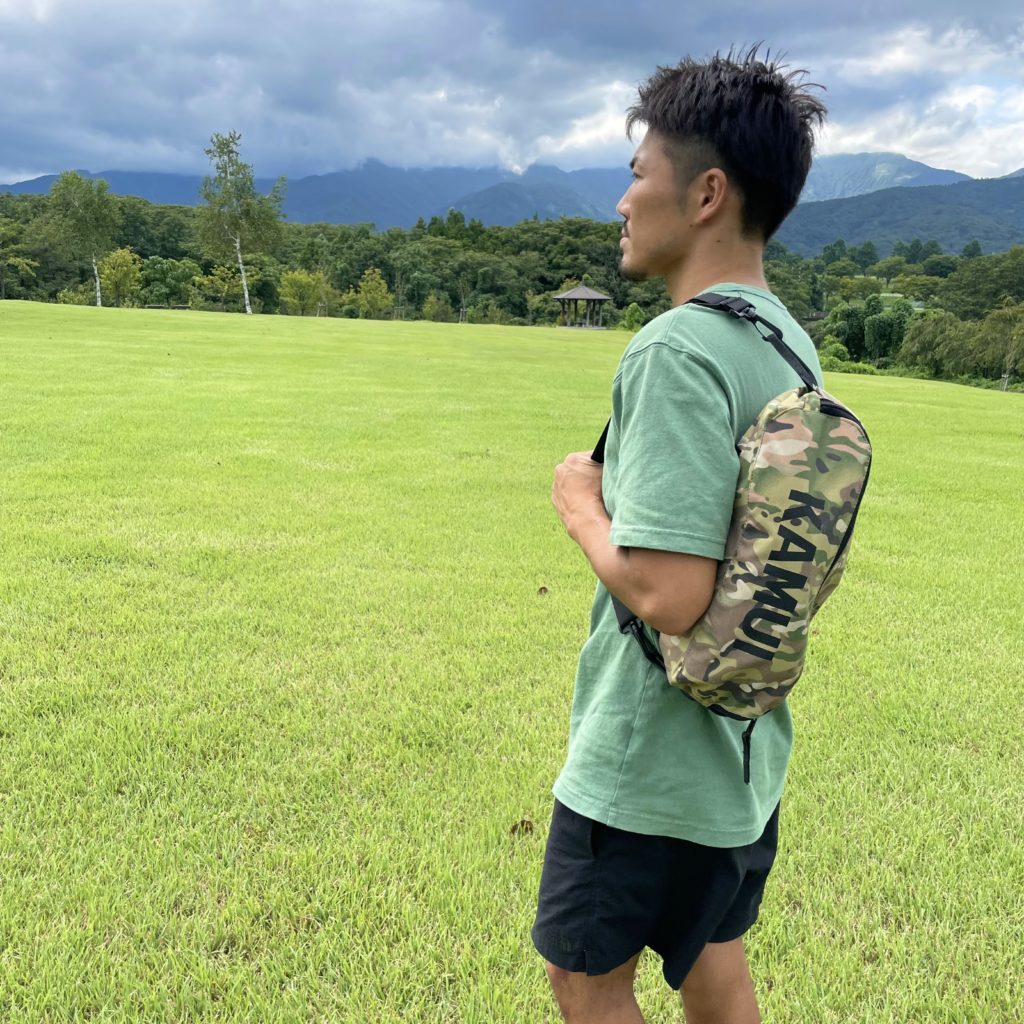 Take your answers into consideration before purchasing a comfortable folding chair. If you can't easily move your chair, it isn't going to serve its purpose as a portable seat.
Materials and Durability
The price of your folding chair directly reflects the material quality. This aspect includes the materials used for the frame of your chair and the fabrics. When looking into materials and durability, you should ask yourself the following questions:
Is the fabric of my chair breathable?
Does the fabric repel water?
What material is the frame made of?
A chair's material is crucial because it almost directly affects durability.
Many camping chair backrests, armrests, and seats are polyester fabric or coated ripstop nylon. Polyester and coated ripstop nylon are recommended since they are durable, water-resistant, and comfortable.
The frame of your chair is likely made of aluminum or steel. Aluminum is recommended because it is lightweight and more resistant to rusting and corrosion than any other metal.
The material of your folding chair will likely determine its longevity and can play a huge role in its usability. For example, if you're looking for a chair to take backpacking, you'll be looking for ultralight materials. If you choose a chair that isn't made of ultralight components, you likely won't be able to bring it with you and use it for its intended purpose.
Capacity
Folding chair capacity is a significant specification to look at. The capacity of a chair is the maximum weight it can carry.
Not all chairs hold the same weight, so it's important to check this spec. You will want to cross-reference this number with your body weight to ensure safety when choosing a comfortable folding chair.
Most adult camp chairs can hold 225 lbs. or more, but it's always important to check. Heavy-duty and loveseat-style camp chairs can often hole 500-800 pounds!
Complexity
When we mention complexity, we're referencing a chair's ease of use. You want a comfortable folding chair that's easy to set up and break down. If putting your chair together or taking it apart takes a lot of effort, it will be a burden each time you use it.
Some camp chairs can easily pop open and be used. Other camp chairs have multiple hubs making them a bit more complex and thus less time-efficient.
We suggest checking the video(s) provided in the image area of a product description. These videos will often show someone setting up and breaking down the chair. This should help you decide if a chair's complexity suits you!
Additions/Extras
A great folding chair for camping should include all the extras you deem necessary.
Here's a list of some of the most common camp folding chair extras.
Built-in cooler bag
Carrying bag
Cup holders
Footrests
Head and lumbar pads
Overhead canopy
Padded Armrests
Although none of these additions are technically necessary, they can improve the user experience.
If a cup holder makes or breaks your folding chair experience, you must find a chair that has one. If you dislike sun exposure, an overhead canopy will make your folding chair more comfortable. Some campers don't want to purchase a folding chair unless it comes with a carry bag.
Every outdoor enthusiast is different! Luckily, there is a camp chair out there for everyone.
Most Comfortable Folding Chairs on Amazon
The chart below includes the 5 most comfortable folding chairs on Amazon:
CHAIR NAME
KAMUI Portable Camping Chair
GCI Outdoor Freestyle Rocker
Trekology Yizi Lite Ultralight Camping Chair
Alpha Camp Portable Hammock Camping…
Hillsound BTR Stool
STYLE
Scoop Chair
Rocker Chair
Low Chair
Suspended Chair
Three-legged Chair
PROS
Affordable, comfortable, portable, and easy to store
Unfolds easily, comfortable rocking style
Lightweight, travel-friendly
Comfortable, great for uneven surfaces
Compact and lightweight, improves posture
CONS
Not a pop-up style chair, requires basic assembly
Bulky; doesn't fold up to a very portable size
Needs assembly; low to the ground; difficult to get out of
Ideal for reclining, too far backrest
Lacking comfort due to the lack of armrests and backrest
OVERALL RATING
KAMUI Portable Camping Chair
GCI Outdoor Freestyle Rocker
Trekology Yizi Lite Ultralight Camping Chair
Alpha Camp Portable Hammock Camping…
Hillsound BTR Stool
COMFORT
✓
✓
✓
✓
–
PORTABILITY
✓
–
✓
✓
✓
COMPLEXITY
–
✓
–
–
✓
WEIGHT
0.950 kg
(2 lbs)
5.5 kgs
(12.1 lbs)
1.65 lbs
(0.748 kg)
12.27 lbs
(5.565 kgs)
0.357 kg
(0.787 lb)
CAPACITY
100 kgs (220 lbs)
113 kgs (250 lbs)
91 kgs (200 lbs)
159 kgs (350 lbs)
109 kgs (240 lbs)
DIMENSIONS
37.85×15.24×12.7cm (14.9x6x5″)
62.86×62.23×86.36cm
(24.75×24.5×34″)
55.12×53.85×55.12cm (21.7×21.2×21.7″)
106cmx72x93cm
(41.73×28.35×36.61″)
7.62×7.62×27.95cm
(3x3x11″)
Camping Chair FAQs
How Can I Make My Camping Chair More Comfortable?
Add seat cushions to your camp chair to make it more comfortable. An outdoor cushion might be exactly what you need for extra comfort.
Buy a footrest to bring on your camping trips. Putting your feet up adds to the relaxation.
Drape an outdoor blanket over your chair to make it cozier. This is perfect for chilly campfire evenings!
Bring a lumbar support pillow along for back support. This helps to support good posture and benefits many individuals with back pain.
Find, or cut, a square piece of wood with the same dimensions as your camp chair. Rest your chair on top of the wood to keep it level and prevent it from sinking into the ground.
Stick an umbrella in your cupholder to create shade. Protect yourself from the sun with this quick and easy hack.
How Do I Keep My Camp Chair from Sinking?
Here are a few different do-it-yourself style hacks that keep your camp chair from sinking.
Tennis Ball Feet: Find mini tennis balls and cut a slit in them. Once your camp chair is set up, slip these over the feet of each chair leg.
Bonus points if you can find tennis balls in the color that matches your camping gear! Try Wiffle ball feet if you're looking for the lightest options when packing your camping chair up for a trip.
Customized Ground Sheet: To build your chair its own ground sheet, you'll need a small tarp, duct tape, and a pair of scissors. Cut a piece of tarp to 2 inches wider than the base of your chair on all sides.
Next, wrap your tarp around the base of your chair with the tarp folded up and tape the sides. You want to tape it tight, so there is a pressure fit to your ground cloth.
PVC Cross Bars: There are two ways to create crossbars out of PVC. One requires more measuring while the other requires more tool use. For the first option, you will need two pieces of PVC similar in length to the width of your chair's front and back legs. You will also need four Tee fittings.
Next, you'll measure how short you need to cut the PVC so that you can add the Tee fittings on each end in a way that the feet of your chair fit right into the top of the Tee fitting. Do the same for the back two legs to complete your camp chair cross bars.
For the second option, you'll need two pieces of PVC pipe and something to cut into them with. Cut two pieces of PVC pipe to be an inch wider than your chair on each side.
Next, measure where your chair's legs will enter the pipe and cut two holes. Do this for both the front legs and the back legs. When you're done, you'll have cross bars to keep your chair from sinking on the soft ground.
What is the Most Comfortable Folding Chair?
The most comfortable folding chair is the one that best suits your needs. Knowing which chair best suits your needs requires a bit of research. Read our full article on what is the best camping chair to buy.
How Do I Choose a Backpacking Chair?
When choosing a backpacking chair, you should consider weight and packed size. It would be best if you had your chair fit in your backpack and added very little weight to your base weight.
Base weight is everything you pack in your backpack aside from consumables. This weight mustn't exceed 20% of your body weight to prevent injury and ensure a comfortable experience.
Is a Folding Camp Chair Worth it?
A comfortable folding chair for camp is worth it. Having an easy-to-move, comfortable seat at camp will improve your experience.
A folding camp chair is also easy to transport to and from different locations. They're also easy to store when not in use. Get some ideas for organizing and storing your camping chairs after using them.
Conclusion
The most comfortable folding chair is relative to what your requirements are!
We rated 5 of Amazon's top sellers in 5 different styles, sharing the pros and cons. Additionally, we gave each chair a thumbs up or a thumbs down for comfort, portability, and complexity to help you find the best overall chair for your needs.
A camp chair makes relaxing, eating, and drinking a significantly more enjoyable outdoor experience. Whether you're car camping with friends, backpacking deep in the woods, or hanging out on the beach, the best model for you ultimately depends on your lifestyle.