17 Best Blankets for Comfortable Outdoor Seating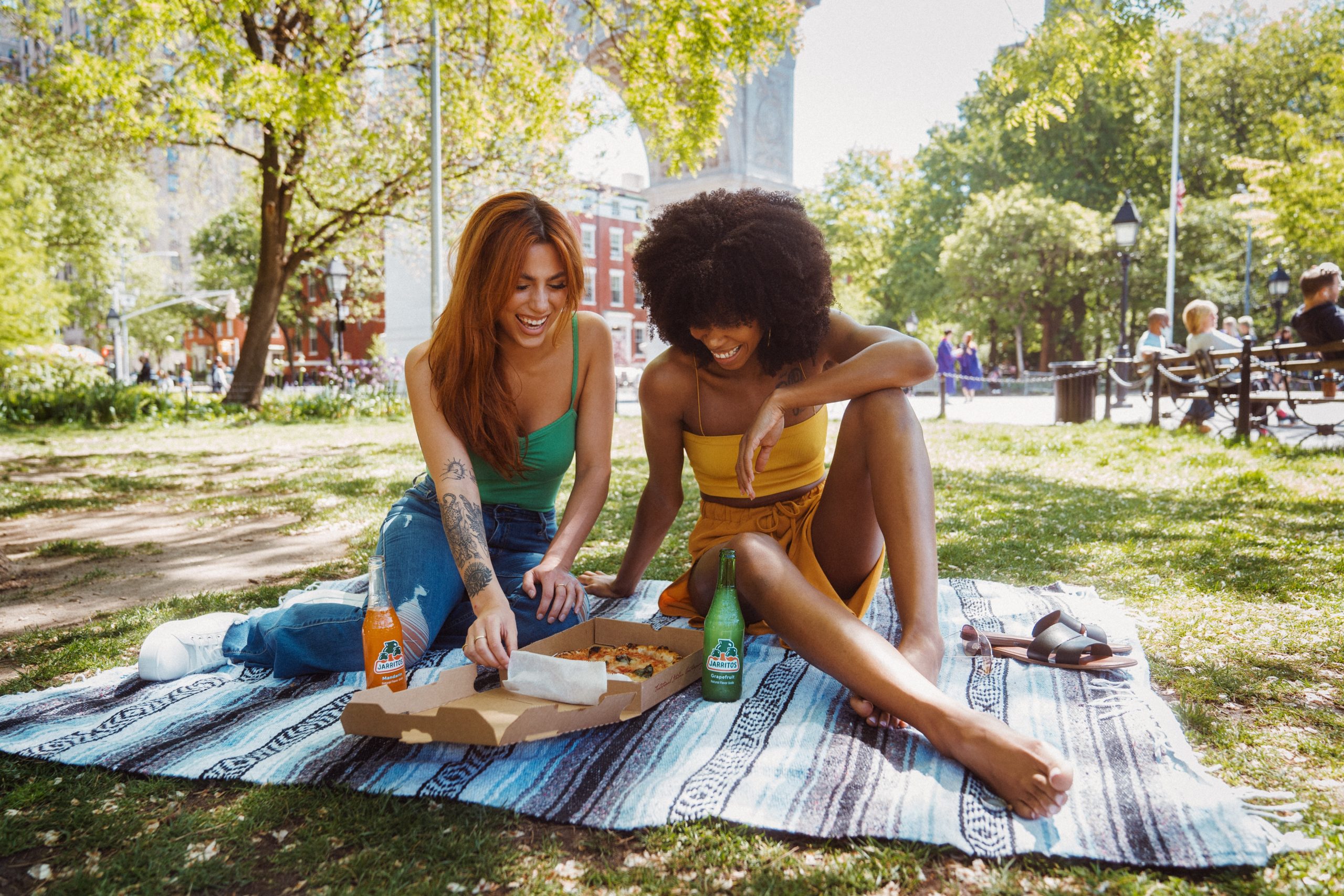 Blankets for outdoor seating are necessary for anyone who spends a lot of time outdoors. Whether you're picnicking on the beach, watching the big game, or snuggled up around a campfire, your outdoor blanket choice can make or break the moment. In this article, we will share the 17 best blankets for comfortable and warm outdoor seating and some frequently asked questions about outdoor blankets.
Types of Blankets for Outdoor Seating
Beach Blanket
Blankets designed for the beach are meant to keep you and your gear separate from the sand. The ideal beach blanket is sand resistant, durable, and quick-drying.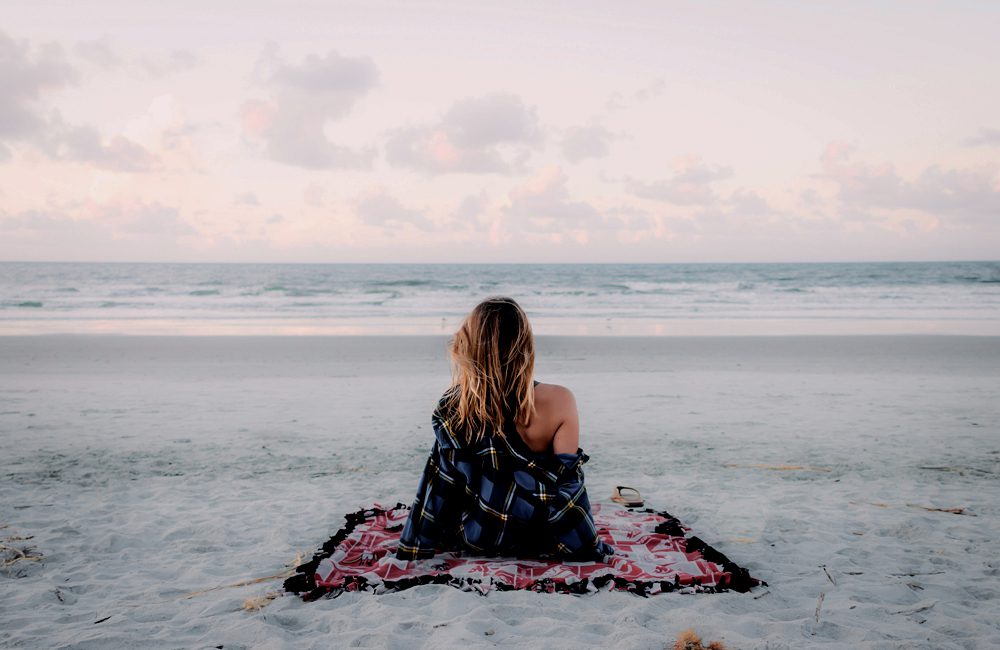 There are even blankets that are considered sandless. The top layer of these blankets is made of a comfortable fabric, while the bottom layer allows sand, dirt, and other particles to sift through and out onto the ground.
Camp Blanket
Think of a camp blanket as a comfort multi-tool while you're in the wilderness. Use your blanket sitting around the campfire as a barrier between you and the ground or as an additional layer to keep you warm at night.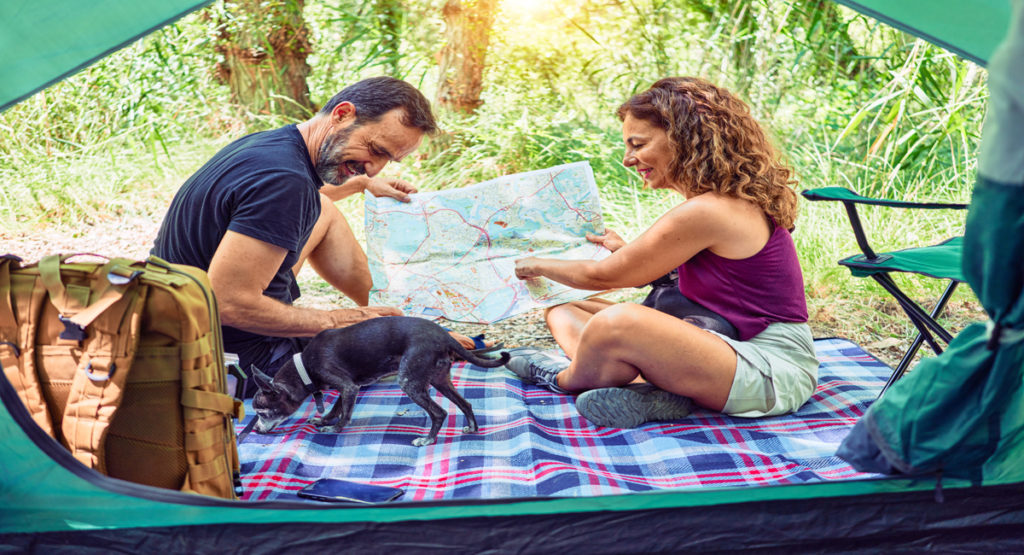 Camping blankets are ideal for outdoor seating because they're lightweight and packable while maintaining some insulation.
Picnic Blanket
Picnic Blankets are designed to keep your bottom and food off the ground while enjoying a meal outdoors. Real picnic blankets are portable, roll up quickly, and are easy to store.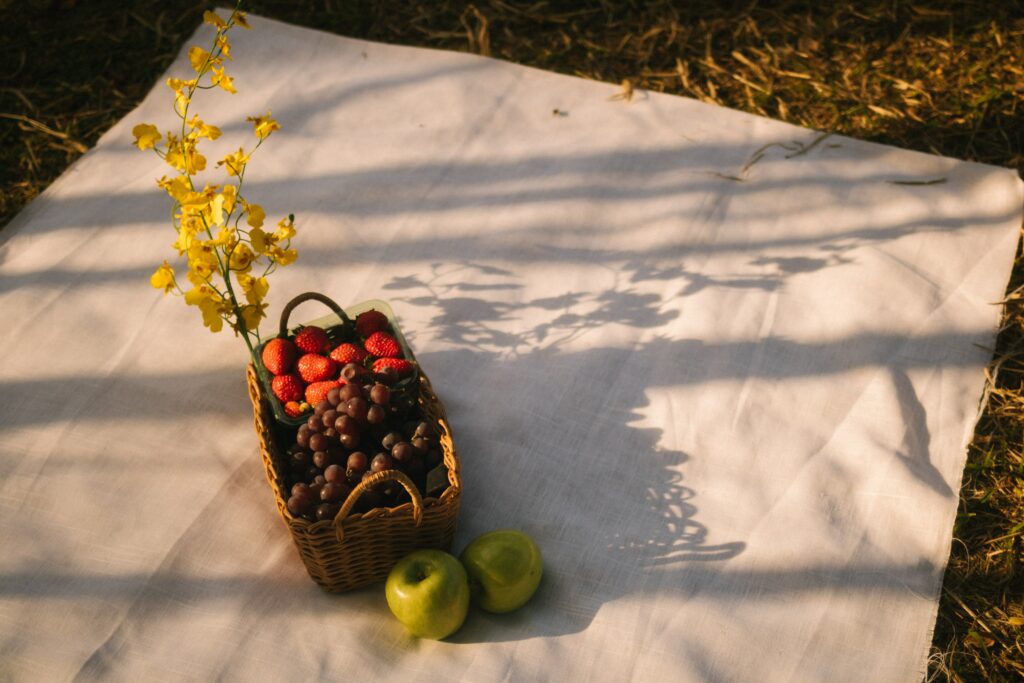 Ideally, picnic blankets have a waterproof bottom layer and a cozier, more comfortable top layer. Picnic blankets should also be easy to clean. Machine washability is ideal for convenience since the blanket will be in contact with the ground and food.
Stadium Blanket
Stadium Blankets are the mecca blankets for outdoor seating. They're designed for sporting events and are warm, waterproof, and windproof. These blankets are a necessity for anyone who attends multiple outdoor sporting events! They're ideal for situations where bulk and weight aren't a concern.
Throw Blanket
Throw blankets are aesthetically pleasing and offer basic comfort. Their primary purpose is to add style to home spaces, but they can also add style to your campsite!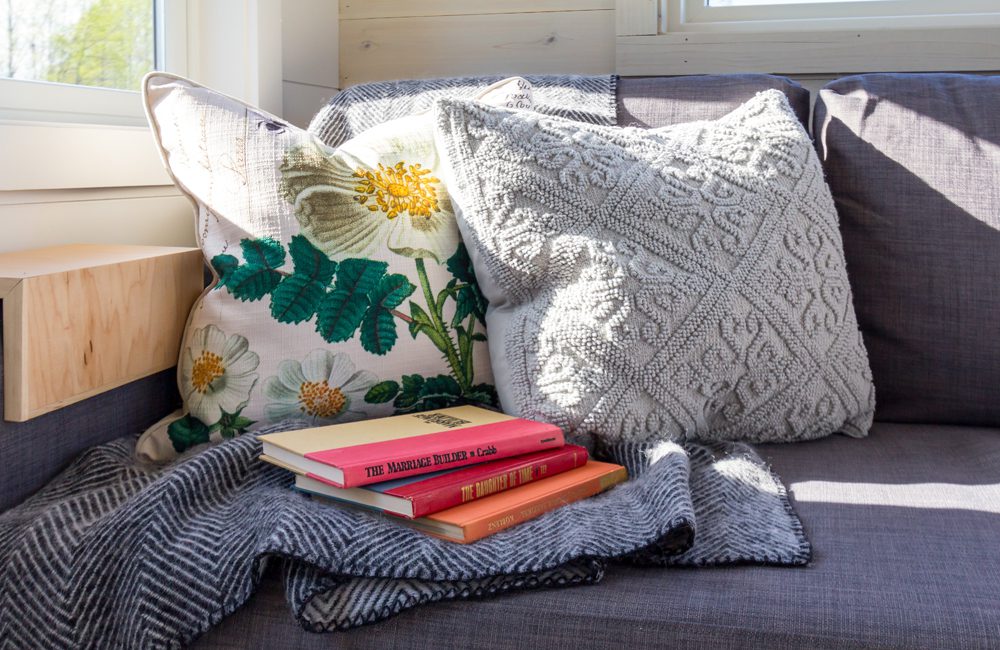 You won't find features such as waterproofing, windproofing, or added insulation in a throw blanket. They are, however, a comfortable and decorative way to spruce up your camping space.
17 Best Blankets for Outdoor Seating
1. KAMUI Outdoor Blanket
Designed for family picnics and other outdoor activities, the KAMUI Outdoor Blanket provides comfort and ease of use. At 79"x55", this blanket is big enough for a family of four to sit on and large enough to wrap around two people.
This machine-washable blanket has a waterproof backside and soft fleece top to keep you dry and cozy. Easily carry your KAMUI Outdoor Blanket from one adventure to the next with its carrying bag, equipped with a handle and detachable shoulder strap. When your outdoor experiences are over, machine wash your blanket for stress-free cleaning!
2. Angemay Outdoor and Picnic Mat
Generously sized and easy to pack up, the Angemay Outdoor and Picnic Mat is a budget-friendly option for families looking to get outside. Ideal for camping, picnicking, attending festivals, or spending a day at the beach, the Angemaay is an excellent blanket for outdoor seating.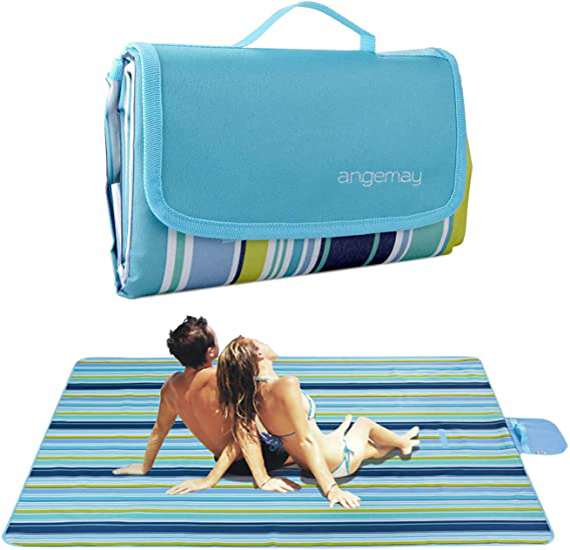 This blanket features a soft polyester top and a waterproof backing on the underside. Its open size is 60" x 80", making it more than suitable for a family of four.
3. BEARZ Outdoor Beach Blanket
This pocket blanket is the perfect companion when traveling, camping, or on a lazy day at the beach. Hook it to your bag or put it in your pocket, so you're prepared for anything!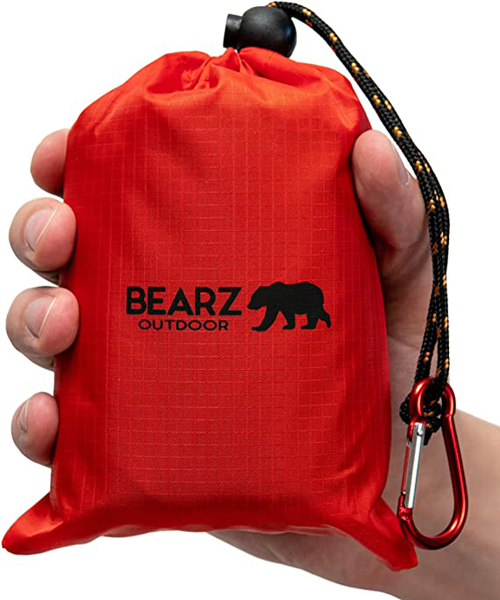 This picnic blanket was designed to fit two people comfortably but can seat up to four (50"x60"). It's durable, lightweight, waterproof, and puncture-resistant, perfect for outdoor experiences. It's also available in six different colors so you can choose the one that best suits your personality.
4. ChappyWrap Water Resistant Outdoor Blanket
ChappyWrap provides blankets for any scenario of outdoor seating. Whether you're watching the big game, cuddled up around a campfire, or snuggling up for slumber under the stars, this blanket has you covered. Your machine washable blanket measures around 38"x57". It features a natural cotton blend of chappy warmth on one side and waterproof Boathouse Supplex on the reverse.
5. Eddie Bauer Water Repellent Outdoor Blanket
A great, packable blanket for use with multiple outdoor activities. The Eddie Bauer Water Repellent Outdoor Blanket has a water repellent ground side and a printed top side. The inside of the blanket provides warmth through its polyester fibers.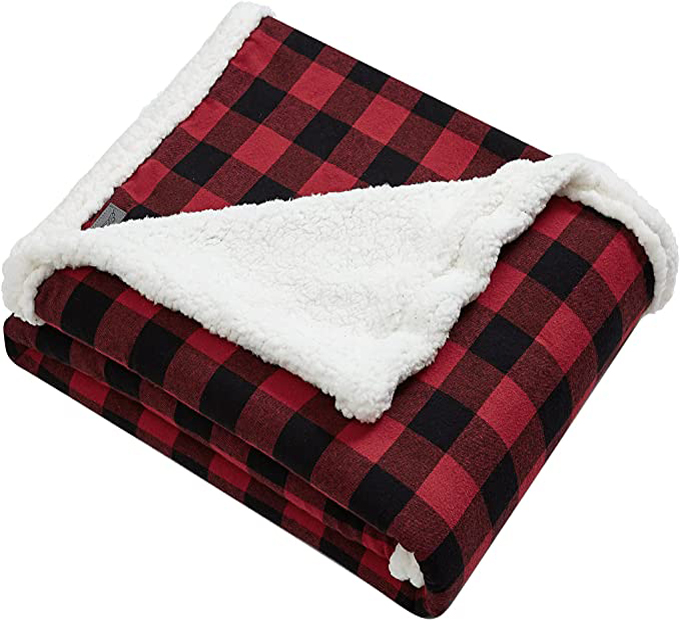 At 60" x 50", his blanket is best suited for one to two people. It rolls up with ease and has a shoulder strap for easy carrying. Additionally, this blanket is machine washable making it easy to refresh after a picnic, camping trip, or other outdoor excursions.
6. Get Out Gear Down Camping Blanket
Get out Gear has thought of everything with this impressively warm, lightweight blanket. The Get Out Gear Down Camping Blanket provides great comfort and has snaps along one edge for wearing.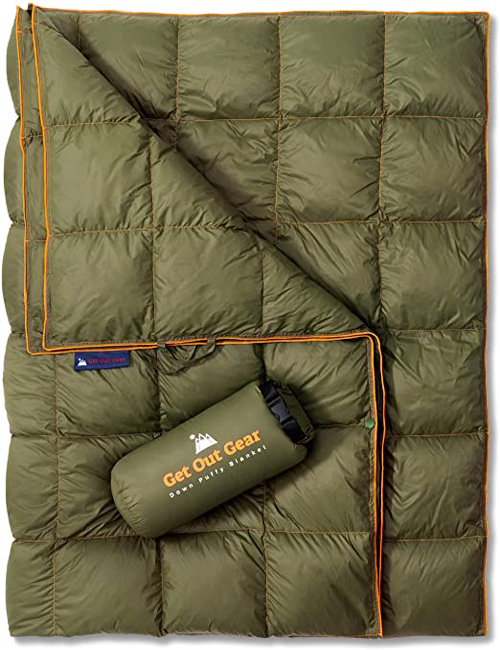 At only 1.1 bs, this 80"x54" puffy blanket is lightweight and compact without sparing any comfort or warmth. The ripstop nylon shell blocks wind, while the 650 Fill power down insulation keeps you cozy. Additionally, a durable water repellent protects your blanket from spills and weather.
7. Gravel Blue Layover Travel Blanket
You're missing out if you've never had a blanket with pockets. The Gravel Blue Layover Travel Blanket includes a few different pockets. The zippered pouch is ideal for securing essential items during use, while the microfleece kangaroo pouch sleeve behind it will keep your hands warm. A leg pocket with an insulated foot pouch keeps your toes covered and toasty.
8. Kelty Bestie Blanket
The Kelty Bestie Blanket is known for its lightweight insulation, travel-friendly size, and packability. At 75.59"x42.13" and only 1.5 lbs., it's no wonder this is the travel blanket of choice for so many.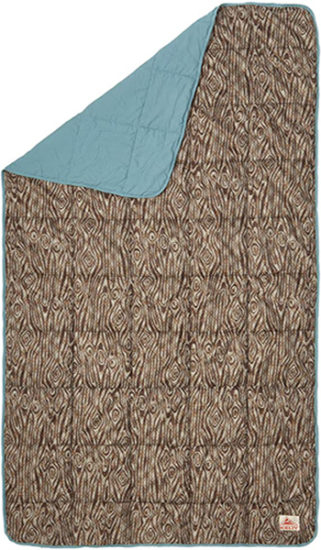 This is one of the best blankets for outdoor seating due to its cloud loft insulation, soft shell with cozy brushed liner, and perfect single-user size. Equipped with a stuff sack, you can keep your Kelty Bestie Blanket prepped and ready for your next outdoor adventure.
9. L.L. Bean Waterproof Outdoor Blanket
L.L. Bean has you covered if you're looking for a quality, versatile waterproof blanket. L.L. Bean's Waterproof Outdoor Blanket has a rugged polyurethane-coated nylon backing that prevents moisture from reaching the soft, fleece surface.
At 80"x72", the L.L. Bean Waterproof Outdoor Blanket seats 2-4 people or can be wrapped around two individuals.
10. Matador Pocket Blanket
As the smallest blanket for outdoor seating on our list, the Matador Pocket Blanket might be one of the coolest. It weighs only 3.8 ounces and packs up to 4.5" x 2.7" in its convenient integrated storage pouch. The blanket is 63"x44" when unpacked and can comfortably seat 2-3 people.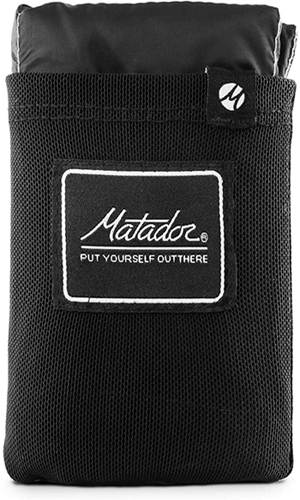 The Matador Pocket Blanket is made of nylon, making it water and puncture-resistant. Additionally, the blanket has built-in tethered corner stakes with ropes to help you set your blanket in the perfect spot.
11. Patagonia Macro Puff
The Patagonia Macro Puff is likely for you if you're looking for a warm outdoor blanket. This macro puff quilt is nearly a queen-sized blanket (83"x69") that stays warm even when wet and is perfect for winter camping. This fair-trade product is water-resistant, windproof, and treated with a durable water repellent finish.
12. Pendleton Yakima Camp Blanket
The Pendleton Yakima Camp Blanket is famously durable and warm. Modeled after the blankets shepherds once used to brave the elements of the Pacific Northwest, these blankets are designed for the unpredictable outdoors.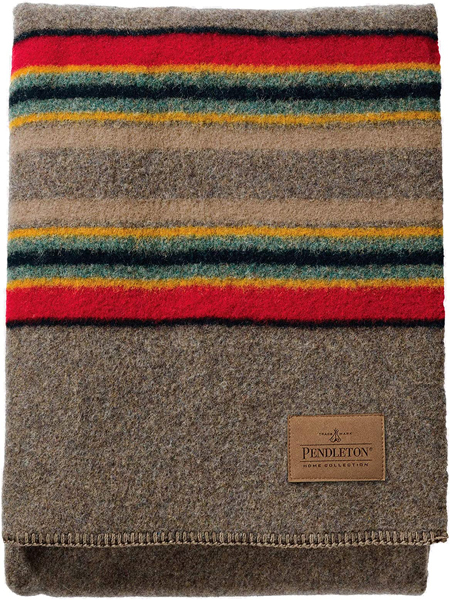 The Yakima Camp Blanket comes in Twin sizes, 66" x 84" and a Queen of 90" x 90". All blankets are made of pure wool and cotton in the United States of America. This is a blanket you would need to dry clean after several uses.
13. Rumpl Original Puffy Blanket
Perfect for hiking, camping, or lounging at home, the Rumpl Original Puffy is designed to go anywhere you do!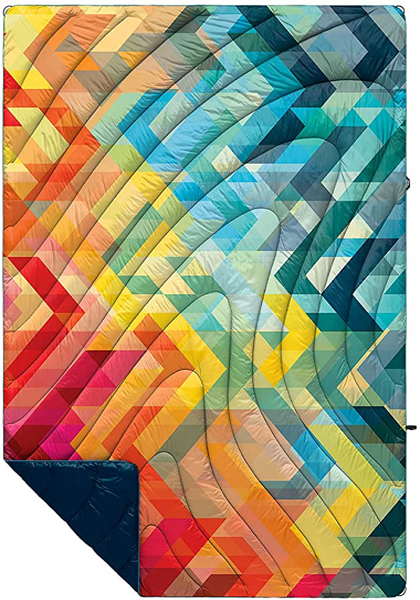 The Rumple Original Puffy Blanket is made with a 100% recycled ripstop polyester shell and insulation made from 100% recycled materials. Your blanket has a durable, water-resistant finish, a cape clip for hands-free use, and corner loops. It's important to note that the Rumpl Original Puffy is machine washable and comes with a water-resistant bag.
14. Sand Cloud Malibu Blanket
The luxurious, 100% Turkish Cotton Malibu blanket is a beach-goers dream. The Malibu Blanket is approximately 50″ x 72″, which makes it big enough to wrap around one person or for a few to sit on. The sand Resistant Design is the best part about the Sand Cloud Malibu Blanket! Spend a whole day at the beach without getting covered in sand, and then machine-wash and hang dry your Malibu blanket.
15. TheCozy Adventures Pocket Picnic Sheet
The Pocket Picnic Sheet's thin design makes endless outdoor uses possible. Since this blanket weighs only 8 ounces, it is always adventure-ready.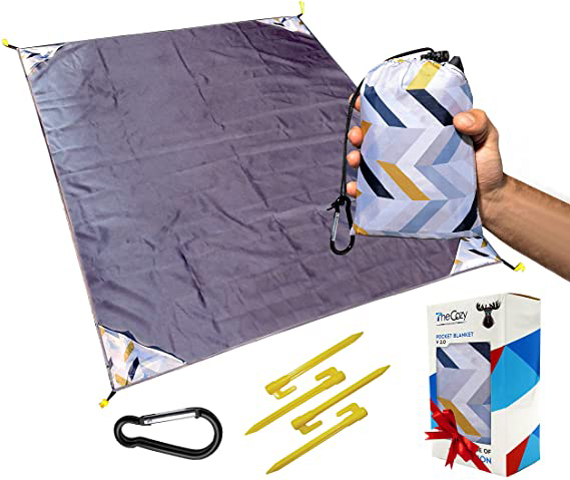 The 70"x55" picnic sheet is made of 210T high-tenacity polyester. It includes a stainless-steel carabiner and four stakes to secure the outdoor blanket to the soft, surrounding ground.
16. Therm-A-Rest Argo
Combine utility and luxury with Therm-A-Rest's ultra-soft and cozy outdoor blanket for two (78"x72"). The bold prints and fun colors provide actual style points for your next camping trip!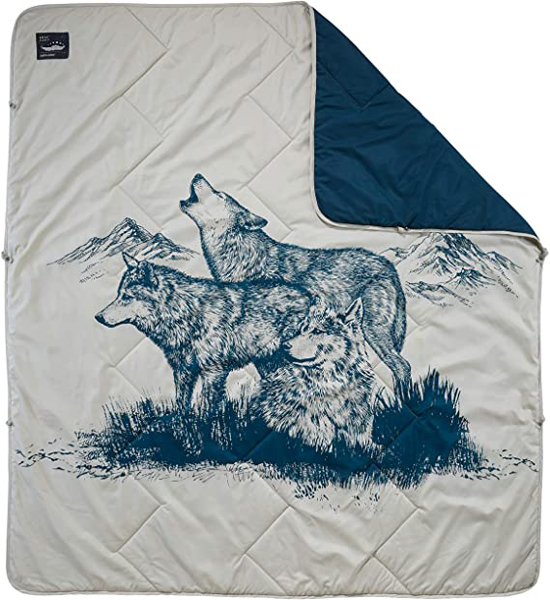 The Argo uses eraLoft insulation for a packable, water-resistant warmth around the camp. You can't beat the versatility of this blanket; the perimeter snap loops allow you to connect your Argo with another Therm-A-Rest bag, quilt, or sheet, and the drawcord along the bottom edge of the blanket cinches around your feet to reduce drafts.
17. YETI Lowlands Blanket
Transform your next outdoor event into your basecamp with YETI's Lowlands Blanket. This all-terrain, ultra-comfortable blanket is one of a kind and built for two to sit or one to be wrapped up in (55"x78")!
This outdoor blanket boasts a hydro barrier layer, making it durable and waterproof on the outside, with a supremely soft interior. Its interior material allows it to shake off pet hair quickly; if that doesn't do the trick, it's machine washable.
What to Consider Before Buying a Blanket for Outdoor Seating
It would help if you considered what you'd use your blanket for. Will you be watching sporting events? Are you pitching a tent under the stars and enjoying a campfire? Or are you going to spend the day at the beach? The activities you have in mind might benefit from different types of outdoor blankets.
Size
How many people are going to be using this blanket at a time? If you plan to share your blanket with a friend or family member, 60×55 inches is a good size. A family of four or five will need a covering of at least 60×80 inches. An 80×80 inch blanket is a great place to start for five people or more. For more details on picnic blanket sizes, check this out for your reference.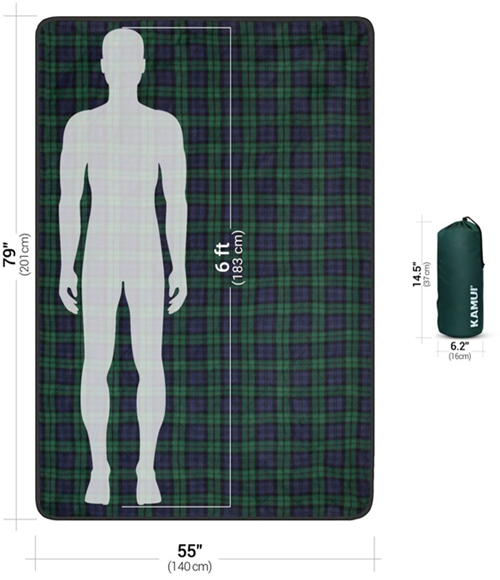 Size considerations can also change slightly depending on use. If you're sitting on top of the blanket, you'll require less fabric than if you plan to wrap yourself in it. If you're looking to sit on your blanket and fold it over so that it covers your body, we would consider adding size to your outdoor blanket.
Waterproofing
You might be thinking, why would I need a waterproof blanket if I don't plan on being outside in the rain? The answer is simple, just because you don't plan on being out in the rain doesn't mean that what you'll be sitting on won't be wet. The ground holds moisture and will transfer it to your blanket if it isn't waterproof. Additionally, bleachers at a sporting event may be damp and uncomfortable to sit on without a waterproof covering.
Additionally, it's always nice to know that you have rain protection. If you get stuck outside in the rain at a concert, sporting event, or camping trip, you can utilize your blanket's waterproof fabric to improve your experience. Vinyl, nylon, and Gore-tex® are among the most popular waterproof materials used on outdoor blankets.
Read the full post for the complete list. Learn what you should look for in blanket durability, weight, packability, comfort, and more!
Outdoor Blanket FAQ
What kind of blanket is good for the outdoors?
Any machine-washable and weather-resistant blanket is good for the outdoors. Specific features largely depend on what you're using your outdoor blanket for, but a blanket that's easy to wash and can withstand the elements should do the trick!
What kind of blanket do you use for a picnic?
Ideally, you would want to use a picnic blanket or mat for a picnic. A picnic blanket and a picnic mat include a waterproof bottom and a softer, more comfortable top fabric. This will keep you dry and comfortable while enjoying a meal outdoors.
Can I use a regular blanket for a picnic?
You can use a regular fleece, cotton, or wool blanket for a picnic; however, it might not be your best option. A blanket without a durable, waterproof backing might not be comfortable to sit on if the ground is wet, hard, or cold.
What is the Warmest Blanket for the outdoors?
Blankets with down fill and wool blankets are the warmest for the outdoors.
What Can I Use Instead of a Picnic Blanket?
In emergencies, you can use various items you might find around the house for a picnic blanket. A towel, workout mat, or bedsheet can do the trick! Check out our list of 14 creative items you could use as a picnic blanket.
KAMUI Outdoor Blanket
Waterproof
Carrier bag included - portable
For 2 - 4 people
Machine washable