Camping Chair Reviews and Buying Guide 2022: How to Find the Right Chair for Your Needs
Camping chairs can be used for outdoor parties, festivals, and fishing trips. Finding the best camping chair can be a challenging job, especially with so many choices. That's why we put together this list of camping chair reviews and buying guide so you can find the most comfortable chair for your needs.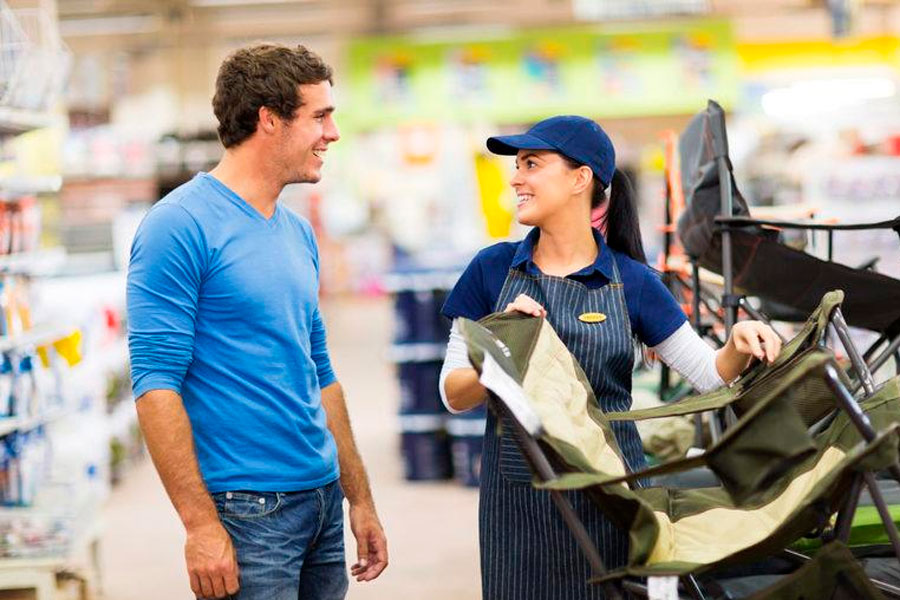 Quick Camping Chair Recommendations
Camping Chair Buying Guide
Comfort
Choosing the right chair is crucial since you don't want to use an uncomfortable chair. Comfort plays an important role when buying your camping chair. We recommend trying out your camping chair before buying it.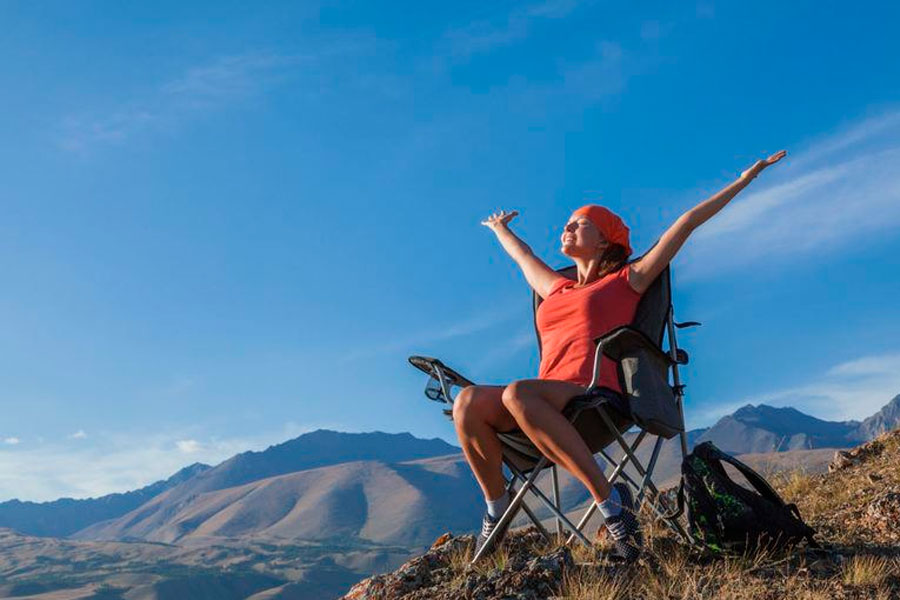 Durability
A high-quality camping chair will last longer than one made from low-grade material. These materials include: steel and aluminum or dur-aluminum for the frame, and polyester, elastomeric mesh or rip-stop nylon. The durability of your chair depends on the material and quality of the design. The more durable the chair, the longer you can use it.
Size
The size and design of your folding chair depend on your preferences. You can choose between a classic camp chair, recliner, rocking, low chair, camp stool, hammock chair, and many other options.
Choose the size of your chair, so it's not too bulky to carry around and not too big or too small for you. If ordering online, make sure you don't choose a children's camping chair.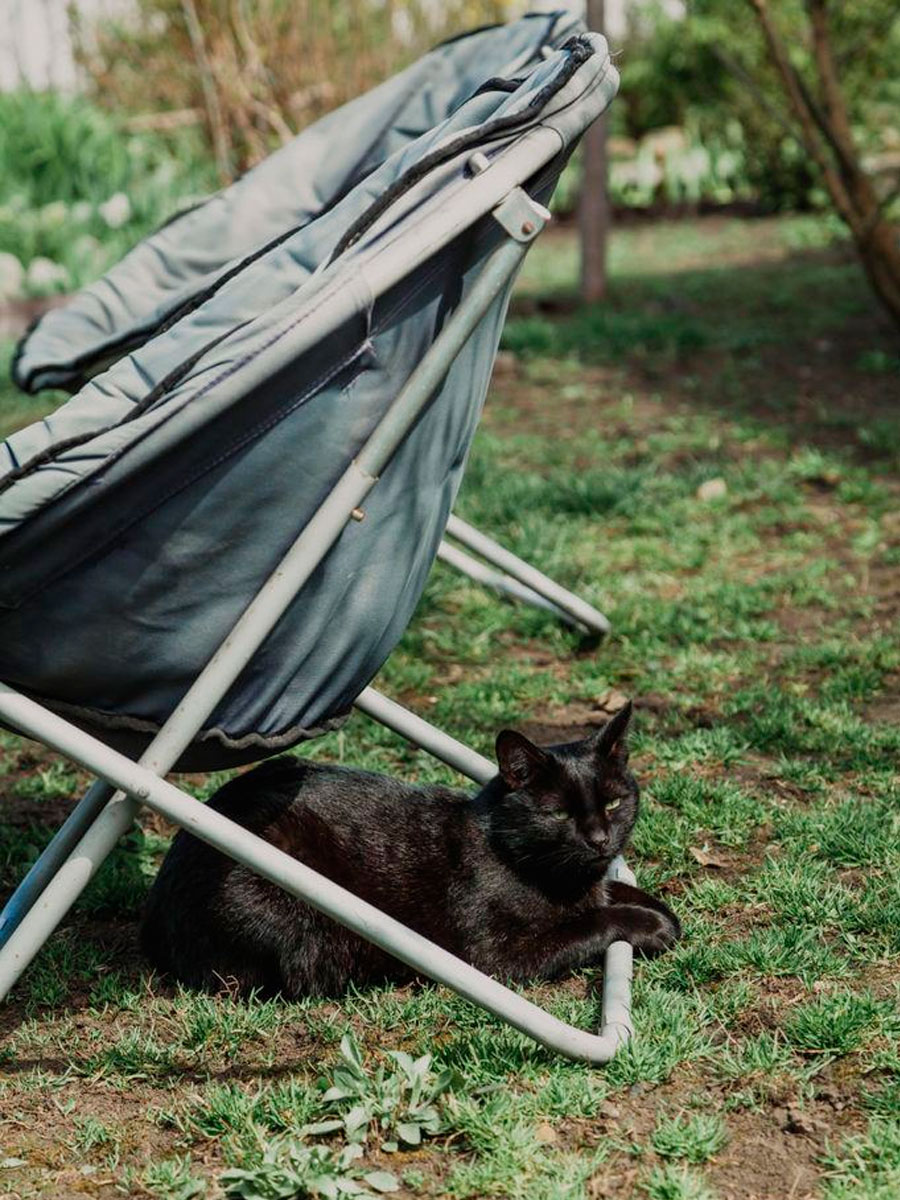 Price
Depending on how much you want to pay for your chair, you can get the cheapest or the highest-priced chairs. The lowest price will often get you the lowest quality. Decide if you want the lowest, medium, or highest prices. The lowest price ranges come in at $20 to $30, while better built chairs are from $50 to $100.
Folded Size
The folded size of your camping chair plays a crucial role in transportation. The smaller the folded size of your chair is, the easier it will be to transport it. Foldability is critical in choosing the right camping chair, especially for backpackers. Backpackers need small chairs with minimal folded dimensions.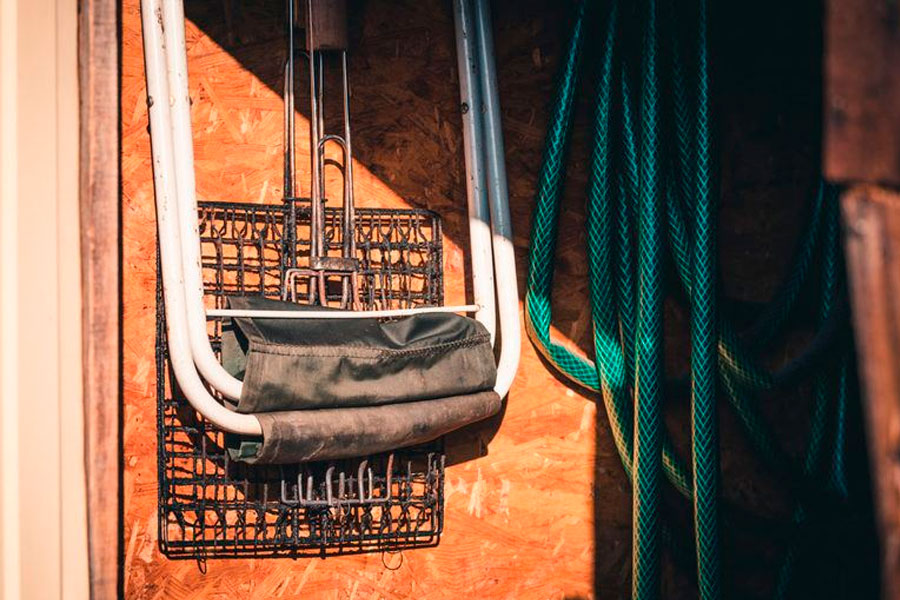 Weight
Like the folded size, the weight of the camp chair is crucial when choosing your model. This means you don't want a camp chair that is too heavy for you to carry or too light, so it flips over. Light chairs range between 2 and 5 lbs or 1 and 2.5 kg. If your chair is above 6 lbs or 3 kg, it is considered heavy.
Height
Choose the height of your chair according to your intended use. A short chair is excellent if you plan to open it on uneven terrain or in deserts, and is up to 12 in or 30 cm in leg height. A high folding chair will help you to get up with ease and has legs around 15 in to 19 in or 40 to 50 cm of height.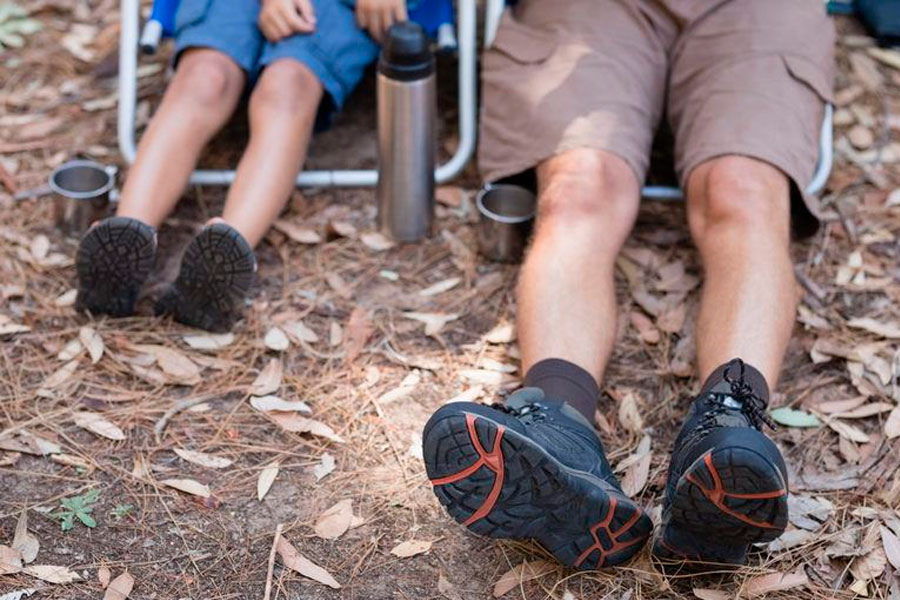 Ease of Use
Do you want a complex chair that will not wiggle when used? A chair will most probably be harder to set up if it has more parts, like high or reclining camping chairs with additions. If your goal is easy usage, go for simple chairs or stools, you can lay them out with little effort.
Weight Capacity
Every camping chair has a weight capacity, which tells you how much weight it can carry. Look for a camping chair that can carry your weight. If you buy a camp chair with a low weight capacity and still use it, the chair will break eventually. Most folding chairs have a weight capacity between 300 and 800 lbs or 135 and 360 kg.
Extras
Who doesn't want a chair with extra side pockets and drink holders? Except for these additions, you can look for a chair with a carry bag, recliner, lumbar pads, or footrests.
Camping Chair Reviews
If you are looking for the best general-purpose camping chair, we choose the KAMUI outdoor chair. The chair itself is sturdy and stable. The KAMUI outdoor chair also comes with spacious storage pockets and has a durable build. It's lightweight and portable. It comes with a bag with a shoulder strap. You can take it fishing, hiking or camping with you.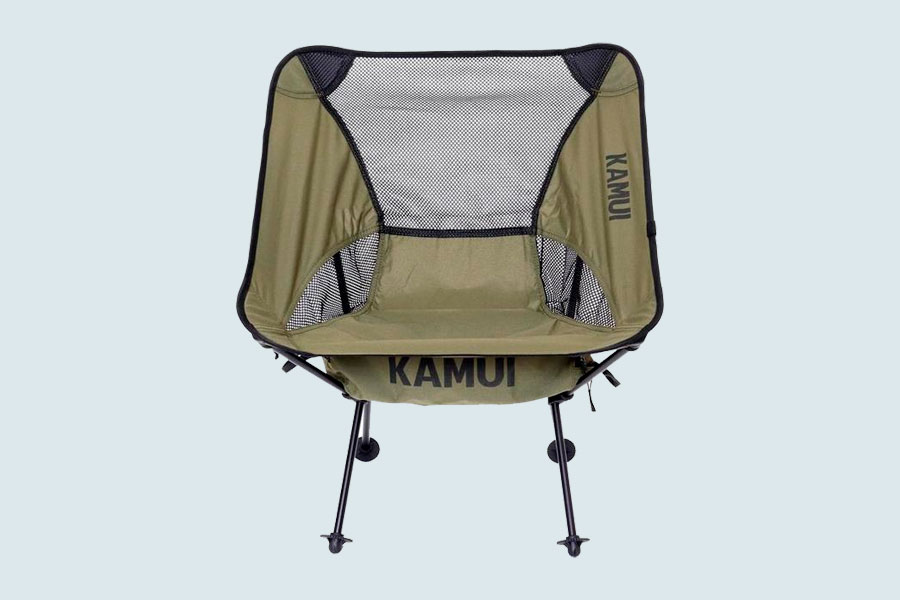 Pros:
Stable
Comfortable
High-quality
Lightweight
The additional cushioning of the Realead Oversized chair will significantly help your back. You can adjust the backrest and enjoy an effortless setup and long-lasting quality. The only downside with this adjustable chair is portability, since it is big even when packed.
Pros:
Spacious
Comfortable
Extra padding
Heavy duty
Cons:
Big packed size
Not the lightest option
This chair answers a lot of your camping needs since it is stable, high-quality, and has durable armrests. It won't give up on you with these characteristics, since it can hold up to 300 lbs or 136 kg of weight.
Pros:
Comfortable armrest
High-quality materials
For our number four, we have a camping stool that is perfect for hiking. The best part of this camping chair is its minimal packed size. It's designed for easy carrying, even for long hikes. It is light and easy to set up once in your camp. This makes it popular amongst hikers and backpackers. The chair fabric is breathable but has no armrests or backrest.
Pros:
Minimal packed size
Light
Durable
Stable
If you are amongst the people that care about comfort when on vacation, this reclining chair is perfect for you. It has a removable footrest, which gives you the ability to kick back and enjoy every moment thoroughly.
This lounge camping chair ensures longevity, stability, and good breathability. There is no doubt this chair is the most comfortable one in our whole best camping chair reviews list.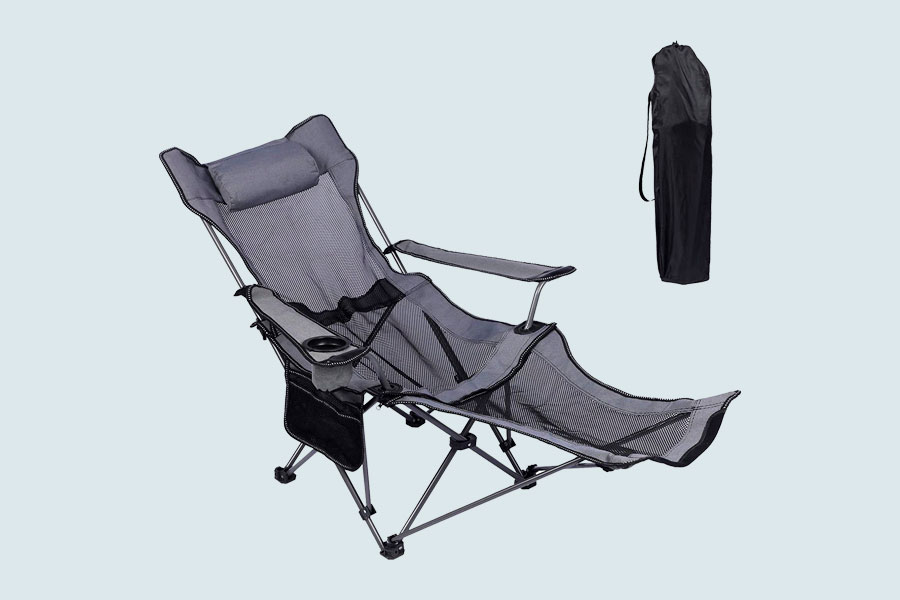 Pros:
Removable footrest
Extra padding
Stable
This Coleman camping chair has extra storage and a built-in can cooler. The cooler is located near the armrest and is easily accessible. It's perfect for having a chat with your friends, looking at a soccer game, or soaking in the sun. The chair is stable and can be easily set up. The price is affordable, while the quality promises a long life.
If you want to spend your camping time with a special someone, this chair is the best option for you. This love seat has everything you need for your picnic date: extra padding for maximum comfort, stability because it needs to support two people, and durable materials to ensure your extended use.
Pros:
Double seat
Extra padding
Stable
Easy setup
The Guide Gear chair comes with everything extra. The padding makes you think that you're sitting back on the couch. There is a significant weight capacity with 500 lbs and a few side pockets to store your essentials. This is undoubtedly the best oversized camp chair out there.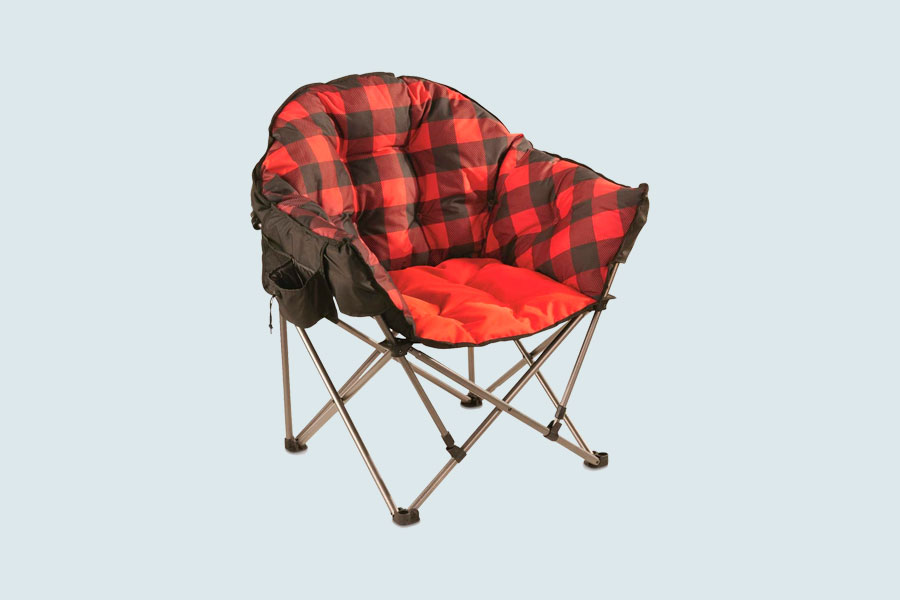 Pros:
Extra padding
Stable
Comfortable
500 lb capacity
This ultralight camping chair is meant for those who want something comfortable to sit on when traveling or camping. The chair is super light and has a small packed size.
The Helinox chair is breathable but doesn't have extra padding. It is well known as a durable and very popular hiking chair. If you are looking for a chair that you can bring in your backpack, this one is lightweight and small enough.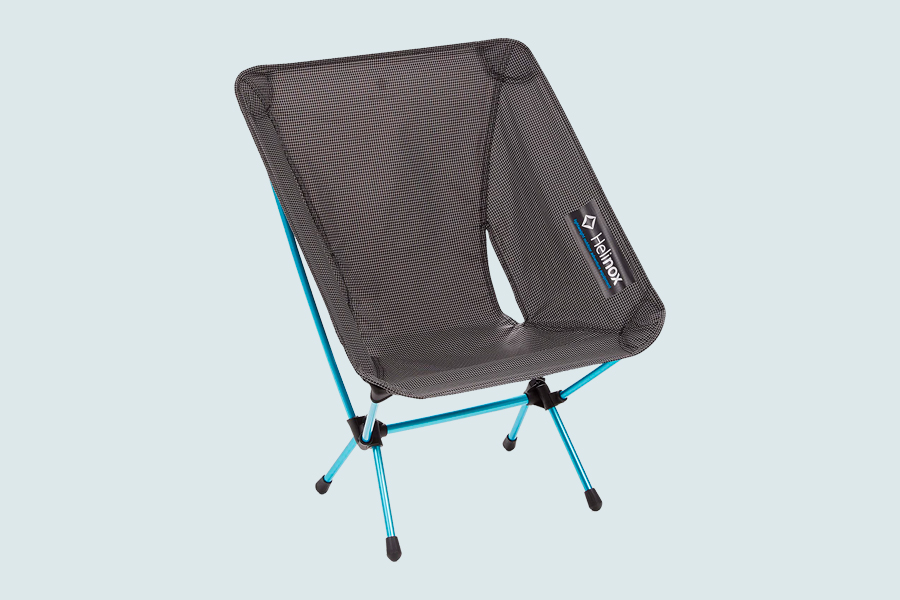 Pros:
Ultralight
Easy setup
Less wiggling
Winter camping or planning a cold night trip? The POP design Hot seat gives you a comfortable and warm place to sit. The chair has built-in heaters, making it the best heated portable chair on our list. This chair is not meant for hiking or anything other than car camping since it is bulky and heavy.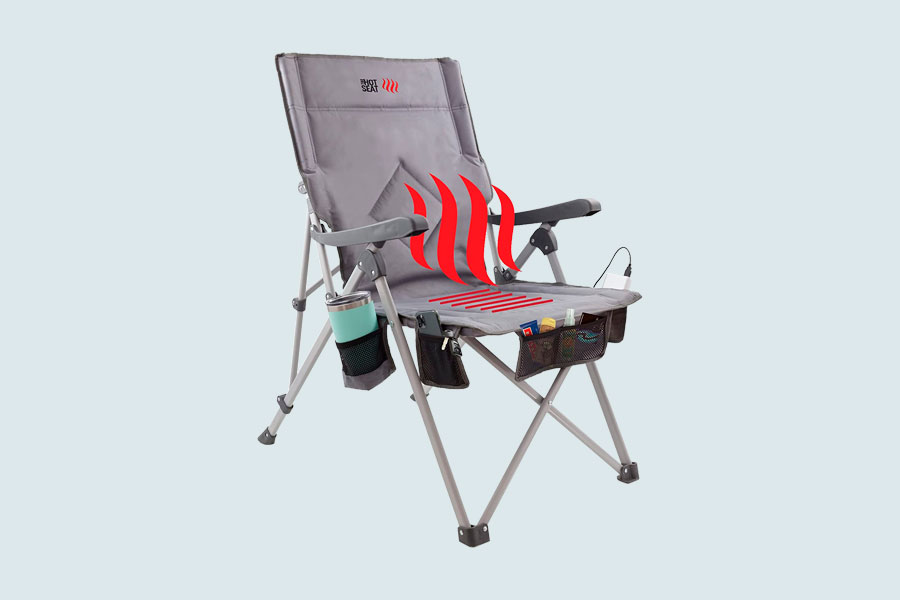 Pros:
Integrated heaters
Comfortable
Conclusion
When buying a camping chair, think of your intended use. Are you going to need it for car camping or backpacking? Is your chair going to be a reclining, low chair, or a classic camping stool? According to these, choose the best camping chair.
Those were our camping chair reviews and buying guide. We hope our article helped you choose the right option for your next camping trip.