Best Camping Mattress for Bad Back: Our Top 5 Picks for Comfortable Camping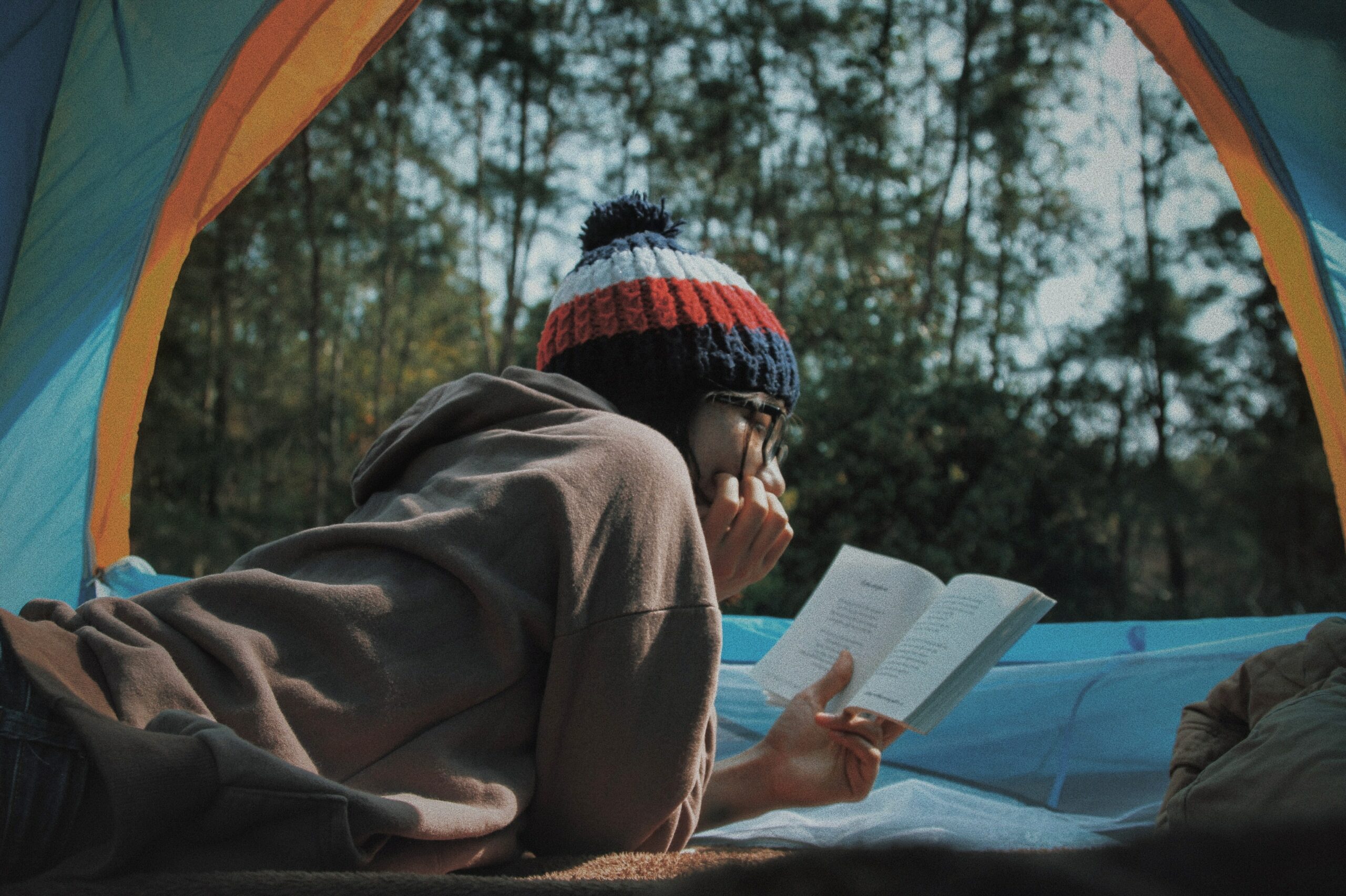 Camping presents a chance for much-needed personal downtime. Still, a wholesome camping experience is only as good as the gear you carry. Camping with a bad back can turn your experience super uncomfortable. Your choice for a camping mattress is even more crucial if you're prone to back pain and need back support.
We share our best camping mattresses for bad backs and tips on how to get the ideal mattress.
What Should You Check When Buying a Camping Mattress for a Bad Back?
R-value
R-value in camping mattresses indicates how well the mattress resists heat. For context, the ground is typically cold at night. Cold temperatures tighten your muscles and tendons and worsen your back pain.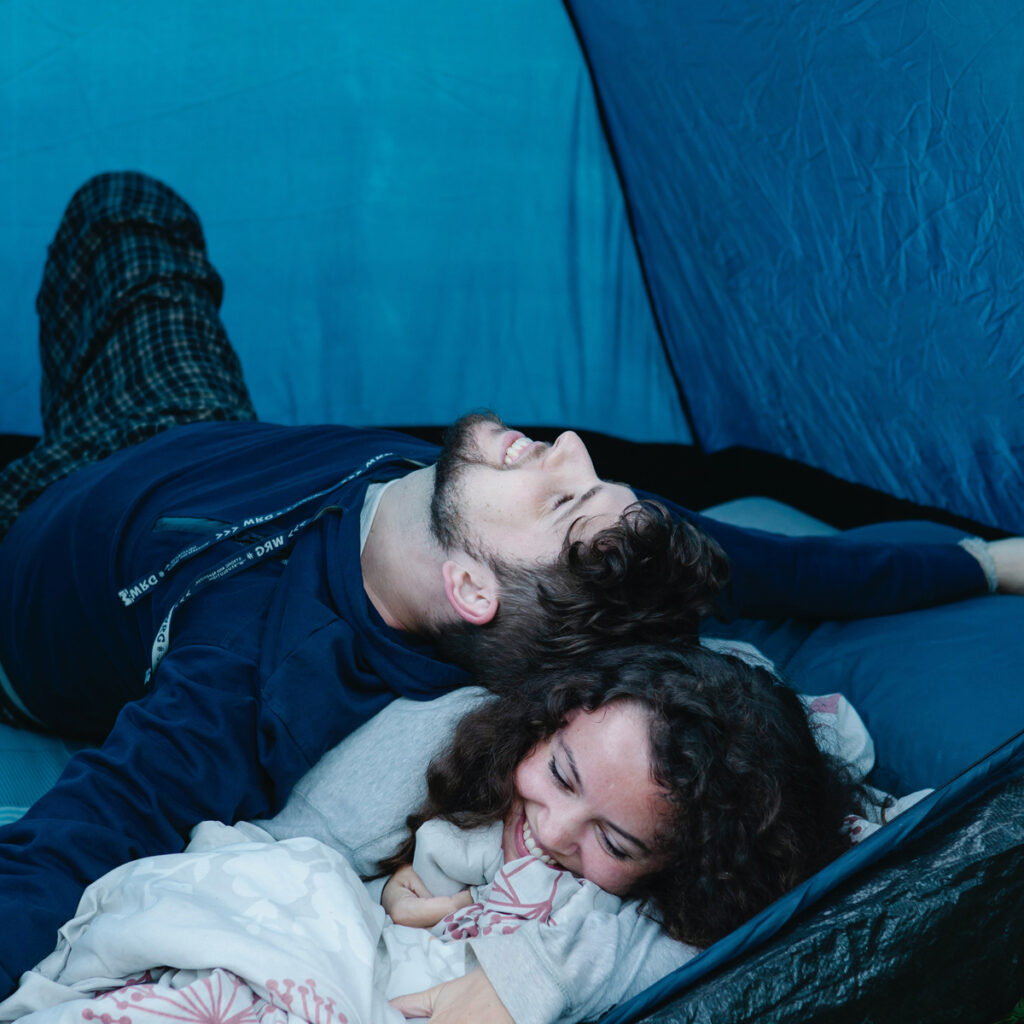 The average R-value scale is between 1 and 9. A higher R-value from 4 going up is preferable for campers with an achy back. An R-Value of 4 gives your mattress enough cushion to make you comfortable on hard ground, and you get medium insulation which works well in 3-season camping.
Back support
Mattress thickness, R-Value, and the fill of a camping mat all work to provide back support. A self-inflating sleeping pad with rebound foam and an R-value above 5 is great for camping with a bad back. Surprisingly, hammocks and camping cots are made for back support, too.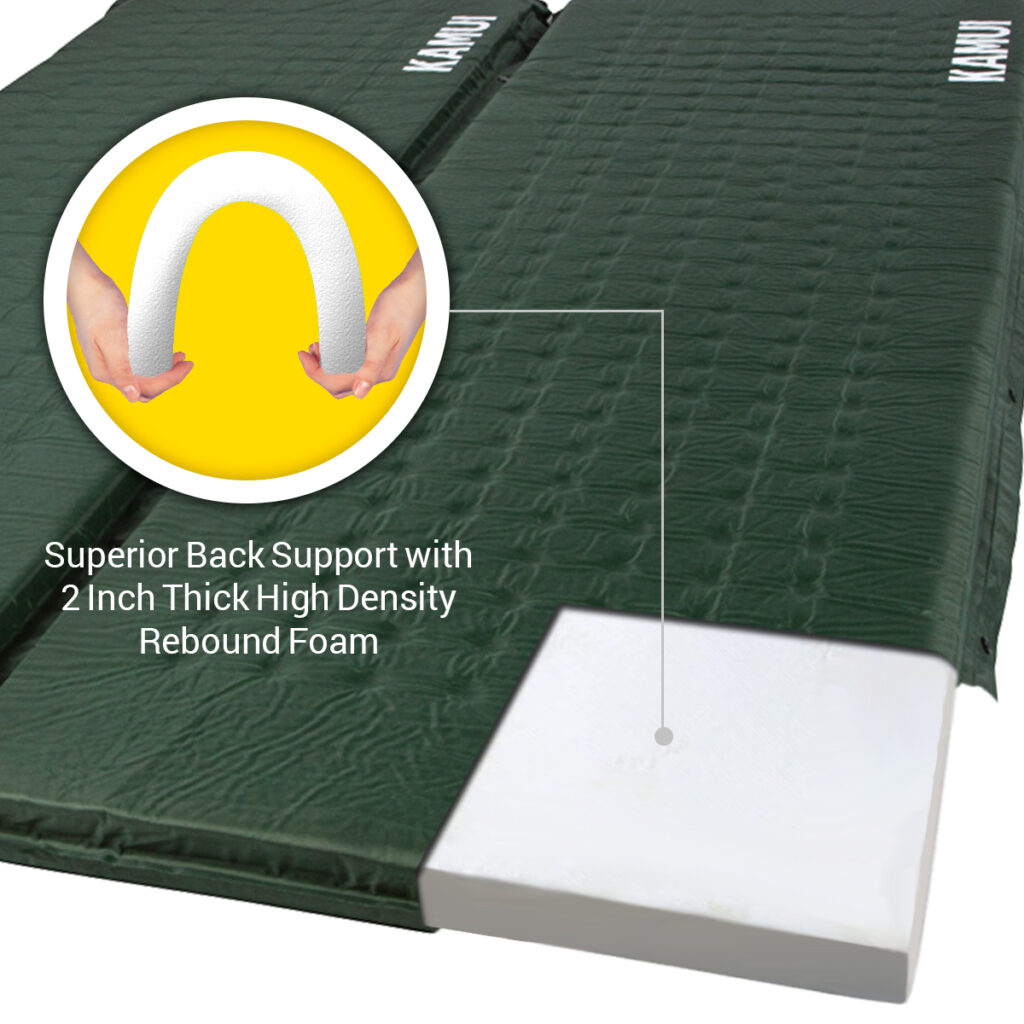 Camping season and weather conditions
If you camp mostly during the warm season, a lightweight medium thick camping pad is a great choice. Think between 4 to 6 inches in thickness.
However, winter camping requires a thicker sleeping pad to insulate your back from chilly temperatures. Go for a camping mattress from 5 inches thick and above 5 in R-value.
User weight
If you are on the heavy side, you should consider a camping mattress with more support. A thicker mattress prevents waking up with aches and can support your back, especially if you sleep exclusively on your back.
Camping cots and inflatable mattresses are highly recommended for heavy campers.
Mattress size
Mattress size is all about comfort. Your size relative to where you are setting up the mattress also influences your choice. If you're setting up the camping mattress in a car, you'll need to get a 6-foot-long (72-inch) mattress to sleep comfortably without arching and bending your back. The same goes for setting up outside in a tent.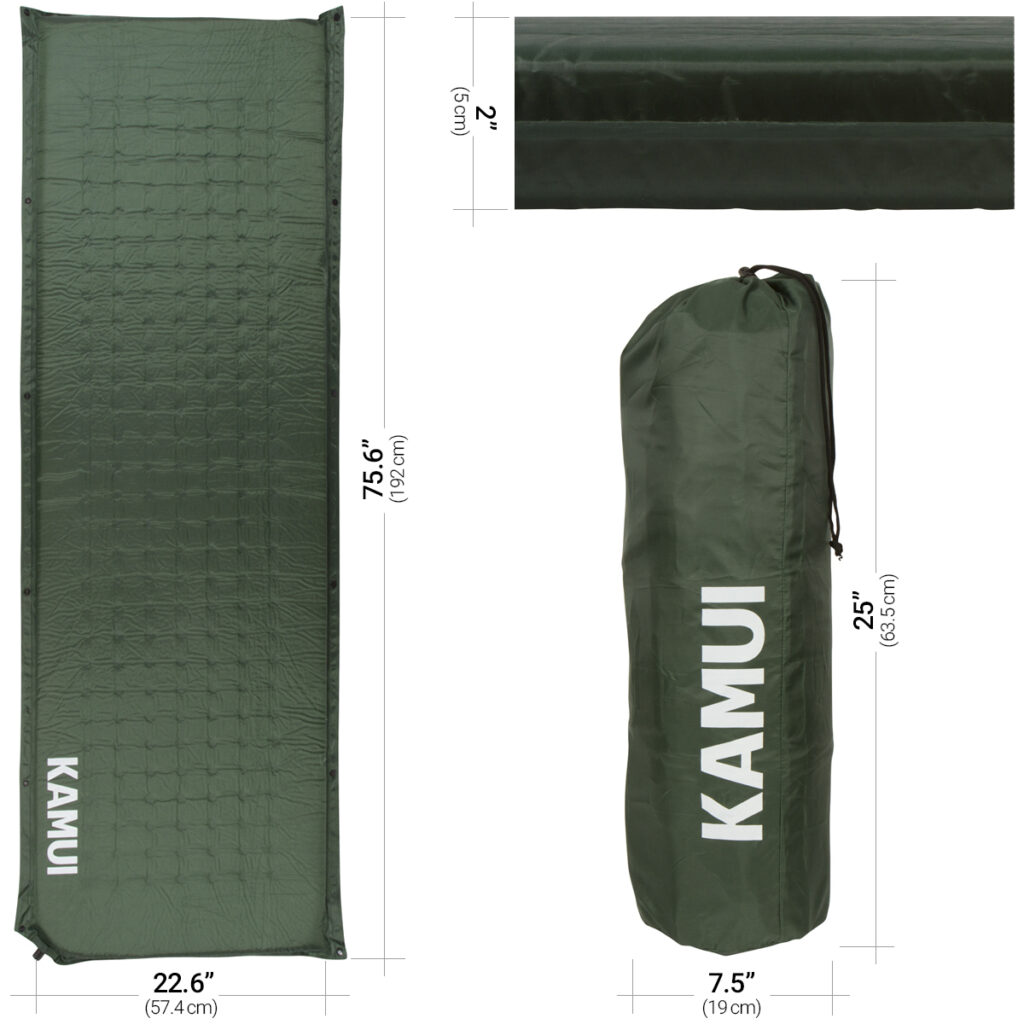 Check out the width, too, if you're setting up a couples' sleeping pad for camping.
Adjustability
You can adjust most inflatable camping mattresses to give you that sweet spot of comfort that takes the pressure off your painful back and gives you enough cushion. Ideally, you're looking for an open-cell foam sleeping pad or air pad you can inflate or deflate quickly for better rest.
Best Type of Camping Mattress for Bad Back
Inflatable Mattress
Inflatable mattresses can be filled manually using an electronic air pump or a hand pump. They are great for a bad back since they are light and have great cushioning.
Pros:
Inflatable mattresses are easy to pack and set up, even if you have a bad back. You can also vary inflation levels according to the desired hardness and the sleeping area. Furthermore, you can add extra components, such as heating pads during cold weather, for more protection and back pain relief.
Cons:
You better avoid rocky patches if you have an inflatable mattress. They are prone to tears and rips that can be costly to fix. Also, some of the more premium camping air mattress for folks with a bad back might be pricier.
Self-inflating Sleeping Pad
Self-inflating sleeping pads like the KAMUI Self-inflating Sleeping Pad rely on the open-cell foam automatically taking in air once you open the valve. The self-inflation does the hard bit for you. However, you can manually blow air into the self-inflating mattress for extra firmness.

Pros:
Self-inflating sleeping pads require minimal effort to fill. You'll get great back support and more protection since they have better insulation. Also, you can adjust the firmness. When packing up, you must open the valve and roll it up from the opposite end.
Cons:
Self inflating mattress are bulky and less practical for backpacking if you have a bad back. But if you're into car camping or tent camping your car, having this sleeping mat will translate to a good night's sleep.
Memory Foam Mattress
Memory foam mattresses for camping are filled with high-density foam and memory foam. Open-cell memory foam offers great cushioning from the ground and for your back.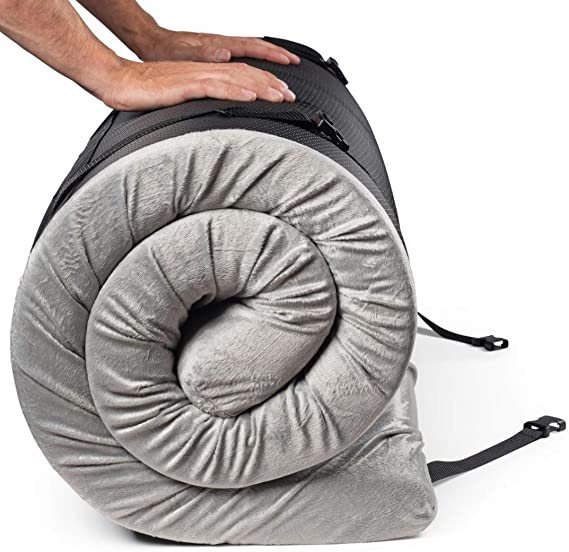 Pros:
Memory foam takes your body's shape. Its ability to conform to your body makes it ideal for changing sleeping positions. The foam pad saves you from feeling the uneven ground underneath. Of all the options, it has incredible durability.
Cons:
Like self-inflating sleeping pads, memory foam mattresses for camping can be bulky.
Camping Cot
Camping cots are a foldable replacement for a bed. They come with an underlying support structure that lifts the mattress or sleeping pad off the ground. They offer great back support across a range of weight classes.
Pros:
You can adjust the height on a camping cot to reduce the crouching distance. Camping cots are great for solo camping because of their easy setup. You can use a camping cot with a suitable camping mattress or sleeping pad for better back pain relief while on a camping trip.
Cons:
You might have to layer the bottom with a heating pad to prevent heat loss from the bottom. Also, they are bulky if you intend to save space during transport. Finally, they are costlier than most air mattresses.
Our Top 5 Best Camping Mattresses for Bad Backs:
SLEEPING PAD BRAND
KAMUI Self-Inflating Sleeping Pad
Gear Doctors Camping Pads Self Inflating
Nemo Equipment Quasar 3D
Big Agnes Insulated Q-Core Deluxe
Coleman Camping Cot
TYPE
Self-Inflating
Self-Inflating
Inflatable Pad
Memory Foam
Camping Cot
IDEAL FOR
Tent/Car Camping
Camping/Hiking/
Backpacking
Tent/Car Camping/
Backpacking
Hiking/Solo Camping
Tent/Car Camping
PROS
High rebound foam for back support; accommodates all weight classes; connectable for wider turning space; R-value great for the cold season.
Minimal space when packed; water-proof and UV-resistant outer shell;
thin enough for hammocks;
Comes with a repair kit in case of rips
Baffles to provide cradled support for back sleepers; vortex pump sack for moisture reduction;
ideal for bigger users

Quilted top and nylon spandex fabric;
Interior anti-microbial treatment;
Multiple valves for fast inflation


Supports up to 600 lbs;
Steel frame construction;
Comes with a removable camping mattress and pump
CONS
Needs to be stored open
Inflating and deflating takes more time than expected.
The inflation process
may be complicated for some users.
Prone to leaks at the seams;
Not the best for winter camping
The battery-powered pump doesn't inflate too fast
SIZE
75.6×22.6×2″
(192×57.40×5.08cm)
72x22x1.5"
(182.88×55.88×3.81cm)
76x25x3.5″
(193.04×63.5×8.89cm)
72x20x3.5"
(182.88×50.8×8.89cm)
78x 59×2"
(198.12×149.86×5.08cm)
WEIGHT
3.5 lbs
(1.59 kgs)
2.2 lbs
(0.99 kgs)
2 lbs
(0.91 kgs)
2 lbs
(0.91 kgs)
41.9 lbs
(19 kgs)
R-VALUE
5.7
4.3
3.3
4.3
–
FAQs
What is the best R-value for a camping mattress if you have a bad back?
For an avid camper who camps throughout the year, an R-value between 4 and 6 is the best sleeping pad for camping if you have a bad back. An R-value of 4 gives you just enough insulation for average night temperatures, while an R-Value of 6 provides enough thermal insulation against the winter cold. If you are a summer camper, go for an R-value between 2 and 4.
Are self-inflating sleeping mats comfortable for camping?
Self-inflating sleeping mats offer more than just comfort while camping. They are easy to pack and set up. They self-inflate when you open the valves that let outside air fill the open-cell foam. You can also let out some air to match your preferred softness.
How thick should a sleeping pad be for back sleepers?
Typically, 2.5 inches is enough for a back sleeper. However, you can get a sleeping pad as thick as 3.5 inches for back pain relief. Alternatively, you can stack sleeping pads vertically to get more support.
How wide should a sleeping pad be for back sleepers?
Sleeping comfortably on your back guarantees restful sleep as a back sleeper. To that end, 25-30 inches would be ideal for a solo sleeping pad. However, you can pair two sleeping pads horizontally to accommodate side movements if you are a light sleeper.
How can I make my sleeping pad more comfortable?
You can use two approaches to increase your comfort level if you're camping with back pain. Layering a sleeping pad on top of another is one of the best methods to make your sleeping pad more comfortable. Adjusting the air content in inflatable or self-inflating sleeping pads also works.
Add a comfortable pillow for shoulder and neck support to improve your sleep experience while camping.
Conclusion
The best camping mattress for bad back provides excellent back support, is adjustable to your preferred level of comfort, and accommodates your size and weight. Based on our mattress review, only a few made the cut.
Check out our KAMUI Self-inflating Sleeping Pad if you're looking for the best combination of back support and comfort. Back pain should not dull anyone's enthusiasm when spending time outdoors.