Best Sleeping Pad for Stomach Sleepers: Guide to Key Features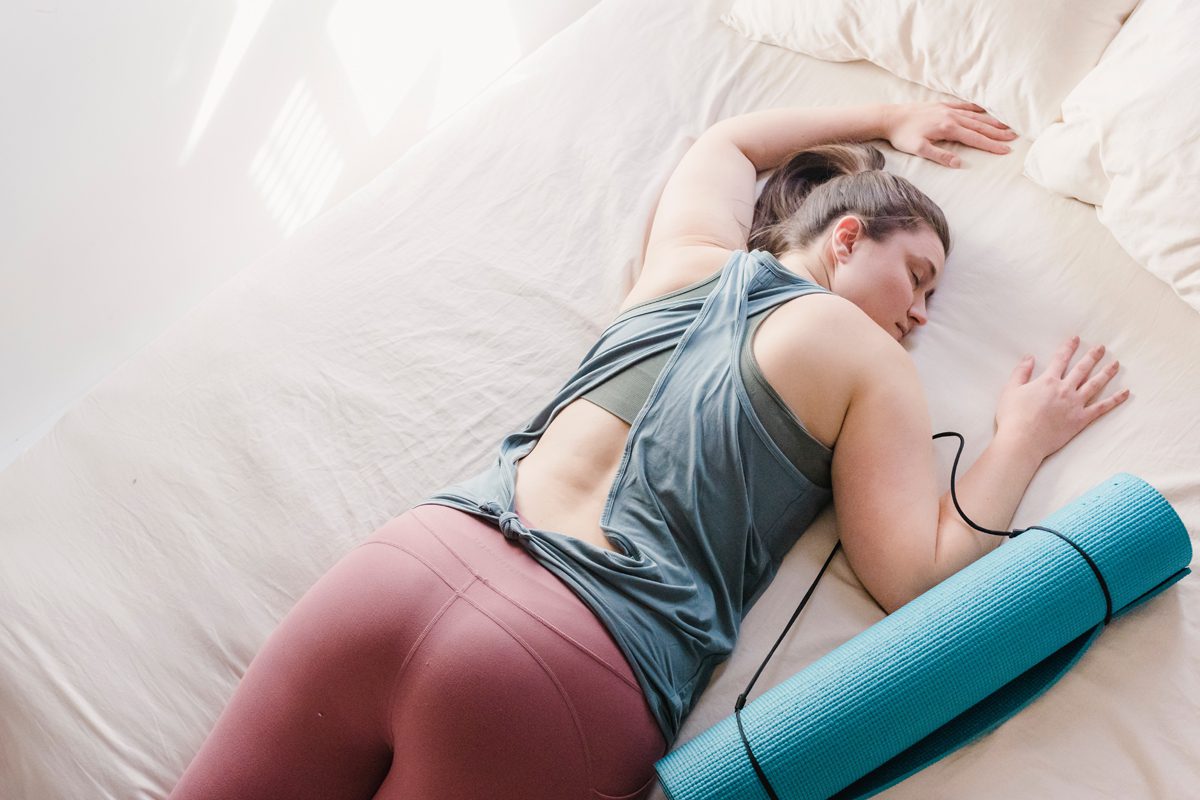 Speak to any sleep specialist or orthopedic doctor about sleeping positions, and they'll tell you that sleeping on your stomach is one of the worst things you can do for your sleep quality. It causes back pain, poor circulation, and shoulder and neck soreness, even on an expensive full-size mattress. Thankfully, outdoor equipment brands developed the best sleeping pad for stomach sleepers.
These sleeping pad models feature thicker and softer materials, extra cushioning, and ergonomic designs that contour your body and provide extra support. So, if you're an outdoorsman looking for a good sleeping pad, read on. We've compiled a list of the best camping sleeping pads for stomach sleepers to help you find the best one for your needs. Here are our 5 quick picks, each of which will be described in more detail in our mattress review below.
Quick Recommendations:
Best Overall: KAMUI Self-inflating Sleeping Pad
Most Comfortable for Front Sleepers: Sea to Summit Ether Light XT Sleeping Mat
Easiest to Use: ECOTEK Outdoors Hybern8 4 Season Ultralight Sleeping Pad
Best Value: NEMO Tensor Insulated Sleeping Pad
Most Portable: Therm-a-Rest NeoAir XLite Ultralight Sleeping Pad
Factors to Keep in Mind
You can create your little oasis in the woods with a good sleeping pad. But if you're a stomach sleeper, it'll be harder to get good sleep because a typical sleeping pad or air pad isn't up to snuff when providing support for stomach sleepers. But don't worry! Here are some features to look for when shopping for the best camping sleeping pad for stomach sleepers.
Length
The length, of course, is one of the easiest to explain. Just choose a pad that can accommodate your height. Ideally, you should choose one that extends just a little further beyond your feet. This should help ensure that you can keep yourself inside the pad even if you move in your sleep.
Width
The importance of width is often overlooked when buying a sleeping pad. You want to ensure that your pad is wide enough to support your body throughout the night. A wider sleeping pad helps with this as it gives you more room to move without leaving any gaps in its coverage.
Thickness
Thickness is also an important factor when it comes to choosing a sleeping pad. Thicker pads provide more support, which you want if you're into stomach sleeping.
Choose an air mattress that has at least 1-2 inches thick and has a good amount of cushioning. That way, you can get a good night's sleep without worrying about your body sinking into the ground.
Shape
Product designers also play around with shape for ergonomics and space- and weight-saving purposes. When finding the best camping sleeping pad for stomach sleepers, look for a mattress type with an ergonomic shape that accommodates your most comfortable sleeping position.
In some cases, stomach sleepers tend to extend their legs farther to their body. This makes it impractical to get a sleeping pad that tapers at the bottom. Instead, look for a design that has an oval or rectangular shape which will make it easier to accommodate your favorite position.
Packability and Weight
When you're backpacking or camping, space in your bag and the load you can carry are limited. Luckily, most of today's best camping sleeping pads are designed with packability and weight in mind.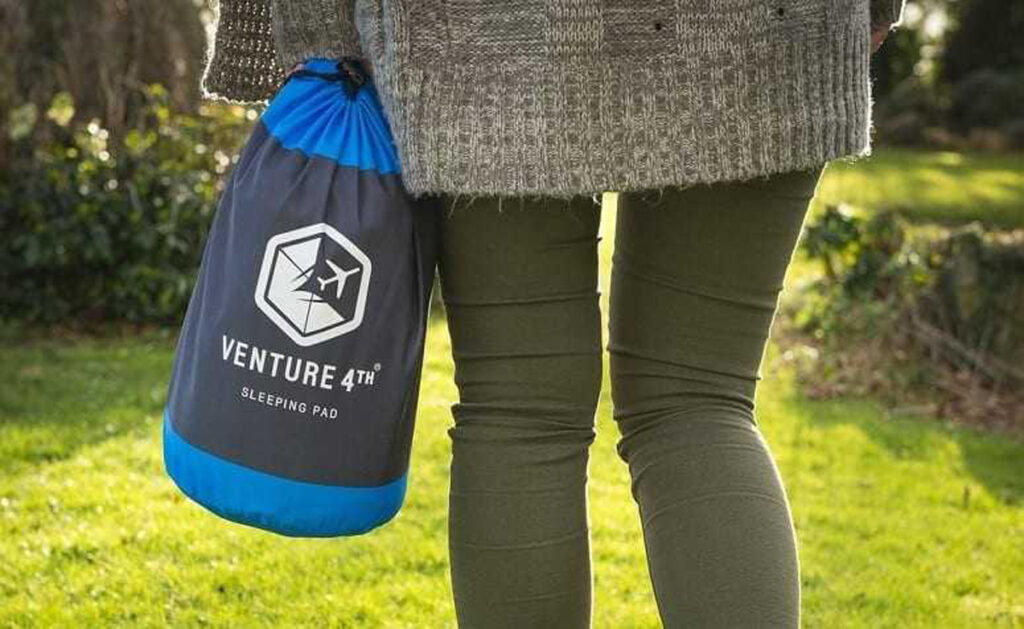 Consider a foam pad that packs small without sacrificing comfort. The lighter the sleeping pad is, the better, as it will make carrying your gear much easier. Ultralight designs have become increasingly popular and can be comfortable when used properly.
Don't forget that the inflation process is also part of the package. So, ensure it comes with a lightweight air pump with its pump sack for portability.
Comfort
One of the most important aspects of a sleeping pad is its comfort. No matter how light or packable it is, you'll still have difficulty getting some shut-eye if it's not comfortable enough. For best results, look for one with superior cushioning to support your body.
However, it's not all about cushioning; the sleeping pad's material is also important as it affects heat retention and the general comfort of the pad. The material's texture is also especially important to stomach sleepers as they're often in contact with the sensitive parts of your body, such as your face.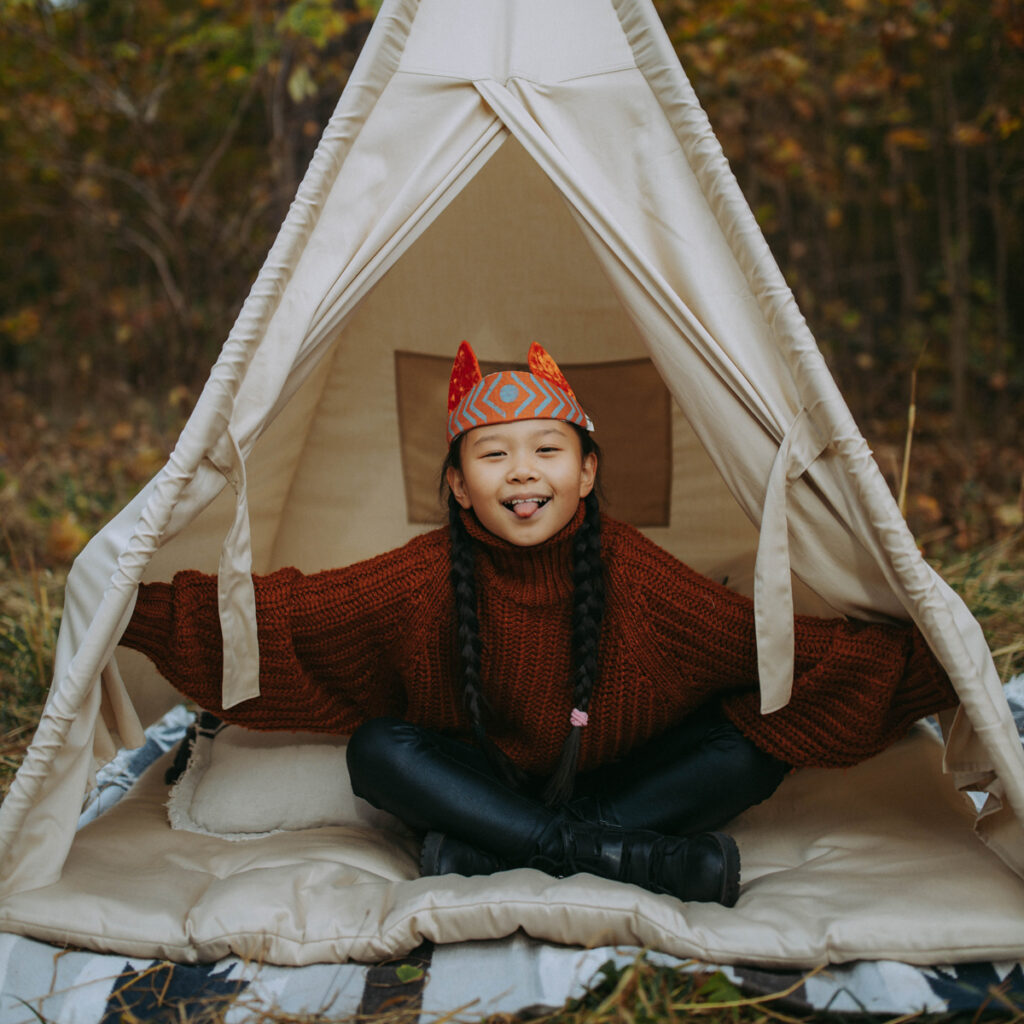 Warmth
Sleeping mats can be measured in something called R-values. This number tells you how well the pad will keep you warm. The higher the number, the warmer the pad will be.
We recommend sleeping pads with a 3.2 R-value or higher for best results. This should be enough to keep you warm during cold nights but won't make you too hot on warmer evenings. In a way, sleeping pads with this value are three-season sleeping pads that can be used with decent efficiency.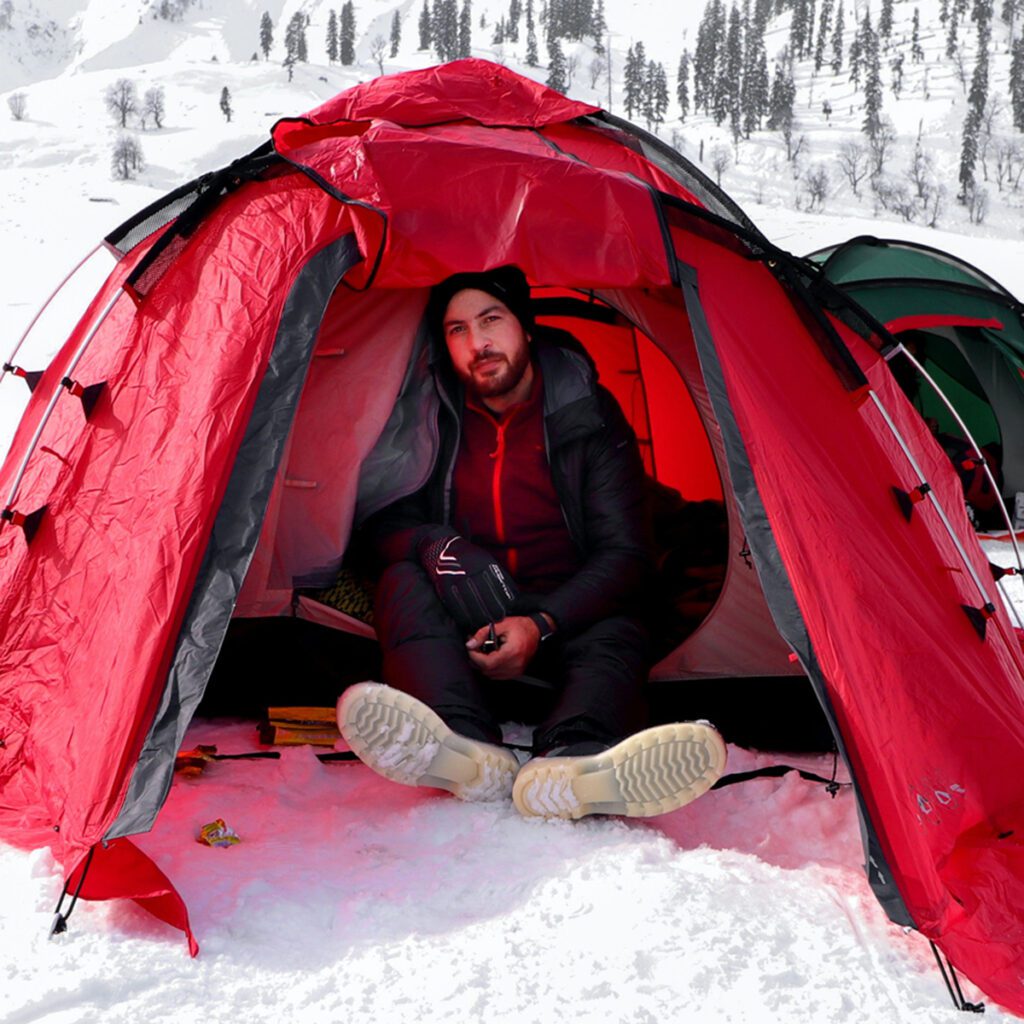 Features to Avoid
With a little knowledge of what to look for, we can begin sifting through things we need to avoid for a good night's sleep while camping.
Noisy
Some sleeping pads can be quite noisy. This could be because of a crinkling sound or other noises. While this may not bother some people, it can be quite annoying for stomach sleepers who are sensitive to noise.
Look for pads made with an ultra-soft material that won't make any noise as you move on the pad throughout the night.
Vertical Ridges
Most ground mats are made with ridges of baffles to provide a maximum cushion. For stomach sleepers, it's important to steer clear from mats with vertical baffles as these are notorious for "taco-ing," which leads campers to roll off to the side.
Sleeping pads with horizontal baffles and other designs are much more stable and comfortable for stomach sleepers.
High Pillows
The built-in pillow is one of the roll mats' most often touted features. However, this can be an issue for stomach sleepers as the pillow will most likely push up against your face. If it's too thick, it can also prevent you from settling your neck in a neutral position.
If your sleeping pad has built-in pillows, make sure it's not too thick. If not, avoid pillows altogether.
10 Best Sleeping Pads for Stomach Sleepers
Now that we have a good idea of what to look for and what to avoid in a sleeping pad, here are the ten best sleeping pads for stomach sleepers:
1. KAMUI Self-Inflating Sleeping Pad
The KAMUI Self-Inflating Sleeping Pad may not be the thickest or widest, but it has a special interlocking system to ensure you get a good night of sleep. You can clip two sleeping pads together horizontally for a wider sleeping surface or stack them vertically for more cushion. With this interlocking feature, KAMUI is the perfect option for couples who like adventure.

On its own, the KAMUI Self-inflating Sleeping Pad is a no-frills thermal pad with sufficient insulation and outstanding comfort that aids in pressure relief for stomach sleepers.
Product Specs:
Size: 75.6×22.6×2″ (192.04 x 57.40 x 5.08 cm)
Weight: 3.5 lbs (1.58 kgs)
Pros:
Lightweight and packs small, so you can bring it around with ease
Surprisingly high R-Value at 5.7 for a well-insulated sleep
Self-inflating technology means you can save your breath
Because it's a hybrid mattress with an air and foam layer, it's quite a comfortable sleeping pad despite the thin profile
Cons:
With a 1.5 kg weight, it's not the lightest in its category
2. Sea to Summit Ether Light XT Air Sleeping Mat
The Sea to Summit's Ether Light XT Insulated Air Sleeping Mat takes the title for the thickest inflatable sleeping pad on its price tier with a 4-inch thickness. And it's also quite expensive, especially compared to the others on this list.

Product Specs:
Size: 72x25x4″ (183x64x10.2 cm)
Weight: 1.4 lbs (0.63 kg)
Pros:
Good insulation with 3.2 R-Value
Lightweight design and packs small for ease of transport
Can be inflated via an air pump or by mouth
Cons:
Reviewers question its durability
The material is quite noisy
3. ECOTEK Outdoors Insulated Hybern8 4 Season Ultralight Inflatable Sleeping Pad
The Hybern8 series from ECOTEK Outdoors is a no-frills take on sleeping pads that offers plenty of comfort and insulation 2.2 inches thick. This is achieved with their patented Contoured FlexCell Design that gives your body a comfortable cushion while keeping warm.
The best part about this sleeping pad has to be the ease of inflation, as it takes just 10-15 breaths to inflate to full size. It's also quite lightweight, and even though its dimensions are slightly smaller than the other two mentioned above, it still offers enough room for most stomach sleepers.
Product Specs:
Size: 74x22x2.2″ (187.96×55.88×5.59 cm)
Weight: 1.54 lbs (0.70 kg)
Pros:
Surprisingly offers good 4.2 R-Value insulation at a 2.2-inch thickness
Affordable compared to other sleeping pads
Cons:
Slightly smaller than other models, so it might be a squeeze for larger people
4. NEMO Tensor Insulated Sleeping Pad
One of the most advanced outdoor gear you can buy today, the NEMO Tensor Insulated Sleeping Pad takes the best out of traditional mattress designs and adds some new features to make it even more comfortable.

Its low-stretch die-cut trusses eliminate springiness keeping your knees and elbows from poking through to the ground as you sleep on your stomach. The spaceframe baffles, on the other help a lot with the stability. Lastly, the two layers of Thermal Mirror Insulation are quite effective, so you're left warm and cozy even on chilly nights.
However, the most exciting feature is that it packs all these technologies and excellent dimensions in a pack that's less than half a kilo feels like a feat of engineering mastery.
Product Specs:
Size: 76x25x3″ (183×63.50×7.60 cm)
Weight: 1.51 lbs (0.68 kg)
Pros:
Spaceframe baffles are great at keeping you in place as you toss and turn throughout the night
Comes with an R-Value of 3.5, making it ideal for all seasons
Cons:
Expensive compared to other sleeping pads of similar quality
5. Therm-A-Rest NeoAir UberLite Sleeping Pad
When Therma-A-Rest says UberLite, they mean it. The NeoAir UberLite is one of the lightest and most portable sleeping pads on this list.

Product Specs:
Size: 72x25x2.5″ (183x51x6.35 cm)
Weight: 0.55 lbs (0.25 kg)
Pros:
Having a 6 x 3.6 inch packed size, the UberLite is one of the most portable pads on this list
Cons:
Expensive compared to other similarly-specced models on this list
Its R-Value is 2.3, so it may not be the most appropriate outdoor gear for colder months
2.5-inch thickness means heavier individuals may find it uncomfortable
6. Big Agnes Insulated Q-Core Deluxe
As one of the biggest names in outdoor gear, Big Agnes certainly delivers with their Insulated Q-Core Deluxe Sleeping Pad. It's a versatile sleeping pad packed with features in a small form factor.
Starting with its I-Beam construction that provides a supportive cushion as you sleep on your stomach, Big Agnes takes it even further with their Q-Core and Prima Loft Silver insulation. This helps in keeping you warm even when the temperature drops below freezing. Additionally, the entire pad is coated in durable Ripstop nylon, preventing any damage to your sleeping pad.
Product Specs:
Size: 78x25x4.25″ (198.12×63.50×10.80 cm)
Weight: 2 lbs (0.91 kg)
Pros:
Priced competitively for its features
Excellent insulation for cold nights
Ripstop nylon is durable and tear-resistant
Q-Core and Prima Loft Silver insulation keeps you warm in cold weather
Cons:
Heavy compared to other sleeping pads
Quite bulky when packed away, making it difficult but doable to transport on hikes or camping trips
7. Klymit Static V Sleeping Pad
Boasting a unique V-design, the Klymatic Static V doesn't lack innovation. This sleeping pad has been designed with comfort in mind, and best of all; it comes with an innovative baffle design that won't fold or "taco," keeping you in the center even if you move a lot in your sleep, a common problem for stomach sleepers.

Product Specs:
Size: 72x23x2.5″ (183×58.40×6.35 cm)
Weight: 1.56 lbs (0.71 kg)
Pros:
Innovative V-design that prevents you from sliding off to the side
Relatively inexpensive compared to the others on its price tier
4.4 R-Value makes it excellent as a 4-season option ground pad
Cons:
2.5-inch thickness may not be enough for heavier sleepers
23-inch width is not ideal for bigger people
8. Outdoorsman Lab Premium Sleeping Pad
The 3.54 inches of thickness that the Outdoorsman Lab Premium Sleeping bag has to offer means that you'll be in the lap of luxury even when you're sleeping on the ground. It's as close to a home mattress you can get in the middle of a camping trip.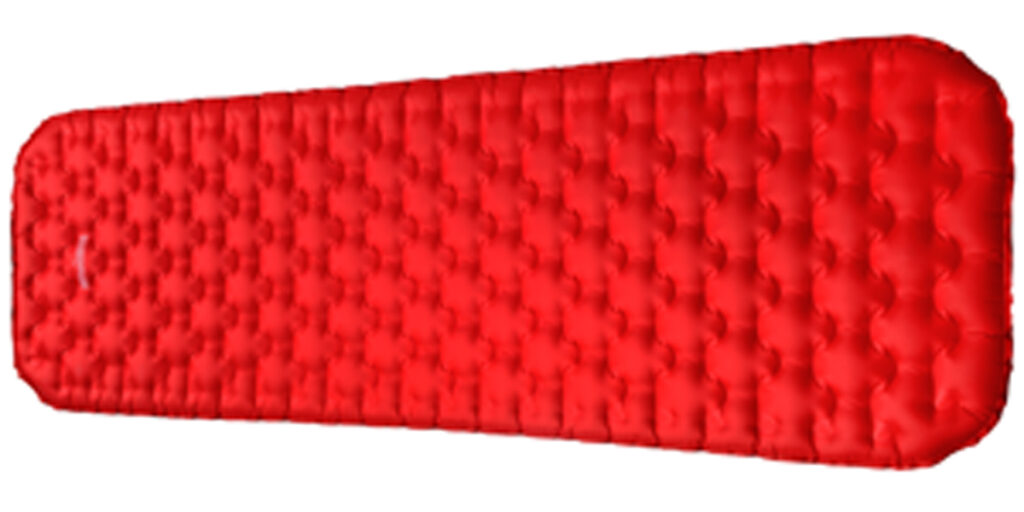 Product Specs:
Size: 76x26x3.54″ (76x26x3.54″ (193x66x9 cm)
Weight: 2.73 lbs (1.24 kgs)
Pros:
Massive 3.54-inches thickness, perfect for stomach sleepers who need a lot of cushioning
Innovative air cells design ensures maximum comfort and extremely quiet
The 3.5 R-Value makes it a versatile pad you can use in the heat of summer and in the cold, dry winters
Cons:
It's not that lightweight at 1.24 kgs, and a separate pump makes it one of the least portable in its category
9. Hikenture 4-Inch Thick Self-Inflating Sleeping Pad
If you want to recreate the feeling of sleeping on a full-sized mattress while out in the elements, Hikenture's Thick Self-Inflating Sleeping Pad is the way to go. It stands out from the rest with its 4-inch thickness and waterproof surface.
And because it's such a thick mattress, it's well insulated with an R-Value of 9.5. So, no matter how cold the nights are, you will be warm and cozy on a Hikenture.
Product Specs:
Size: 78x32x4″ (198.12×81.30×10.16 cm)
Weight: 6.40 lbs (2.90 kgs)
Pros:
Waterproof surface makes it perfect for damp camping grounds
Material is virtually noiseless, even for restless sleepers
Cons:
Not as portable because of its size and weight
Pump sack and two-way valve system aren't very efficient, so it takes too long to inflate and deflate
10. AIRELAX Single 3D Self-Inflating Camping Mattress
The best thing about the AIRELAX Single 3D Self-Inflating Camping Mattress is that despite its 4-inch thickness, 80-inch length, and 28-inch width, it still packs quite small and lightweight.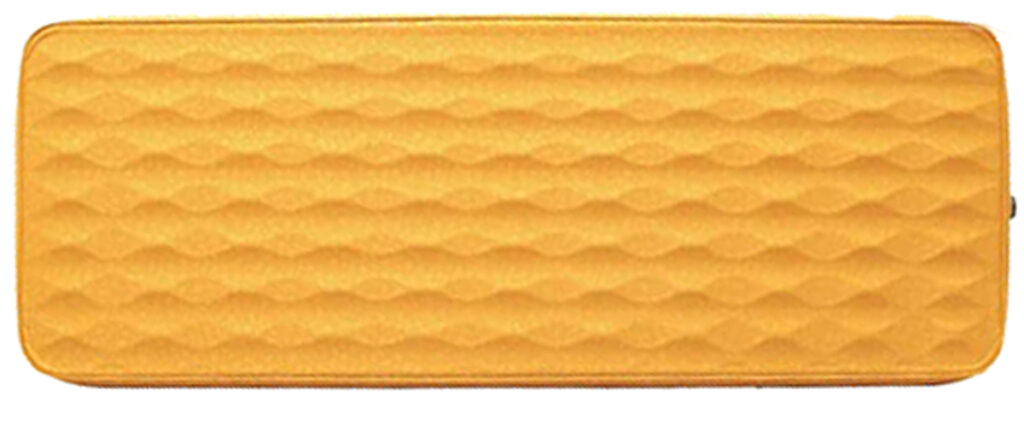 Product Specs:
Size: 80x27x4″ (203×68.58×10 cm)
Weight: 7.10 lbs (3.22 kgs)
Pros:
Length and width are great for taller people or for couples
Comes with an R-Value of 9.5, giving extra insulation, so it's the perfect sleeping pad during the colder months
Surprisingly easy to roll back into its bag
Cons:
The dimensions and weight makes it feasible only for car camping or easy hikes
Takes a long time to inflate even with the inflation sack
FAQs – Best Sleeping Pad for Stomach Sleepers
What is the best camping sleeping pad for front sleepers?
Front or stomach sleepers need plenty of cushion and width in their sleeping pads. And only KAMUI can offer the modularity to keep even the heaviest individuals comfortable sleeping on their stomachs. You can stack them on top of each other for maximum thickness or next to each other for maximum width.
What are the advantages of a proper sleeping pad when camping or backpacking?
Getting proper insulation from the ground temperature is probably one of the most important benefits of bringing along a proper sleeping pad. However, the added comfort is a compelling reason to bring one.
What is considered the best position for sleeping?
Sleeping on your back is considered the best way to sleep as it allows correct spinal alignment and keeps your airways unobstructed.
Are self-inflating sleeping pads good?
Self-inflating pads have become an excellent option for getting a good night's rest when hiking or backpacking. They're incredibly lightweight, and if well-designed, they offer the same comfort that thick foam pads can provide.
What kind of pillow is for stomach sleepers?
For stomach sleepers, a thin pillow is the best way to go. It still gives you enough head support while keeping your airways free from obstruction.
Conclusion
It's difficult to find sleeping pads for people who like to sleep on their stomachs. Thankfully, a few on the market offer good cushion and insulation based on our review. One is the KAMUI Self-inflating Sleeping Pad, an adjustable firm mattress that combines an air and foam core design to relieve pressure and provide optimal comfort even when you're away from home.
Hopefully, we were able to help you find the best sleeping pad for your stomach-sleeping needs. Just check out all the specs and features before making your final buy!