Best Camping Pad for Heavy Person: Our Complete Guide to Sleeping Comfortably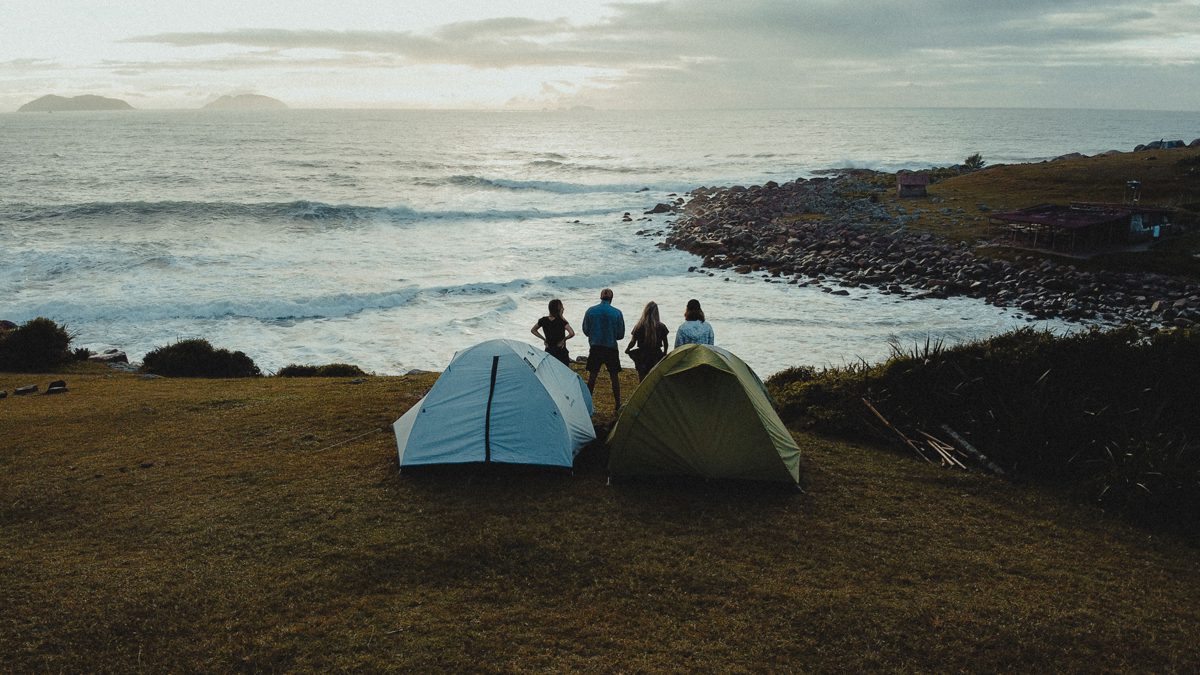 Camping is one of the most fun, relaxing ways to spend time with your family. It's also a great way to connect with nature and enjoy the beautiful outdoors. If you're planning a camping trip, getting the best camping pad for heavy people is essential to ensuring you get the most out of your journey. But with all the options available, choosing the right one can take time and effort.
We've put together this guide to help determine which camping sleeping pad is right for you and your friends or family. We'll also go over tips on what you should look for to find the best camping pad that suits your needs. Before we dive in, here's our quick list of the ten camping pads we recommend to overweight individuals.
10 Best Camping Pads for Heavy People:
Why might a sleeping pad for heavy people be necessary?
Sleeping pads for heavy people can be a lifesaver. If you're a heavy person, there are a few reasons why you might need a sleeping pad for heavy people.
They help increase comfort and promote better sleep.
They can reduce the noise created by movement during sleep.
If you're a heavy person, you know how difficult it can be to find the right camp sleeping pad. It would be best to have something strong enough to support your weight but still light enough to carry into the backcountry.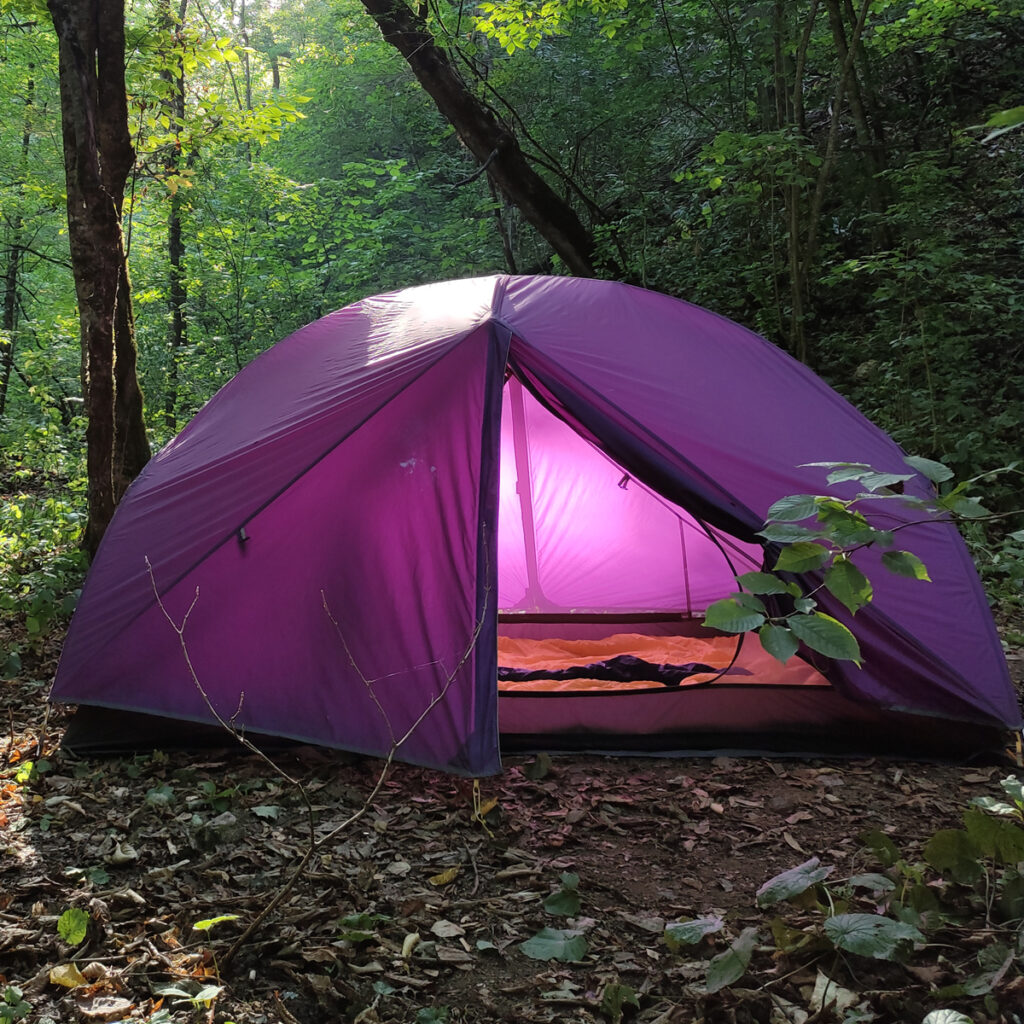 You also want it to be comfortable and affordable, but no one wants to spend extra money on something they'll only use once or twice yearly. It might seem impossible, but there are some great options if you know what to look for.
What should you look for in a sleeping pad for a heavy person?
R-value
R-value measures how well a material resists the flow of heat. In layman's terms, it tells you how warm or cold you will be while lying on your sleeping pad. The higher the R-value, the better insulated your sleeping mat is; thus, the more warmth it can provide on a cold night.
Regardless of your body weight, you will need a sleeping pad with a higher R-value to insulate you from the cold ground. Although you must consider that pads with higher R-value ratings are usually thick and bulky if you're backpacking. But if you're car camping, you don't need to skimp on your gear's weight.
Shape and Type
The sleeping pad shape is crucial in how comfortable your sleeping experience will be on the trail. When selecting a shape for your sleeping pad, think about where you'll be using it most frequently, indoors or out, and if it's just for yourself or if others will use it too.
A mummy-style camping mattress is your weapon if you're a light-ounce counter. These pads weigh less and pack smaller, freeing up space in your camping equipment. A conventional, rectangular camping pad can be the best option for people who detest feeling constrained while they sleep. Going traditional can result in you gaining five ounces or more, but you'll also have more space to sprawl out at night.
Width
Most of the time, a wide sleeping pad is more comfortable. But if you're a heavy person, your body weight may compress the foam core of your sleeping pad, making it uncomfortable as those sleeping pads for backpacking.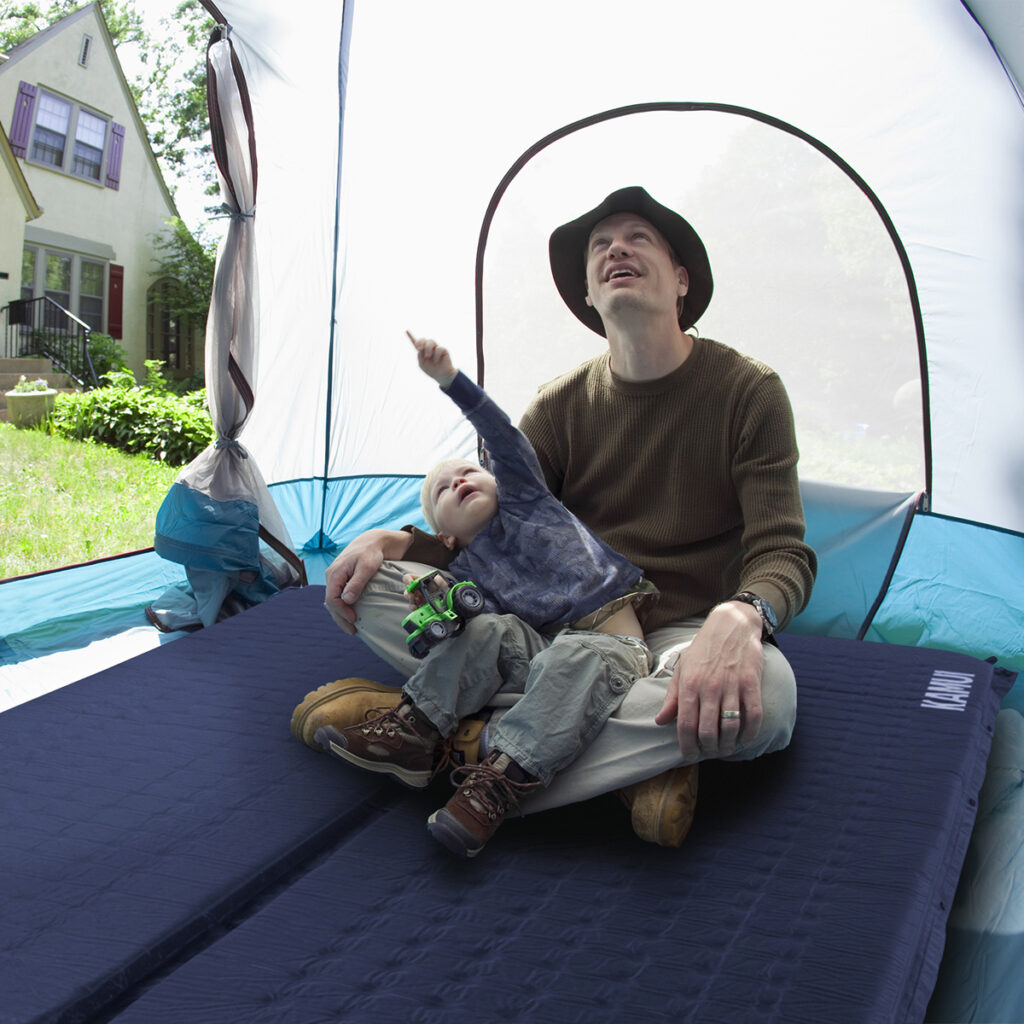 Some pads have variable width options so users can choose between wider or narrower configurations based on their needs. Wide camp sleeping pads are handy for heavy people who want extra space between themselves and their partner at night and enough room not to feel cramped while lying inside their tent or hammock.
Thickness
Thickness is the most obvious factor when choosing a sleeping pad. Choose a sleeping pad that incorporates a high rebound foam interior to ensure even weight distribution and dense cushioning so you don't feel the hard ground below you in the middle of your sleep.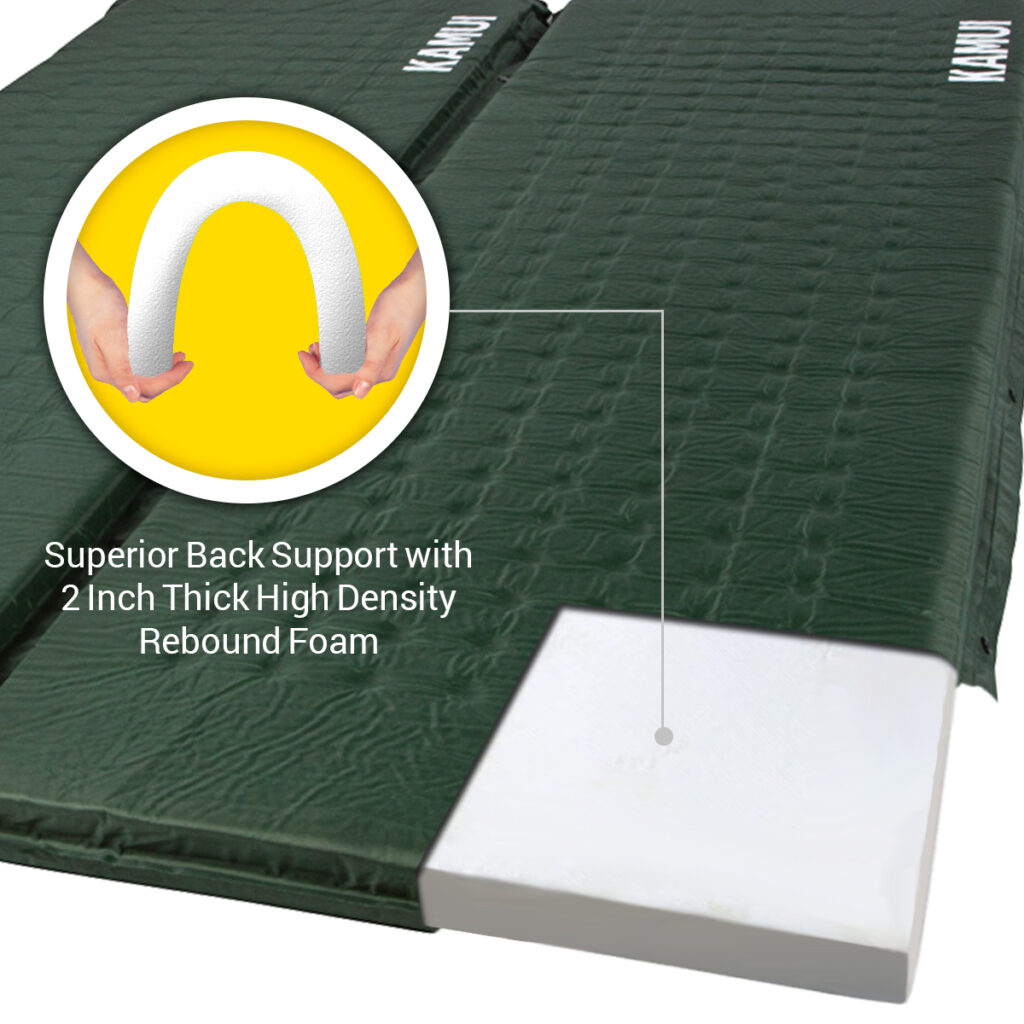 Weight
The weight of your sleeping pad is one of the most important factors when choosing a sleeping pad for backpacking. The heavier you are and the heavier your gear load is, the more likely you'll feel pressure points on either side of your hips, which can lead to discomfort or cold spots.
In addition to adding more strain to your body, a bulky foam sleeping pad takes longer to set up when camping in the backcountry.
Cost
Price can be a good indicator of quality, but there are other factors you should consider when buying a camping mat or even a backpacking pad for a heavy person. You can find cheap options online that are excellent quality and will last for years, so don't let the price tag scare you away from something that might work perfectly for you.
You get what you pay for when it comes to camping equipment in general, and sleeping pads are no exception. If possible, rent or borrow one before committing to buying one yourself so that you know it's right for your needs and body type.
The Best Camping Pad for Heavy People: Our Top Picks
1. KAMUI Self-Inflating Sleeping Pad
The simple KAMUI self-inflating sleeping pad is one of the best camping pads for heavy people as it offers all the features that will make you sleep comfortably during your camping trip. This comfortable self-inflating sleeping pad only weighs 3.5 lbs, allowing you to transport it from one place to another without significantly increasing your pack weight.

The easy-to-use self inflating pad is built of 2-inch-thick high rebound foam on the inside and durable 190T polyester casing to provide peace to your sleeping situation.
This extremely comfortable self inflate sleeping pad also has a thick R 5.7 value for heavy people seeking excellent comfort and warmth while camping. Additionally, they are simple to stack and occasionally can be placed side by side to provide a bigger sleeping surface. It comes with a stuff sack and three compression bands that are handy when on a trip.
2. Sea to Summit Comfort Plus Self-Inflating Foam Sleeping Pad
This camping essential has an R-value of 4.1 and 3 inches of thickness, providing the insulation and cushioning you need when camping in summer, spring, and fall.

The no-slip design on the fabric will ensure your sleeping bag will stay on the sleeping pad even while rolling in your sleep. It comes with a repair kit in case you need to do fixes while out in the woods. Just make sure to choose the size that accommodates your build.
The inflation and deflation process is made easier through its reversible one-way air valve, and some users find this feature very practical.
3. Therm-A-Rest Trail Pro Self-Inflating Sleeping Pad
One of the best backpacking sleeping pads is the Therm-A-Rest Trail Pro Self-Inflating Sleeping Pad. It has a weight capacity of 1,400 lbs, and people who tried using it are satisfied with this sleeping gear's comfort, convenience, and size.

There are three sizes to choose from at different price points. It offers 3″ of thickness and an R-value of 4.4. This backpacking sleeping pad self-inflates three times faster than a conventional pad because it has a Winglock valve that enables quick inflation and deflation.
4. LOSTHORIZON Self Inflating Sleeping Pad
The LOSTHORIZON sleeping pad for camping is intended for sleeping comfortably in the wilderness. Considered one of the best foam sleeping pads, it has a 4.5″ thickness that will keep you off the ground even if you consider yourself heavy.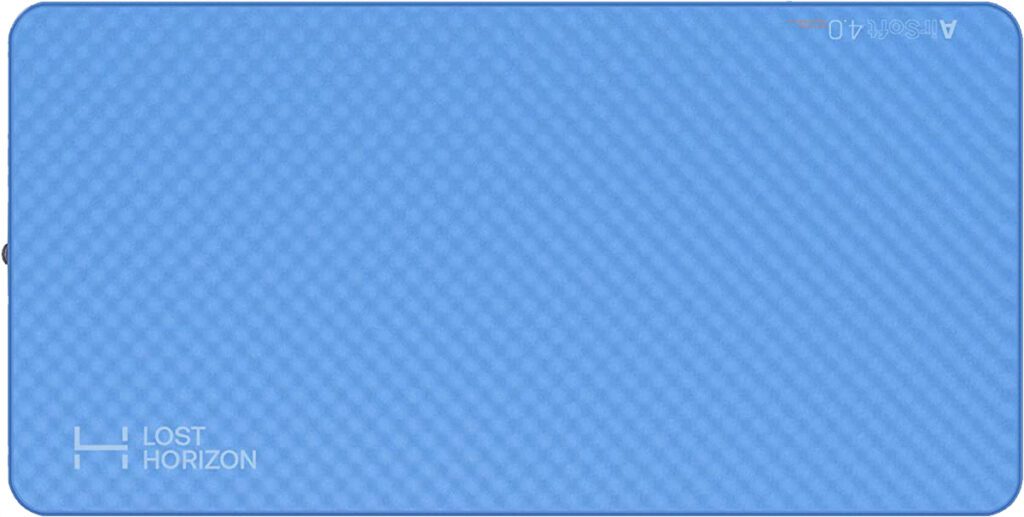 Its two-way air valve feature is designed to achieve easy inflation and deflation by only flipping it. Otherwise, it also has a pump sack which you can use if you prefer quicker inflation.
In this review, this pad has the highest R-value rating of 13, which translates to higher resistance against thermal conductivity during freezing temperatures.
5. Lightspeed Outdoors XL Super Plush Self-Inflating Camp Pad
This thick Lightspeed Outdoor Super Plush Camping Pad inflates on its own, but you can pump it even harder if necessary. The camping pad case is covered by a distinctive dark blue knitted fabric that is wear-resistant. There is no need to be concerned about surface scratches or the possibility of puncture.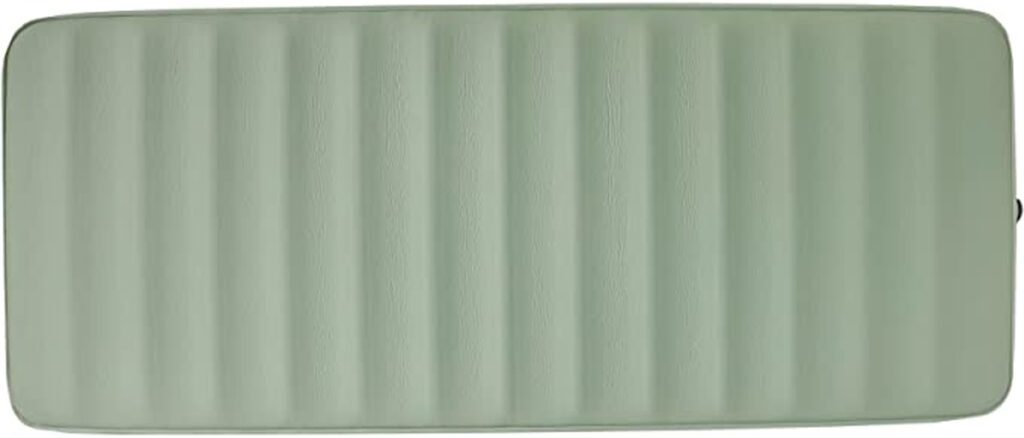 Due to the elasticity of the Lightspeed FlexForm fabric, this foam pad model is among the most technologically advanced. The body does not sweat during warmer nights, maintaining its average temperature. At any temperature, sleeping on such a surface is comfortable.
Additionally, this cushion for sleeping has a high R-Value of 6.3. It implies you won't feel cold even on chilly nights, and the insulating layer keeps its internal heat intact.
6. Hikenture Double Sleeping Pad
The Hikenture Double Sleeping Pad measures 78.74 x 47.5 x 3.75 inches and weighs 3.64 pounds. Since it is spacious, two people can fit in it. The inflatable sleeping pad's folded size is only 13.8 x 5.9 inches.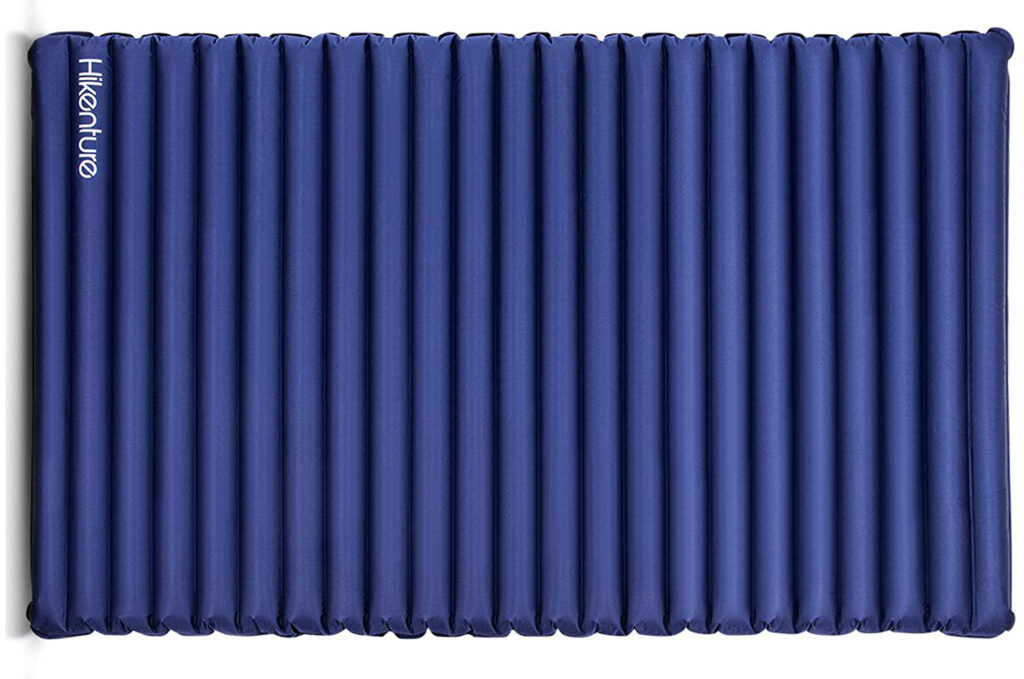 You may use it to turn your car into a sleeping area and bring it camping. The Hikenture Double sleeping pad can be inflated using a pump sack in 5 to 6 minutes.
The cladding material utilized here is TPU polymeric fabric. The sleeping bag is 100 percent water-resistant. It is one of the best air mattresses for couples and families; however, it has no internal thermal insulation layer, so it should not be utilized during winter.
7. Overmont Sleeping Pad
The Overmont Sleeping Pad features a built-in pump, so you don't have to use an air pump or even your breath to blow it. In the same way, packing up is quick and easy – open the air plug to deflate it, and you're good to go.

They've upgraded this inflatable pad to a more extended, wider, and thicker version to be user-friendly for everyone regardless of size or weight.
With an R-value of 5.0 and a thickness of 4.7″, you'll have enough insulation and a comfy air mattress even when winter camping.
8. TETON Sports Outfitter XXL Camp Pad
The Teton Sports Outfitter XXL Camp Pad is one of the front-runners for the title of a cozy camping mattress for large persons. The dimensions of this extra-long sleeping pad, 82 x 38 x 2.5 inches, are astounding.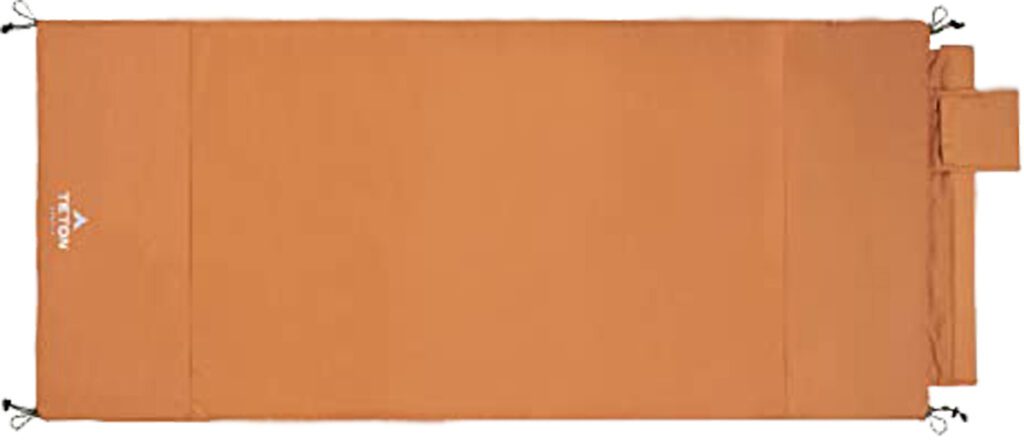 The camping mattress is unusual because of its foam foundation, which is a material with the property of anatomic support. The mattress filling includes a layer of thermal insulation and a porous substance. It radiates body heat and retains it for an extended period.
This sleeping mat is waterproof, protecting you from wetness and soggy ground. The mattress is only 9 pounds in weight. It fastens with distinctive straps so you can wear it on your backpack.
9. Klymit Insulated Static V Lite Inflatable Sleeping Pad
The lightweight, inflatable Klymit Insulated Static V Lite Inflatable Sleeping Pad has an R-Value of 4.4 and is insulated with Klymalite to keep you comfortable when it's freezing outside. The unique V-chamber and synthetic insulation in this camping mattress combine to reduce air movement and heat loss for all-night comfort.

When deflated, this portable bed effortlessly collapses to 5 by 8 inches and only weighs 19.6 oz. making it one of the best backpacking sleeping pad. This air pad may be easily thrown into your backpack and used right away. This sleeping pad inflates in 10-15 breaths, allowing you to fall asleep faster.
It has an inflated size of 72 by 23 by 2.5 inches and body-mapping technology that provides support and comfort for side-, stomach-, and back sleepers.
10. Powerlix Sleeping Mat Pad
Having an R-value of 9.5, this mat is essentially made to protect you from cold ground. The 3-inch thickness supports your pressure points, and you'll not feel the hard ground against you, regardless of weight.

The fabric is made of Rip-stop Nylon with a TPU layer, making the pad durable and waterproof. The cladding material isn't crinkly when you toss and move around while sleeping.
The Powerlix Sleeping Pad is a great companion for outdoor adventures except for backpacking, as it weighs 2.68 kg. and can be a bit bulky when hiking up a mountain.
FAQs: Best Camping Pad for Heavy Person
What thickness is ideal for the best camping pad for a heavy person?
The primary determinant of anticipated comfort is the thickness of the camping sleeping pads. The ideal thickness is between 2 and 3 inches, and 2.5 inches or more is the generally acknowledged standard. Thinner sleeping pads will make you uncomfortable.
What sort of material should someone who is overweight seek out?
It is preferable to select models with foam and air inside for comfort. They may be covered on the exterior with rubber, fabric, or PVC-free polymeric fabric. The material's practicality and lack of slickness are its key advantages. Synthetic sleeping pads only contain air and no insulation.
What size of sleeping pad is ideal for a heavy person?
The build affects the camping pad's size. The best sleeping pad we recommend should be at least 72 to 75 inches long, and the typical width is 20 inches. Selecting 25 to 30 inches broad models will let you relax in various postures.
Conclusion
The best camping pad for a heavy person is the one that offers the most comfort, durability, and convenience. When you're out in nature, you want to spend your time on something other than the ground. You want to be enjoying the outdoors.
Suppose you are heavy and have trouble sleeping comfortably while camping. We recommend the KAMUI self-inflating sleeping pad. It contains everything you need for a beautiful outdoor night and enough padding to meet your sleep needs and enable you to awaken, relax and prepare for the next day.
It's designed with heavy-duty materials that can withstand pressure from big bodies, and it's lightweight and super durable, so it won't let you down when you need it most. Plus, it has all the features you're looking for in a high-quality sleeping pad at an affordable price!