The Best Family Size Sleeping Pad for Cozy Camping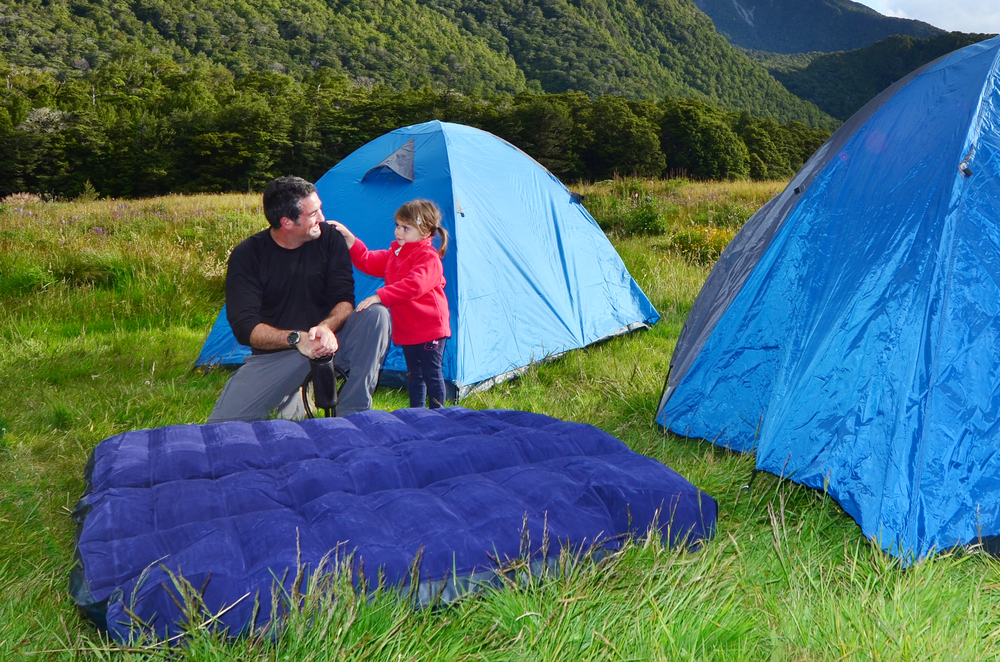 Camping is an ideal way for families to relax and bond. It can provide a much-needed break from the hustle of city life. Parents can use this time to build life skills in their kids and lower stress levels. However, camping with young children comes with unique challenges. Getting a good night's sleep is one of them. To help, we've created this guide to provide tips on choosing the perfect family size sleeping pad and what to look for in an ideal sleeping pad for kids.
Before we get into the details, here's a quick list of our top 10 family-sized sleeping pads.
Quick List: 10 Best Family-sized Sleeping Pads for Ultimate Comfort
Why you might want to go for a family-sized camping pad
Regular-sized sleeping pads are created for individual use and aren't suitable for multiple people. Their space constraint makes them unviable for family camping scenarios.
Even so, there are regular-sized pads that can interlock together and become wider, making it ideal for families or multiple people. Campers can convert their regular sleeping pads into a multiple-user arrangement thanks to a side-button functionality.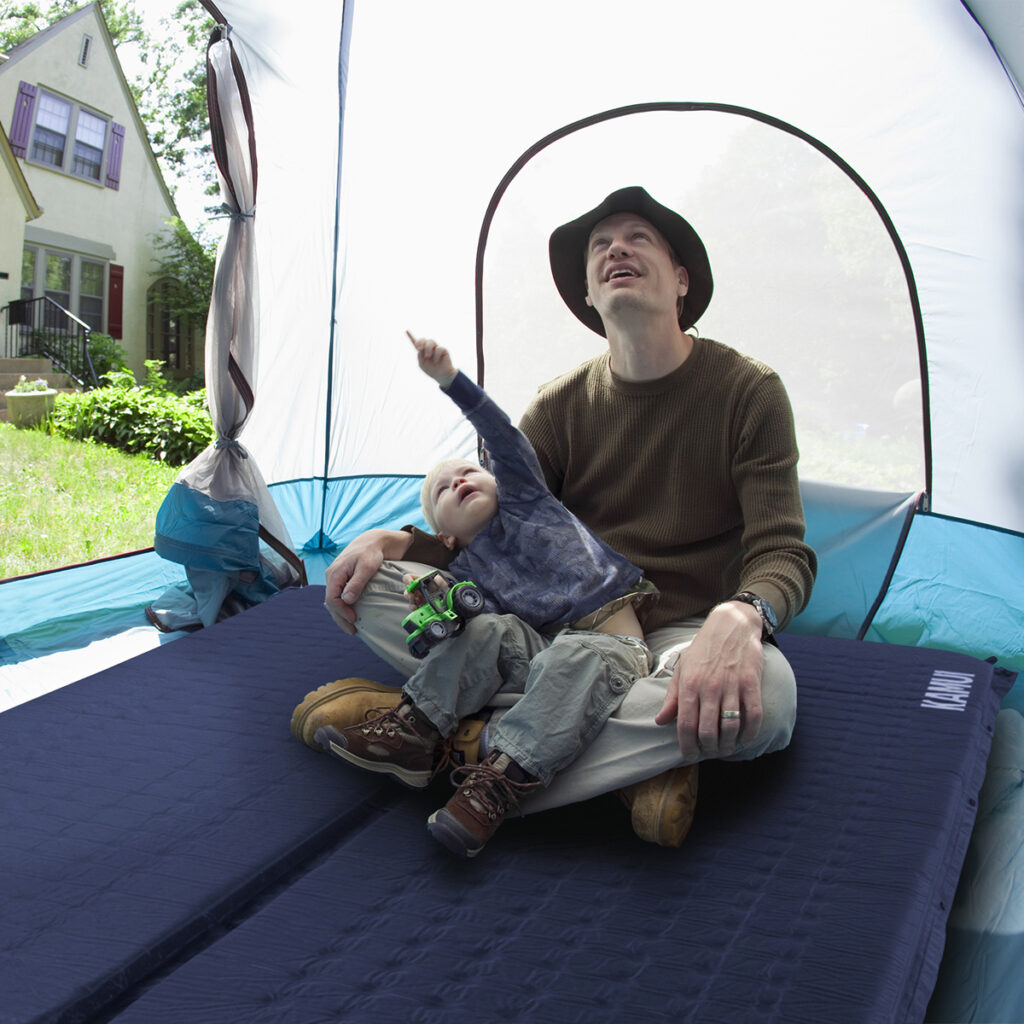 Family-sized sleeping pads usually come with additional cushioning that helps create a supportive barrier between the ground and your back. This is especially helpful when you're camping with kids. They're wider, which makes them practical for family or group camping.
What should you look for in family-sized sleeping pads?
R-value
R-value is the sleeping pad's ability to resist the flow of heat and thus ensure optimum insulation. The higher the R-value, the greater insulation your camping mattress will provide, keeping you and your family warm and cozy on a cold night.
Since kids may feel extra cold while sleeping, picking a camping mat with a higher R-value is vital to ensuring a good night's sleep.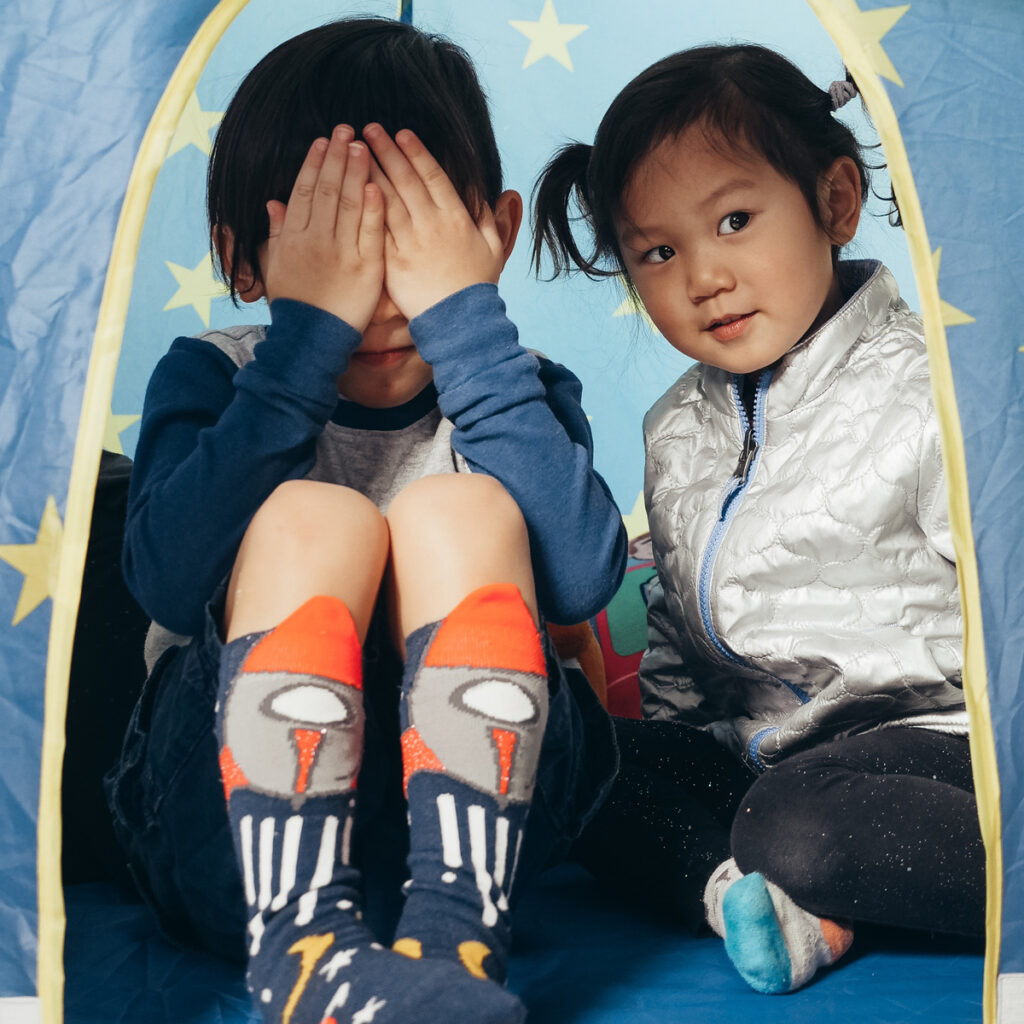 Dimensions
Larger pads are usually heavier and better suited to car camping than backpacking. At the same time, if you're planning to use your sleeping pad for more than one person, you'll need additional length and width to ensure optimum comfort.
Regular sleeping pads are typically 72-75 inches long, with a typical width of 20 inches. The ideal thickness for individual sleeping pads is between 2-3 inches.
However, if you're looking for family-sized sleeping pads, you may want to go for one with a length of 77-80 inches and a width of 25-30 inches. The average sleep pad thickness for family camping trips can be between 2-4.5 inches, depending on your requirements.
Shape
Rectangular sleeping pads are ideal for larger sleeping surfaces, offering an even, comfortable shape. Their rectangular form provides more space and comfort than a more restrictive mummy-style pad.
Price and durability
Family-sized sleeping pads are usually more expensive due to their dimensions and R-value. The best sleeping pad will be built of high-quality rebound foam that'll allow for even weight distribution, especially when used by multiple people.
So when you buy an air mattress for your next family trip, durability must go hand in hand with the cost to get the most value from your purchase.
The Best Family-sized Sleeping Pads for Superior Comfort
1. KAMUI Self-Inflating Sleeping Pad
The KAMUI Self-Inflating Sleeping Pad is a simple, lightweight, yet efficient sleeping pad known for its versatile features and optimum comfort. With an R-value of 5.7 and weighs 3.5 lbs (1.59 kgs), the KAMUI self-inflating sleeping pad is easy to store and carry and a powerhouse of comfort for days you crave a good night's sleep on a family camping trip. The ease of use and simplicity makes it perfect for both tent and car camping trips.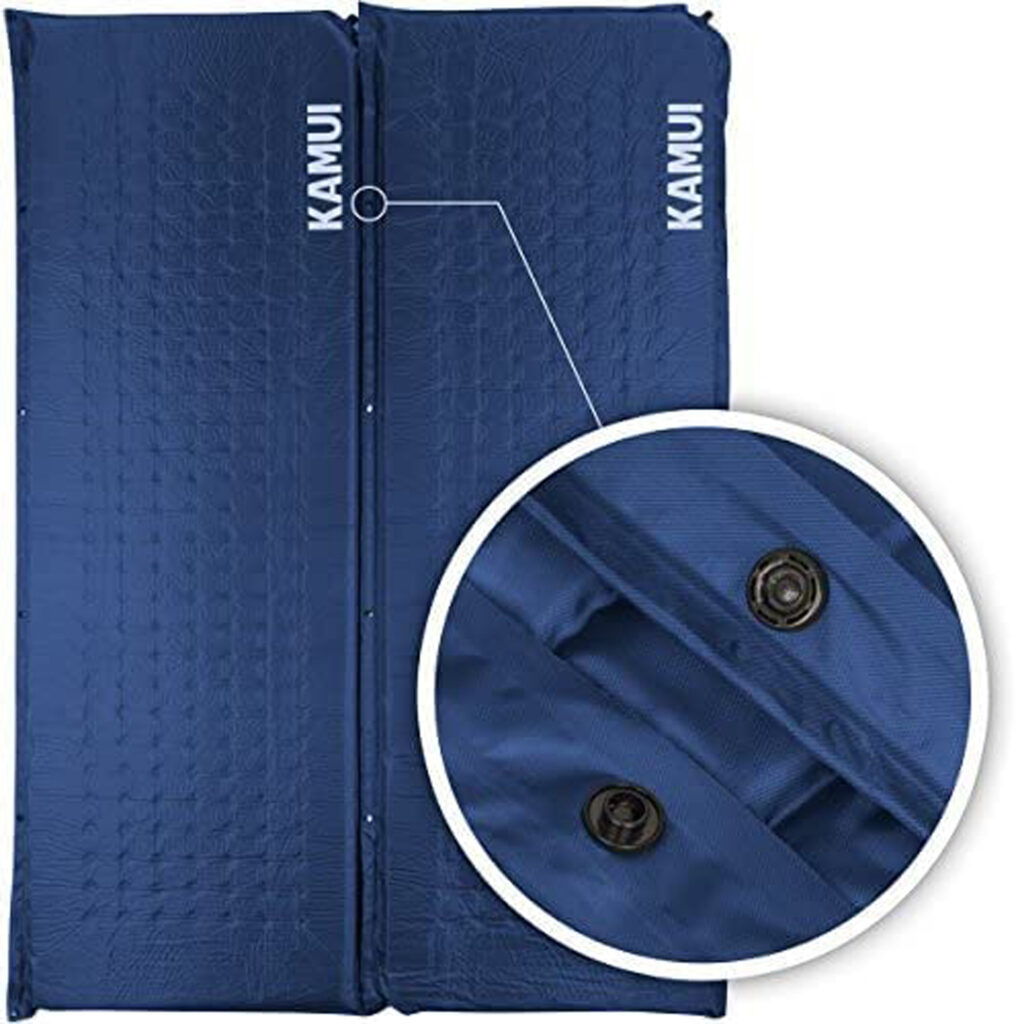 One of the best features of our sleeping pad is the ability to stack multiple air pads vertically or horizontally, depending on your requirements. So, if you're planning your next family camping trip but don't want the added weight of heavy, family-sized sleeping pads, the KAMUI Self-inflating Sleeping Pad is the ideal choice.
The interlocking feature of this mattress also offers the benefit of split comfort, so you can enjoy uninterrupted sleep without being disturbed by the tossing and turning of someone sleeping next to you.
Additionally, the sleeping pad is made of 2-inch thick high-quality rebound foam and a sturdy 190T polyester casing that is sure to withstand frequent use and the added weight of multiple people.
2. Exped Megamat Duo 10
The Exped Megamat Duo 10 is an exceptional choice for a family-sized sleeping pad, particularly for those camping with young children. It boasts a high R-value of 9.5, ensuring warmth and comfort throughout the night. The pad is 3.9 inches thick, providing a plush surface for a peaceful and restful sleep. It is a versatile option for camping and outdoor adventures.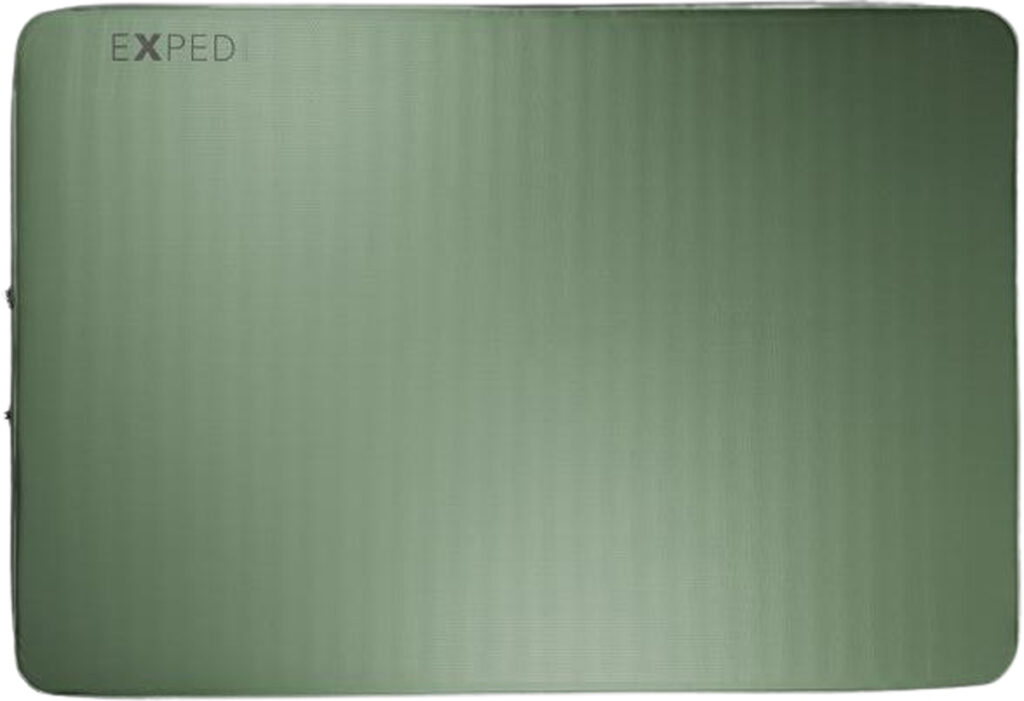 Exped Megamat Duo is made of open-cell PU foam that is Oeko-Tex 100 certified. Weighing 5 lbs, this sleeping pad is well-suited for car and basecamp setups.
This powerhouse of a sleeping pad is ideal for family camping scenarios where you're looking for extra wide and extra long dimensions, with its length of 77.6 inches and width of 52 inches. That's the widest mattress on our list and will make tent camping a breeze.
3. Lost Horizon Airsoft Roll-Up Foam Pad
Another one of our car camping gear recommendations, the Lost Horizon Roll-Up Foam Pad, is a 4-inch thick mattress made of 19-fold solid core foam with a waterproof exterior.
With an R-value of 11.8, this sleeping pad is suitable for cold to icy weather. Moreover, the mattress has a weight-bearing capacity of 220 lbs, making it perfect for families. However, the sleeping pad is very heavy at 12.87 lbs, making it impossible for backpacking or hiking.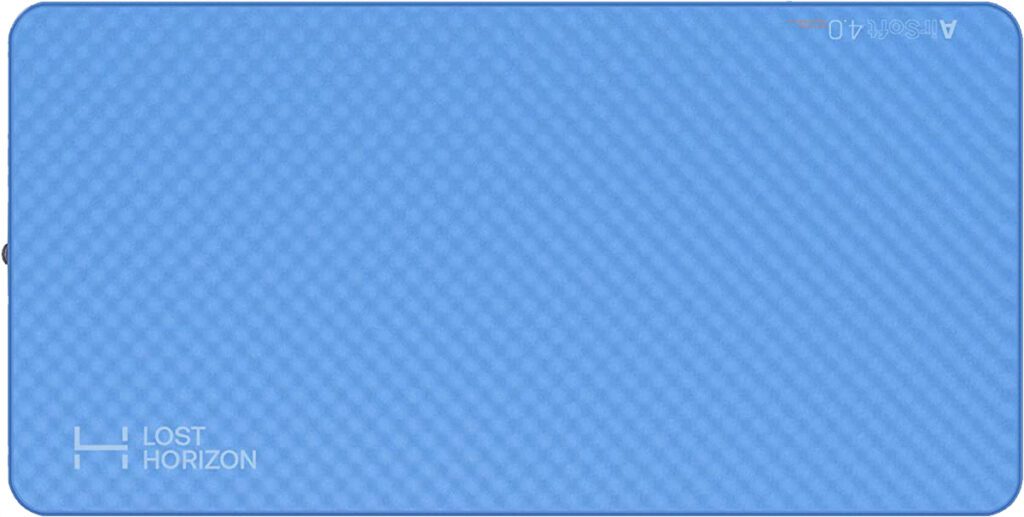 The Lost Horizon Airsoft sleeping pad measures an impressive 38 inches in width, making it an affordable yet spacious option for a family camping bed.
The Airsoft foam pad comes in multiple variants, including one specifically designed for kids.
4. KLYMIT Double V Sleeping Pad
This 47-inch wide air pad is the perfect size for two people and offers superior comfort, durability, and lightweight performance. KLYMIT Double V mattress pad has a revolutionary design that ensures a secure and comfortable sleep. It is integrated with patterning and construction that centers you on the pad and reduces air movement when tossing and turning.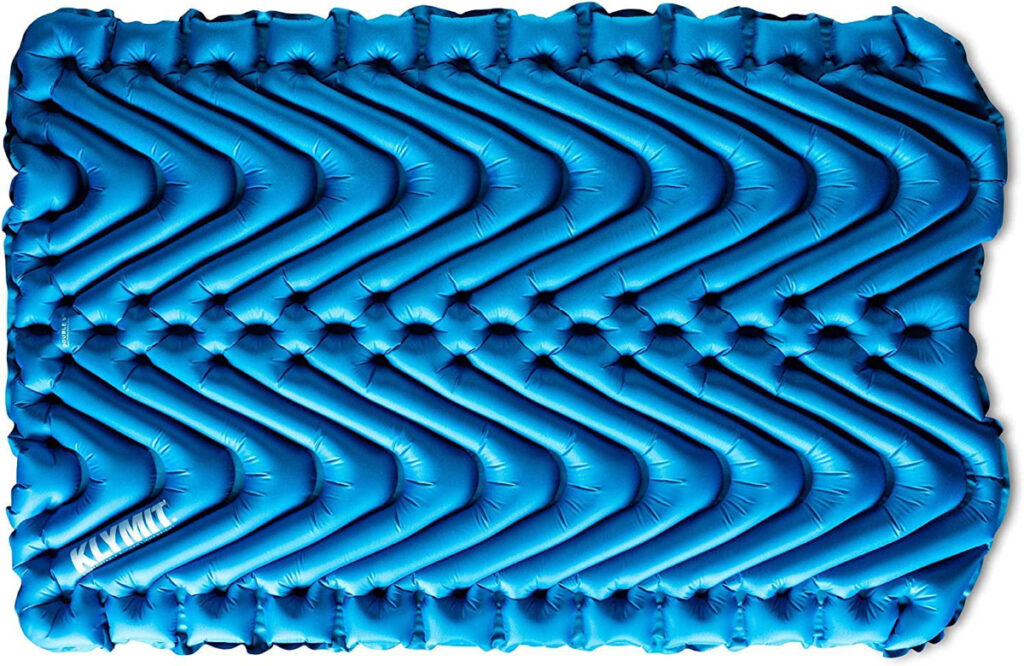 The rugged construction ensures it stands up to any outdoor adventure, and the pad's dimensions of 74 x 47 x 3 inches make it ideal for backpackers and campers who need a wider sleep system. Featuring an R-value of 4.4, this sleeping mat will help regulate your body temperature and ensure a good night's sleep.
5. NEMO Roamer Sleeping Pad, XL Wide
Also available in Double, Extra Wide, and Extra Long sizes, the NEMO Roamer is a waterproof, inflatable sleeping pad with a plush foam interior fitted with a micro-adjust valve to allow more flexibility in assembly and setup.
Its durable interior and cozy 50D stretch fabric provide a soft and bottomless sleeping experience, regardless of the ground conditions. NEMO Roamer is a great addition to all family camping trips, with a thickness of 4 inches and an R-value of 6.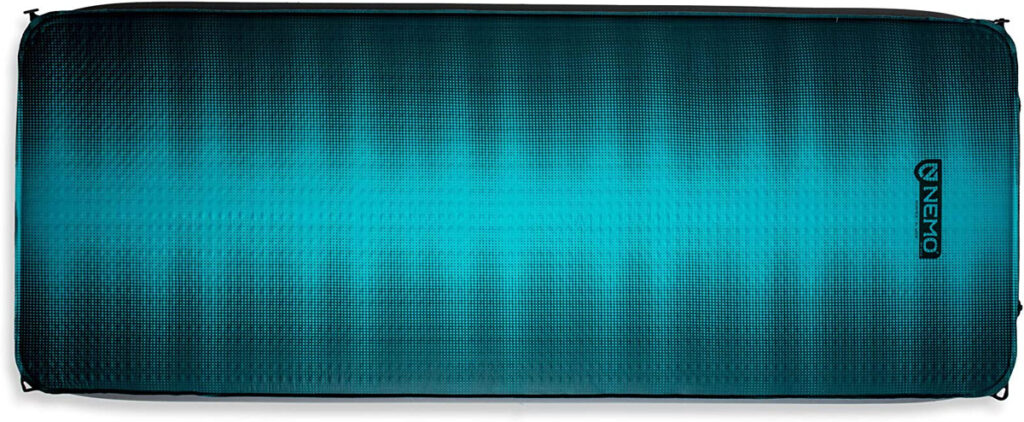 NEMO Roamer is an incredibly comfortable mattress for your family to relax on. It's 30 inches wide and 78 inches long, making it the ideal dimensions for different kinds of camping. This versatile mattress is worth checking out if you like oscillating between car camping and backpacking.
6. Therm-A-Rest MondoKing 3D Sleeping Pad
Another one of our favorites from Therm-A-Rest, the MondoKing, is by far the thickest sleeping pad on our list at 4.25 inches. Crafted with insulated inner foam with an R-value of 7, it's another great option for families with little children.
Perfect for car camp trips, the MondoKing comes with TwinLock valves for quick and easy inflation. Weighing roughly 4 lbs, the sleeping pad comes in two sizes – large and XX large.

The XXL variant measures 80 inches in length and 30 inches in width. Its ability to fit more than one person and impressive cushioning gives it an edge over other sleeping pads for family campers.
7. NEMO Quasar 3D Insulated Double
NEMO Quasar Insulated Double is best suited for warm-weather family camping trips owing to its relatively lower R-value of 3.3. Built specifically for side and stomach sleepers, its curved baffles are designed to gently support your body while you sleep.
Weighing 3 lbs and measuring 3.5 inches in thickness, this plush sleeping pad is a durable and comfortable addition to your family camping trips.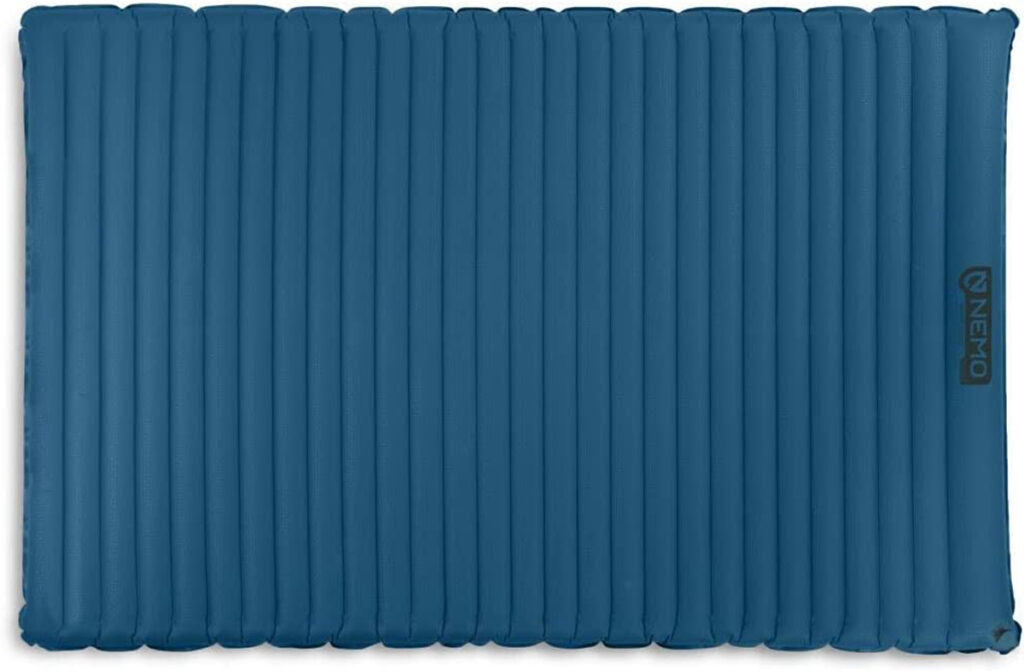 This 100% polyester sleeping pad comes with a Vortex pump sack, a stuff sack, and a repair kit.
The NEMO Quasar Insulated Double variant has a length of 76 inches and a width of 52 inches. Its extra-wide cushioning provides ample space for families out in the wilderness. Moreover, it is available in multiple sizes to suit your needs, whatever they may be.
8. REI Co-op Camp Bed Self-Inflating Sleeping Pad
The REI camp bed is a fuss-free addition to family car camping trips and is available in two sizes- regular and XL. The sleeping pad is 2.5 inches thick with an impressive R-value of 7.6, which can withstand cold nights in the wilderness with your little ones.

Its dimensions are 78 x 30 inches. It provides sufficient space for small families who want a lightweight, affordable, all-weather camping sleeping pad.
The REI Co-op camp bed weighs between 3-5 lbs and comes with a 150D polyester casing designed to protect the bottom surface from wear and tear. This may be a good option if you're looking for a durable yet comfortable sleeping pad!
9. HIKENTURE Double Sleeping Pad
Another family-sized sleeping pad on our list is the HIKENTURE Double, a queen-size inflatable pad with a thickness of 3.75 inches. Made of polyester, this sleeping pad weighs 3.64 lbs, with a weight-bearing capacity of up to 650 lbs!
What's even more impressive is the large variant has a width of 55 inches! Anyone who has done family camping knows how important the width of a sleeping pad is, and HIKENTURE aims to solve this problem through this mattress.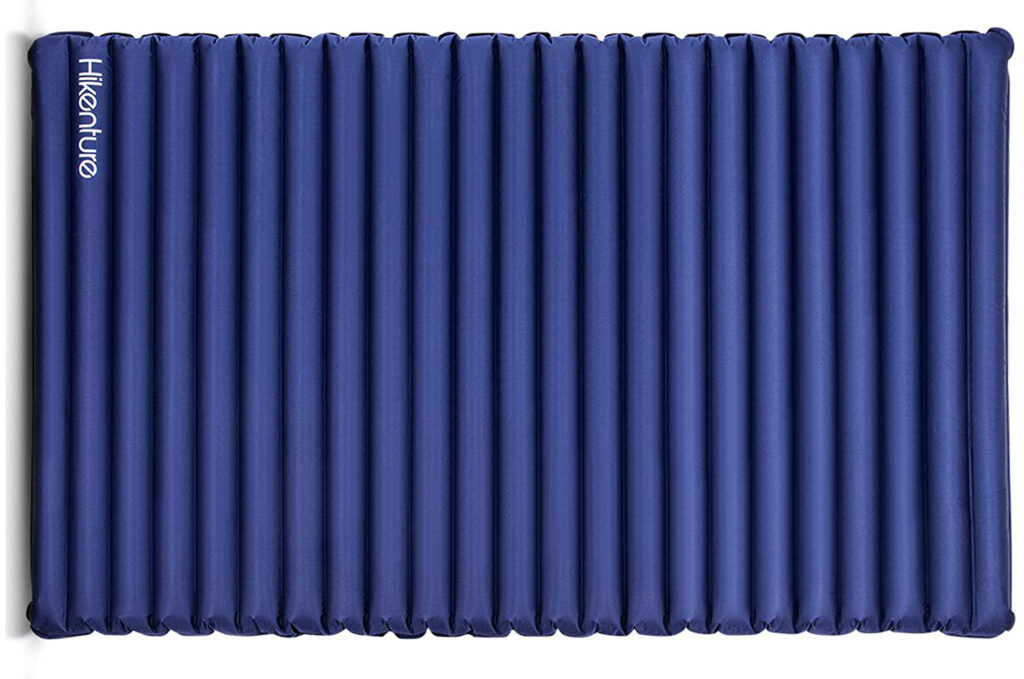 If 55 inches is too wide for you, they also have a regular-sized air bed that's 47.24 inches wide.
Owing to its extra-wide dimensions, low weight, and superior comfort, the HIKENTURE double sleeping pad is one of the best options for large families on a camping trip.
10. Teton Outfitter XXL
TETON Outfitter is an open-cell foam pad ideal for car camping trips. It comes with utility pockets, attachments for cots, and compression straps for easy roll-up and storage.
An all-season sleeping pad with an R-value of 6.2, the TETON Outfitter foam sleeping pad was conceptualized for optimal family comfort. The foam pad is 3 inches thick and weighs 9 lbs, making it suitable for trips where you don't have to worry about carrying additional weight.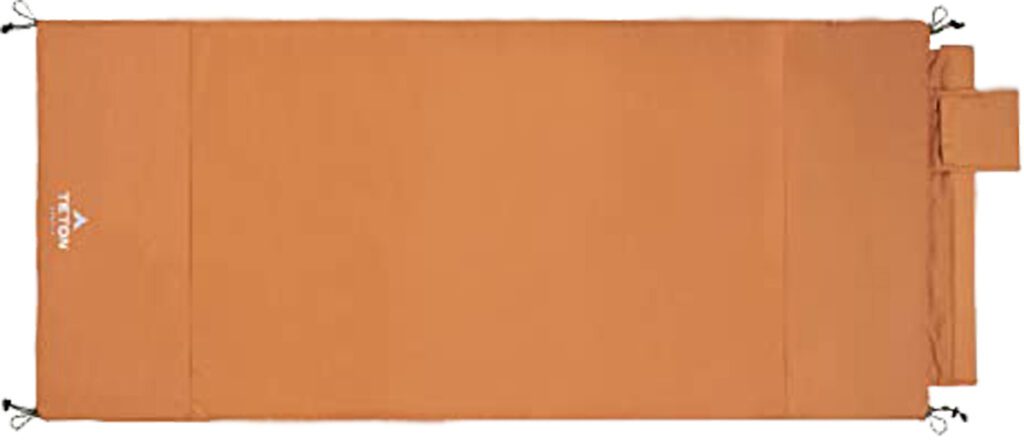 The TETON Outfitter measures 82 inches in length and 38 inches in width, which is perfect for family campers and those who want to sprawl out after a long day in the wilderness.
This sleeping pad is one of the best options for those looking for the comfort of a home away from home. This is worth checking out if you're looking for a large sleeping pad that allows your family to lounge and rest without feeling space constraints.
FAQs: Best Sleeping Pads for Family Camping
What is the best sleeping pad for young children on a camping trip?
Young children often struggle with cold nights in the wilderness, compounded by the lack of home-like comfort. Therefore, choosing a sleeping pad with a high R-value and sufficient thickness is vital to shield against ground conditions and provide a restful night's sleep.
However, thicker sleeping pads with a higher R-value tend to be heavier and better suited for car camping. This is where the KAMUI Self-Inflating Sleeping Pad is a game-changer.
The KAMUI Self-inflating Sleeping Pad allows you to stack multiple pads horizontally to create more sleeping space for your entire family. Similarly, you can stack these sleeping pads vertically to provide more thickness and back support.
Weighing only 3.5 lbs, our self inflating sleeping pad is the best camping mattress for tent and car camping.
What thickness is ideal for family camping pads?
The ideal thickness for family-sized sleeping pads is roughly around 2 inches. However, depending on your needs and comfort, you may get a thicker sleeping pad for a restful sleep while camping with your family, especially if your pad's construction doesn't include a high-rebound foam interior.
What is the recommended material for family-sized sleeping pads?
The best family-sized sleeping pads contain foam and air for a peaceful, gentle night's sleep. Exterior casings can be either rubber, fabric, or polyester. Some sleeping pads are also waterproof, providing security when camping with kids.
Conclusion
The best family-sized sleeping pads offer superior durability, quality, and comfort. When you're buying a sleeping pad for your family, make sure also to check the itinerary and figure out the kind of camping that'll be most suited to your needs. The last thing you want is to be stuck outdoors with an uncomfortable sleeping arrangement.
We recommend using KAMUI Self-Inflating Sleeping Pads for all your family camping trips. These pads provide exceptional durability, quality, and comfort for a great night's sleep, no matter the camping itinerary. Make sure you have the right sleeping pad for your family so you can enjoy the outdoors in total comfort.