Best Camping Mattress For Couples: A Simple (But Complete) Guide
If you love to camp and have a special someone you enjoy sharing those outdoor experiences with, a camping mattress for couples should be on your gear list. In this mattress review, we'll discuss what features you should look for, and then we'll share 15 of the best sleeping pads for couples. Let's find the best camping mattress to suit your needs!
What Should Couples Look For in a Camping Mattress?
Couples' Comfort
If you're a light sleeper, you will want a camping mattress that moves minimally with your partner. Being woken up every time your partner rolls over or gets up to use the bathroom sounds like a nightmare.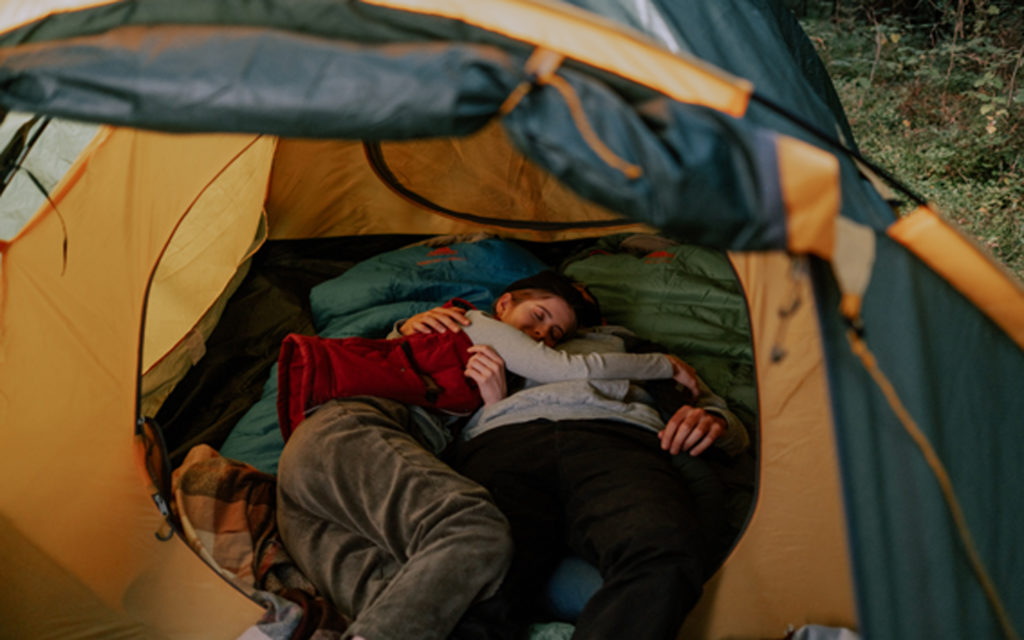 Finding a sleeping pad with two separate chambers ensures both partners' comfort throughout the night. You'll choose your ideal firmness and won't have to wake up every time your partner moves throughout the night.
Cushion
A camping mattress for couples will include some combination of air or foam and, on occasion, both. Self-inflating sleeping pads provide the most cushion because they combine the comfort of foam and air to provide the perfect sleeping platform.
Sleeping pads made of closed-cell foam are often the least comfortable but also the least expensive and lightest. These foam pads are designed to take the edge off the cold, hard ground. They can also be used as a sleeping pad layering system in cooler months.
Inflatable sleeping pads provide no cushion other than the air inside them. You provide the firmness or squish that you're looking for. However, this style of sleeping pad is more susceptible to damage than the other two styles. An inflatable sleeping pad is useless after a puncture or leak unless it can be repaired.
Ease of Use
A camping mattress that is easy to inflate and deflate is invaluable. When you arrive at camp, you want to enjoy your time. Spending an hour setting up your sleep system takes away from the experience.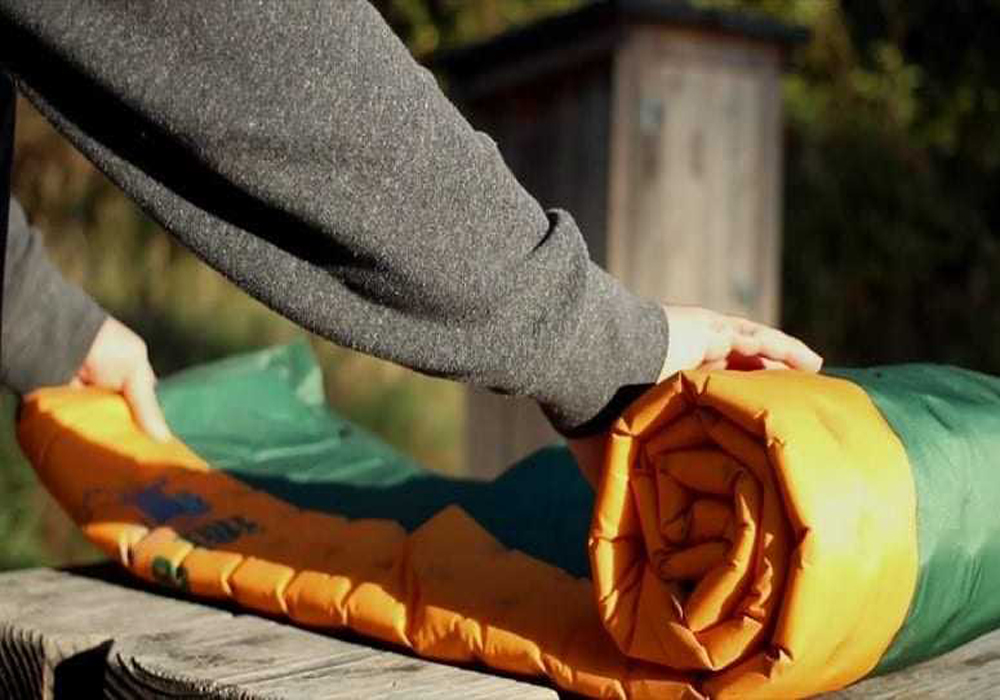 Sleeping pads inflate in a variety of ways. Self-inflating mattresses are popular for couples who want to open their mattress up and forget about it until it's time to sleep. Inflatable mattresses often come with a pump sack or an air pump, so you don't need to worry about using your breath to blow up your sleeping pad.
In some cases, inflatable sleeping pads include a built-in foot pump; in other cases, using your wind power is required.
Size
Knowing what inflated size will be most comfortable for you and your partner is important. Most sleeping pads are within a few inches of 51"x78", a little wider than 4 feet, and about 6'5" long.
Taller and broader people will want to ensure they have enough space on their mattresses to be comfortable. Similarly, a smaller couple might want to find a smaller sleeping pad to reduce wasted space when they're camping.
Packability & Stored Size
A sleeping pad that doesn't pack away small enough can be challenging to travel with or store. Luckily, most camping mattresses for couples pack down much smaller than when they're in use.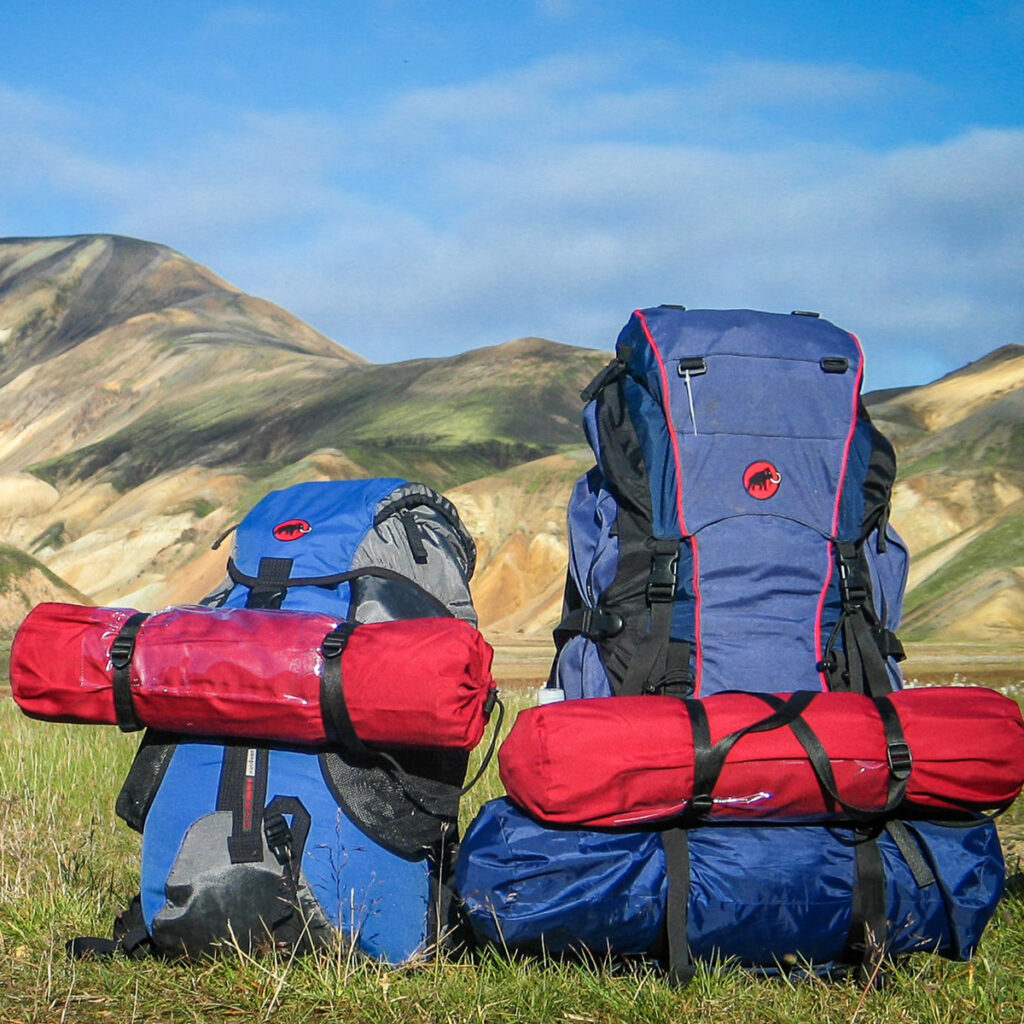 It's essential to pay attention to packed size for travel versus packed size for storage. Many open-cell foam or self-inflating mattresses should be stored flat and inflated to prevent damage. Closed-cell foam and air mattresses can be kept in the same condition at home as they are in their travel size, with no adverse effects.
R-value
R-value is a measure of how well your camping mattress for couples resists the flow of heat.
The higher the R-value, the warmer your mattress is in cooler temperatures. 1 is your lowest rating, suitable for lowland camping, and 10 is your highest rating, which covers extreme sleeping conditions. Learn more about choosing a good sleeping pad r-value here.
15 Best Camping Mattresses For Couples
split comfort
single size
easy to use
75.6 x 22. x 2 inches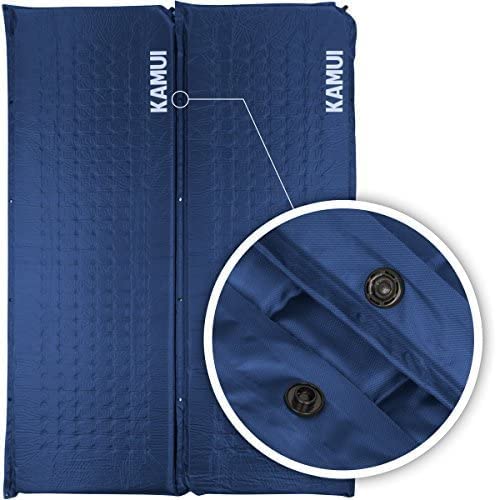 The KAMUI self-inflating sleeping pad is perfect for car camping couples who don't want to be interrupted in the middle of the night. This comfortable sleeping pad includes 2-inch-thick high rebound foam and a tough 190T polyester casing.
This camping mattress requires minimal setup. Simply undo the valve and leave the mattress to suck in air. Add additional breaths for a firmer mattress.
The KAMUI self-inflating sleeping pad serves two purposes. It can be a solo camping mattress or the best mattress for couples, and we will share why.
The KAMUI self-inflating sleeping pad's dimensions are designed for a single user. It is versatile, featuring side buttons along the seams that connect it to multiple KAMUI sleeping pads, making it perfect for couple camping. Above all, the interlocking feature lessens the movement felt when couples move throughout the night and allows each to inflate their bed to their desired firmness.
2. ALPS Mountaineering Velocity Air Bed
Queen Size
Supportive
Rechargeable Pump Included
56 x 80 x 6 inches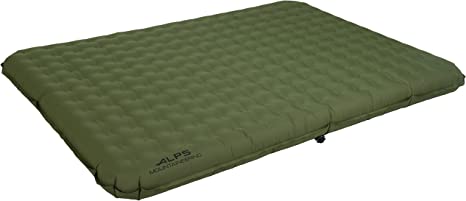 The ALPS Mountaineering Velocity Air Bed is excellent for sleeping indoors and out. It's an incredibly durable and exceptionally comfortable camping mattress for couples.
Fortunately, there's no need to worry about the setup because the ALPS Mountaineering Velocity Air Bed has a rechargeable pump that inflates and deflates your sleeping pad. The pump includes 110V AC, 12V DC adapters, and universal valve adapters.
A built-in coil system helps to distribute weight evenly throughout the mattress, making this one of the most comfortable camping mattresses for couples.
The 150D TPU-coated polyester fabric used for the shell of this sleeping pad is durable. It retains the firmness needed to resist stretching and provides a supportive night's sleep. Despite its durability, the ALPS Mountaineering Velocity Air Bed is relatively light as the fabric is 45% lighter than the PVC used in traditional air mattresses.
3. Camel Crown Camping Sleeping Pad
Ultra Light Inflatable Pillow Included
Self-inflating
Easy to Pack Away
76.8′ x 51.8′ x 1.2 inches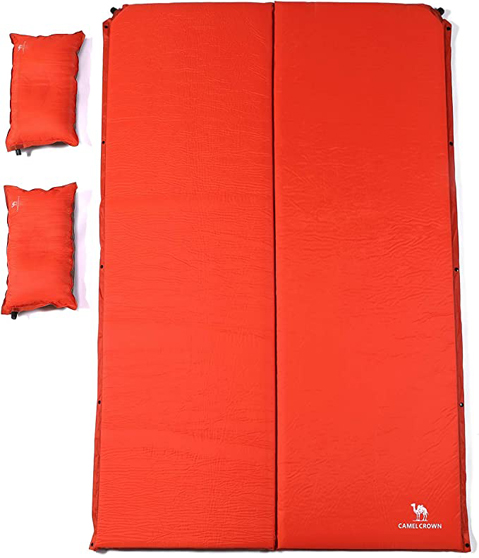 Choose Camel Crown Camping Sleeping Pad if a matching pillow will ensure a comfortable night's sleep. This self-inflating sleeping pad is comfortable; however, it is on the heavier side at more or less 11 pounds.
The Camel Crown Camping Sleeping Pad features a 2″ thick PU sponge filling, which is soft, resilient, and not easy to deform. It provides a quality night's sleep by fitting your body's many sleep positions.
One of the coolest things about this camping mattress for couples is its design. The gap in the middle is strategically placed. It's designed to help you quickly pack your sleeping pad away without damaging its foam.
4. Coleman Airbed Cot
Get in and out of bed with ease
Separate Cot and Airbed for additional sleeping space
Great Support for all-night comfort
9.9 x 11.3 x 39.4 inches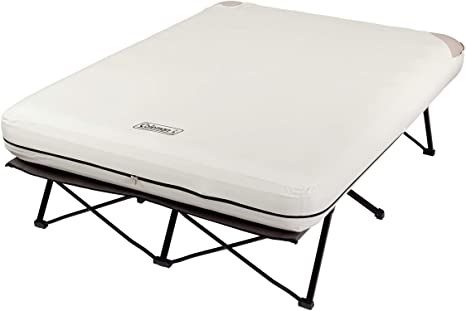 The Coleman Camping Cot is a luxury sleep system for campers with at least 5 feet of clearance inside their tent. It's ideal for anyone who struggles to get up and down at ground level or simply wants a camping experience with the comforts of home.
The camping mattress portion of this sleep system stays inflated all night due to the patented AirTight leak-proof system and dual sealed valve. Meanwhile, the advanced ComfortStrong coil system offers amazing all-night support.
A strong steel frame suspends you 22 inches above the ground. This makes getting into and out of bed much more effortless. The frame includes a side table with a cup holder on both sides to help provide more of the comforts of home.
Unfortunately, this camping cot is only designed for individuals up to 6 feet tall and will support up to 600 pounds. If you fall within these parameters, this would be the ultimate camping bed for couples.
5. Exped MegaMat Duo 10
Fills a 2-person Tent
Comes in Lengths
Fairly Compact and Lightweight
The Exped MegaMat Duo 10 fills most 2-person tents. This makes it an excellent option for couples sharing their sleeping pad with small children or pets and couples who want one flat sleeping surface in their tent.
This camping pad is made of high-grade open-cell polyurethane foam, which offers excellent insulation. At an 8.1 r-value, the Exped MegaMat Duo is a great camping mattress for couples who camp in all four seasons.
The Exped MegaMat Duo is a self-inflating sleeping pad. It features 2 wide, low-profile valves for inflation and deflation. The intake valve includes a built-in flap to prevent air from escaping, and the release flap is available to let a little air out while finding your ideal firmness. A mini pump is included if you'd like to top off your pad with extra air.
This sleeping pad is available in three different sizes. This is great for individuals looking for additional space! The Medium Double's dimensions are 72 x 41 x 3.9 inches, the Long Wide Double is 77.6 x 52 x 3.9 inches, and the Queen's dimensions are 80 x 59.8 x 3.9 inches. The medium double is the most packable at 7 pounds 8 ounces and 22 x 11 inches when packed.
6. King Camp Deluxe Series Thick Self Inflating Camping Mattress Pad
4-season Camping Friendly
Quick and Easy to Use
High-Quality Guarantee
78 x 30 x 3 inches
The King Camp Delux Series Thick Self Inflating Camping Mattress Pad is a great choice for couples. Its high-density honeycomb design and rebound foam were made for memory foam-like comfort.
With 3" of foam and inflation, this sleeping pad boasts a very high r-value. An 11 r-value means this camping mattress is ideal for winter camping trips.
As a self-inflating camping mat, easy inflation is guaranteed. Two durable valves ensure quick inflation and deflation to save time and energy. Air may be entered manually to help your mattress meet your desired firmness.
King Camp ensures the quality of all their mattresses, and they see to it that every self-inflating sleeping pad undergoes a 72-hour leak check before packing.
7. Klymit Double V Sleeping Pad
V-shaped Design for Comfort in All Sleeping Positions
Secure Design to Prevent Slip
Lightweight
11.8 x 8. x 5 inches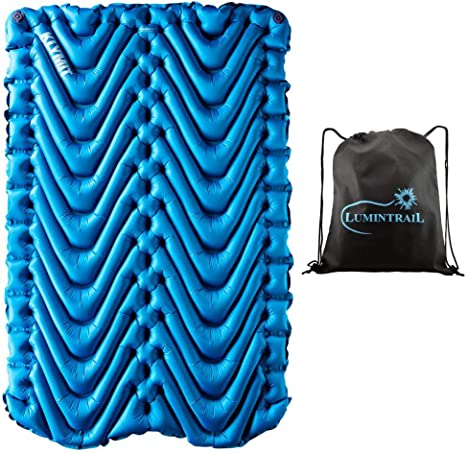 The Klymit Double V Sleeping Pad is the best camping mattress for couples who move around a lot in their sleep. This camping mattress is designed to keep you safe and comfortable on your next camping trip.
Klymit's V-shaped design and body mapping technology ensures support for all kinds of sleepers. Whether you sleep on your side, stomach, or back, you'll find comfort on the Klymit Double V Sleeping Pad.
Additionally, they've integrated side rails into the design to center you on your sleeping pad for a secure sleep. These side rails also prevent air movement while you toss and turn, creating a better sleep experience for couples.
Weighing in at only 2.5 pounds and packing down to 9×5 inches, it's no surprise that the r-value of the Klymit Inflatable Double Sleeping Pad is low. At only a 1.6 r-value, it's suggested that you use this sleeping pad in mild 3-season conditions only.
This sleeping pad requires manual inflation—the stuff sack doubles as a pump. Ten pumps from the stuff sack should inflate your sleeping pad to the minimum level of firmness.
8. Nemo Roamer Sleeping Pad – Double
Sustainably Sourced
Generous Dimensions
Incredibly packable for size and comfort
78 x 52 x 4 inches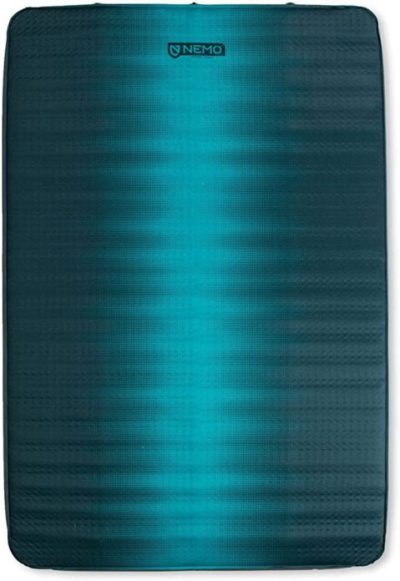 The Nemo Roamer Sleeping Pad is generously sized to accommodate couples. It has an incredible r-value and is known for being one of the most comfortable camping mattresses.
What's more, the Nemo Roamer provides 4 inches of plush comfort when inflated; however, it packs up to a mere 11×26 inches and weighs only 7 pounds 8 ounces. With an R-value of 6, this camping mattress for couples is ideal for staying warm in harsh winter conditions.
Premium 50-denier stretch fabric provides a soft, cozy top layer. 75-denier polyester provides rugged durability on the bottom. These fabrics are 100% post-consumer recycled, making them one of the most eco-friendly options.
As a self-inflating sleeping pad, the innovative Flow Core™ with high-volume air channels provides incredibly fast self-inflation. The low-profile valves are multifunctional. There's a micro-adjust valve for custom inflation and a one-way dump valve to make deflation and packing a breeze.
9. Rapide SL Insulated Tent Floor Pad
Backpacking Friendly
Designed to fit 2-person Tent
50 (at head) x 40 (at feet) x 78 x 3.5 inches
The Rapide SL Insulated Tent Floor Pad is the best camping mattress for couples who backpack. Finding lightweight and packable backpacking gear for two can be tough, so this camping mattress is a great find!
This sleeping pad was designed with backpacking couples in mind. The tapered design allows this sleeping pad to fit perfectly in a 2-person tent without wasting space. If you're not sleeping in a 2-person tent, consider it a mummy-style sleeping pad to save space and weight in your pack.
At 2.9 pounds, this is one of the lightest double sleeping pads on the market. It packs up to 6×13 inches, making it easy to squeeze into your backpack.
This pad requires manual inflation. An inflation sack is included. With an R-value of 4.3, it is suggested that this sleeping pad is used for 3-season backpacking adventures only.
10. REI Co-op Camp Dreamer Double Self-Inflating Deluxe Bed
Fast Inflating
Includes Compression Travel Bag
Durability
78 x 55 x 4 inches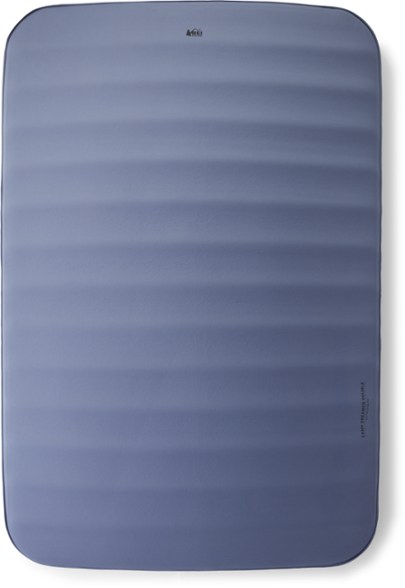 This generously sized camping mattress may be bulky, but it has some fantastic perks. For one, the REI Co-op Camp Dreamer Double quickly self-inflated from packed size to plush, cozy mattress in less than 2 minutes. It also includes a pump to help you reach maximum firmness with ease.
One of the coolest things about this camping mattress for couples is that it includes a compression travel bag. A compression bag is much more convenient than a stuff sack in that it helps to save space when stored and packed. Additionally, the pad pump doubles as an inflatable pillow for maximized comfort.
The REI Co-op Camp Dreamer Double is 4 inches thick. The depth combined with the open cell foam inside the pad brings this sleeping pad's R-value to 6.6.
A durable camping mattress is a necessity. The horizontal cored foam is designed to be compressible so that storage is never the reason your sleeping pad doesn't last. Additionally, the welded seams help to prevent leaking and improve durability.
11. REI Co-op Kingdom Insulated Sleep System 40
Convenient and Easy to Use
No Need for a Sleeping Bag
79 x 56 x 6 inches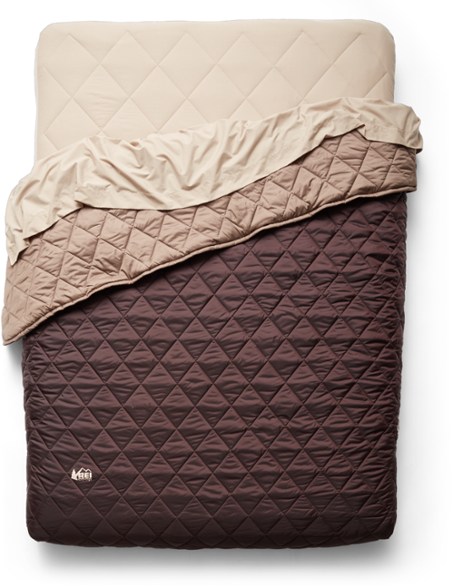 Built for convenience, this sleep system is designed with everything needed for sleeping in one unit. The air mattress is topped with a quilted cover, a top sheet, and an insulated top quilt.
Furthermore, the REI camp bed for couples requires manual inflation, but you don't have to worry about that because it comes with an air pump. With an R-value of 3.6, this sleeping pad is best used as a 3-season sleep system. In the colder months, this camping pad could be used with additional blankets and a closed-cell foam pad underneath.
At a weight of 15 pounds 9 ounces and a packable size of 23 x 21 x 17 inches, the REI Co-op Kingdom Insulated Sleep System is the best camping mattress for couples who car camp.
12. Sierra Designs Queen Camping Air Bed Mattress
Affordable
Integrated Pillow
Battery Operated Pump Included
77.9 x 55.9 x 10.2 inches

The Sierra Designs Queen Camping Air Bed Mattress allows camping couples a comfortable night's sleep for an affordable price.
This camping mattress includes a variety of accessories at a low price tag. A built-in pillow means head and neck comfort without packing any extra equipment. Queen-size sheets fit the Sierra Designs Camping Air Bed, which allows you to create an incredibly cozy night's sleep.
The Sierra Designs 2 Person Air Bed Mattress is PVC and Phthalate free. Thermoplastic Polyurethane makes for abrasion and puncture-resistant material. Despite its durability, the free-flowing 2-part Boston Valve and battery-operated pump make for easy inflation, deflation, and packing.
13. Sweetnight Folding Mattress
No Inflation Required
Easy to Store
Multi purposeful
75 x 54 x 4 inches
For couples who are afraid to camp because they don't want to be uncomfortable, we have the Sweetnight Folding Mattress. This camping mattress comes in multiple sizes, including Twin, Full, and Queen, so you can choose the perfect size for your adventures.
This trifold mattress provides cloud-like comfort through its gel-infused foam technology that relieves body pressure and regulates body temperature. With an additional 2.5 inches of supportive bamboo charcoal foam, your body will rest safely away from the floor all night.
The Sweetnight Folding Mattress can provide a great night's sleep in your tent or home. Besides, it can also be used as a play mat for children, be folded into a comfortable seat, or act as an ottoman. Relax any time and anyway with this camping mattress.
On the contrary, this camping bed is less portable than an inflatable mattress. It is, however, easier to store and travel than a regular mattress! At 22 pounds, a full-size mattress folds up to 54 x 25 x 12 inches.
14. WEY&FLY SUV Air Mattress
Fits most SUVs
Adaptable
Double Sided Flocking
76 x 51 x 3.94 inches
The WEY & FLY SUV Air Mattress is the best camping mattress for couples who sleep inside their car! Therefore, if you're looking for a sleeping pad to fill the nooks and crannies of your vehicle perfectly, look no further.
With 4 Separate Segments for inflation, you can utilize this sleeping pad in several ways for maximized comfort. The camping mattress is designed with a hidden line in the middle, allowing you to inflate the mat for multiple people, fully or partially inflate for a single person.
This camping mattress for couples can also be used in a tent or the home for additional guests. With its double-flocked design, the bottom includes extra durable vinyl, and the entire mattress is coasted in a unique flocked velvet, eliminating the need for a top sheet.
This sleeping pad comes with a carrying bag and a pump for inflation. The pump is powered by your vehicle's cigarette lighter, making it inconvenient to use in a tent setting.
15. Yuzonc Double Camping Mattress
Convenient Foot Pump
Lightweight and Compact
Built-in Pillow
81 x 53 x 4 inches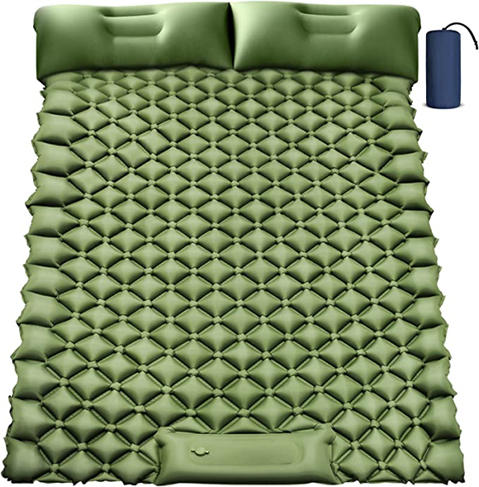 The Yuzonc Double Camping Mattress is great for couples who need an inexpensive, lightweight sleep system.
Furthermore, this sleeping pad folds down to an incredibly compact 12.8″x 2″x4.7″ and only weighs 3 pounds. It also features a built-in foot air pump and pillows, eliminating the need for additional equipment. As a result, this camping mattress for couples can be easily stored in your pack after deflating and folding.
The Yuzonc Double sleeping pad is made of 40D nylon and TPU-coated material. Not only is it durable and tear-resistant, but it's easy to clean with a simple wipe.
Four inches of air keeps your body off the ground and provides maximum comfort and warmth. The diamond-shaped air cells provide comfort by dispersing pressure points, whether lying flat or on your side. This is the best camping mattress for couples seeking home-like comfort in an incredibly packable sleeping pad.
FAQS
What is the Best Queen-Size Camping Mattress?
When looking for the best queen size camping mattress, consider your needs such as comfort and durability. Our favorites include the KAMUI Self-inflating Sleeping Pad, the ALPS Mountaineering Velocity Air Bed, and the Exped Megamat Duo 10. These lightweight mattresses provide good support for a comfortable night's sleep.
What is the Most Comfortable Mattress for Tent Camping?
A self-inflating sleeping pad, like the KAMUI Self-Inflating Sleeping Pad, is best for camping comfort and packability. With its high rebound foam, it offers superior back support you won't feel any rocks and twigs underneath the pad.
What is the Best Camping Mattress for Couples Who Backpack?
The Rapide SL Insulated Tent Floor Pad by Big Agnes is the best for backpacking at only 2.9 pounds and has a packable size of 6×13 inches.
Can a Twin Air Mattress Fit in a 2-Person Tent?
With careful planning, a twin air mattress can be successfully accommodated in any 2-person tent with at least 80×40 dimensions. Even though the walls of a backpacking tent taper quickly, making thick air mattresses challenging to fit, they can still be managed with proper preparation.
What is the Difference Between a Camper Mattress and a Regular Mattress?
Generally, a camper or RV mattress is usually thinner and lighter than a regular mattress. It is also designed to be smaller than a home mattress so it can fit in a camper and provide travelers with a good nights sleep while they are on the go.
Is an Air Mattress Better than a Foam Mattress for Camping?
It depends on your preferences and the purpose of your camping trip. In brief, air mattresses or self-inflating sleeping pads are usually more comfortable and provide more support than foam sleeping mats, but they are also much bulkier and can be challenging to transport. A closed-cell foam pad is usually much more lightweight and can be more easily transported, but it may not be as comfortable and may not provide as much support as an air mattress.
Conclusion
The best camping mattress for couples is the one that best suits their needs. After reviewing 15 of the best camping mattresses for couples, there are a few clear winners.
The KAMUI Self-Inflating sleeping pad is affordable for couples who want a quick and easy setup followed by all-night, undisturbed comfort. The Rapide SL Insulated Tent Floor Pad is a clear winner for backpacking couples looking to save space and weight by packing one sleeping pad for two people. And our taller camping friends should check out the Exped MegaMat Duo 10 as it is long!