What is the best camping chair to buy?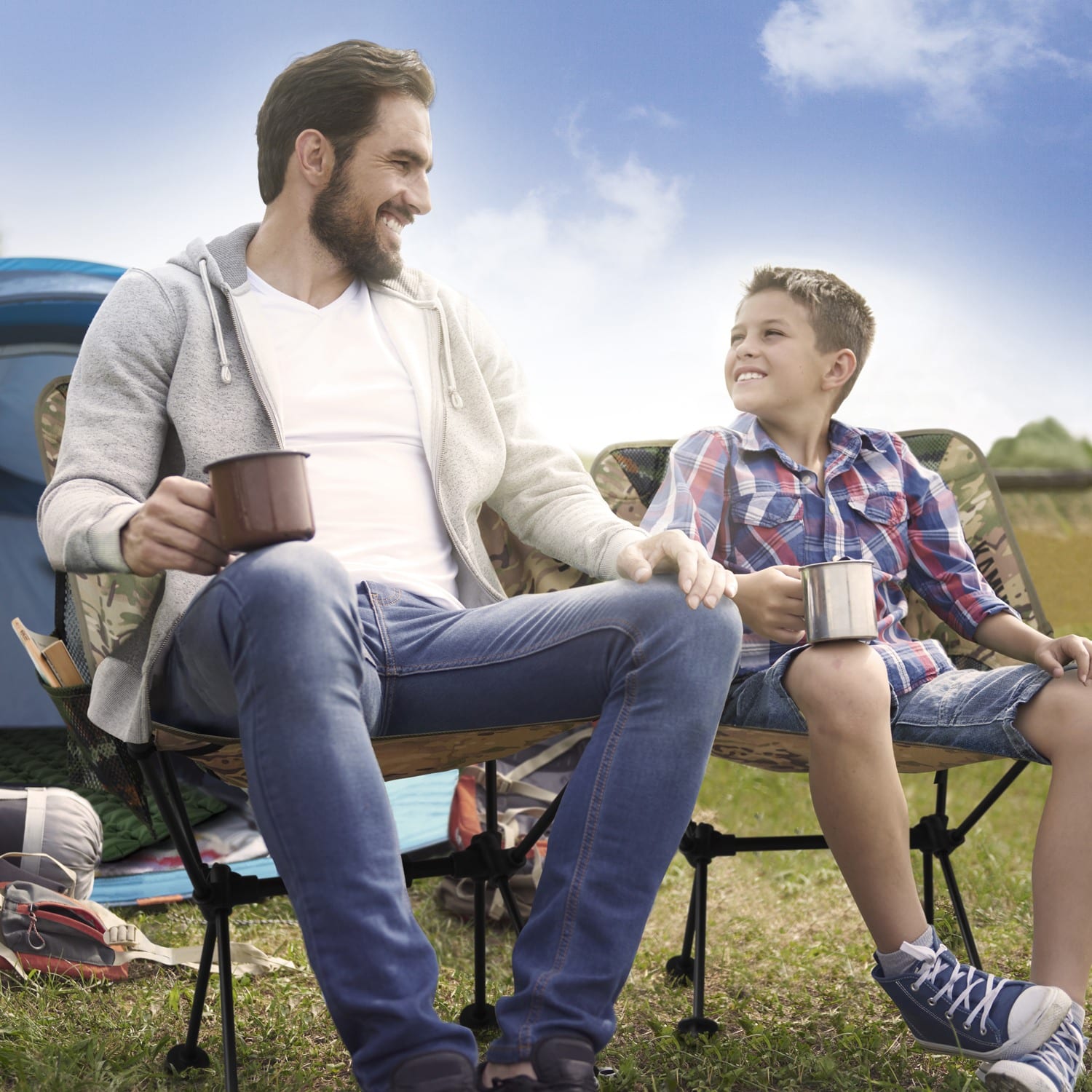 The best camping chair is hard to find and is a staple in any outdoor enthusiast's gear closet. There are a few pieces of camping gear that, although unnecessary, can add significant value to your experience.
Once you accumulate all the essential gear and equipment, you can start adding your camping comfort items.
Camping chairs fall into this category!
Although you can easily enjoy outdoor activities without a folding camping chair, they are an excellent piece of equipment that will only enhance your adventures overall. As soon as you find the perfect one, you may have years of memorable experiences, and you wonder how you ever fared without one.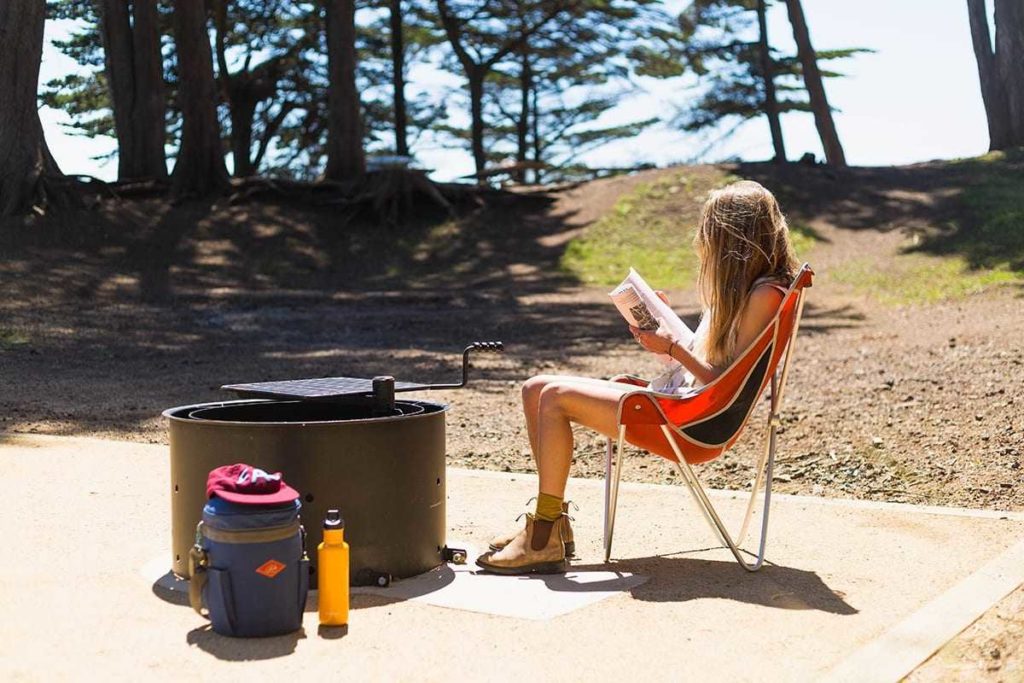 What Is A Camping Chair?
A camping chair is a portable and mobile chair that you can easily fold and store when it is not in use. Camping fans tend to choose chairs because they are easy to pack, lightweight, and practical. But, the destination between camping and regular chairs is that the everyday use of the first is temporary. Camping chairs are incredibly versatile, as you can use them for both indoor and outdoor purposes.
The primary quality that makes a chair a camping one is that they are foldable. Camping chairs are convenient to transport outdoors. Also, additional features help to determine what category a camp chair falls into. There is genuinely a style to suit everyone's needs.
Types Of Camping Chairs
There are several types of camping chairs. They come in different shapes, sizes, and styles. You can often find the comforts of your favorite chair at home if you know what camping chair is the best for your regular activities. It is essential to look for a camping chair that supports your body type and lifestyle when shopping. Following this advice ensures that you'll find a camping chair that's long-lasting, easy, and pleasant for you to use during your trips.

Camping
Stool

Traditional
Chair

Portable
Chair

Folding
Chair
FEATURES
Price
$16 to $30
$20 to $55
$30 to $100
$30 to $70
Weight
960g to 1.2kg
approx. 2lbs
900g to 1.8kg
2lbs to 4lbs
960g to 1.2kg
approx. 2lbs
1.8kg to 3kg
4lbs to 7lbs
Sitting Height
10 inches
(25cm)
11 inches to 18 inches (27cm to 45cm)
9.8 inches to 15inches (25cm to 38cm)
9 inches
(22cm)
BEST USES
Car Camping
–
✓
✓
✓
Beach
–
✓
✓
✓
Fishing
✓
✓
✓
–
Backpacking
✓
–
✓
–
Camping/Outdoor Stool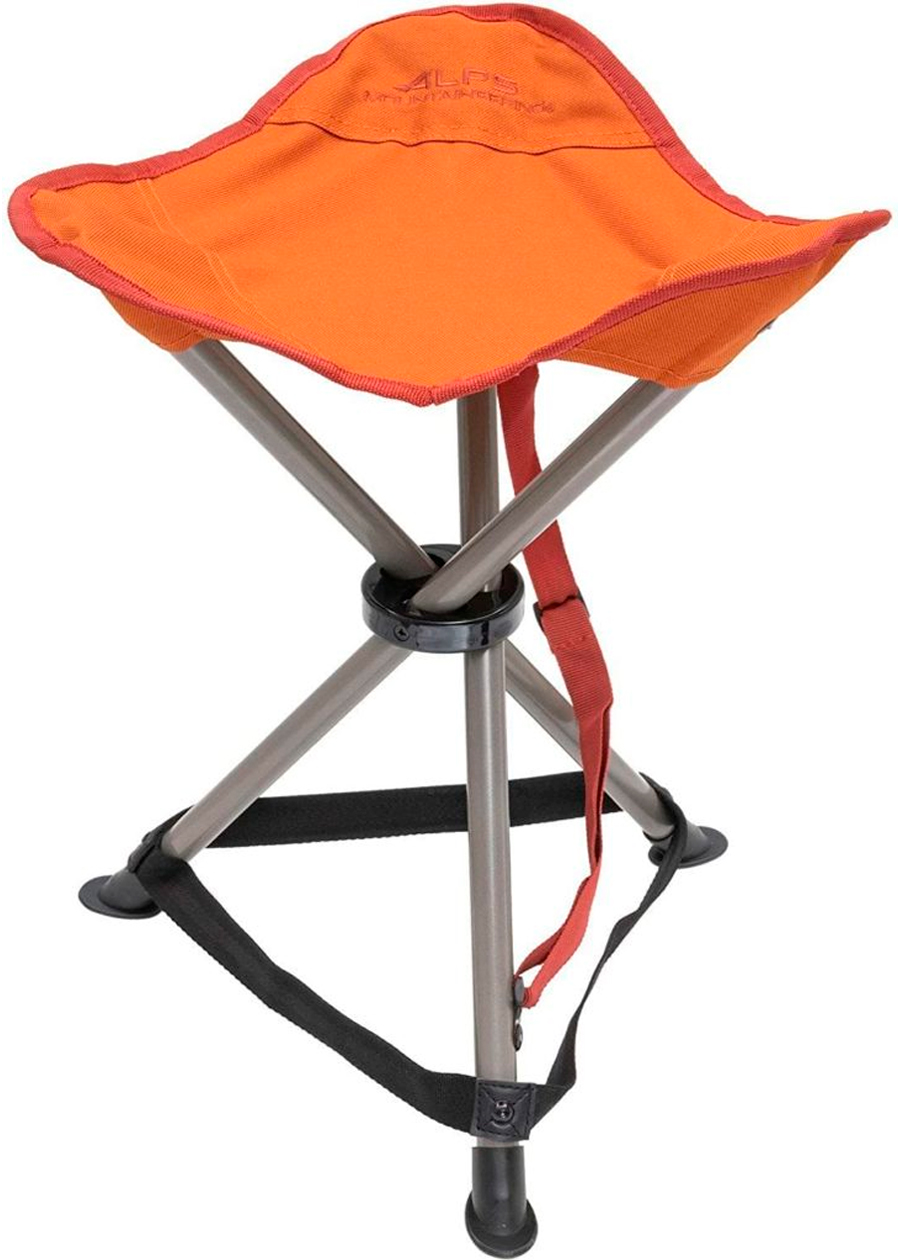 These chairs provide a basic level of support and comfort. Camping or outdoor stools have an armless chair design that resembles tools. Despite the small frame, it still provides reliability and durability with its three points of contact. By on-the-go busy campers find it extremely useful, especially the ones who need a quick break and a seat.
Camping stools can also serve everyday purposes. They can genuinely come in handy when queuing in a long line or experiencing a standing room only event. As they are space-efficient and easy to travel with, this is an excellent item always to have handy.
Camping or outdoor stools are great for backcountry hiking, and they prioritize bulk and low weight over comfort. Get a camping/outdoor stool if you want a lightweight chair that's small enough to fit in your backpack and carry with you all around.
The specifics of a particular style of camp chairs include:
Weight – 2lbs (approx. 960g to 1.2 kg)
Low-seated – 10 inches (25 cm)
Space efficient and easy to set up
Durable and sturdy
Price range – $16 to $30
Backpacking Chair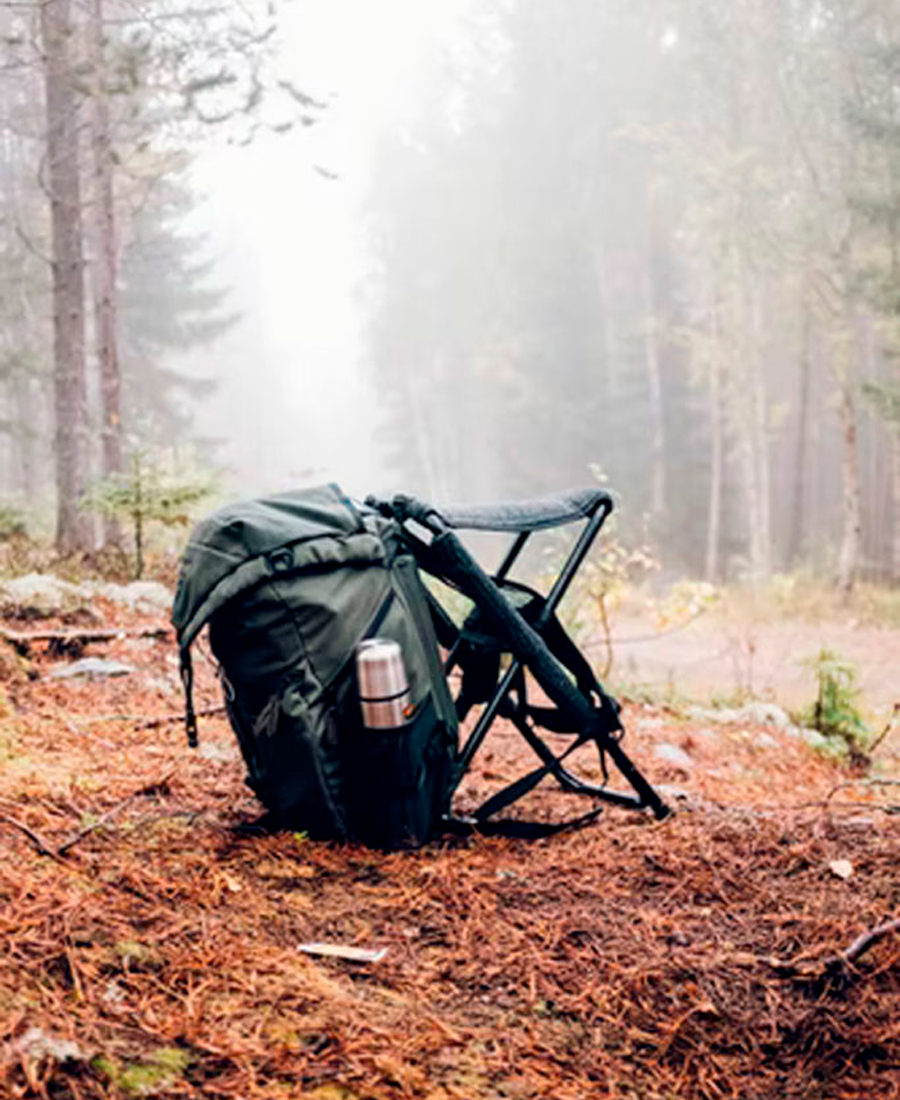 Whereas properties of backpacking chairs are as follows:
Weight – 3lbs to 5lbs (1.3 kg to 2.2 kg), including the backpack
Mostly low-seated – 10inches (25 cm) in sitting height
Space efficient and easy to set up
Durable and sturdy
Price range – $20 to $35
In comparison, Camping/outdoor stools weigh 1lbs-3lbs less than backpacking chairs. Also, camping stools are $4-$15 cheaper than backpacking chairs.
Camping Bench
A camping bench, also referred to as a camping love seat, is a unique style of chair. Most camp chairs have the design to suit one user, whereas these benches can accommodate two or more.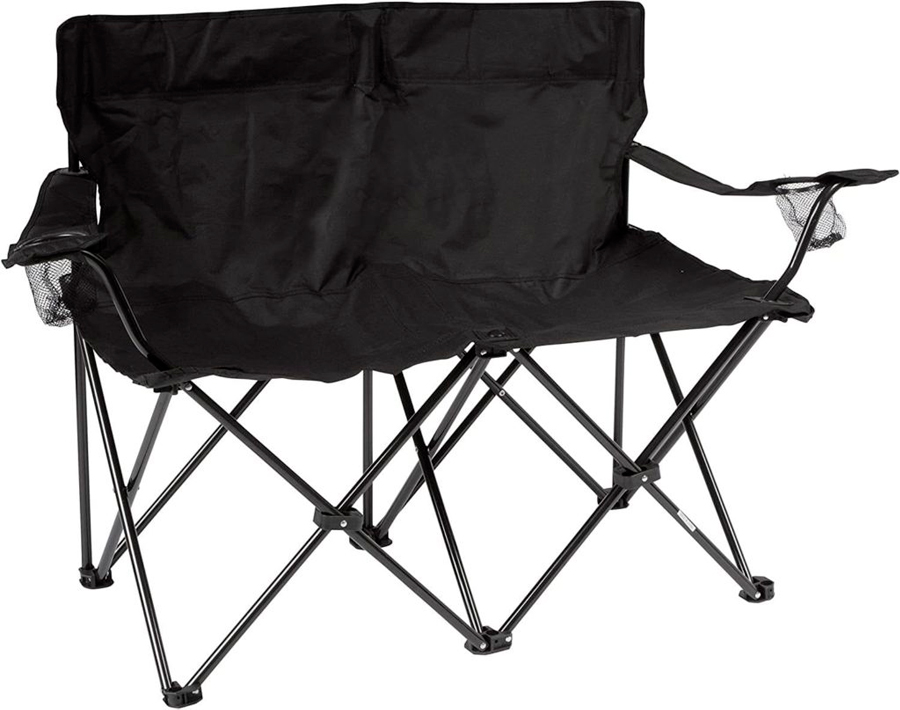 Camping love seats are excellent for some extra campsite snuggles. They serve to bring you closer to your camping partner!
Camping benches are also a great, portable alternative to seating for a group. Using them on a soccer game's sideline, at a temporary dinner table, or at a concert seems like a severe comfort hack.
These chairs tend to be on the heavier side:
Weight – around 11lbs – 20 lbs. (around 4.98 kg- 9 kg)
Price range – around $30 – $100 (depending on the quality you are looking for)
Traditional Camping Chair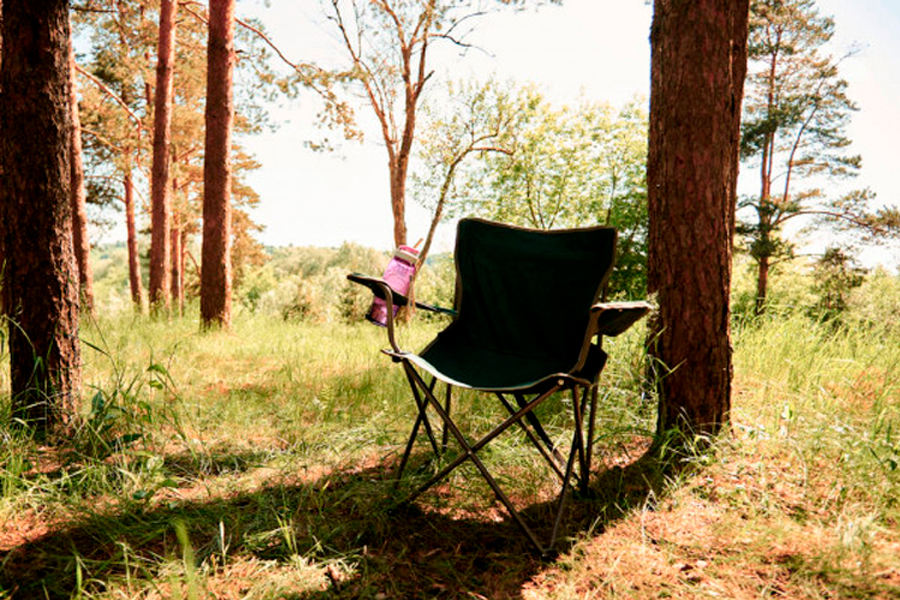 One of the most crucial aspects while choosing a camping chair is to consider that you might have a limited amount of space. Traditional camping chairs can provide comfort and stability, but you will need to be ready to carry a bit heavier weight.
While considering extra features, you should look for traditional camping chairs that tend to have more lumbar support options, adjustable armrests with drink holders, and padded cushioning. Also, these chairs can include features that remind you of the comforts of home.
A reclining camping chair with a footrest is a great way to watch the clouds float by.
Traditional camping chairs are a little heavier, might not pack down as small as some others. Yet, you can easily fold them, and they are portable. Even though these chairs might have a few more features, they're still easy to set up.
Specifics of traditional outdoor camping chairs are:
Height – between 12 inches and 18 inches (28 cm – 45 cm)
Weight – from 2 lbs. to 4 lbs. (900 g – 1.8 kg)
Price – $20 – $30 (economic chairs) and $50 – $60 (high-end chairs with a variety of features)
Camping Chair with Canopy
Some traditional camping chairs come with a canopy. These canopies can come in handy for keeping the sun off the top of your head. They are also a neat accessory to have during the rain. A camping chair with a canopy may also include accessories such as a bug net. It is a terrific way to enjoy the outdoors while staying out of the elements and preventing bug bites.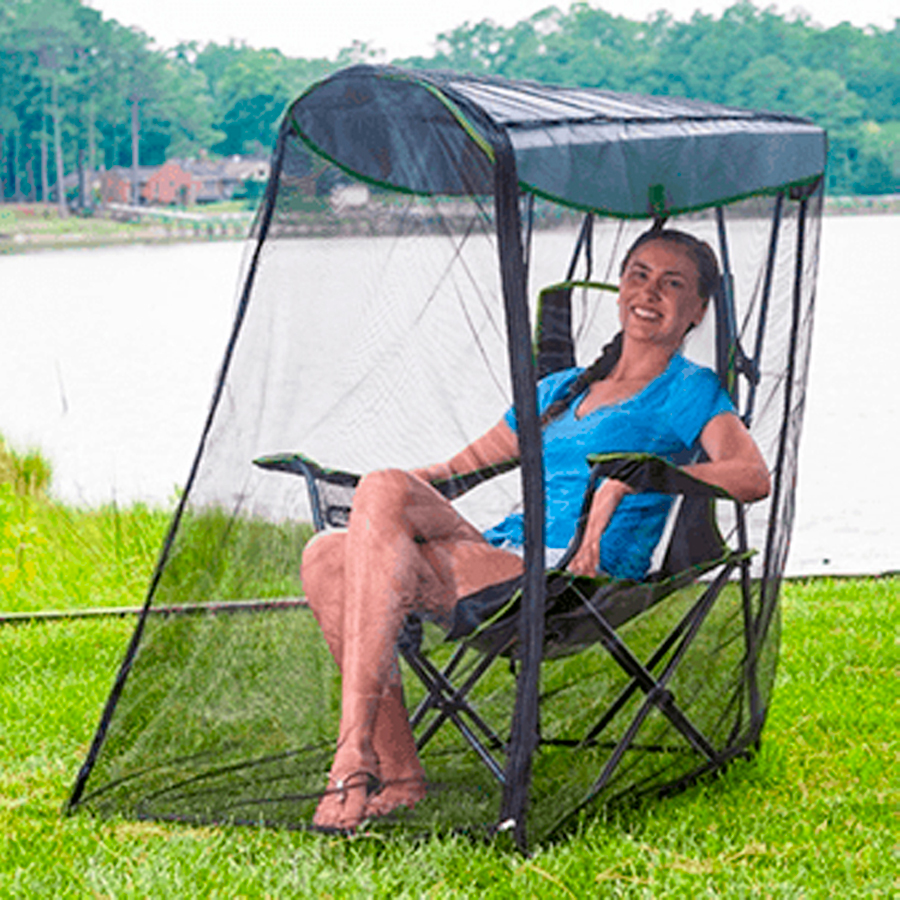 Canopy Chairs are pretty practical, and their characteristics include:
Weight – about 10 lbs. (4.5 kg)
Price – from $30 up to $60
Portable Camping Chair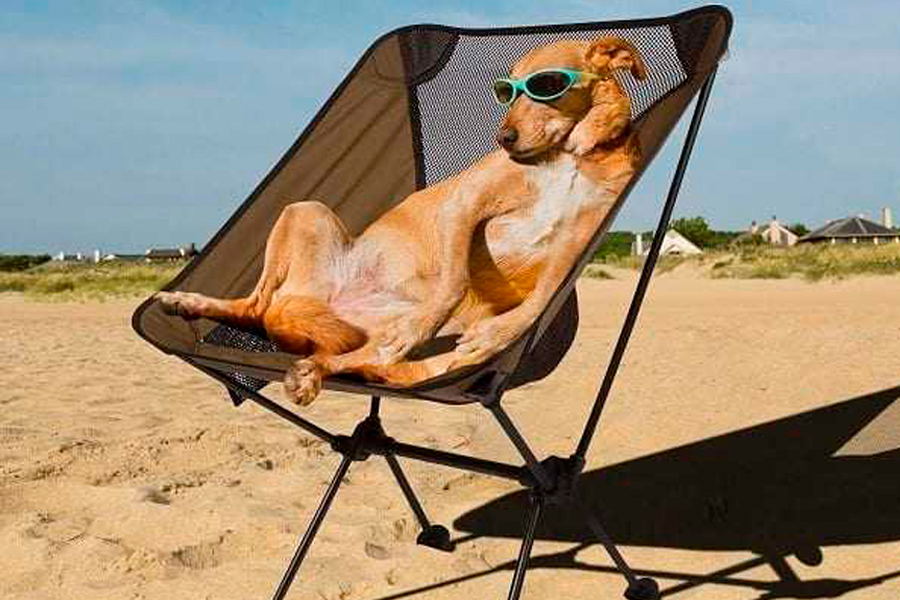 A portable chair is probably one of the best camping chair and most popular among all types of campers in its category. They are comfortable because of their lightweight, and they are easily portable, which is helpful if you had a long and exhausting day. While they don't have the same level of stability as traditional chairs, portable chairs are great for long hiking excursions.
Users can easily take their chairs without struggling because of the extensive weight of their accessories. Get a portable camping chair if you have a limited amount of space and have to consider weight.
You can find specifics of portable camping chairs down below:
Height – 13 inches – 15 inches (33 cm – 38 cm)
Weight – less than 2 lbs. (from 960g to 1.2 kg)
Space efficient and easy to set up
Durable and sturdy
Price – $30 – $60 (depends on the quality of a chair)
You can find a few features in a portable camp chair that can make it more versatile. But, this often increases the price.
Swivel Chair
A swivel feature adds to the practicality of your camping chair. Suddenly, everything you might need around camp is within arm's reach. Seat height for this chair style is slightly lower at around 10.5 inches, making them a tad more challenging to get in and out. A compact, collapsible, lightweight swivel chair costs around $150.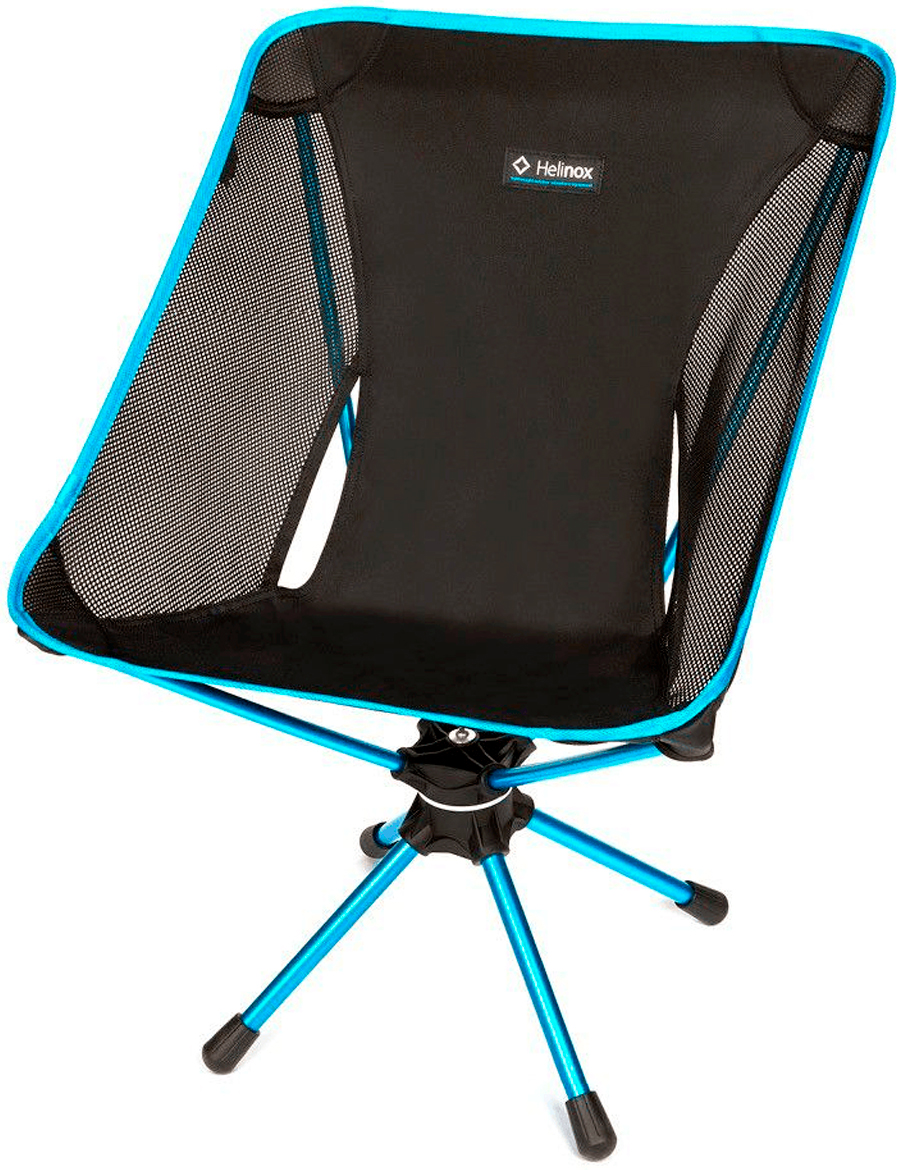 Ultralight Camping Chair
If you think you will be bringing your chair on a long hike, this ultralight camping chair might be your best option. Some backpackers think of chairs as an unnecessary weight while they are on the trail. Meanwhile, others cannot imagine not having something comfortable to sit on to rest their legs after arriving at camp.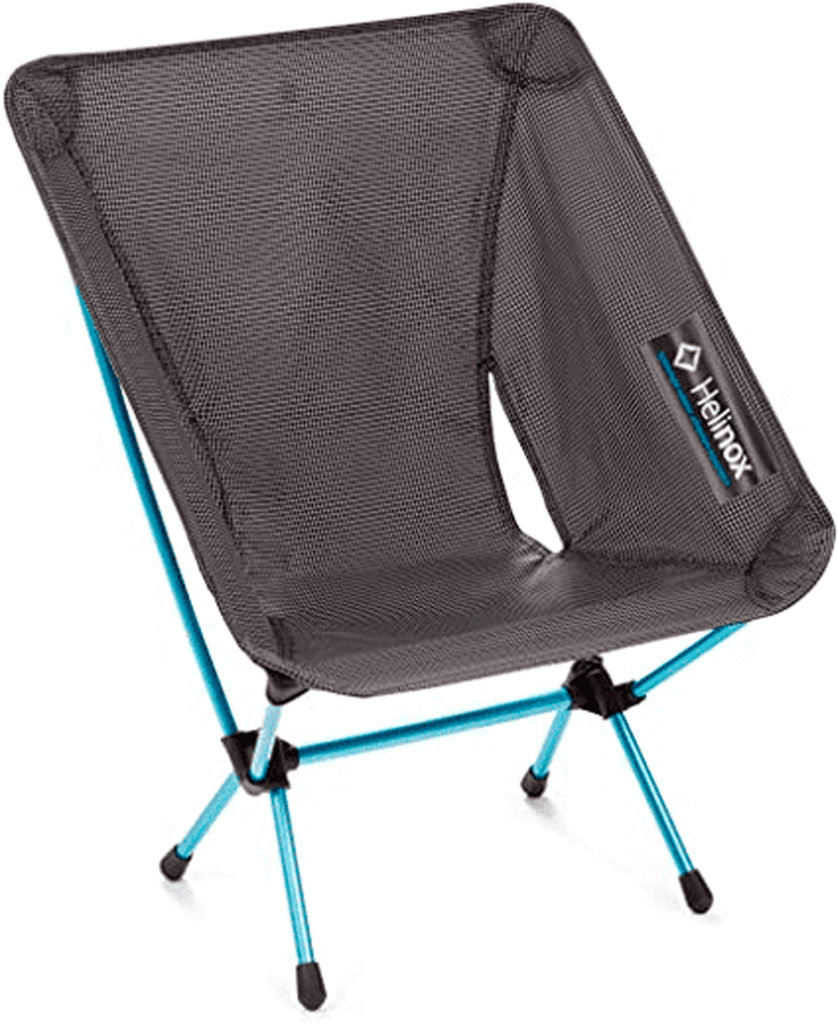 Unfortunately, not every camping chair is suitable for the backcountry. Finding the right weight, packable size, and comfort can be difficult. Ultralight chairs can weigh anywhere between 2 ounces (56g) and 1lbs (453g); also, they can fit into your pack.
Low Profile Folding Chair
Low-seated chairs are also one of the best camping chairs, perfect for camping, the beach, outdoor concerts, and sporting events. They provide relaxation at a shallow height. Due to your proximity to the ground, it feels natural to extend your legs and chill out.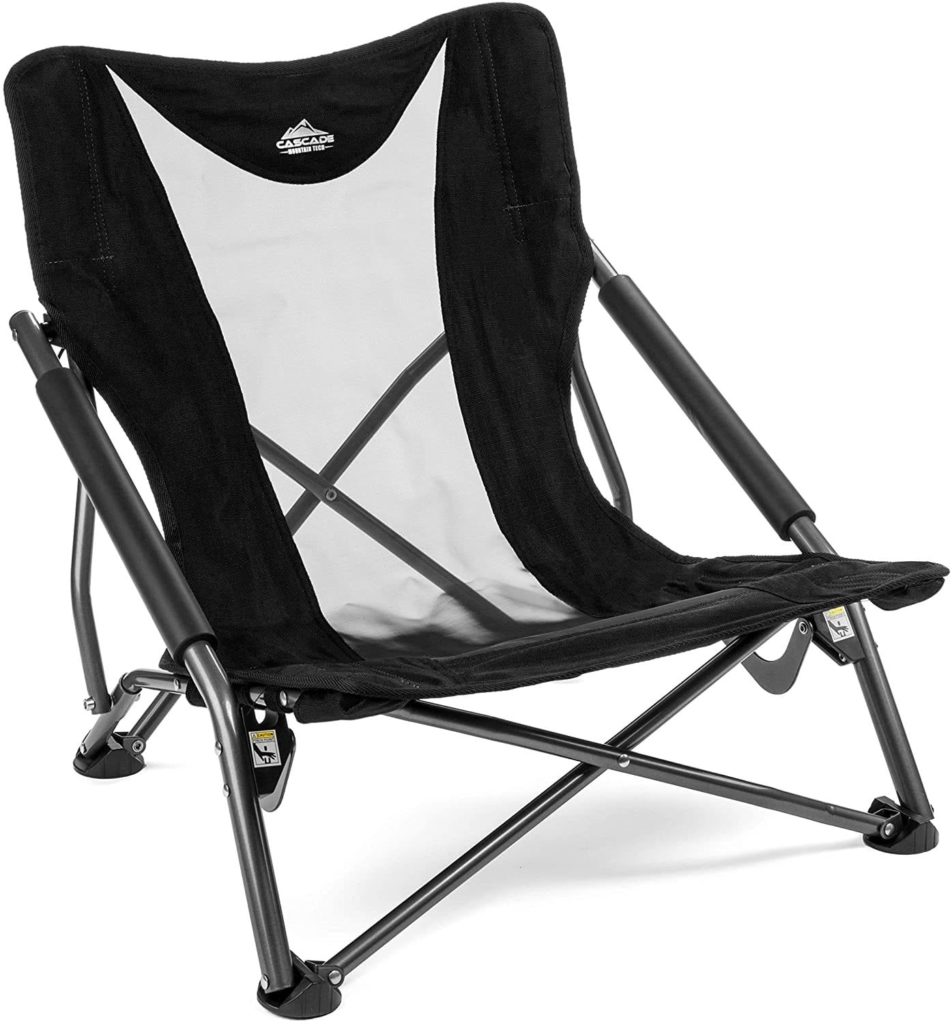 These chairs often have options to add comfort through the fabric, additional cushioning, and practical features. Cup holders, side pockets, and headrests are common in a low profile folding chair. These often can recline as well. An added benefit, low profile folding chairs, is also perfect to use when actively looking to avoid falls since the chair's height is low, allowing more stability and sturdiness.
Specifics of low profile folding chairs:
Height – around 9 inches (22 cm) off the ground, which allows you to snuggle up by the campfire easily
Weight – around 4 lbs. – 7 lbs. (1.8 kg – 3 kg)
Price – from $30 to $70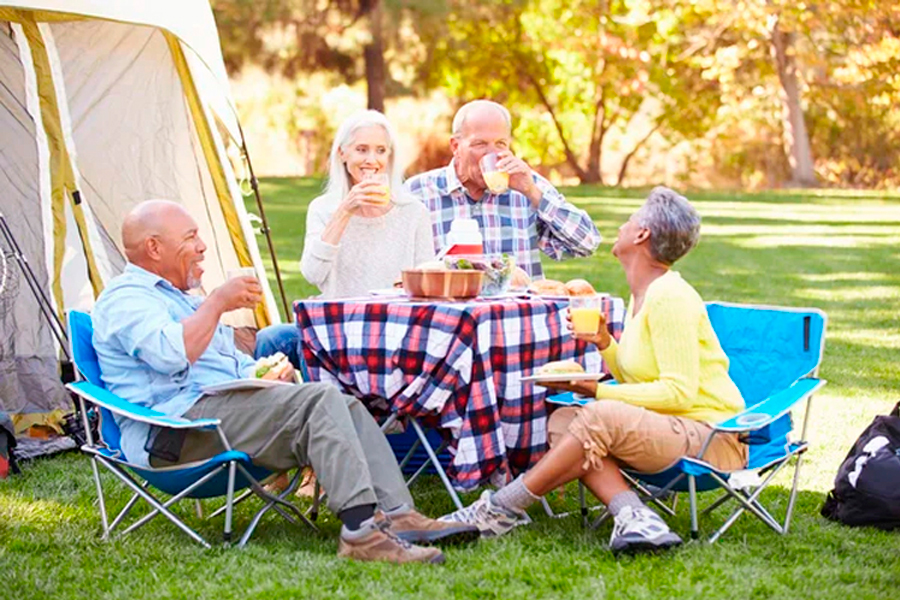 Kids Chair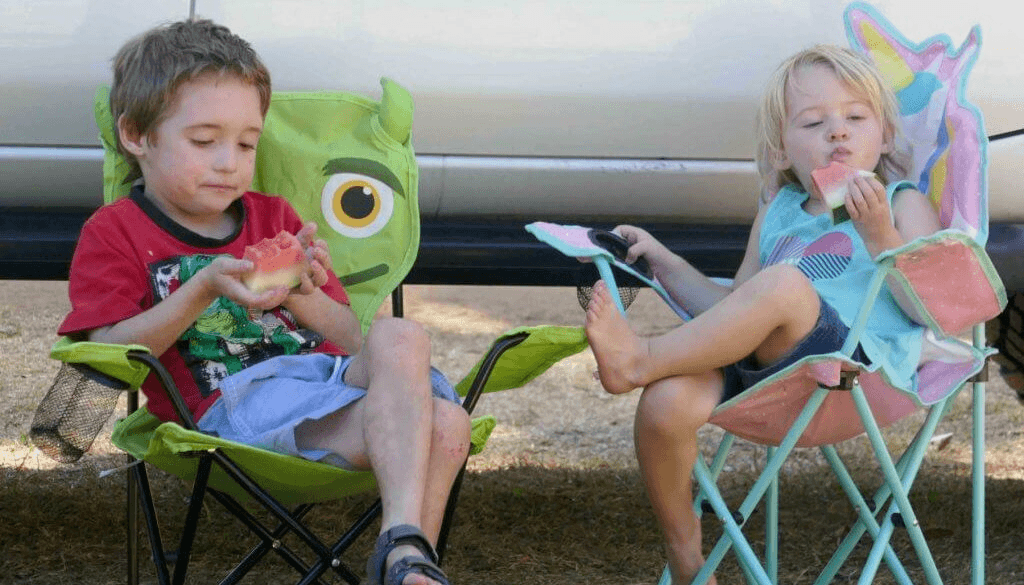 For outdoor camping with the whole family, you should also consider getting the kids comfortable and safe. A child's camping chair needs to be stable and sturdy to support their constant movements. It should also be low-height to avoid any unwanted accidents or falls.
Fun cartoon themes or animal designs will also be a great addition to your kid's camping chair to motivate them to join you more often in camps.
Comfort and stability are always significant factors that you should not forget when choosing a perfect camping chair, especially when planning more extended trips. That is why you should consider a camping chair with a kid-friendly design, safety, and stability as the priority.
Camping chair for children usually have:
Age limit – 3 – 6 years old
Height – 9 inches (22 cm)
Weight – from 2.4 lbs. to 3.5 lbs.
Price – from $13 to $25
Easy to assemble
Low to the ground
A kid-friendly design
Hammock Chair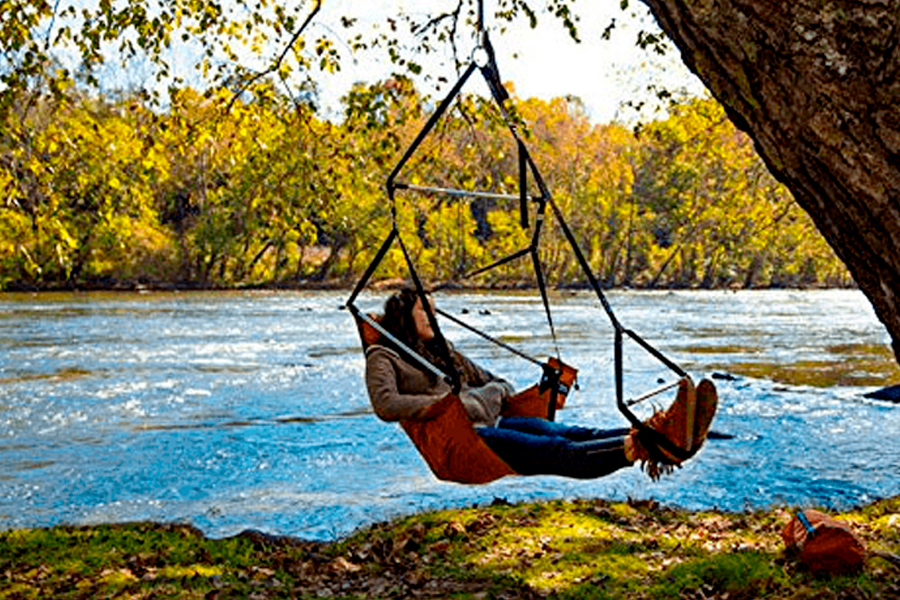 Self-standing Hammock Chair
Traditional hammock camp chairs can be a little more difficult to be mobile with. To hung hammock chairs you will need a sturdy tree branch in the wild, as well as some time to set it up. Luckily, they have developed a portable hammock chair style that does not require a tree branch for the set-up.
Instead, it relies on an aluminum frame to keep it suspended.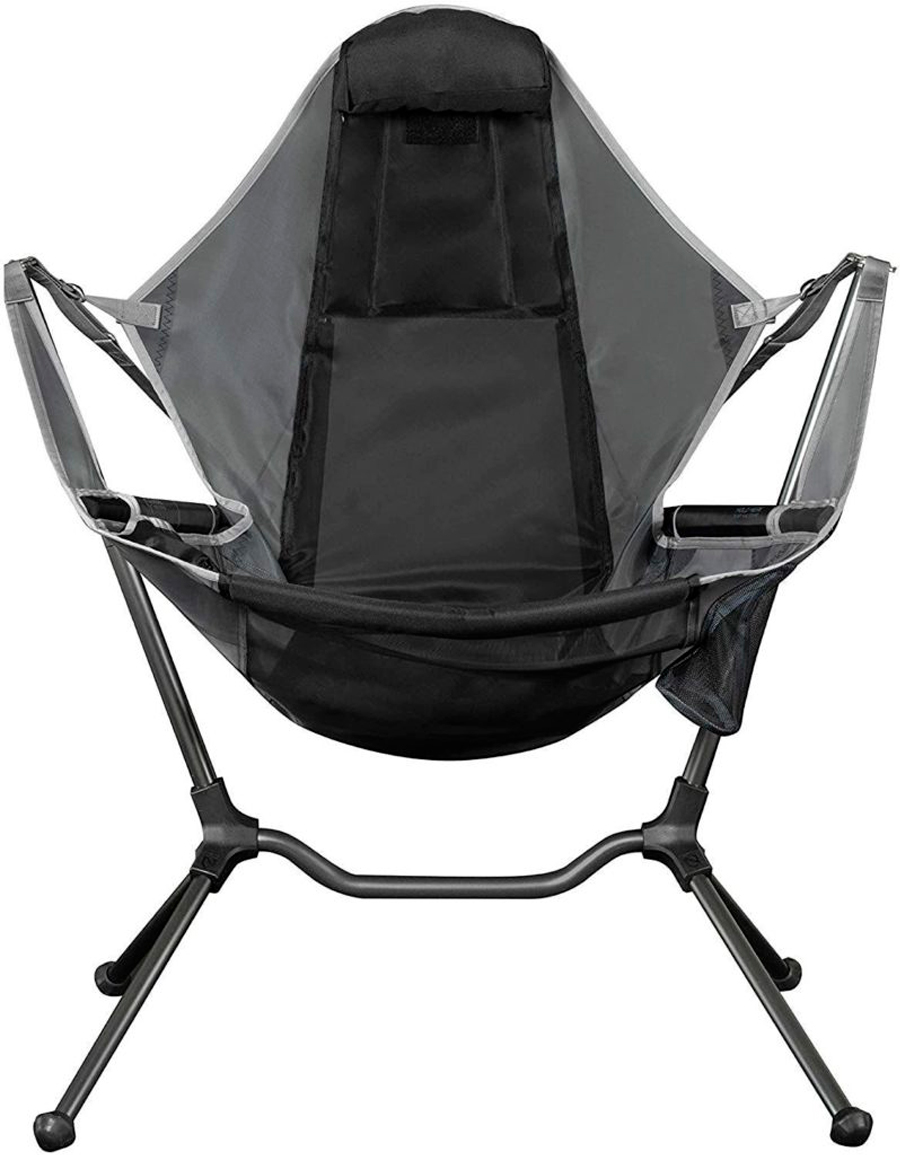 Characteristics of the self-standing hammock chair are:
Weight – about 6 lbs (3kg)
Price – about $45 (a compact and lightweight version may cost up to $200)
What you're willing to spend depends entirely on what situations you will want to use it in.
Rocking Chair
Channel your inner front porch by adding a camp chair with a rocking feature to your outdoor gear. Choose between two various style rockers. An even surface is the best option for a freestyle rocker or a standard two rockers. These chairs can run from $40 to $75.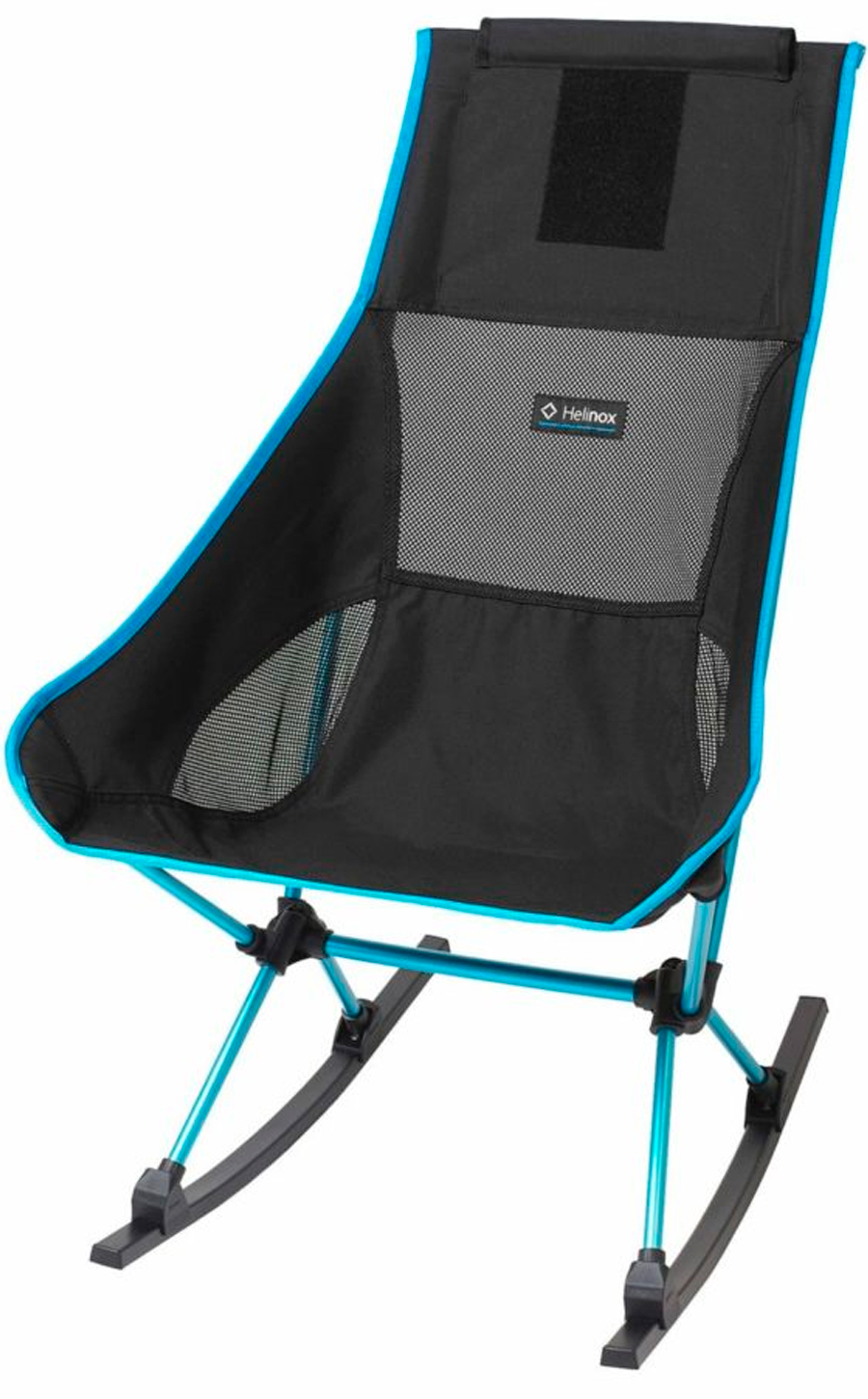 Backpack Cooler Chair
There are many different versions of backpack cooler chairs with convenient design. It can help keep beverages cold, and you can use it to transport your belongings with the camping chairs.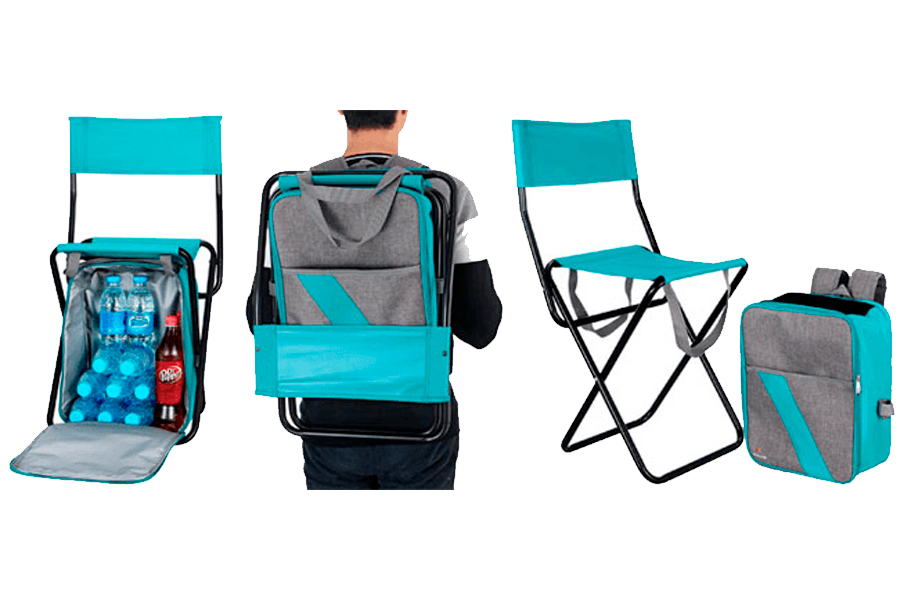 Plus, it is crucial to know what kind of cooler comes with your camping chair. The quality of your cooler bag will play a role in the price of your chair.
One of the backpack cooler chairs will cost you between $30 and $50. It only weighs 3.5lbs, yet you should plan the weight distribution as you will be carrying snacks in the backpack.
How to Choose the Best Camping Chair for You
Usually, people who get a camping chair have a specific activity in mind. Luckily, camping chairs prove useful in many situations and can serve several various purposes. Sometimes the easiest way to choose which type of camping chair is best for you is to see which chairs are best for certain outdoor activities. From here, you should be able to narrow your choices down based on your outdoor interests.
Car Camping
RECOMMENDED: Traditional Camping Chair / Hanging Chair / Loveseat Chair / Low-Profile Folding Chair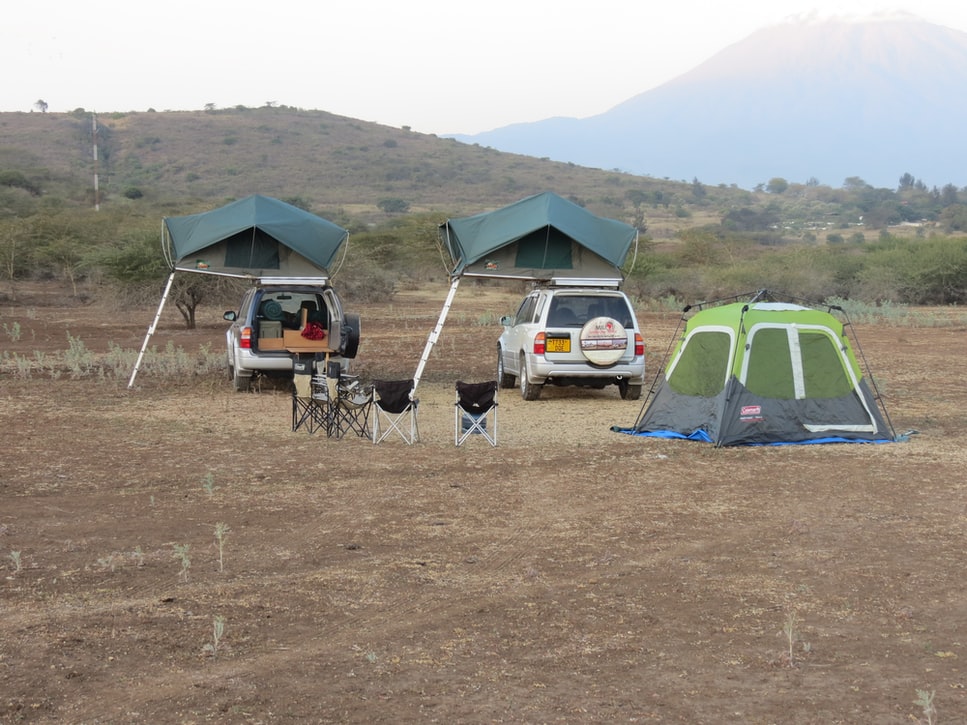 It is both easy and necessary for car camping and tailgating to have a chair that provides comfort. Both activities do not require you to walk your chair to a location, so size and bulk are not that much an issue.
Whether you have just returned from a long hike or you plan on spending hours in the parking lot before the game, you do not want to sit on an uncomfortable chair. The best recommendation is to have a traditional or hanging camping chair for these activities since they tend to be the most comfortable.
It is important to remember that there are two different types of hanging chairs. The traditional style chair that requires something to hang from would work best at a wooded camping area. The aluminum suspension hanging chairs are easier to enjoy as they need significantly less set-up and are suitable for any situation.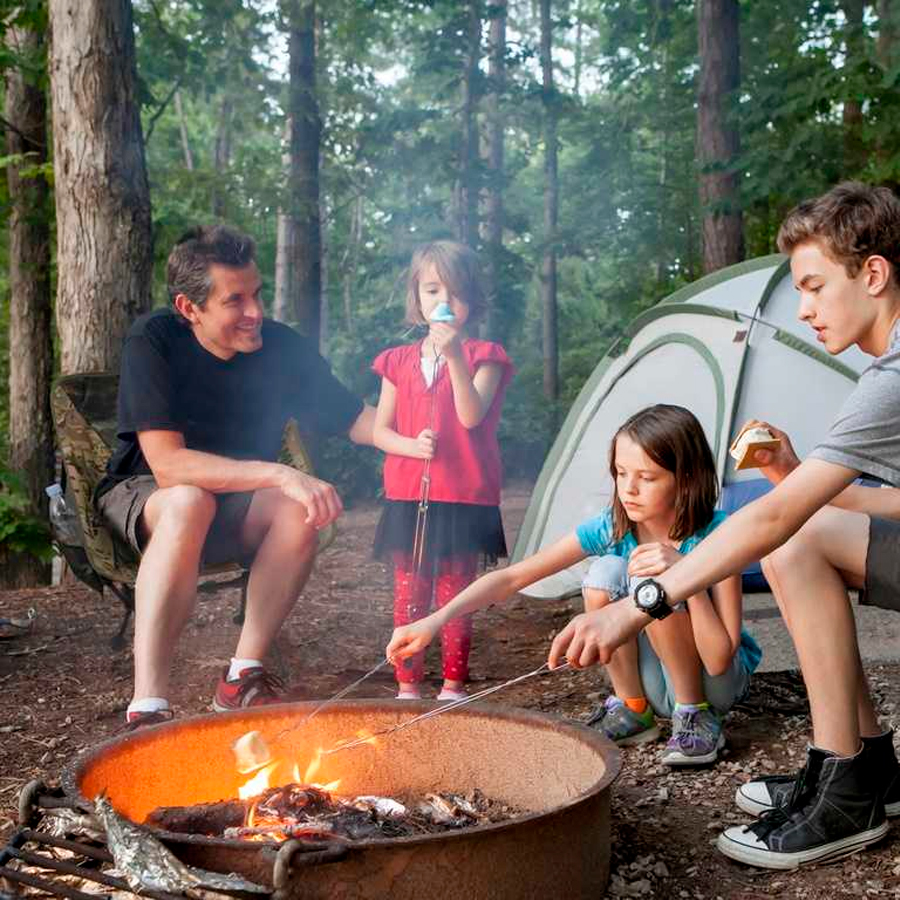 A loveseat style camping chair is also a good choice if you'll be spending this time with a friend or loved one. It does take up a bit more space and add to your overall weight when packing and unpacking for your trip, but you will have a sturdy, comfortable seat that can let you spread out or cozy up to someone during your experience.
All of the suggested chairs here make great options for extra outdoor seating at any event. If you have some people over for a fire, going to a concert with lawn seating, or bringing take out to your favorite park, any of these chairs would make your experience even better. Camping chairs have so many uses.
Beach
RECOMMENDED: Low-Profile Folding Chair / Traditional Camping Chair / Portable Camping Chair / Backpack Cooler Chair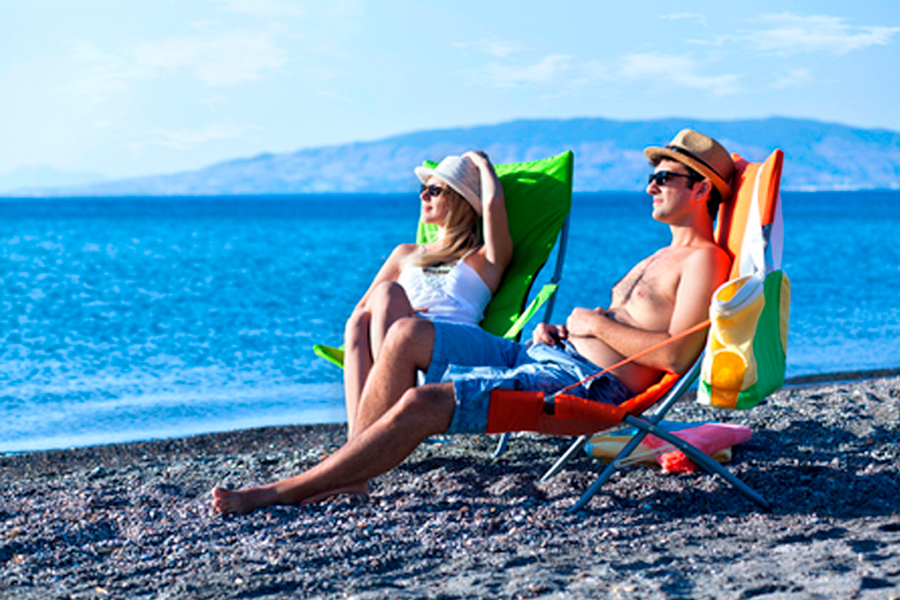 Taking a camping chair to a beach is the best way to sunbathe, read, and lounge throughout the day. The beach is an easy place to find discomfort; fun in the sun and playing in the sand can be great as long as they don't' negatively affect your lounging time. Typically, to combat these forces of nature, you'll want to get a low profile folding chair or a camp chair that can recline.
If you plan to relax on the beach, we suggest getting a lighter color chair to avoid the sunlight. The dark objects tend to overheat, and as a result, they can lead to distress for your skin health. You will probably want your chair to have a mesh material if possible. Mesh is breathable, which keeps you well ventilated, prevents the chair from collecting a lot of sand, and helps it dry out if it gets wet. Also, purchase a chair with wide feet, or plan proactively to prevent the chair from sinking into the sand while you lounge at the beach.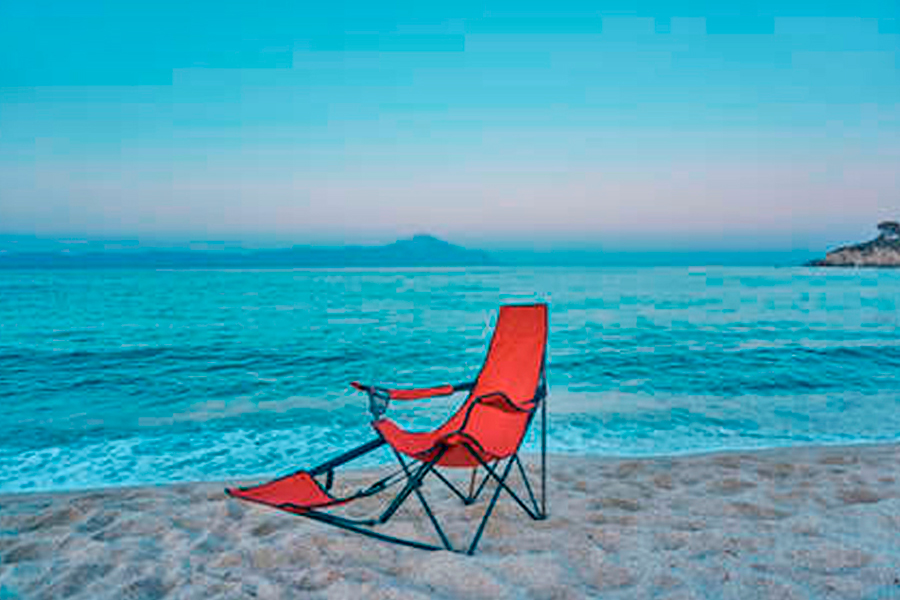 Traditional and Portable Camping chairs would also work well for a beach situation. The walk from the car to the water shouldn't be too harsh with either of these lightweight, foldable options that often come in a carrying bag. The backpack cooler chair might genuinely be a beach-goers best option if you are going to be spending the whole day! Pack your cold drinks, snacks, and your chair onto your back for a full day of soaking up the sun.
Fishing
RECOMMENDED: Camping Stool / Traditional Camping Chair / Portable Camping Chair / Backpack Cooler Chair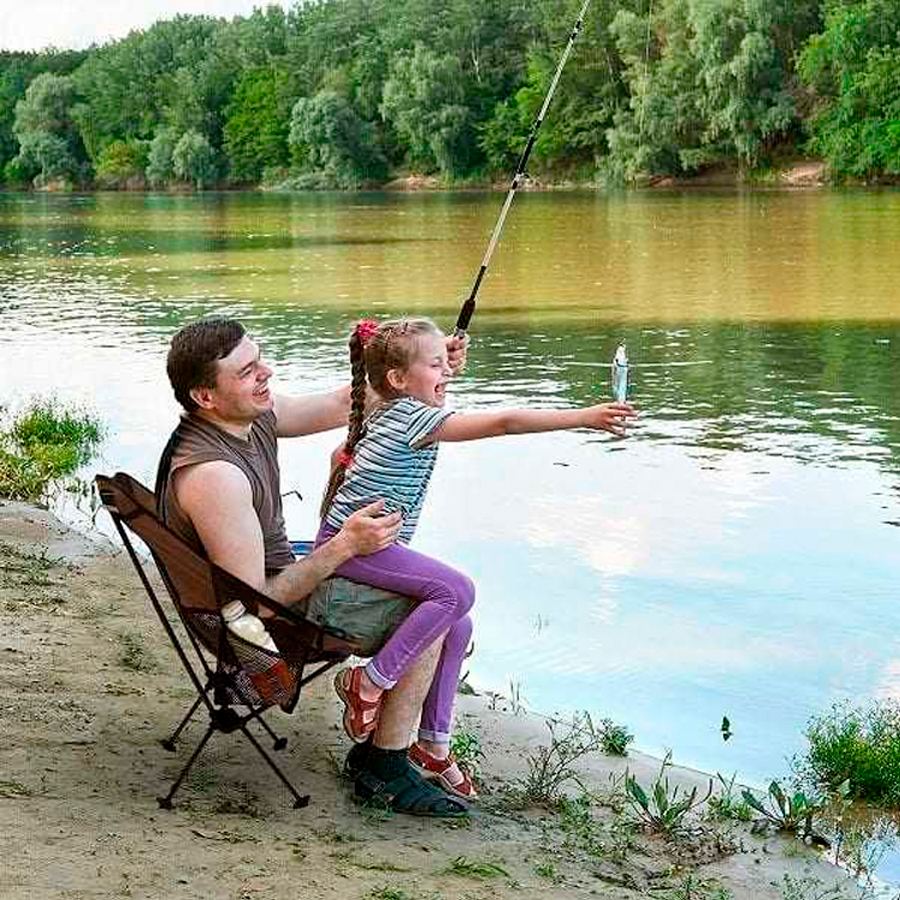 Camping chairs are ideal for fishing trips. One might ask, do you need a good fishing chair? Well, of course, yes!
If you grew up fishing, you might have remembered sitting on a bucket, a cooler, or even on the ground while you waited for the fish to bite. Although all those options certainly do the trick, you have the opportunity to be more comfortable if you choose to bring a camping chair along.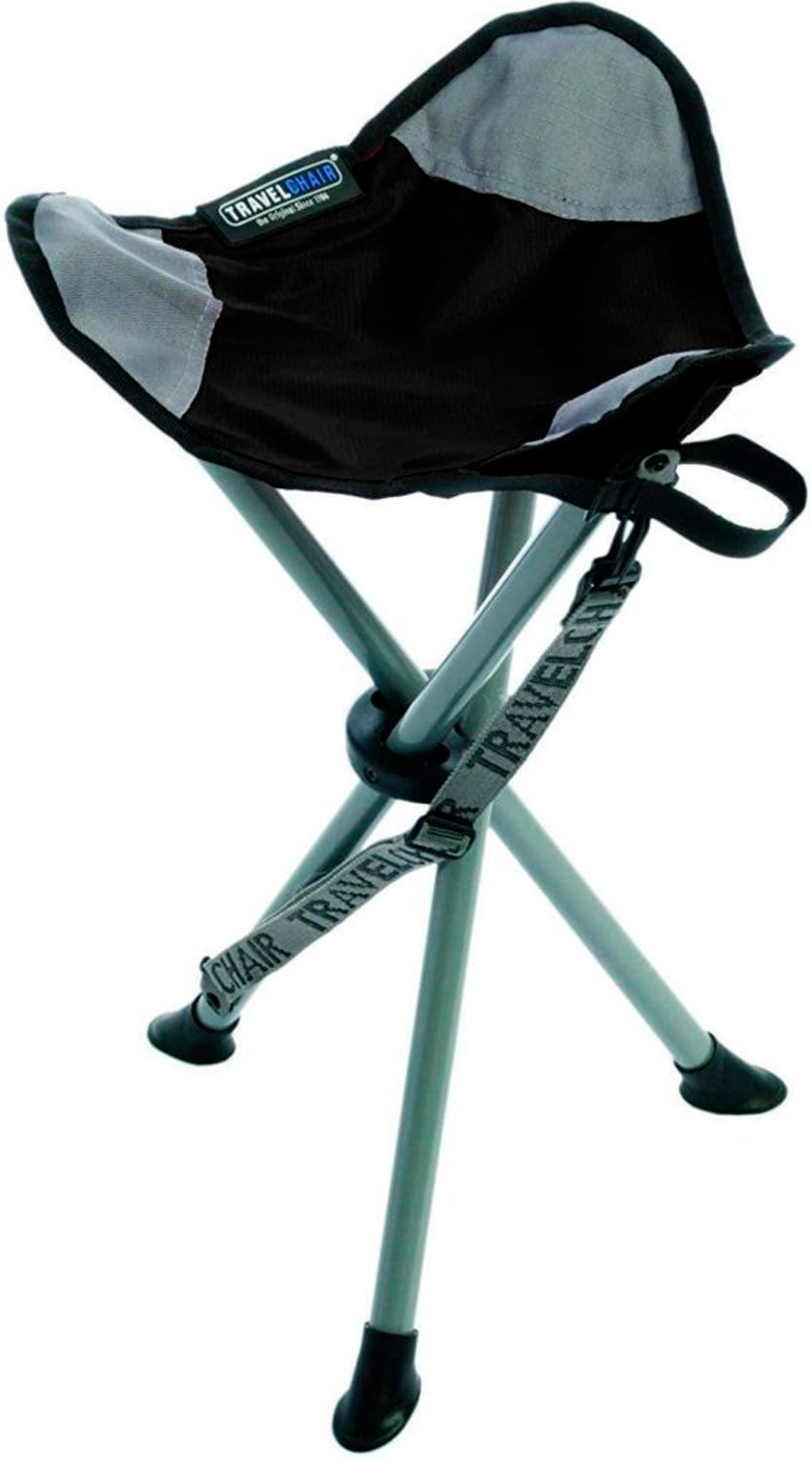 Although a traditional or portable camp chair will undoubtedly do the trick, a camping stool might be the most functional. It might not have a cup holder or a backrest, but it will provide you with a full range of motion for casting and reeling in your catch. It will lack comfort while waiting for the fish to bite! Ultimately, this decision is up to you.
If you are looking to put a camp chair in your boat for your next fishing trip, we suggest choosing your sturdiest option. A traditional or portable camp chair should be your best option here, even if it might limit your range of motion. The very nature of their structure provides a solid base to support you out on the water.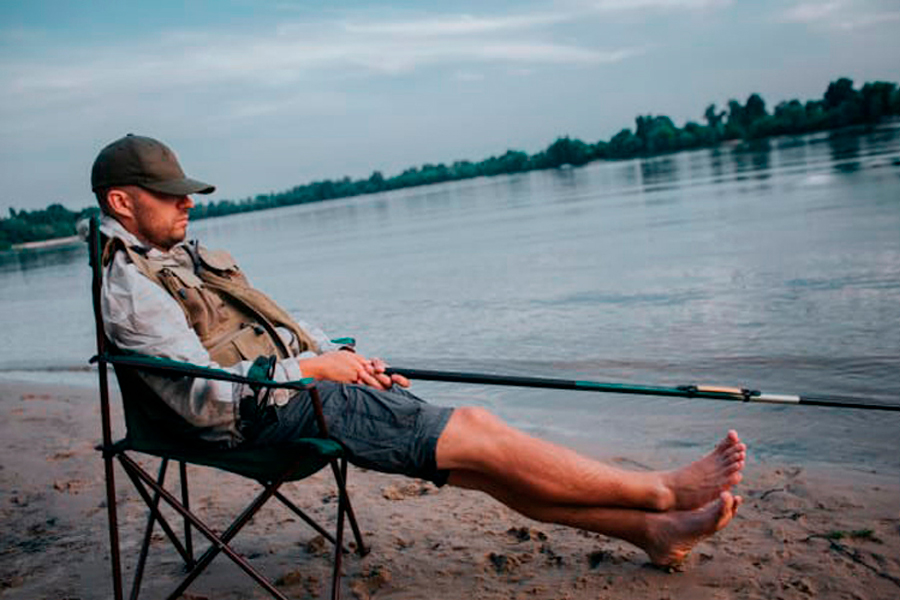 Backpack cooler chairs are an excellent option for fishing as well. Keep your bait and your beverages at your feet while you're out on the water. You won't have to worry about taking two trips if your cooler and chair is on your back! That leaves a hand for your tackle box and another for your poles. It is an efficient option for any fishing trip!
Backpacking
RECOMMENDED: Camping Stool / Portable Camping Chair
If you're bringing a camping chair along on your next backpacking trip, a portable camping chair or stool is your only option. You're going to need to take weight and space into consideration. Every pound counts, and you'll be trying to find space for this item in your pack.
Ultimately, an ultralight portable camping chair would be your best option! They have backpacking at the forefront of their outdoor activity list. Ultralight portable camping chairs pack up small and can weigh as little as 15oz.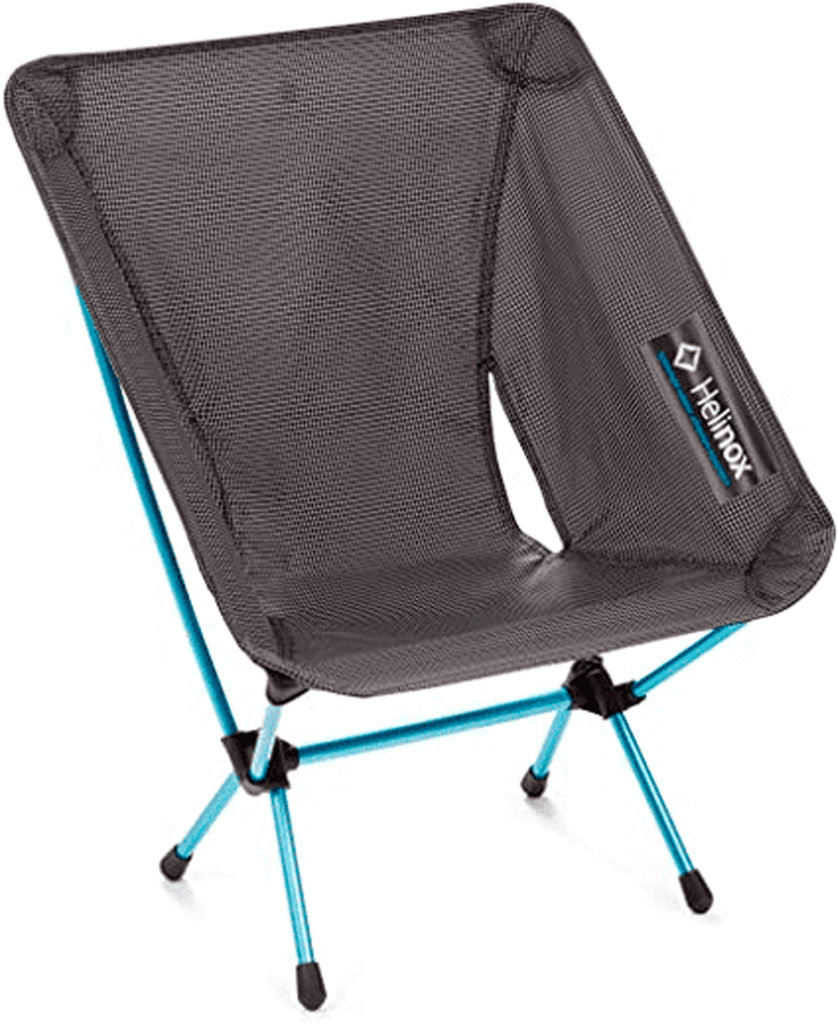 Camping stools are another great option for backpackers. Due to their design nature, they are often lighter and contain less material making them easier to pack for an extended trip.
If an ultralight chair or a camping stool is still too heavy or will take up too much space for your next backpacking trip, you have another option. Inflatable air chairs are also great options for backpackers looking to keep their pack weight low. They fold down to very little and require little work to inflate at the end of a long day.
Is there an All-Purpose Outdoor Camping Chair?
Although different camping chairs have features that make them ideal for some activities over others, some chairs can be helpful for pretty much any outdoor activity. Portable camping chairs fall into this category. They are lightweight, packable, durable, and can include several useful features.
You can use the KAMUI portable camping beach chair in nearly any outdoor situation. The KAMUI portable camping chair is the perfect option for any traveler due to its:
Weight – 2lbs (950g)
Minimal and functional design
Lightweight and easy-to-set-up
Space efficient and portable
KAMUI focuses on providing world-class quality outdoor products for their customers' safety and enjoyment. Their portable camping beach chair provides comfort in its leaned back position while also prioritizing functionality.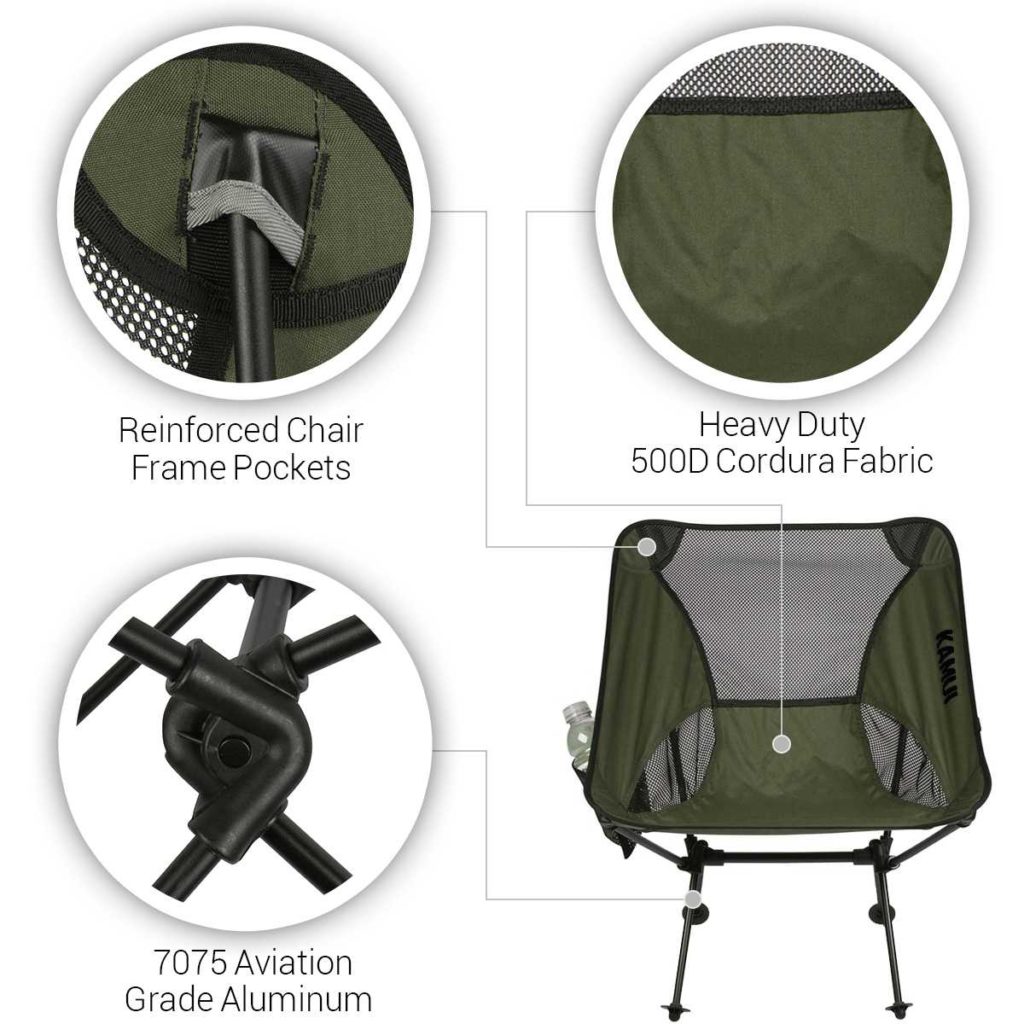 Let's take a look at the KAMUI portable chair from the ground up. The design of the chair includes wider feet to improve stabilization. It prevents you from sinking into mud, dirt, or sand. The KAMUI portable camping chair is safe from fabric damage where the aviation-grade aluminum meets the chair pocket. The upper frame of the chair hosts a handy side pocket. This pocket has the space to store cell phones, beverages, and books. It also provides a foldable and easy carry bag with a shoulder strap.
To sum up, the KAMUI portable camping chair can be an excellent option for all of your upcoming outdoor adventures.
Closing Thoughts
According to popular opinion, camping chairs are great for camping, tailgating, hunting, beach days, and fishing. As you look for your ideal chair, some features should play a significant role in the decision process. But, you should first know what would be the primary purpose of your future camping chair. In our opinion, the most efficient and suitable camping chair should be comfortable, space-saving, easy-to-set-up, and lightweight. Overall, there are various comfortable and portable camping chairs in the market, for instance, KAMUI portable camping chair. The portable chair by KAMUI can be the best option if you are looking for a lightweight, mobile, affordable, and space-efficient camping chair.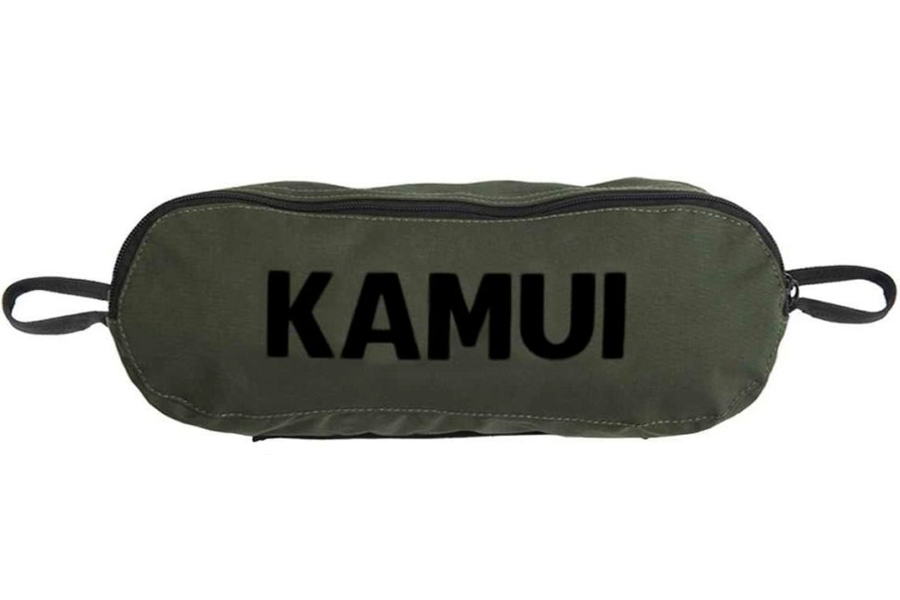 Resources: