25 Pet-Friendly Campsites in California for Pawsome Vacations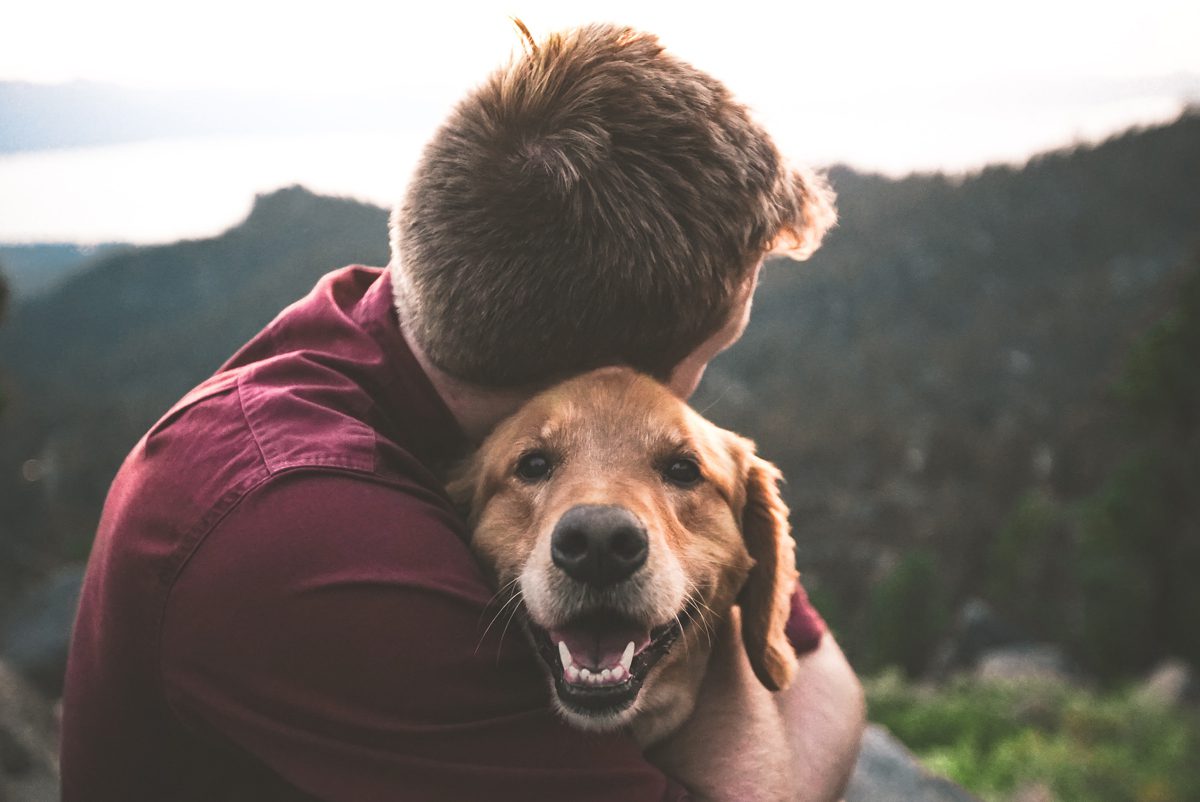 Traveling with pets can be difficult. Finding a place to accommodate your pets isn't always easy. Luckily, there are pet friendly campsites in California for you to experience all the beautiful sites of the state with your furry friend!
In this post, we'll break down our 25 favorite pet-friendly campsites in Northern California, Lake Tahoe, Southern California, Coastal California, and Glamping sites.
Best Pet-Friendly Campsites in Northern California
Experience the dramatic coastline and famous Redwood Forests of Northern California with your furry friend! There are pet friendly campsites in California for everyone, and these Northern California sites are amazing.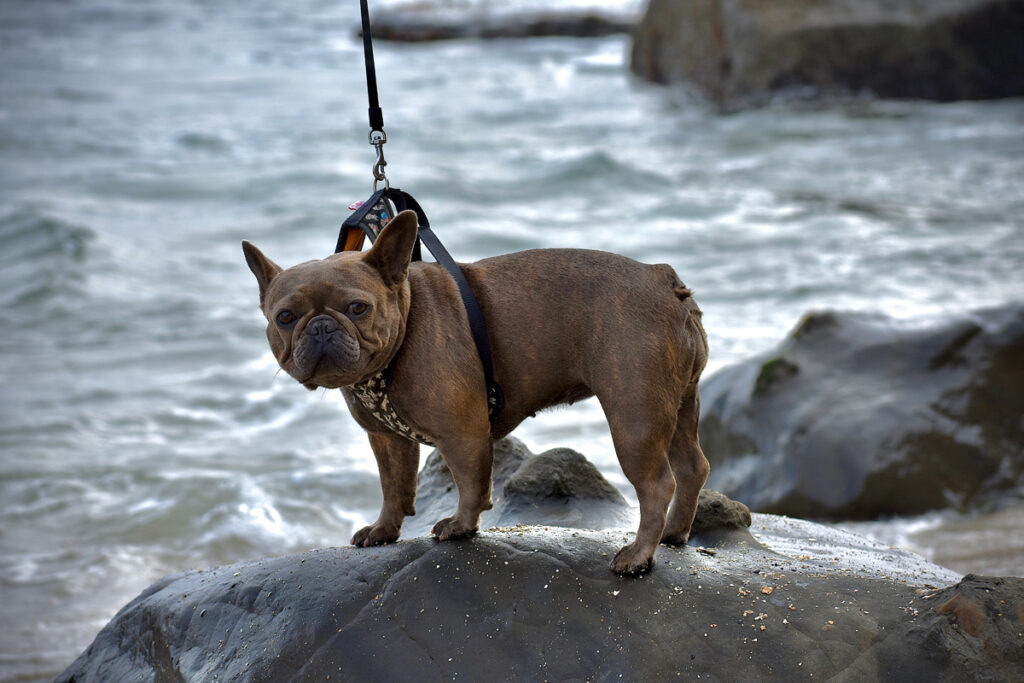 1. Casini Ranch Family Campground
Duncans Mills, California
Stay in the Russian River Valley at a campground that boasts family-friendly, pet-friendly, nature-filled accommodations. Cottages, RV, and tent sites nestled along one mile of the Russian River offer campers a memorable experience.
If you're looking for mild weather, visit Casini Ranch Family Campground in the summer months. Temperatures are fairly mild all year round, but your warmest temperatures will come in July and August!
With various on-site events and local fun, you won't run out of things to do at the Casini Ranch. Experience weekly bonfires, fenced-in dog parks, and sporting activities on-site, or venture into the adjacent Willow Creek State Park for miles of hiking trails.
2. Cloverdale Wine Country KOA
Cloverdale, California
Find multiple RV and tent sites nestled among 100-year-old oak, eucalyptus, and evergreen trees, or stay in a deluxe cabin perched above the valley for stunning views. Although this is a dog friendly camping site in California, it does not allow Pit Bulls, Rottweilers, or Doberman Pincers on site.
Summer months provide the best opportunity for traveling to Cloverdale Wine Country KOA. With temperatures in the 80s, it's perfect weather for fishing, boating, and hiking.
This award-winning KOA offers a hillside pool, spa, nature trail, fishing pond, and paddle boats. It offers a variety of events and is located close to fantastic bike loops, vineyards, and hiking trails.
3. Grizzly Flat Dispersed
Mendocino National Forest, California
Free and dispersed camping in Mendocino National Forest next to Yuki Wilderness provides rugged camping opportunities for tenters. Vault toilets and fire rings are available; however, there are no additional amenities.
Mendocino National Forest is beautiful to visit all year round. Summer months provide the warmest temperatures, though never too hot, and although winter months are often met with snow, the temperature remains mild.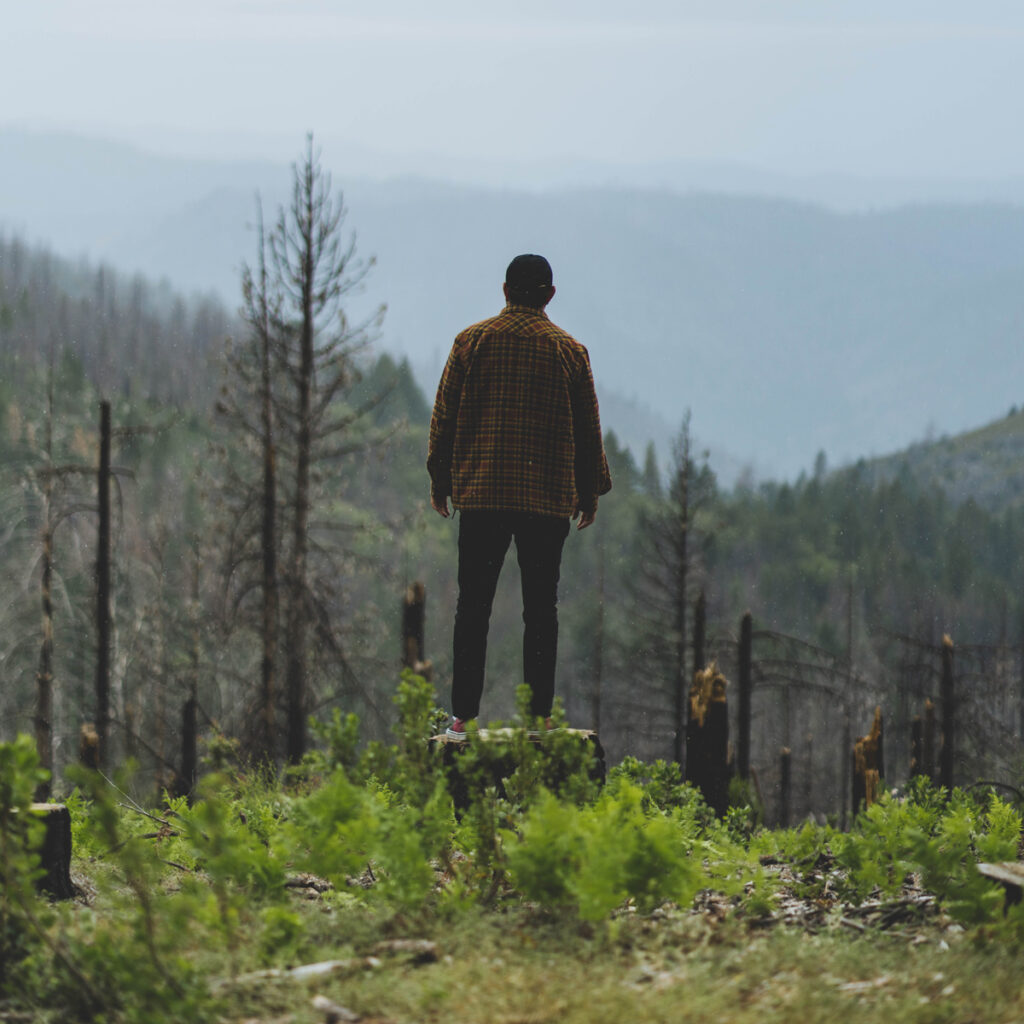 Many pet-friendly hiking trails are available in the Mendocino National Forest. Family-friendly trails include the Comanche Trail and Bloody Rock Trail. The Mount Linn Loop is a more strenuous hike that provides stunning views of Red Bluff, California.
4. Mad River Campground
Mad River, California
Forty sites are open to RV and tent camping on a first-come, first-serve basis. For a small fee of $12 per night, you and your leashed pet will enjoy a riverside campsite under the canopy of Douglas fir, maples, and manzanita.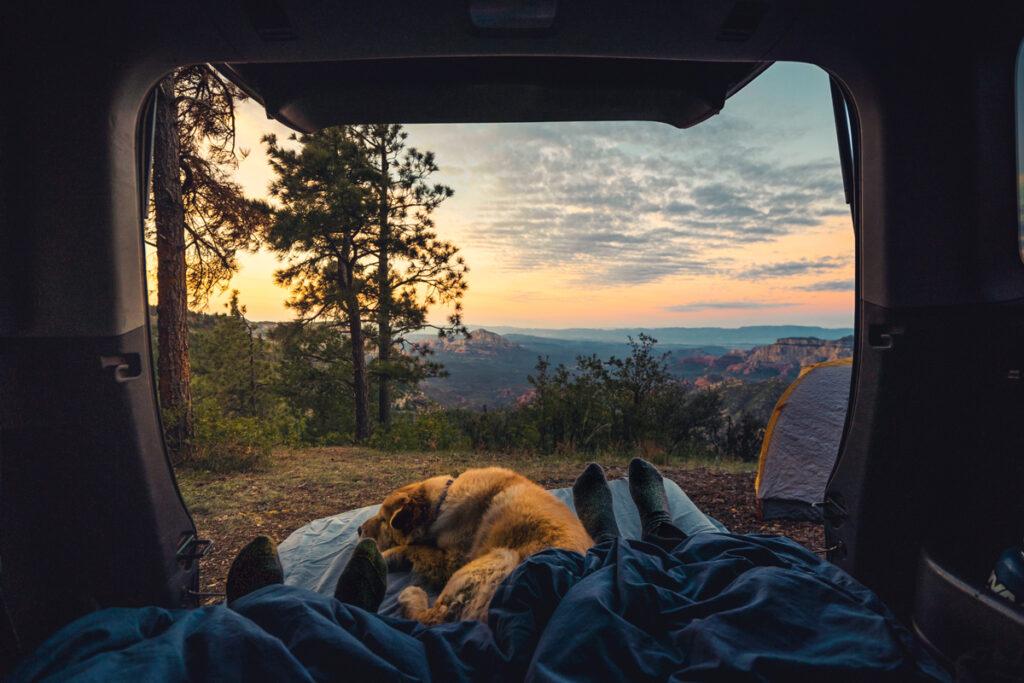 The best time to visit is May through September, as this is the time of year the campground is open. This time of year provides warm temperatures and low precipitation.
Drive the Avenue of Giants with your pooch and enjoy 32 miles of pristine Redwood views. If you're looking to stretch your legs, there are numerous hiking trails in the Mount Lassic Wilderness where your leashed pet can join you.
5. Sonoma County Regional Parks
Sonoma County, California
The Sonoma Country Regional Parks offer over 200 year-round pet-friendly campsites in California. Most campgrounds include RV pull-through sites and tent camping, showers and flush toilets, fire rings, and picnic tables.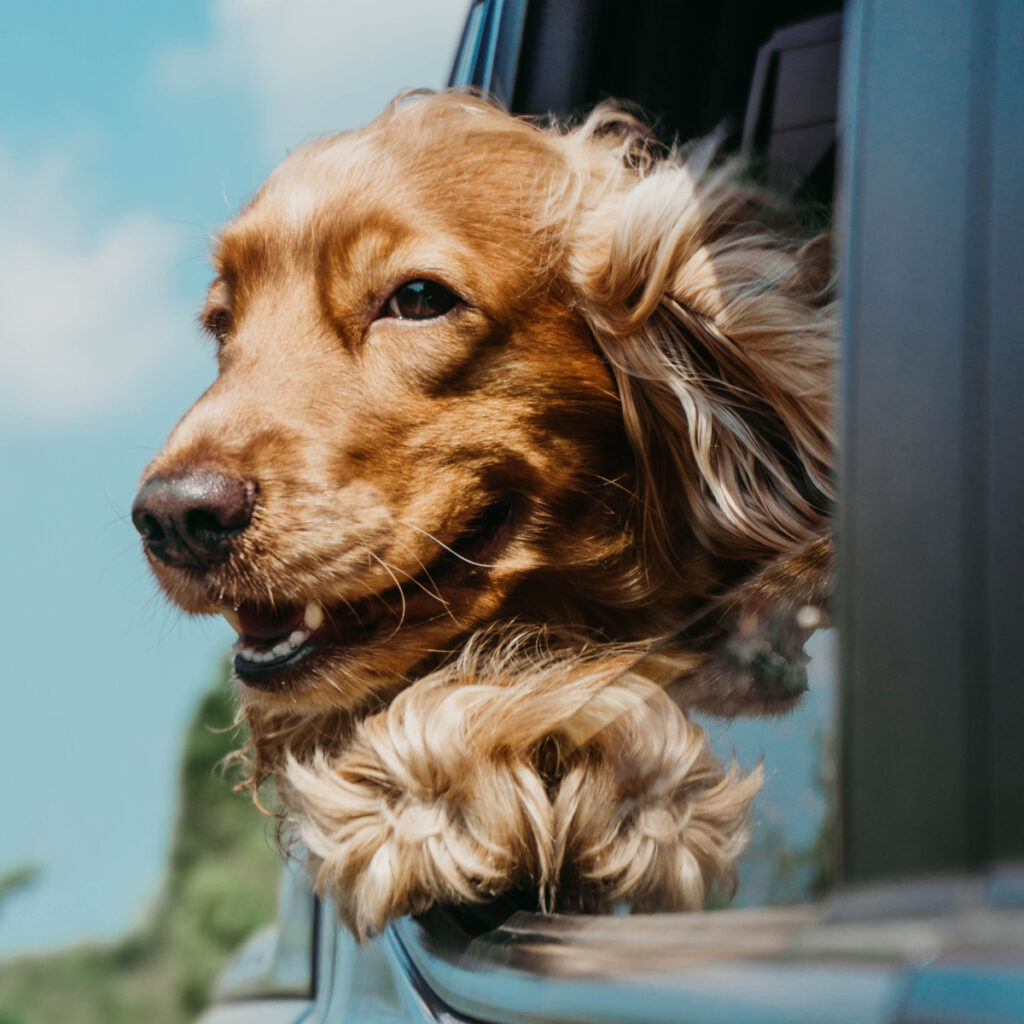 The busiest time of year is also the best time to visit weather-wise. June through October presents the most favorable weather for Sonoma County adventures.
Choose from various easy, moderate, and strenuous hiking trails in Sonoma County. Dogs on leash are welcome at nearly all of Sonoma County's 56 regional parks, trails, and beaches.
Pet-Friendly Campsites in Lake Tahoe
Lake Tahoe's large, fresh waters straddle the California and Nevada border. Known for its beautiful beaches and epic ski resorts, Lake Tahoe is one of the best places to visit in California and has several pet-friendly campsites for you to enjoy!
1. Fallen Leaf Campground
South Lake Tahoe, California
Located a quarter mile north of Fallen Leaf Lake, this campground is an outdoor enthusiast's dream. With over 200 standard tent and RV sites, six yurts, and coin-operated showers, this campground holds many people.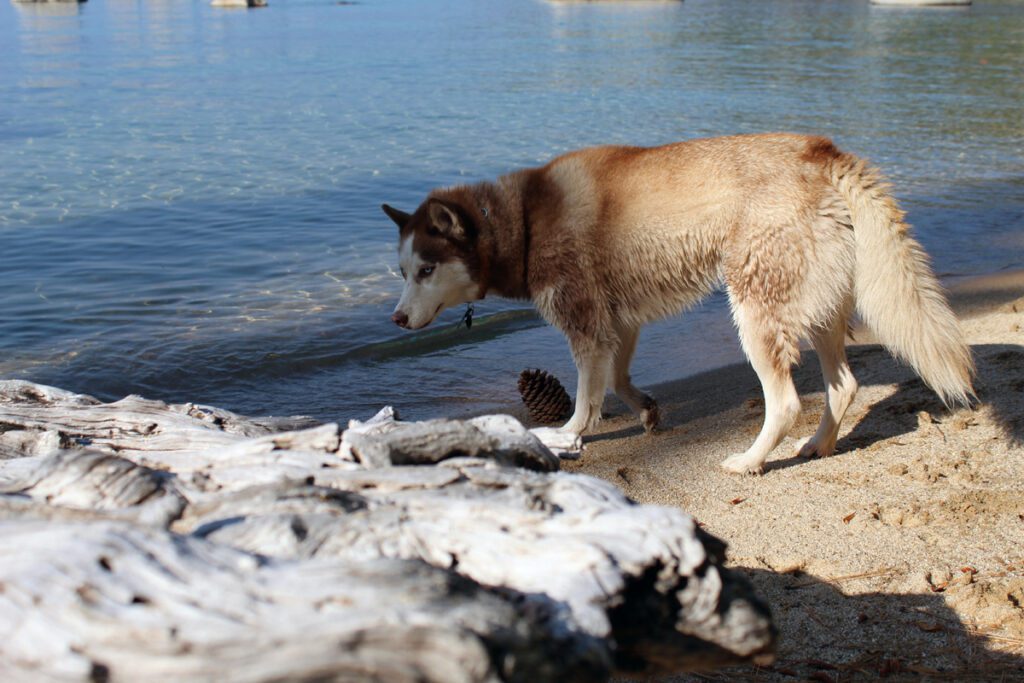 The best times to visit Lake Tahoe with minimal crowds are from March to May and September to November. However, the warmest weather is found in the summer months. Fallen Leaf Campground is only open from mid-May through mid-October.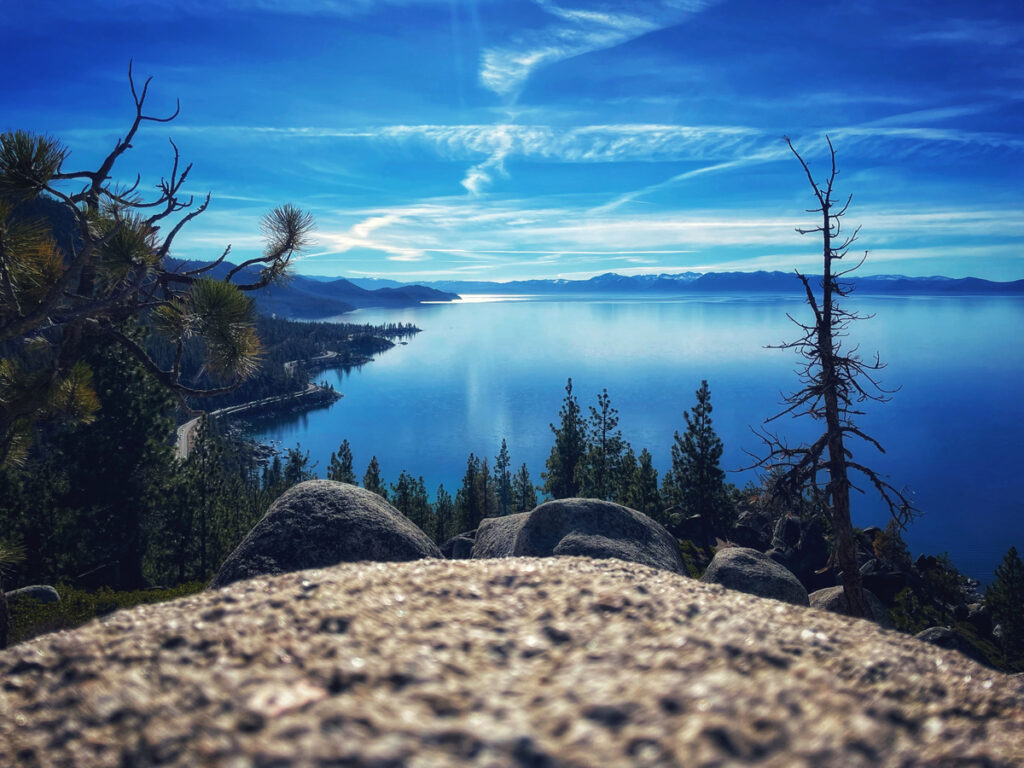 Fallen Leaf Campground is a great base camp for a slew of outdoor recreational opportunities. Visit the Taylor Creek Visitor Center, directly across Highway 89, to learn about the interpretive programs, and guided walks offered. If you're interested in a more intense bit of hiking with your pet, check out the hikes the Desolation Wilderness has to offer.
2. Kaspian Campground
Tahoe City, California
Only nine walk-ins and tent-only sites are nestled into a sparse forest overlooking Lake Tahoe. Each site includes a picnic table, a fire ring, and a bear-proof locker. The campground has flush restrooms and tap water available to guests.
Kaspian Campground is open Mid-May through October, making the warmer months the best time to visit. All nine campsites are within walking distance of the Kaspian day-use area, where campers can enjoy fishing, swimming, kayaking, and paddleboarding in the warmer months.
The campground is very close to a number of outdoor recreation opportunities. We recommend the Eagle Rock Trail for a pet-friendly hike with stunning views of Lake Tahoe from the summit. This hike's parking lot fills up quickly; the campground is only a .5-mile walk away!
3. Lake Forest Campground
Tahoe City, California
Twenty campsites are available on a first-come, first-served basis at Lake Forest Campground. Amenities include portable restrooms and pump water. No showers, hookups, or dumping areas are available at this campground.
Lake Forest Campground is only open in the summer when warm temperatures provide endless outdoor recreation activities.
The campground sits next to the boat launch, making it a great place for boat owners to stay. Check out local hikes if you're not here to float on Lake Tahoe. Ward Creek Tahoe Rim Trail and Paige Meadows are great places to hike with your dog.
4. Luther Pass Dispersed Camping Area
South Lake Tahoe, California
Located in Eldorado National Forest, Luther Pass Dispersed Camping Area is a great place for prepared campers to stay for free. All sites are walk-in, which means they're best utilized by tent campers. There are bear lockers and fire pits available at all sites.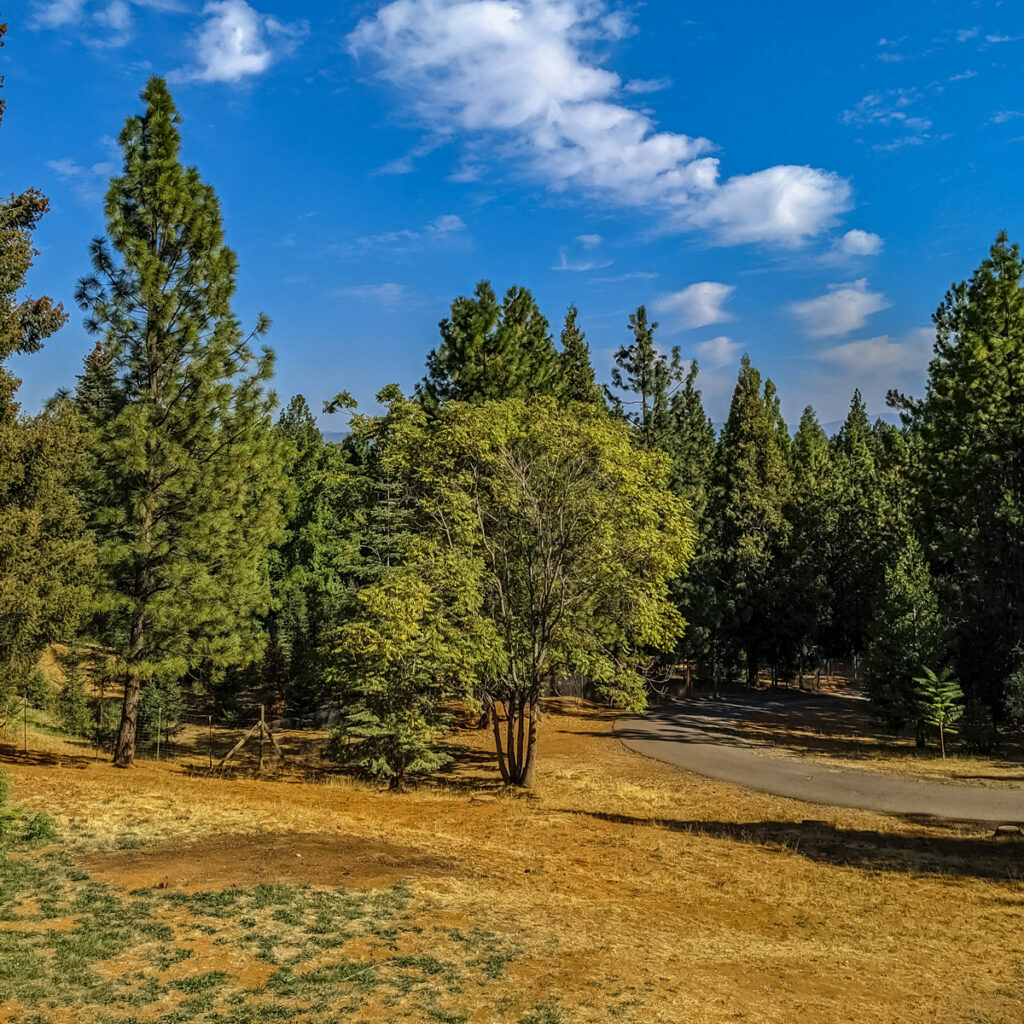 Open late May through Early November, late spring through early fall is the only time you can camp at Luther Pass. July, August, and October are the best months to visit as they provide the least amount of precipitation.
Stay in Eldorado National Forest for a reprieve from the crowds of Lake Tahoe. Take your pup hiking miles of scenic trails or mountain biking on Fleming Meadow Loop. Swimming and paddling are also great ways to spend the summer months.
5. Tahoe Valley Campground
South Lake Tahoe, California
Tent and RV campers can enjoy the mountain vistas and towering pines of Taho Valley Campground. This camping resort has a pool, laundry facilities, and a dog park on top of your standard campground amenities such as bathrooms and showers.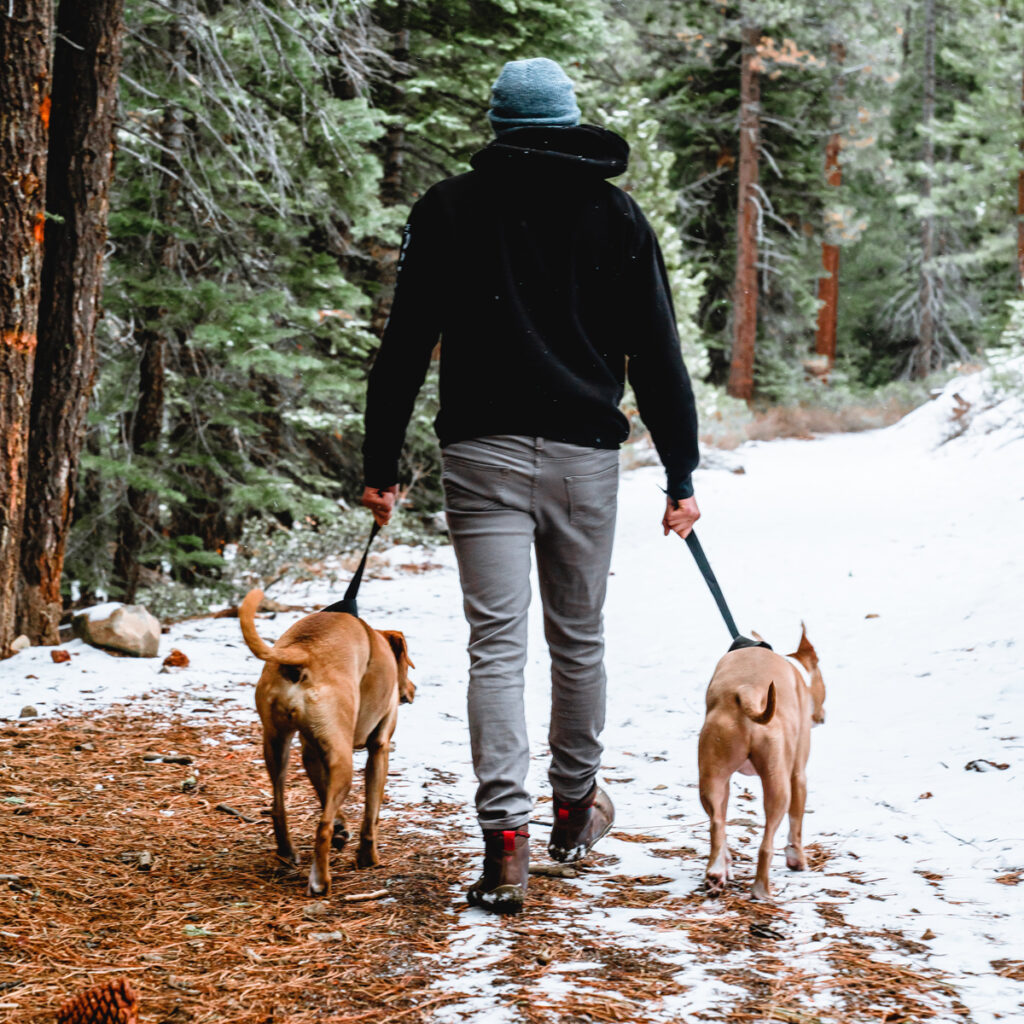 The best time to visit Lake Tahoe is all year long, although only a few campgrounds are open from November through April. Tahoe Valley Campground remains open in winter for those seeking Tahoe ski and snowboarding experiences!
Bring your pup for a swim at Kiva Beach! East of Tallac Point is dog friendly and provides one of the few dog-friendly beaches around Lake Tahoe. Please clean up after your furry friend and obey local leash rules.
Southern California's Best Pet-Friendly Campsites
Southern California is known for its dramatic coastlines, desert landscape, and year-round sunny weather. These are some of the best pet-friendly campsites in California for winter camping, as they are open all year round.
1. Boulder Basin Campground
Banning, California
Located in the San Bernardino National Forest, 34 sites provide solitude and scenic camping opportunities. Primitive camping includes campfire rings, grills, a picnic table, and vault toilets.
Boulder Basin Campground is open May through October, which perfectly aligns with southern California's warm, dry weather.
Black Mountain is the most popular hike near Boulder Basin Campground. An 8.7 mile out and back is normally only a quick mile from Boulder Basin Campground. This hike brings you to the lookout tower at 7,772 feet.
Dogs are allowed in San Bernardino National Forest, where Boulder Basin campsite is. Additionally, the Boulder Basin campground website states dogs are allowed.
2. Circle X Ranch
Malibu, California
This scenic former boy scout camp is nestled below Boney Mountain. Circle X Ranch is a group campground that holds 75 people. This unique site in the Santa Monica Mountains allows only tent camping.
Autumn is the best time to visit Circle X Ranch and the Santa Monica Mountains. With a lot of sunshine and temperatures in the mid to high 60s, it's the perfect weather for outdoor recreation.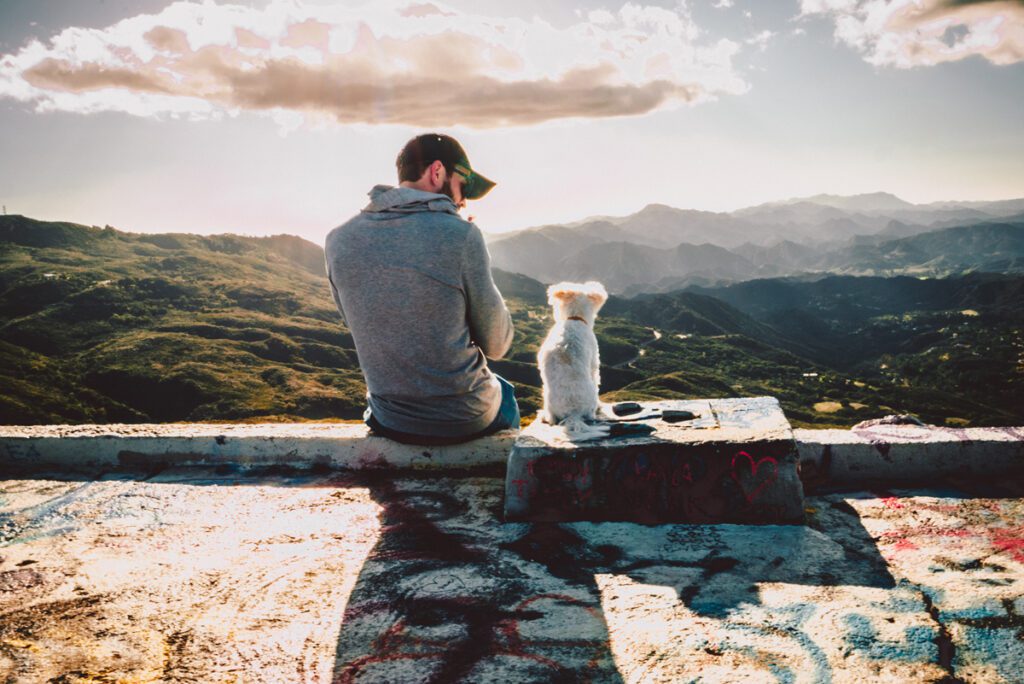 The Santa Monica Mountains are full of pet-friendly hiking! Some of the most popular trails include the picturesque Solstice Canyon Loop and the Backbone Trail to Sandstone Peak Loop, both rated moderate. Another popular spot to bring your pup is the Westridge-Canyonback Wilderness Park, an urban wilderness park with stunning views of the ocean and downtown Los Angeles.
3. Lark Canyon Campground
McCain Valley, California
Lark Canyon Campground has 15 developed campsites open all year round on a first-come, first-served basis. The campground provides fire rings, tables, non-potable water, and 6 vault toilets.
The campground is a pet-friendly site where dogs are welcome as long as they are kept on a leash.
The area is open all year round, but the best times to camp are during shoulder season. March to May and September to November are met with warm, comfortable temperatures and clear skies.
The McCain Valley Lark Canyon area is well known for its Off-Highway Vehicle Trails. There are over 30 miles of trails near the Lark Canyon Campground for anyone with OHV and ATV vehicles to explore. There are nearby businesses where you can rent an ATV to explore Lark Canyon Trails.
4. Mountain Palm Primitive Campground
Mesquite Oasis, California
If you're looking for remote vibes, these primitive pet-friendly campsites in California are for you! Drive down a long sand road to a few primitive tent and RV sites with a pit toilet.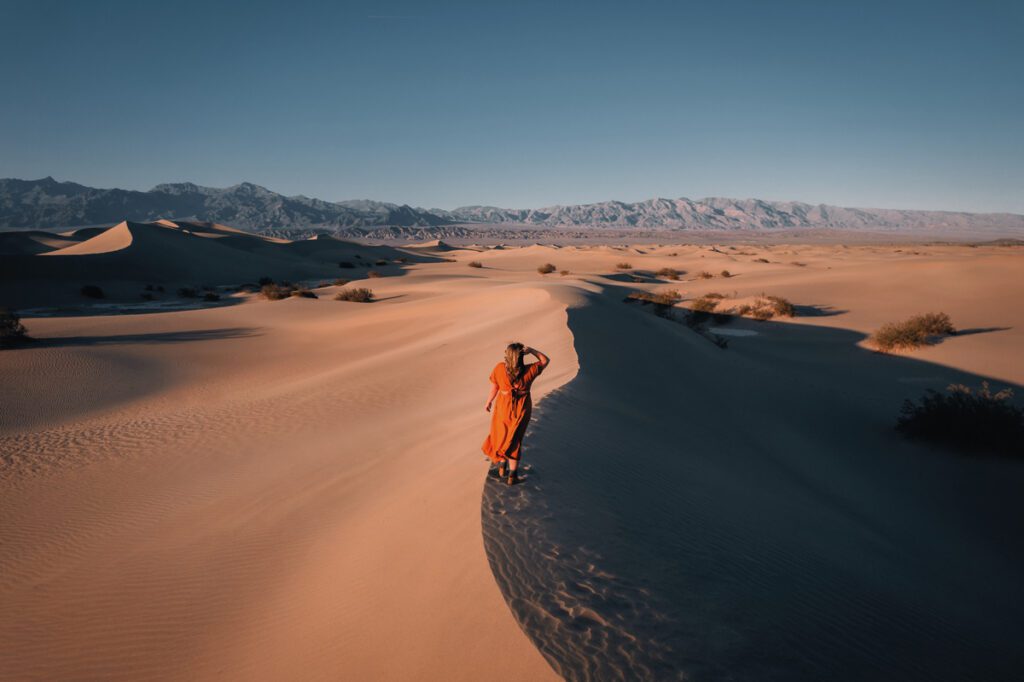 You'll want to plan your camping trip to Mountain Palm Primitive Campground in the spring or fall. Summer temperatures are scorching; meanwhile, shoulder season temperatures are just right.
Amazing hikes radiate from this location! Anza-Borrego Desert State Park is dog friendly in some areas, including wash/dirt roads and on the short native plant trails around the visitors' center.
5. Serrano Campground
Big Bear Lake, California
Serrano Campground in the San Bernardino Mountains is located on the north side of Big Bear Lake. 93 single sites and 6 group sites are available, including RV hookups, dump stations, fire rings, interpretive programs, interpretive trails, picnic tables, showers, and restrooms.
It's best to visit Big Bear Lake from April through May, with Spring boasting perfect temps and the least crowds. Summer is beautiful; however, you'll be met with many tourists.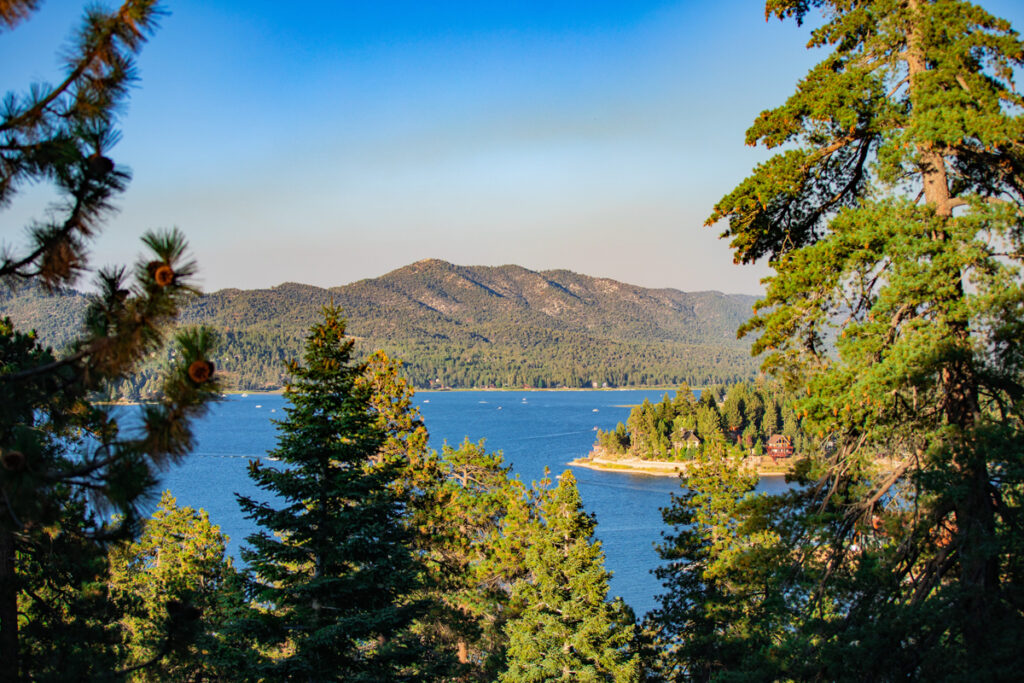 Take a morning jog, bike ride, or leisurely dog walk on the 3.2-mile scenic Alpine Pedal path. The 7.5-mile Cougar Crest Bertha Peak Trail overlooks Big Bear Lake if you want a more strenuous hike. If hiking isn't up your alley, try kayaking or stand-up paddleboarding in Boulder Bay.
Pet-Friendly Campsites on the Coast of California
A campsite on the beach is a dreamy way to spend your time in California. Luckily, these pet-friendly campsites in California provide the perfect opportunity for pets and their parents to watch a perfect sunset over the Pacific!
1. Bolsa Chica State Beach
Huntington Beach, California
Tent camping is not allowed at Bolsa Chica State Beach. There are 50 campsites available with electric and water hookups for RV camping.
Visit Bolsa Chica State Beach to experience warm weather without the summer seasons crowds. Incredible events, such as the ISA World Surfing Games and Oktoberfest.
Huntington has a dog beach! This doggy paradise is open to all pups and their owners who can abide by good etiquette, which includes properly disposing of pet waste and remaining non-aggressive and under control at all times.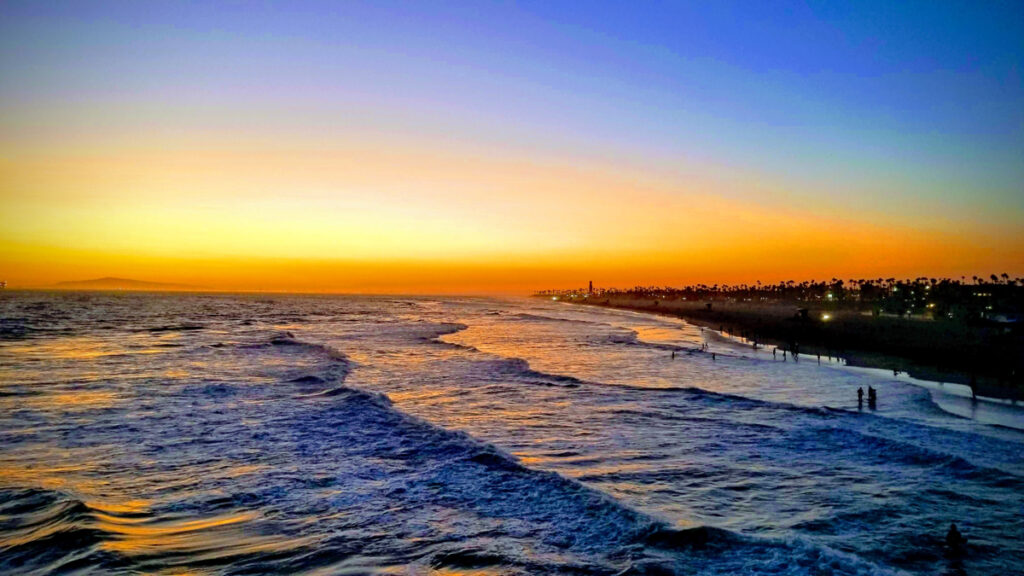 2. Doheny State Beach
Dana Point, California
Doheny State Beach Campground is an excellent option for pet owners with various beachside and inland campsites. Both RV and tent camping are available to guests.
Visiting Doheny State Beach Campground is best in August and September, when the temperatures rarely fall below 68 degrees. The Dana Point area is a great place to visit for a relaxing beach vacation.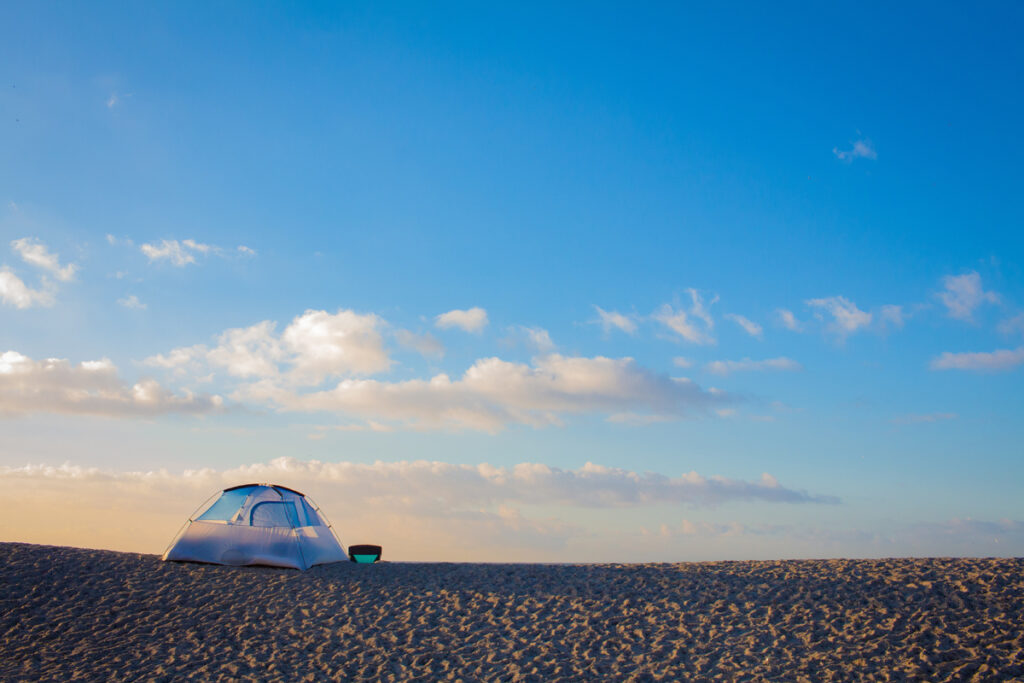 Pets are not allowed on Doheny State Beach, but they're welcome at Corona del Mar State Beach, a short 25-minute drive away. Additionally, the 7.7-mile Salt Creek Trail allows leashed pets.
3. Gold Bluffs Beach
Orick, California
Gold Bluffs Beach is a beautiful campground in the dunes at the end of an unpaved road that provides pristine views of the shore. There are twenty-four RV and tent sites that include solar showers, fire pits, picnic tables, and bear-proof lockers.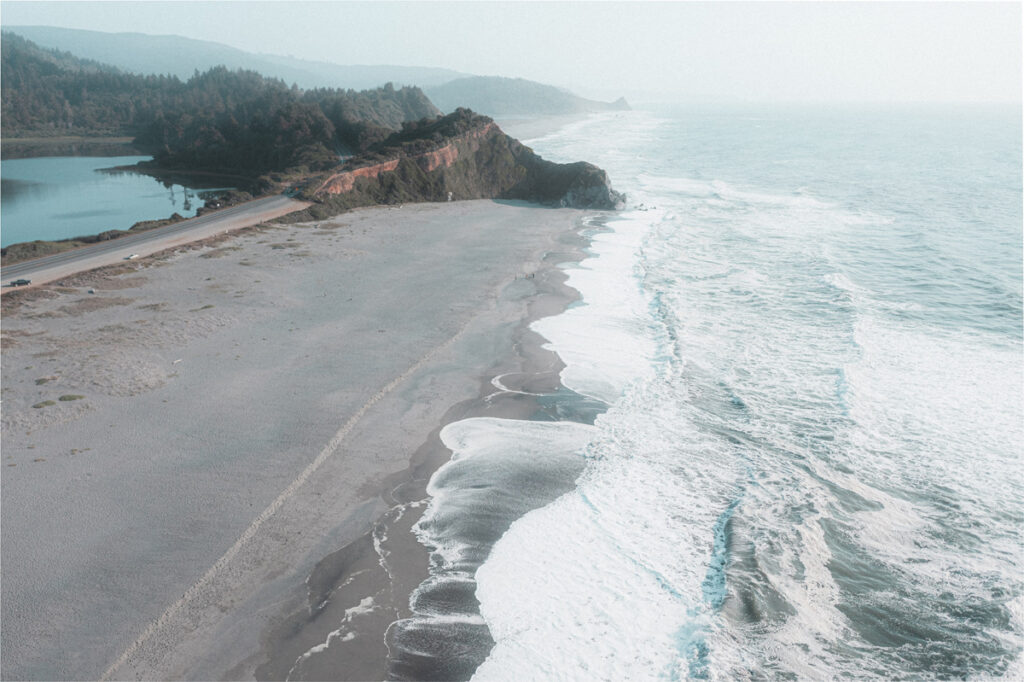 If you visit between June and September, you'll experience minimum precipitation and temperatures that average in the mid-sixties. Known for its miles of gray sand, driftwood, and protected dunes, Gold Bluffs Beach is also home to a variety of exciting wildlife.
Gold Bluffs Beach has several beautiful hiking trails. However, they are not pet-friendly. Head to nearby Redwoods State Park to take your furry friend on one of three scenic drives.
4. San Elijo State Beach
Cardiff, California
Located a few miles north of San Diego, this popular campground sits on top of a bluff overlooking the ocean. There are 156 sites with access to hot showers, a convenience camp store, and a fast food restaurant.
June, July, and September are the driest months to visit San Elio State Beach with your pet. Known for its gorgeous cliffs and great surfing, this is the perfect time of year to enjoy outdoor activities.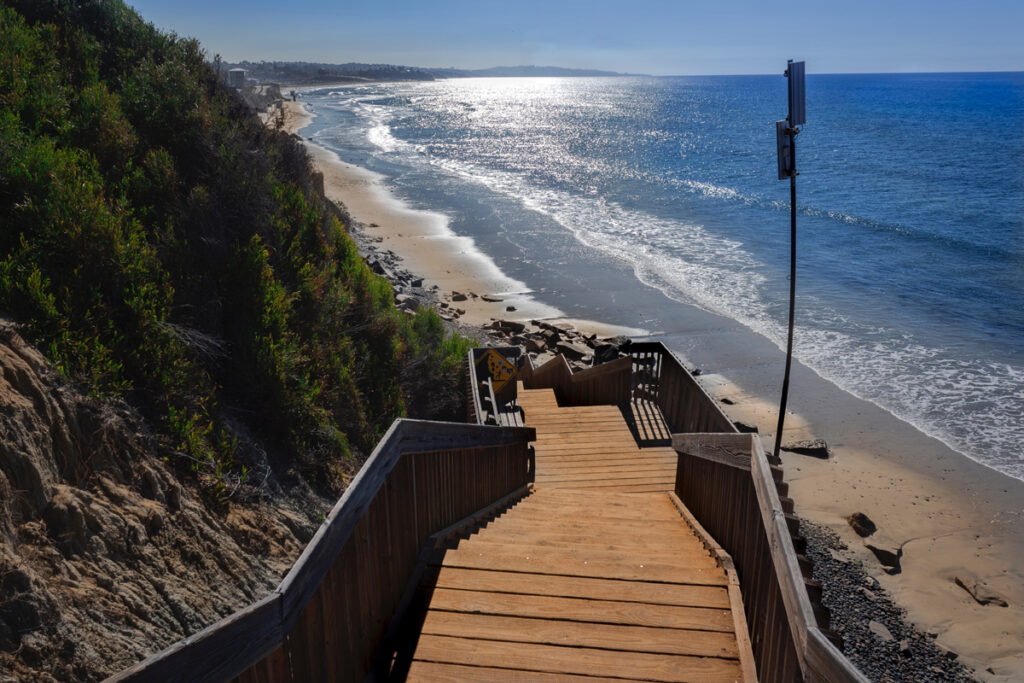 SUP Pups is among San Diego's top pet-friendly activities. It provides a one-of-a-kind experience, teaching you the basics, safety, and paddling technique with your pet. If water isn't your thing, take a thirty-minute drive to Elfin Forest Recreational Reserve for a pet-friendly hike instead.
5. Wrights Beach
Bodega Bay, California
Located just off route 1 and inside Sonoma Coast State Park, Wrights Beach Campground is the perfect spot for anyone who loves a craggy coastline. There are 27 total sites, with numbers 1-10 directly facing the ocean.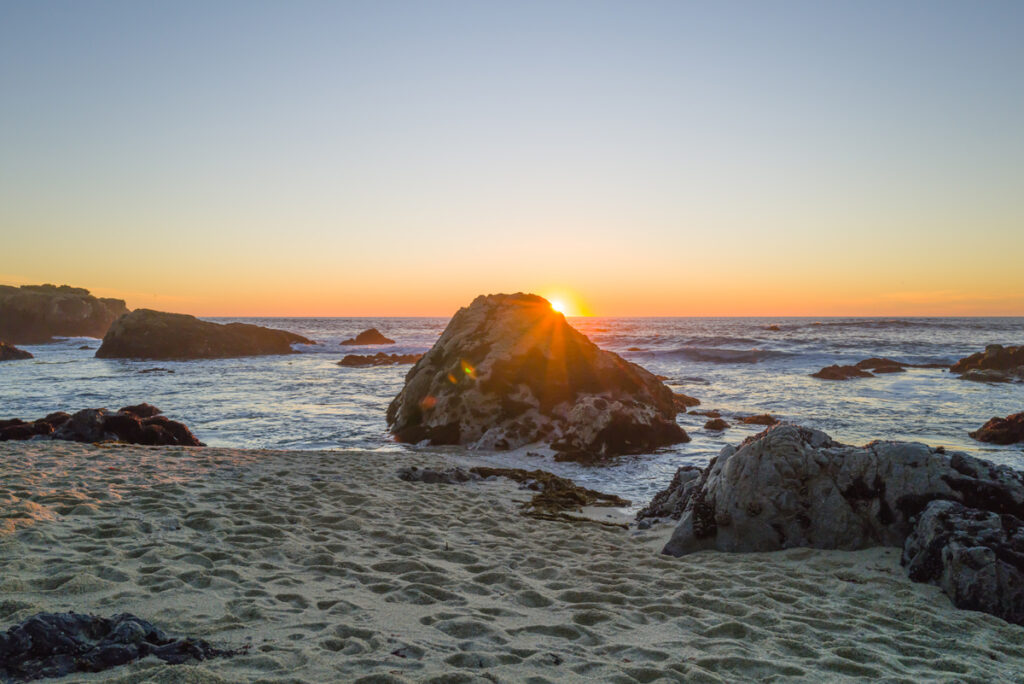 Visiting Wrights Beach is amazing all year long. Brisk sunny summers fade away to moody winter days filled with fog. It's a coastal nature lover's dream!
Pets are allowed on specific beaches within Sonoma Coast State Park. Dogs are not allowed at the famous Goat Rock but not at Marshall Gulch, Carmet Beach, and Portuguese Beach.
Glamping in California with Your Dog
If you love the outdoors but are unsure about sleeping outside, glamping is a great option. It is a more glamorous form of camping that includes amenities that tenting might not offer.
Luckily, there are pet-friendly campsites in California that qualify as glamping. A few of these you can book all year round!
1. Luxury Safari Cabin Tent
Warner Springs, California
One of the few pet-friendly campsites in California is Luxury Safari Cabin Tent. This location offers amazing views and a fenced-in area for glamping dogs to roam free and enjoy the magnificent surroundings of the property.
It's best to visit this property in early fall and late spring. The tent does have a fireplace, heated blankets, and a hot tub. However, it doesn't hold heat well, so winter overnights can get chilly. Similarly, the tent does not have air conditioning, causing summer temperatures to be uncomfortable.
There's a lot of off-leash hiking available in the Love Valley Meadow Cleaveland National Forest located nearby. You can also hike in Los Coyotes Reservation to reach the highest point in San Diego, Hot Springs Mountain.
2. Modern Cabin in Joshua Tree
Joshua Tree, California
This modern cabin provides 360-degree views of Joshua Tree. Enjoy the view from inside the cabin with its many large windows or outside while soaking in the hot tub.
Visiting the Joshua Tree area with pets is best in late Fall through Spring. These are the best temperatures for their sensitive paws!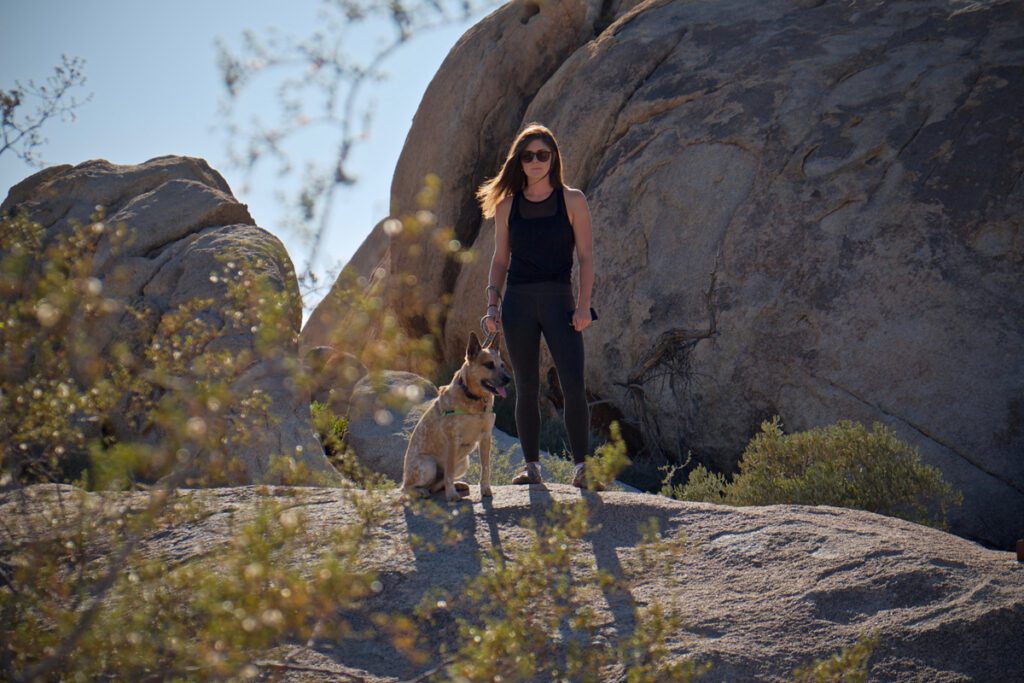 Bring your leashed pet to Pioneertown's Mountains Preserve. It's an excellent location for hiking, and we suggest Chaparosa Peak, which is ideal for wildlife viewing at dawn and dusk!
3. Yurts Outside of Yosemite
Coarsegold, California
Stay in a Yurt in the foothills of the Sierra Nevada with your four-legged friend! They accommodate up to 5 guests and include a shared bathhouse with showers and toilets.
June through September is the best time to visit Coarsegold as the weather is warm and dry. It's important to note that Coarsegold is a great place to visit all year round.
Yurts Outside of Yosemite are, as they suggest, about 30 minutes from the entrance of Yosemite. You can visit Yosemite National Park with your pets. Leashed dogs are allowed on most fully paved roads, sidewalks, and bicycle paths and in most developed areas unless it is specifically stated otherwise.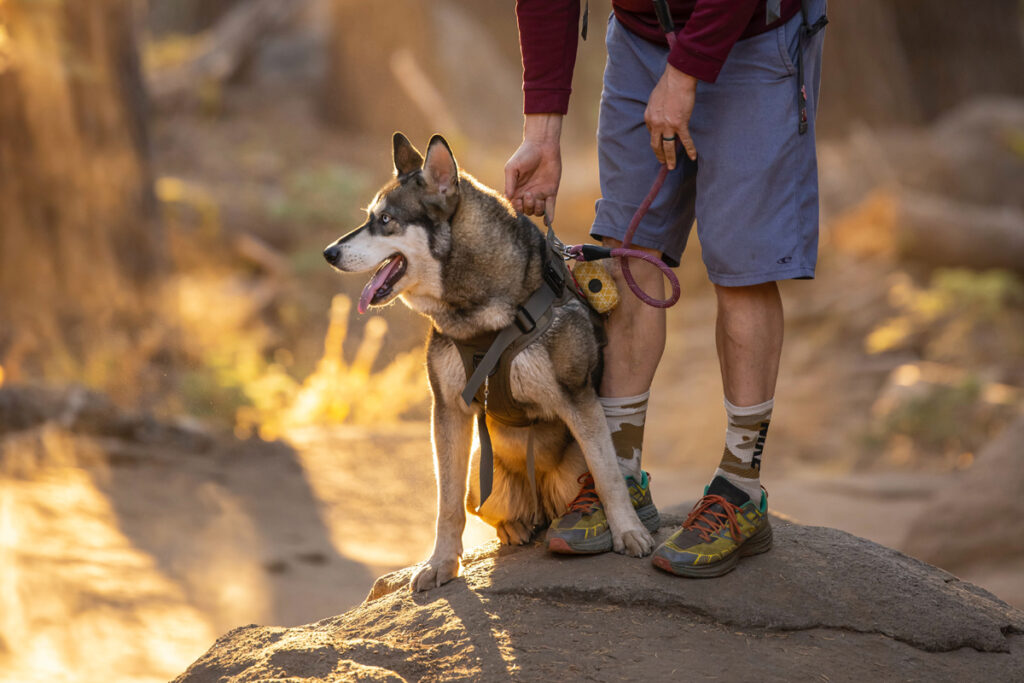 4. Bell Tent with Pool
Joshua Tree, California
Enjoy a soak after a long day of hiking with your pup in this glamping accommodation. The Bell Tent Yurt accommodates four people with shared bathroom and kitchen accommodations.
The best time to visit the Bell Tent is in April and May. Perfect weather and flowering foliage are the area's highlights this time of year.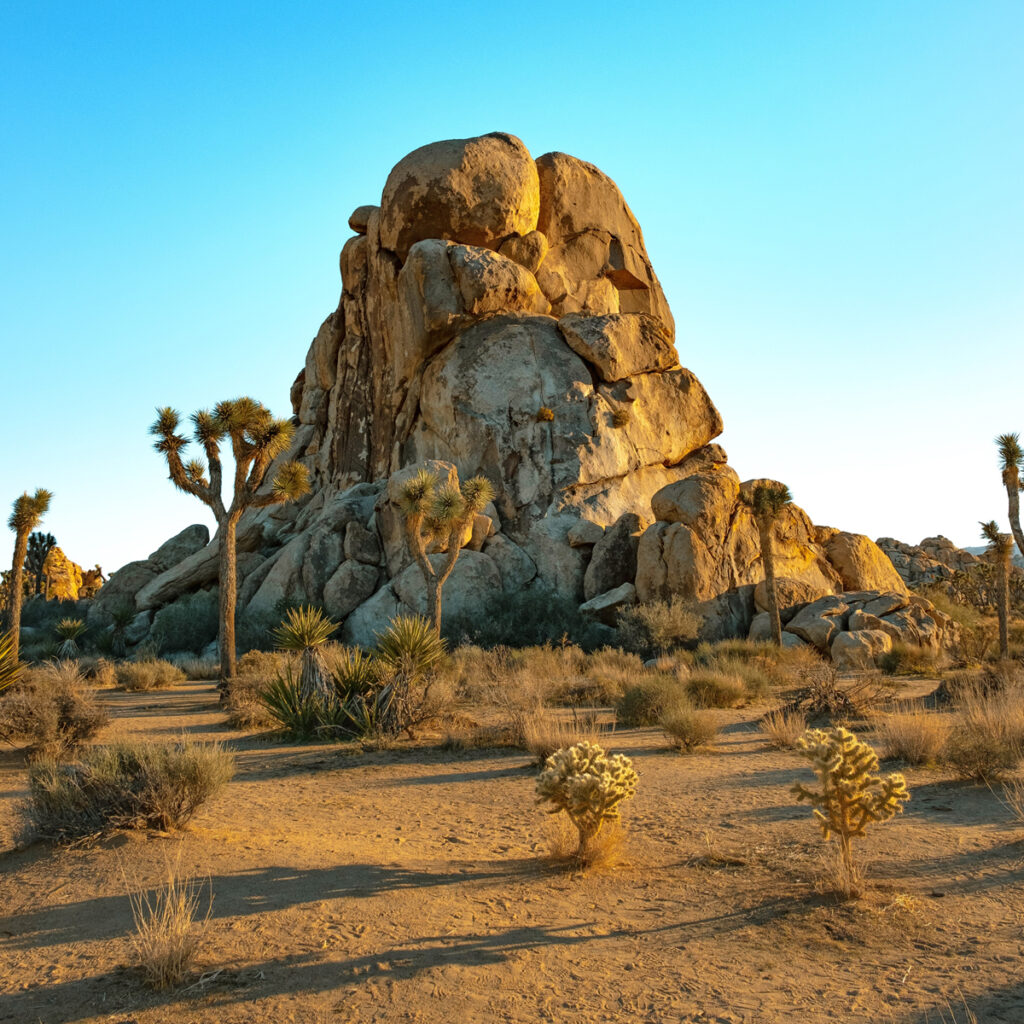 During your stay, visit Joshua Tree National Park for some adventure. Pets on a leash are allowed in the park within 100 feet of roads, picnic areas, and campgrounds. Please remember that summer temperatures are inappropriate for dogs, and they can burn their paws.
5. Glamping Treehouse
Watsonville, California
The most perfect treehouse is nestled in the Redwoods near Monterey Bay. A treehouse stay includes a private hot tub under the trees, a gas stove, and a TV and DVD player.
This unique experience is a great option all year round. Beautiful in any season, you'll have to decide if you want to visit in the dry summer months or choose to stay in the snowy winter season!
Bring your furry friend along for a beach day at Manresa State Beach! Leashed dogs are allowed to stroll the shores or splash in the waves. Check out the Franich Dog Park if you have an incredibly social pup. There are two fences in areas, one for large dogs and another for small dogs.
Choosing Pet-Friendly Campsites
There are pet-friendly campsites in California to fit every family's needs. Before bringing your four-legged friend along for the journey, you must thoroughly research an area. Consider the local weather, campground restrictions, and nearby pet-friendly activities when planning your next camping trip. Hopefully, this article has provided a great starting point for your next pet-friendly camping adventure in California!