3 Things to Keep Your Tent Warm All Winter and Some Extra Tips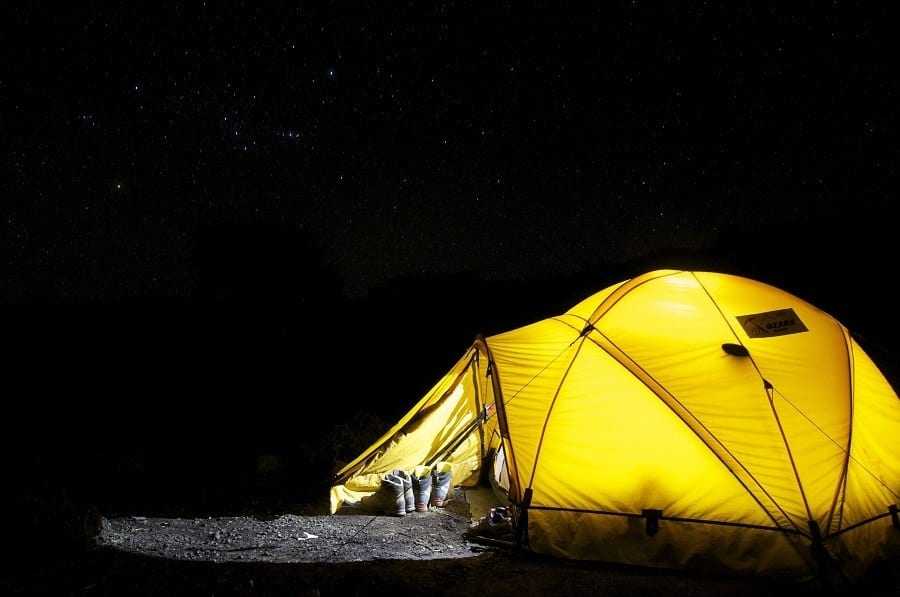 You might be planning a camping trip with the family this season and wonder: How can I keep the tent warm while out and about? One of the critical aspects of camping is insulation and safety, so you need to know how to keep the tent warm, especially during the winter period!
KAMUI would like to offer you some valuable insights to ensure you stay safe and enjoy your camping experience during the coldest season. After preparing everything for your trip, you might be wondering: so how do I keep the tent warm when camping?
Imagine you are planning a small camping getaway with your family during the colder months. In that case, there is one thing that you need to consider, even if there is no snow on the ground, and that is the rapidly diminishing temperature outside.
Overall, this article should answer two of your primary questions: how to keep your tent warm and how to prevent additional winter-related problems.
What does Insulation In Camping mean?
While camping, you need to know how to keep yourself warm to prevent hypothermia, frostbite, and dehydration. Insulating yourself is one of the most effective ways of protecting you and your loved ones from the low temperatures outside.
We at KAMUI think of insulation as an artificial barrier between your body and the cold outdoors during camping. Insulation in winter camping is crucial because losing your body temperature can lead to health issues.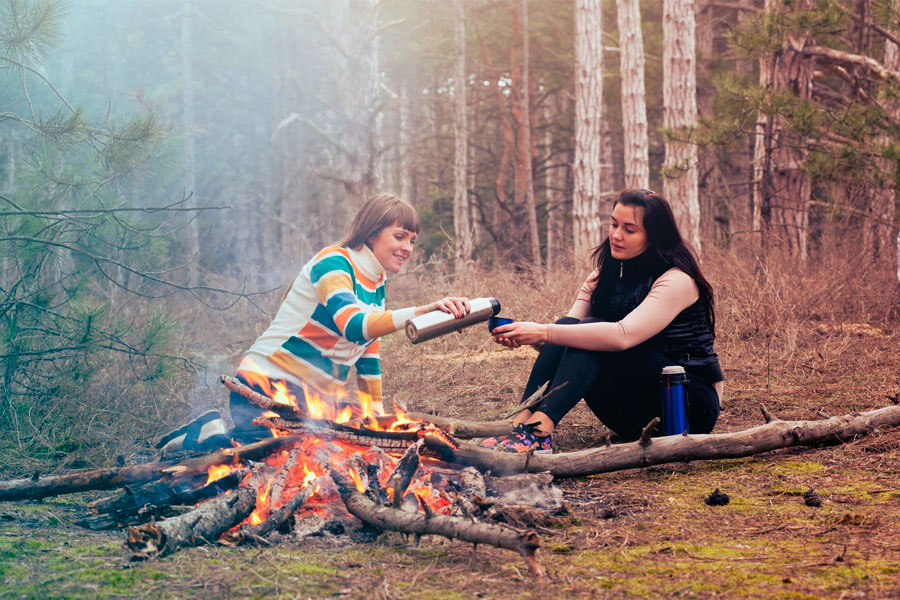 So let's go ahead and find out what issues you can have while camping in winter and what can help you with keeping yourself warm and cozy during a winter night.
Effective Ways for Insulation and How To Keep Your Tent Warm
The cold comes from the outside air and the snow on the ground. If you know how to keep the tent warm, insulate the tent and prevent condensation, you can avoid an uncomfortable night and wake up rested in the morning of your camping trip. Here are some steps you could try to follow to prevent you from freezing during the night.
First Step: Tent footprint and positioning
Finding the optimal place to set up your tent is essential. You want a flat area, so you could have a stable floor to settle on. If there is some snow, and you are putting your tent down on it, make sure the footprint rests on leveled ground.
You could step on the snow to make it even and check if there is any debris like rocks or branches that could puncture your tent. Of course, don't forget to bring a tarp or tent footprint to isolate yourself as far away as possible from the snow below you.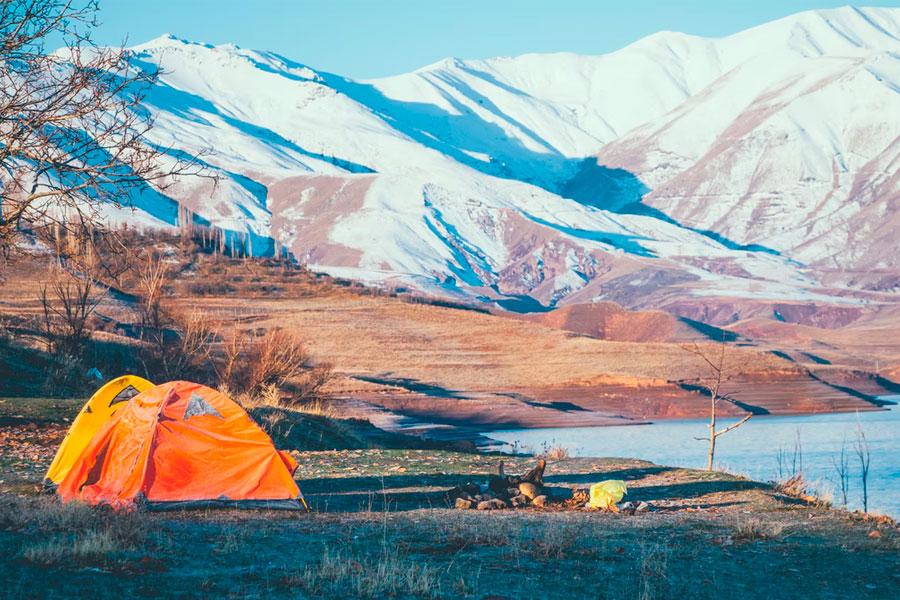 According to science, cold air sinks, and hot air rises. The same can be said for the great outdoors, as valleys will always have colder conditions. This happens due to valleys acting as air canals in nature and the sun rarely reaching them. The point is, never put your tent on the lowest points of forests, lakes, mountains, or fields.
On the contrary, the highest points will also be prone to very windy and cold weather conditions. In most cases, campers tend to choose mid-elevation positions that have intermediate conditions.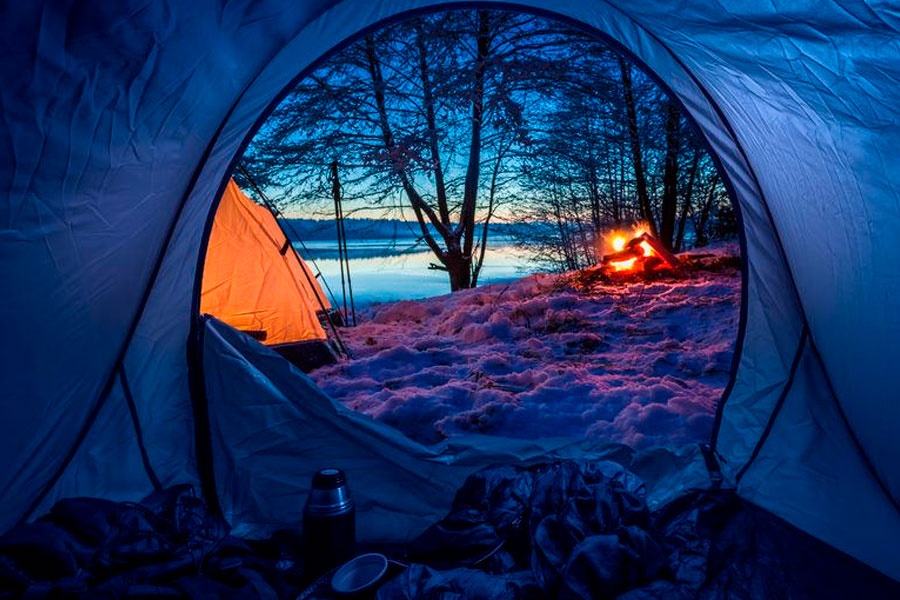 Second Step: Double walls
After you find the right place to pitch up your tent, you need to minimize the chances of condensation occurring inside your tent. Always use a double-wall tent when winter camping and reduce the chance of condensation or water droplets forming inside the tent, rather than outside. That happens due to your body emitting vapor. When the vapor doesn't have anywhere to go, it turns into liquid after touching the tent's cold layer. When there is a lot of this vapor with nowhere to go, it leads to condensation build-up.
The condensation only happens if the tent is tightly sealed and the warm vapor has nowhere to go. This is why we recommend opening one of the tent mesh windows to have constant airflow. Even when it seems too cold outside to open, it is better for the air to circulate than wake up with a wet sleeping bag.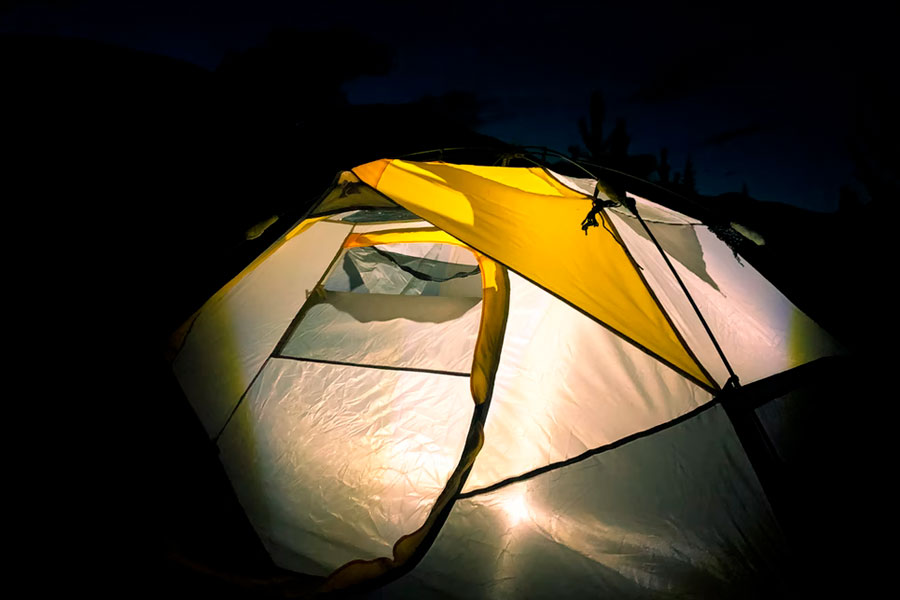 Third Step: Insulate the inside
To keep yourself warm during the night, add some insulation to the inside of your tent too. You can do this by laying down the KAMUI outdoor blanket on the floor of the tent. The blanket would act as a protective layer between you and the tent footprint. The KAMUI outdoor blanket is compact and easy to set up. If you place the blanket inside the tent as another insulation layer, it will protect you with its waterproof and windproof backing. The cover will provide a more reliable barrier between you and the cold.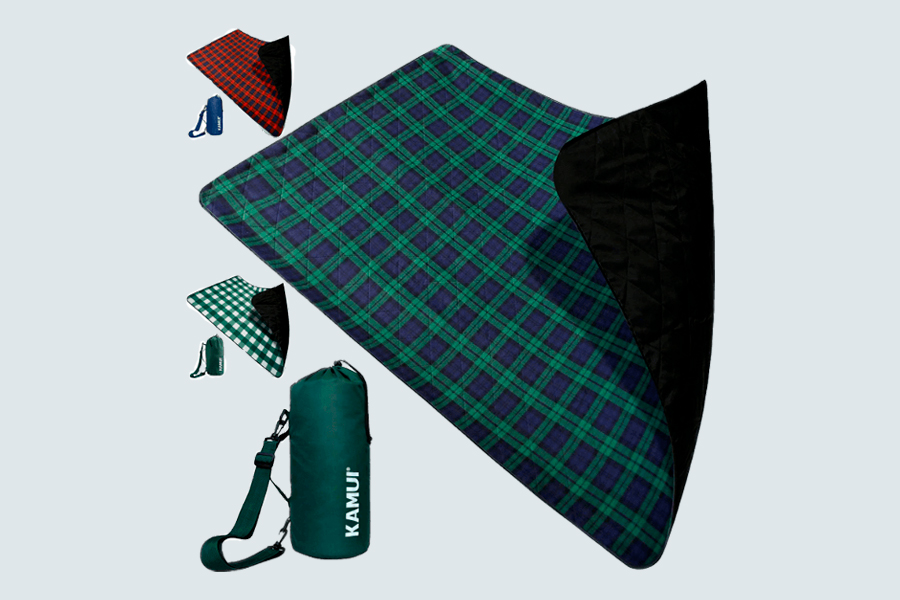 On top of the blanket, you can place the KAMUI self-inflating sleeping pad, even when you are not sleeping. Camping foam pads conduct a low amount of heat. which leads to a slow reduction of heat from your body to the ground, thus keeping you warmer.
When choosing between a sleeping pad or an air mattress, no one can give you the correct answer. It would help if you tried out for yourself because every person is different. Both air mattresses and sleeping pads alike have something called R-Value.
R-Value is used to determine the sleeping pad's thermal resistance and insulation. It measures the capacity of an air pad to resist heat loss to the ground. Sleeping pads with R-value between 4 and 6 are usually appropriate for cold weather. In contrast, an scale from 6 to 8 is efficient for freezing conditions. It shows that the air mattress is more thermally resistant and will keep your body's warmth inside.
KAMUI recommends getting either a sleeping pad or an air mattress to secure your health and to make sure you have maximum insulation. Also, the KAMUI self-inflating sleeping pad would be a great option, even for camping in a colder environment, as it has an R-Value of 5.7 . This easy-to-inflate sleeping pad is very thick and durable, perfect for some winter sleeping.
More Camping Insulation Tips
Regardless if you are backpacking or camping, you will want to have a comfortable area to sleep in. People who are not prepared for a camping expedition usually have the worst time, since they did not pack the essentials for winter camping. These might even include basics like some extra winter clothes.
If you are a regular camper that wishes to spend almost every holiday out and about, you might consider investing in some quality gear. This includes quality down or synthetic equipment that can be either a sleeping bag, quilt or jacket. It can even be all three, if you want the maximum comfort.
Clothes
When camping during the winter, you need to increase the number of layers, from socks to jackets and even tights. Sometimes insulated tents are not enough to keep the cold away, so more clothes will prevent you from getting cold. You need at least two layers of clothing, especially at night. Most campers recommend using wool or cotton base layers and fleece, synthetic or down for the second layer.
The first layer will keep your body's warmth, while the second layer will prevent the heat from escaping the first layer of clothing. In addition to this, never forget to bring some warm winter hiking socks made of wool or synthetic material. As a result, this way, you can ensure that you lose a minimum of your body temperature.
Moving
One of the most apparent tips KAMUI can give you is to never go to bed cold. If you expect a chilly night in the camp, do some situps or pushups to get your blood flowing before getting into your sleeping bag. If your hands or feet feel cold once you're inside the tent, make sure to move them around. Do this by moving your toes and fingers in a circular motion inside your pockets or socks.
Hand warmers
If you are looking for some outside help when it comes to keeping warm or just don't seem to keep warm by yourself, always bring some extra heat hand warmers. Most of these products use cellulose and oxygen to function, and it just takes fifteen minutes to activate them. They can be used as hand or toe warmers, inside socks and gloves, or you can even put them inside your sleeping bag for some extra comfort.
Conclusion
It is always good to be prepared and ready to face the issues that come your way during camping in the cold weather. KAMUI suggests some of these tips when it comes to camping insulation methods. We hope that reading this article helped you and that you won't have to ask yourself how to keep your tent warm while camping in the winter again.
If you have any questions or remarks, feel free to leave them down in the comments section below.
Resources