7 Useful Camping Equipment For Seniors + Tips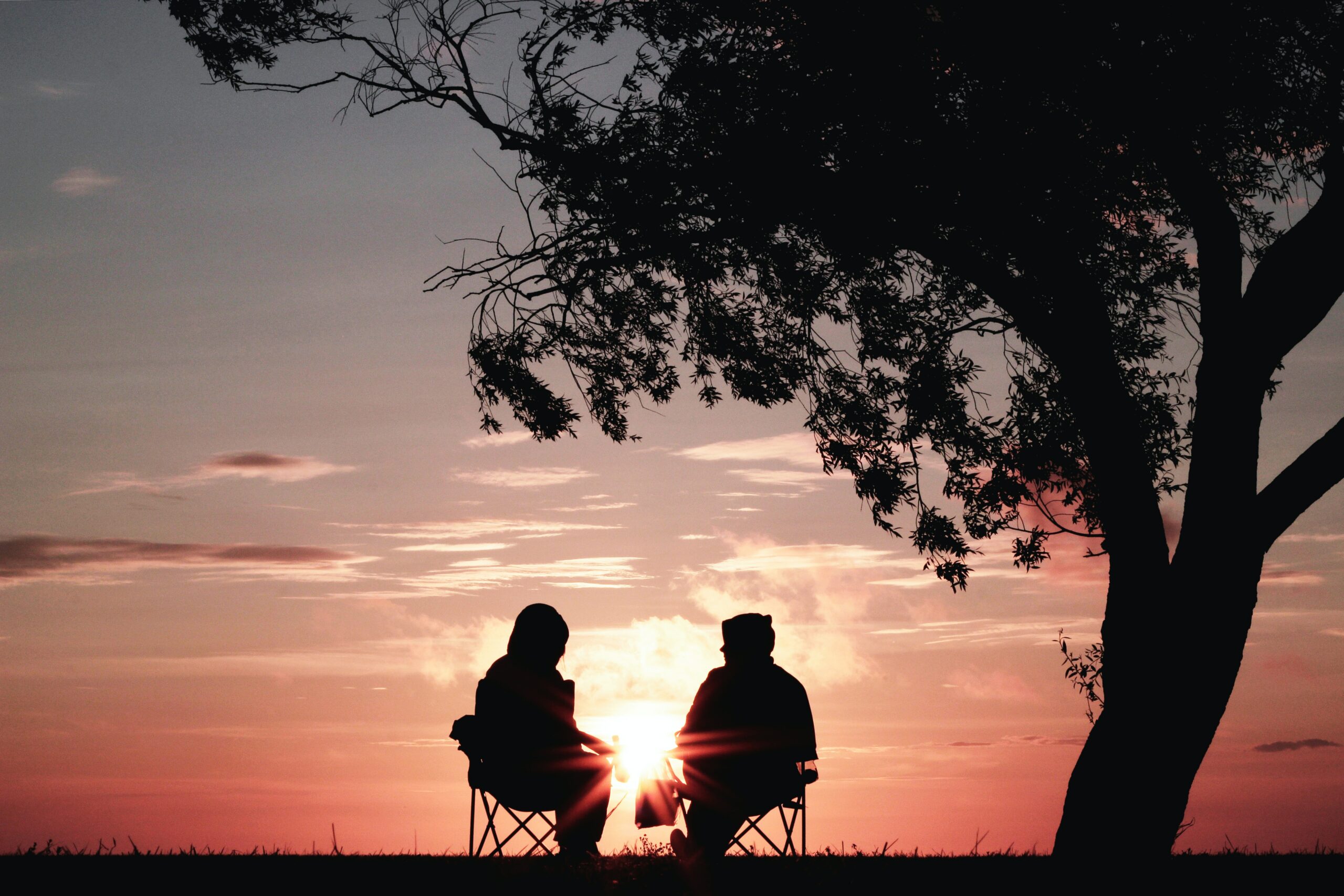 Camping is a great way for seniors to stay active and have fun. It also allows seniors to explore nature, appreciate its beauty, and even learn something new. With the proper preparation, safety measures, camping equipment for seniors, and comfortable tent camping for seniors, camping can be a rewarding experience for older adults.
7 Most Helpful Camping Equipment For Seniors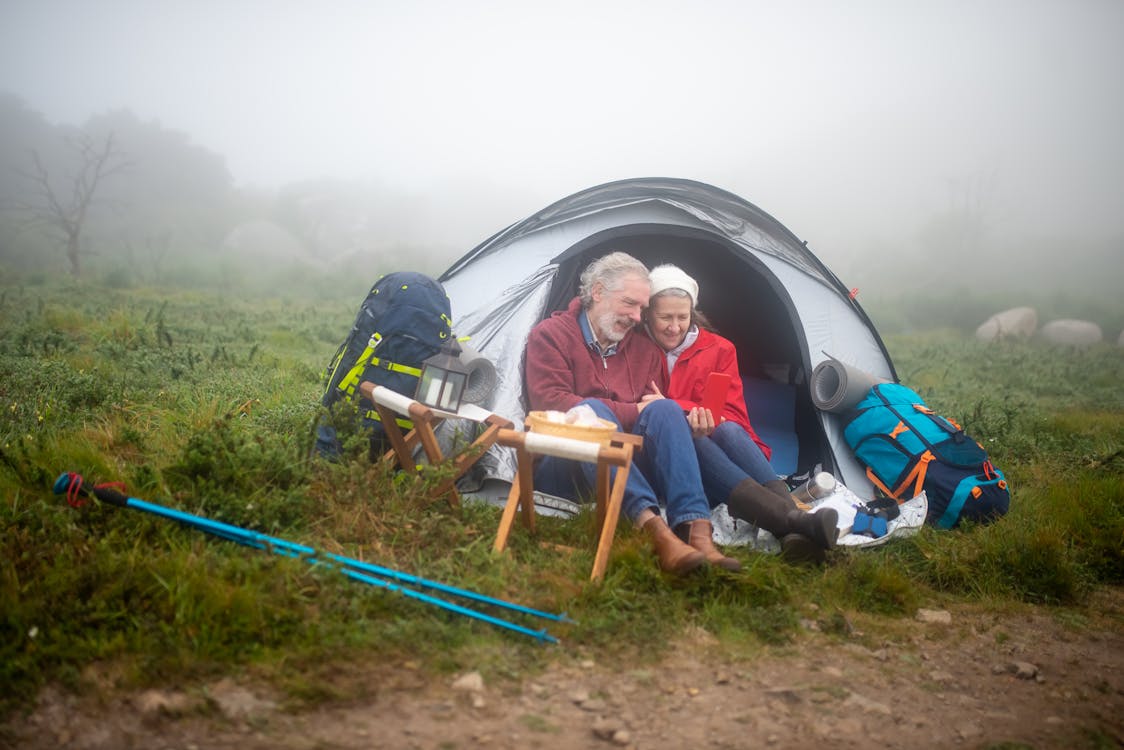 Fortunately, various helpful tools and gadgets are now specifically designed for seniors who want to go camping. These products are designed to help make the experience safer and more comfortable for older campers. From lightweight tents to collapsible chairs, this guide will provide an overview of some of the most helpful camping equipment for seniors.
Coleman Cabin Tent with Instant Setup is an excellent tent for camping enthusiasts looking for a quick and easy solution. It can be set up in just 60 seconds, saving you time and energy when setting up camp. It also provides enough space for up to 4 people, making it perfect for family trips or group camping adventures.
Pros:
Easy to install
Huge sleeping area
Enough airflow
Cons:
Heavy
Meant for car camping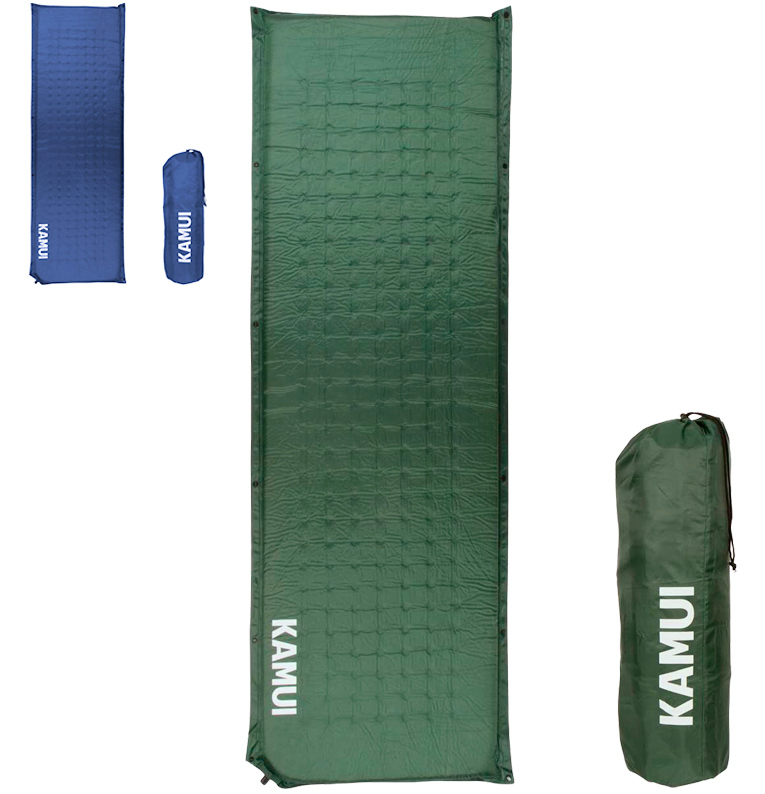 Seniors often have difficulty finding the right sleeping pad for their needs. The KAMUI Self-Inflating Sleeping Pad is an excellent option for seniors, providing comfort, convenience, and support. It is easy to set up and use, and its self-inflating design means that seniors don't have to worry about inflating the pad manually. 
Pros:
4-season camping pad
Ideal for car camping or camping near your car
High R-value
Cons:
Might be thin for some seniors
is an excellent option for seniors looking for an easy-to-carry and comfortable camping accessory. The blanket is lightweight, water-resistant, and can be used as a poncho liner or a blanket. It also comes with a convenient carry bag that is easy to transport.
The pros include its comfort, portability, versatility, and affordability while the cons include its lack of warmth in cold weather and its limited size.
Pros:
Multipurpose
Portable
Affordable
Cons:
High Stream Gear's Collapsible Hiking Poles are a great option for seniors who want to enjoy the outdoors. These 14.5" foldable trekking poles provide stability and support while hiking, backpacking, and traveling. They are lightweight and easy to use, making them ideal for seniors who may have difficulty with more traditional hiking poles.
Pros:
Sturdy
Long
Light
Pack easily
Cons:
The Extremus New Komfort Camp Cot is an innovative product that provides seniors with a comfortable and secure sleeping experience. It features a lightweight aluminum frame, adjustable height, and adjustable legs for added stability. In addition, it has a built-in pillow and mattress for extra comfort. This product allows seniors to enjoy the outdoors while having the convenience of their own beds.
Pros:
Up to 300 lbs
Sturdy
Has extra pockets
Packable in bag
Cons:
For seniors looking for a convenient and easy-to-set-up tent, the Londtren 4-Person Easy Pop Up Tent is the perfect option. This tent is designed with seniors in mind, featuring an easy setup and take-down process and a spacious interior that can accommodate four adults. It also comes with mesh windows for ventilation and mesh pockets for storage. While this tent has many advantages, there are some cons that seniors should consider before buying.
Pros:
Easy to erect
Setup in 2 minutes
2 doors
Cons:
Not heavy-duty
Easy to collapse under wind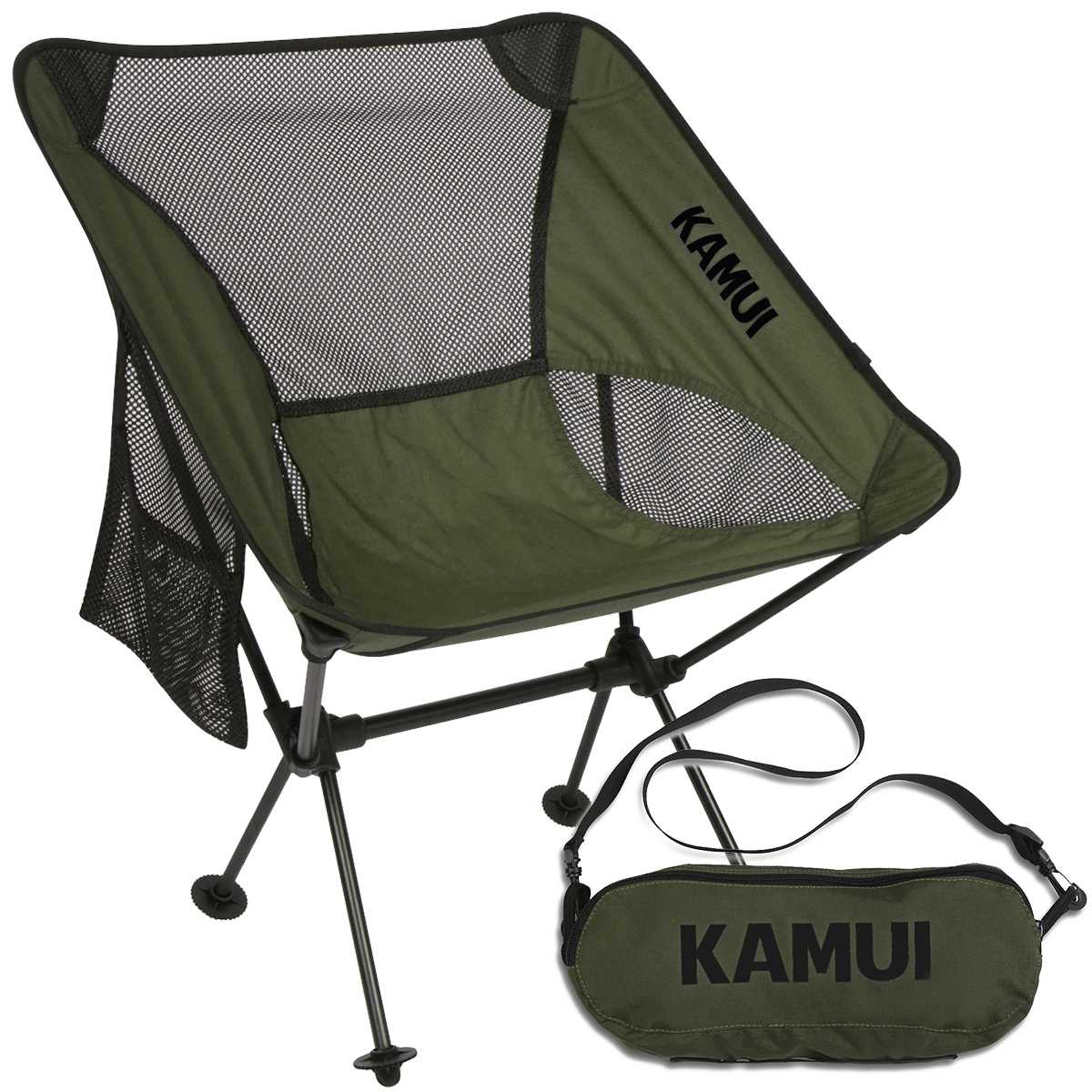 The KAMUI folding chair is an excellent option for seniors who want a comfortable and convenient seating solution. It's lightweight, portable, and easy to fold when not in use. The chair also features adjustable backrests and armrests, providing seniors with the perfect comfort and support.
Pros:
Cons:
Might be hard to get out of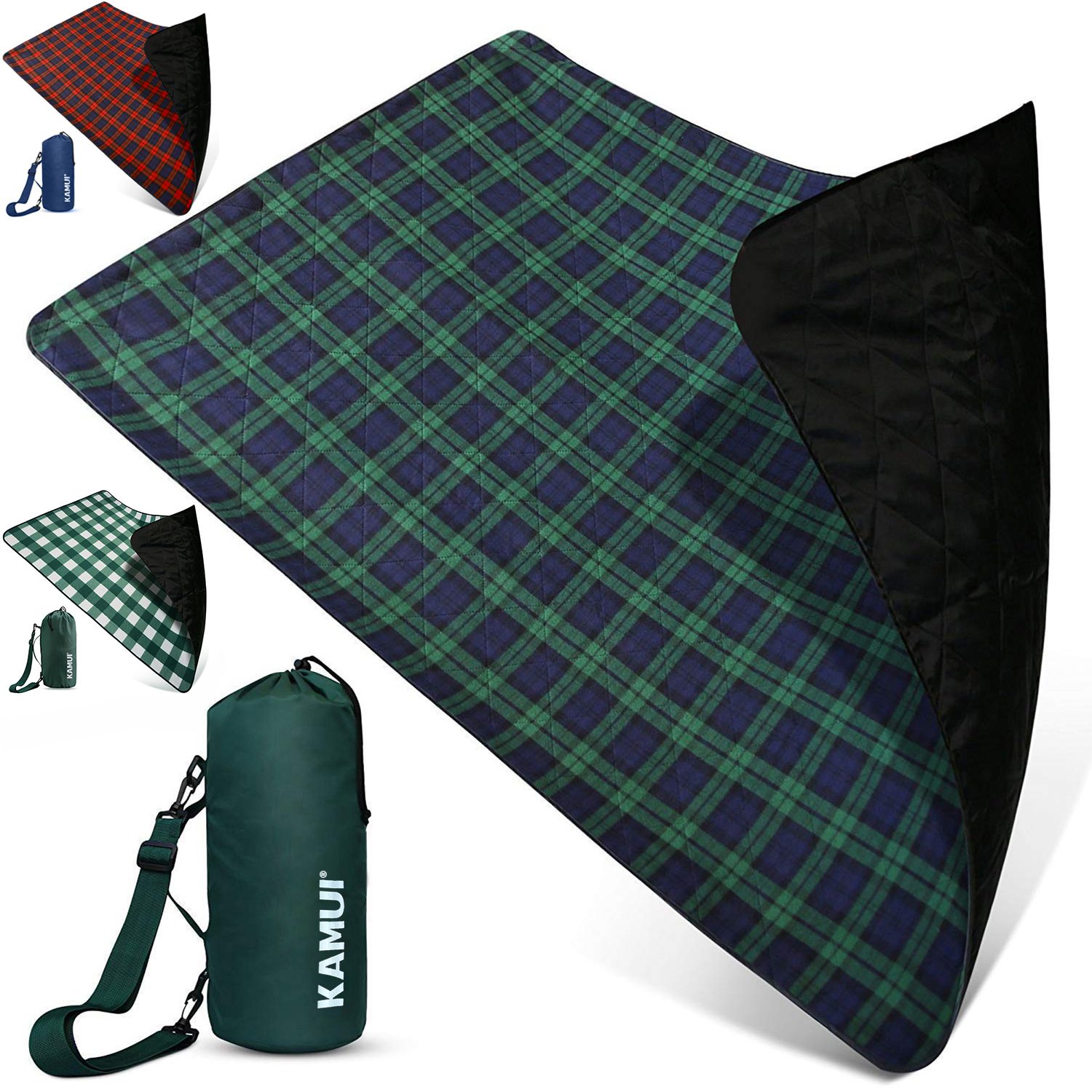 KAMUI Outdoor Blanket is an excellent option for seniors looking for a comfortable and durable blanket for outdoor adventures. This blanket is designed to provide maximum protection from the elements with its waterproof and windproof design. It also has a unique insulation layer that helps keep you warm even in cold temperatures and dry in the rain. 
Pros:
Waterproof and weatherproof
Folds up easily
Packable
Guide To Camping For Seniors
In this guide, we will look at the basics of camping for seniors, from what gear to bring to how to stay safe while camping. We will also discuss some of the best camping gear for seniors so you can get out and explore nature in comfort and style!
Tents for Seniors
Camping is an excellent way for seniors to get outside and enjoy nature. But, finding the right tent can be a challenge. Luckily, there are now a variety of camping tents designed specifically for seniors. These tents are lightweight, spacious, and easy to set up, making camping an enjoyable experience for everyone in the family.
They are well-suited to seniors who want to enjoy the outdoors without sacrificing comfort or safety. Making them easy to transport and set up, they provide seniors the necessary comfort and safety.
Sleeping Setups for Older Adults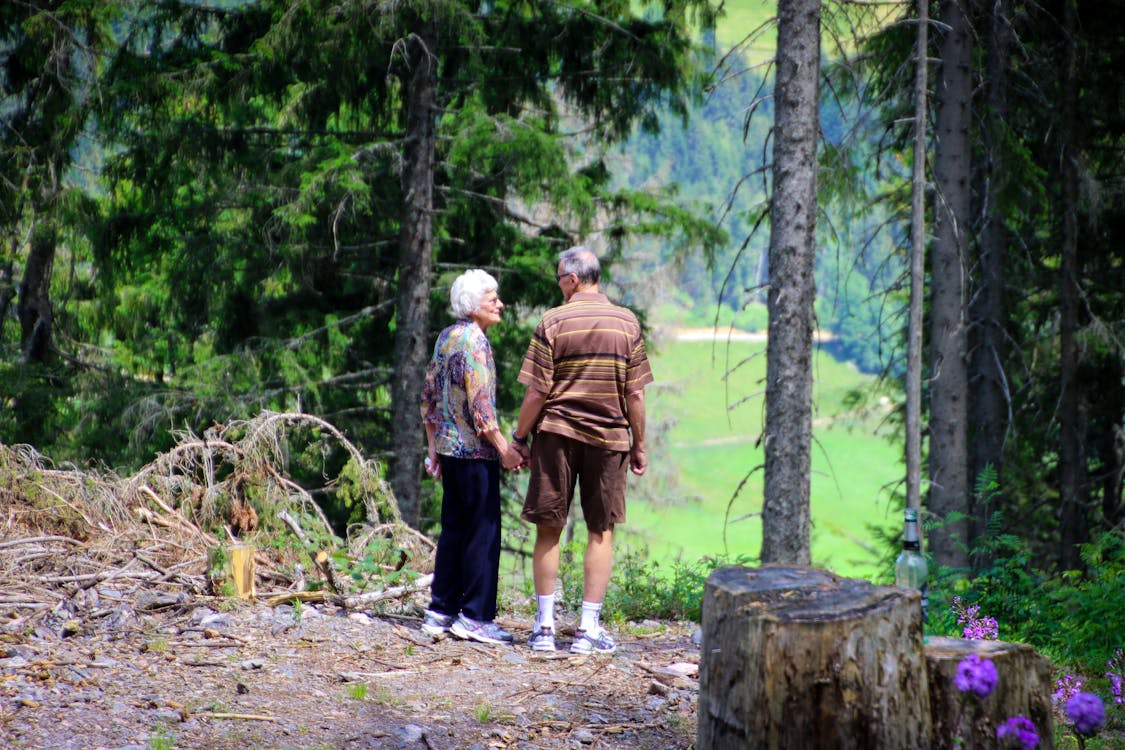 Seniors need a sleeping bag and pad that offer them warmth and comfort while being lightweight. Fortunately, there are a variety of camping sleeping pads and bags specifically designed for seniors that provide insulation, protection from the elements, and optimal comfort. 
While looking for their perfect sleeping setup, seniors must have a sleeping bag, pad, or cot. While choosing these, they need to consider the bag's temperature rating, the R-value and cushioning of the pad, and the height and cushioning of the cot. 
Their sleeping setups must be designed with unique features that provide warmth, cushioning, convenience, and durability. 
With these camping essentials, seniors can rest assured of a pleasant camping experience.
Camp Setup for Seniors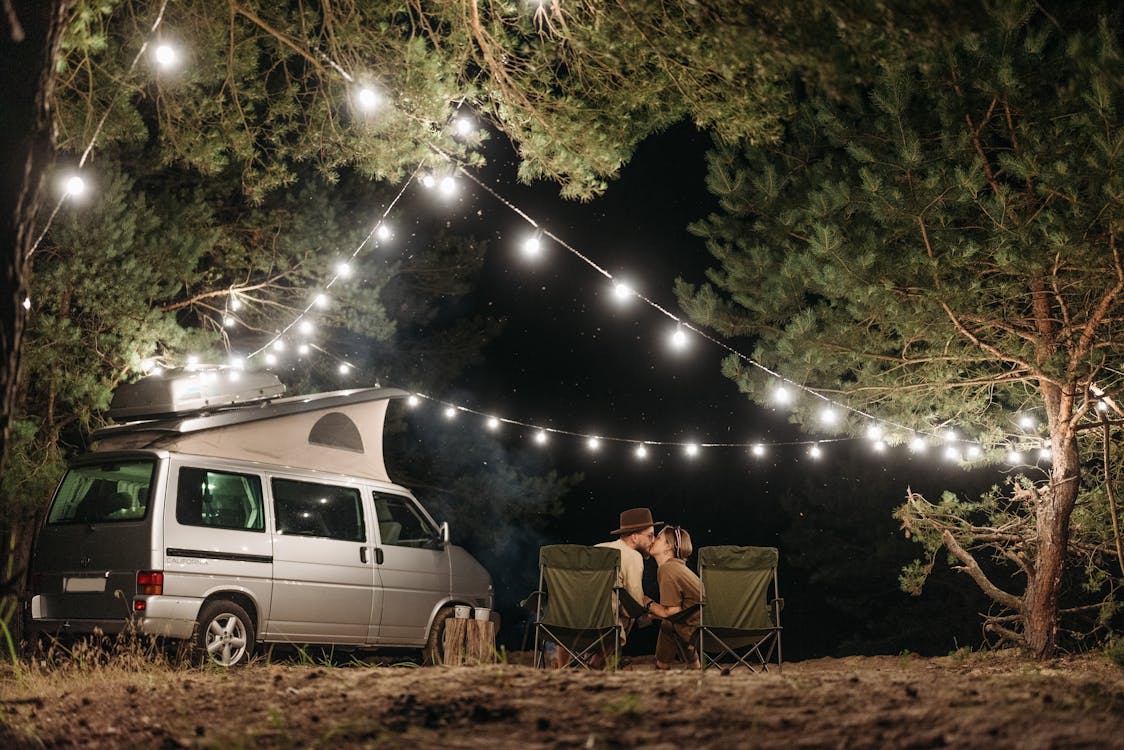 A quality camp setup will guarantee seniors will enjoy the full range of activities camping offers. From outdoor games and sports to arts and crafts activities, plenty of options can be tailored to suit the individual needs of each senior camper. These are the basics: 
Electric stove: For extra safety and to keep things fire-free, use an electric stove.
Cooking essentials: Pots, pans, cups, plates, and utensils are essential. 
Light: Be it a headlight, flashlight, or tent light, you must make your campsite seeable in the evening. 
Extra things to do: It might be hard getting around hiking trails, so your seniors might want to try fishing, reading, or hammocking.
First aid and medicine: Don't leave your home without it; we need to stay healthy even outdoors. 
Seniors can enjoy all the benefits of camping without worrying about any potential hazards, only if they have all the gear. From special sleeping arrangements to age-appropriate activities, there are plenty of ways to ensure seniors have a great time while camping.
6 Tips for Comfortable Tent Camping for Seniors
Camping is an excellent way for seniors to explore nature and enjoy the outdoors. However, finding a comfortable camping solution can be challenging when dealing with physical limitations. Here are a few tips on how to get over them: 
1. Try out your Tent
Tent camping is ideal for seniors who want to enjoy the outdoors without compromising comfort and safety. Before you set out on your camping adventure, take a few steps to make the transition into tent camping easier. 
Find a tent that is easy to erect with just one hand. Consider buying one of our favorite lightweight tents for camping that is easy to carry and maintain.
2. Try out your Sleeping Setup
Be sure your sleeping bag is up for the job and above the expected temperature level but also made for all weather conditions, so you don't spend the night shivering in cold weather.
3. Plan and Research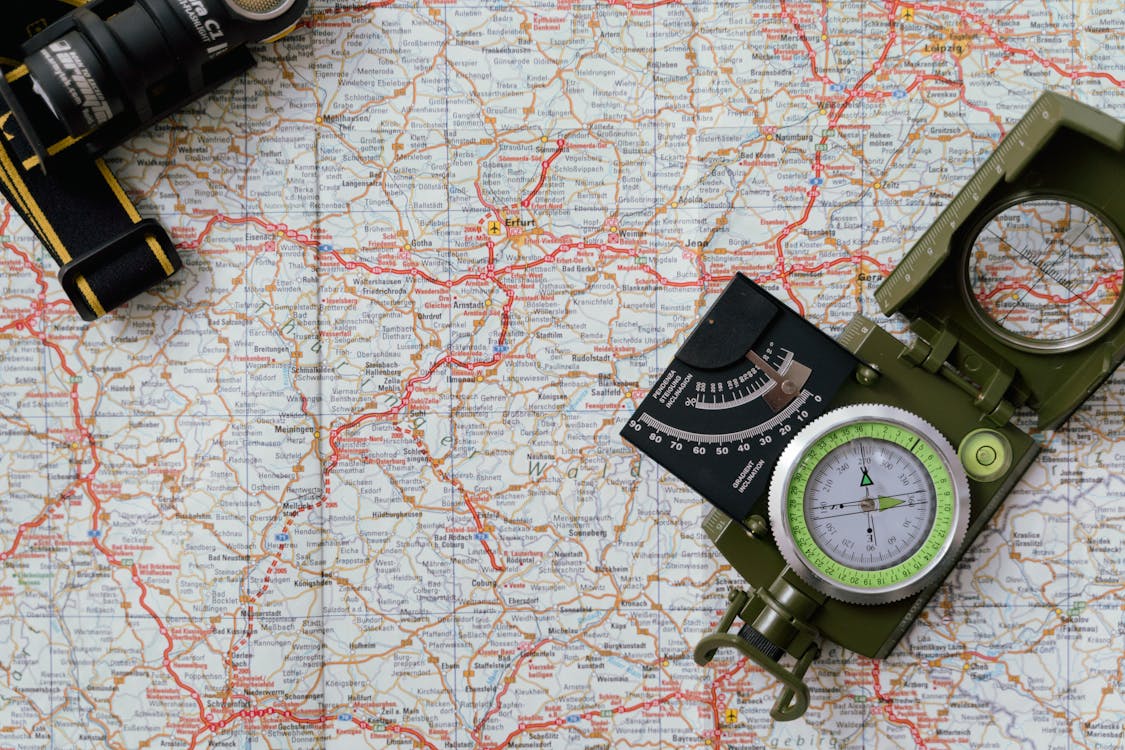 When planning a tent camping trip, we need to think ahead and do some planning. This will ensure you have all the supplies and gear you need before leaving the house. The more time spent planning, the greater your chance of success on your first camping trip.
4. Make it Age- Appropriate
Camping can be a physically and mentally demanding activity. Planning your route ahead of time is essential so that you are prepared to take on the terrain. Plan your trip with the age-appropriate terrain, natural barriers, and activities you want to do during your trip. 
5. Prepare for Hiking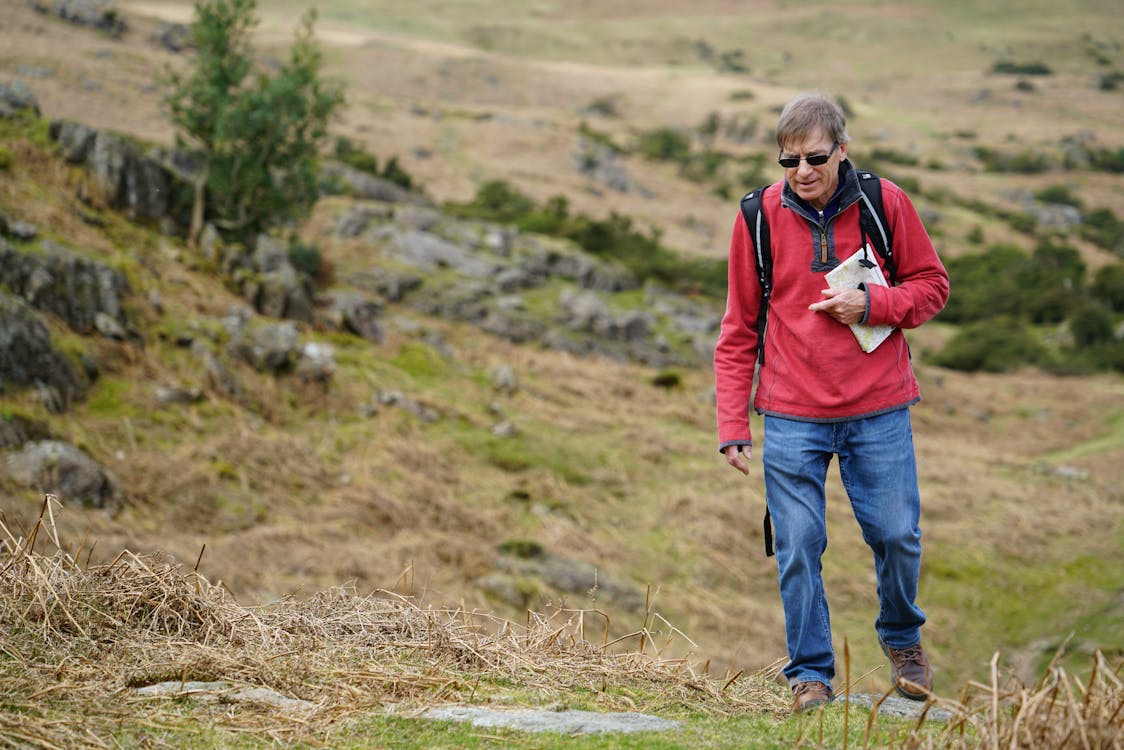 If you want to go hiking, make sure there is a trail that can accommodate both people and pets before making camp in an area that has water nearby and will provide shade for a midday break.
6. Have the Basics
As with any outdoor activity, prepare your gear before heading on the road or trail. Know how to set up your tent, how to prepare food, and carry enough water. 
What can I use instead of a tent for camping?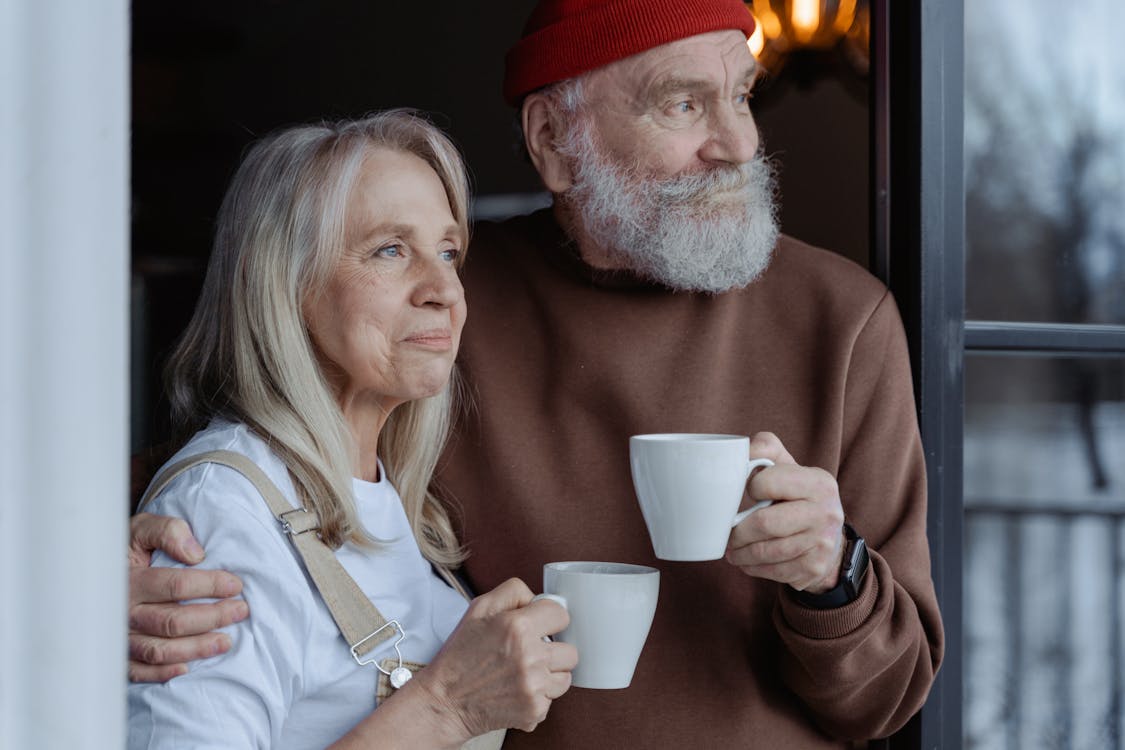 You can use hammocks, tarps, bivouacs, yurts, teepees, other traditional tents, and even cars as an alternative to tents when camping. Each option has its advantages and disadvantages, so it's important to consider your specific needs before making a decision. 
You can find an alternative that works for you so that you can enjoy your camping experience without having to bring along a tent.
What is the most comfortable thing to sleep on when camping?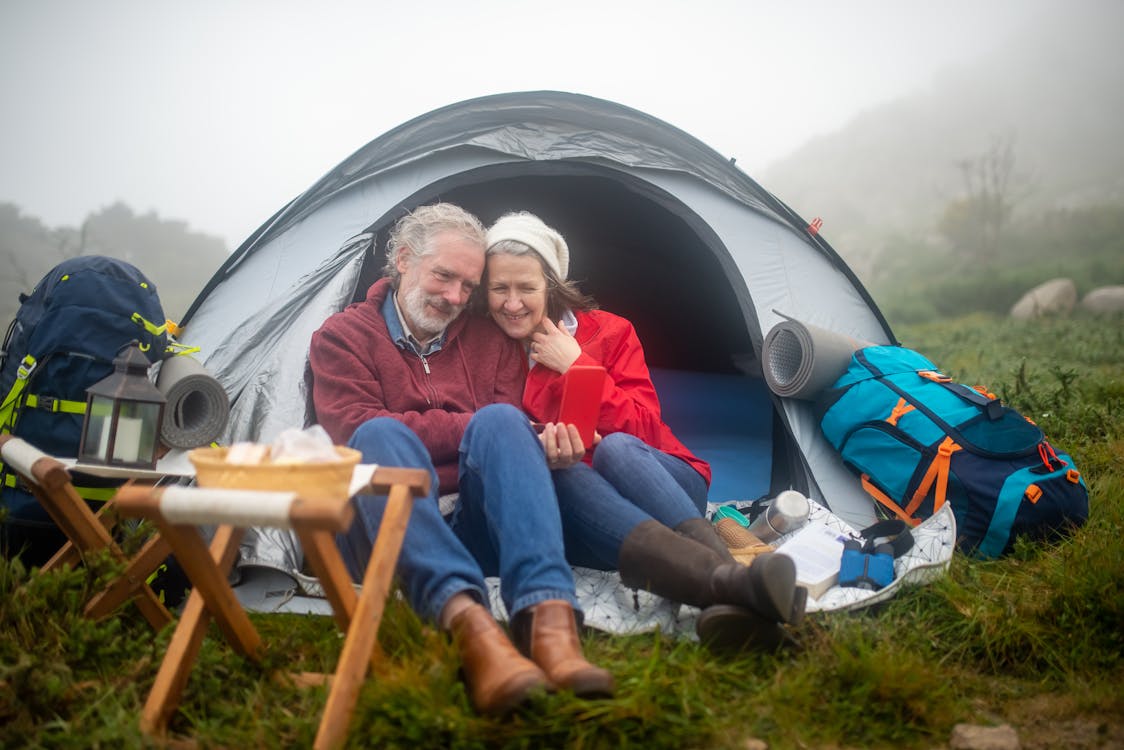 The best thing to sleep on while amping are designated camping sleeping pads, which can be made from foam and have self-inflating valves, or air sleeping pads which you inflate yourself. Another good bet is air mattresses, classic mattresses, and foam pads. 
Camping is a great way to get out and enjoy nature, but it can be difficult to find a comfortable place to sleep. Several factors should be considered when looking for the most comfortable thing to sleep on when camping. Comfort is subjective, so it's essential to consider what you need regarding cushioning, warmth, and size. Don't forget to check on some tips for using these pads!
Additionally, the type of sleeping surface you choose will depend on your camping – backpacking or car camping – and the climate you'll be in. By considering all these factors carefully, you can find an option to provide a good night's rest while allowing for a fun camping experience.
Conclusion
Camping is an excellent way for seniors to stay active, enjoy nature, and bond with family and friends. Once they have this setup, seniors can make the most of their outdoor adventures. 
The right camping equipment for seniors allows them to set up a comfortable campsite and explore the outdoors safely and securely while minimizing physical strain. By investing in quality camping equipment specifically designed with seniors in mind, they can enjoy long-term benefits that will make any trip more enjoyable.