The Most Important Camping Tent Accessories That Will Keep You Fresh for the Morning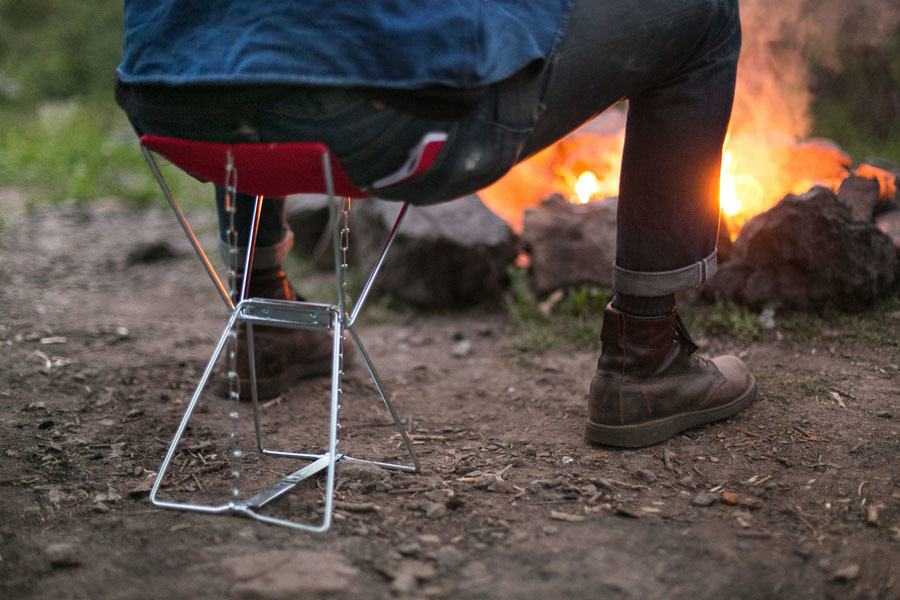 Tent camping can provide some of the very best getaways. Whether you're traveling for the weekend or an extended trip, camping can enhance the experience. Amplify your camping experience with all the necessary accessories and more. While you may have a ton of options about what you can take with you, there are a handful of items that you should always bring along to use with your tent.
The tent is the centerpiece of camping. The rest of your campsite revolves around it. With that in mind, here are 17 essential camping tent accessories that you should pack for every camping trip. Although some are more obvious than others, each one of these items is crucial to getting the most out of your tent and your journey as a whole.
Camping Tent Accessories
Here come our 17 essential tent accessories:
Sleeping bag should come as no surprise since a sleeping bag is the second item everyone thinks of after the tent. Still, it's worth emphasizing. These sleeping bags are mainly in charge of the quality of sleep you'll be getting each night by helping to keep you comfortable during your sleep.
Some may choose to create a makeshift bed using an array of different types of blankets and covers. When you're camping in proximity to your vehicle, this is a very viable option. A sleeping bag does provide a more versatile covering that you can sleep snugly inside or choose to unzip it and use it as a blanket regardless of size.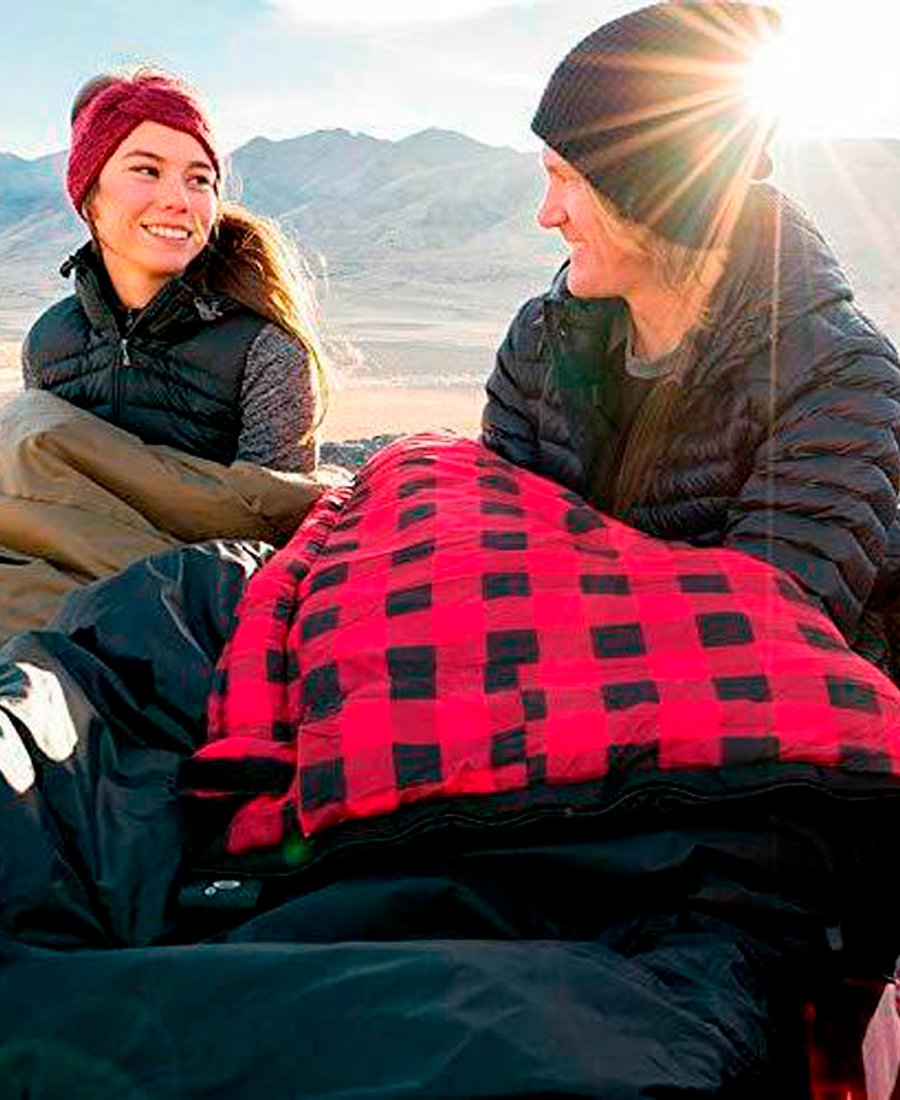 With a wide range of sleeping bags to choose from, you need to find one that best suits your needs. Sleeping bags come with temperature ratings so you can know what temperature you'll be comfortable with. Although some are better suited for certain types of weather and conditions than others, in most cases, you can get by with a standard sleeping bag that has a right balance of insulation and softness.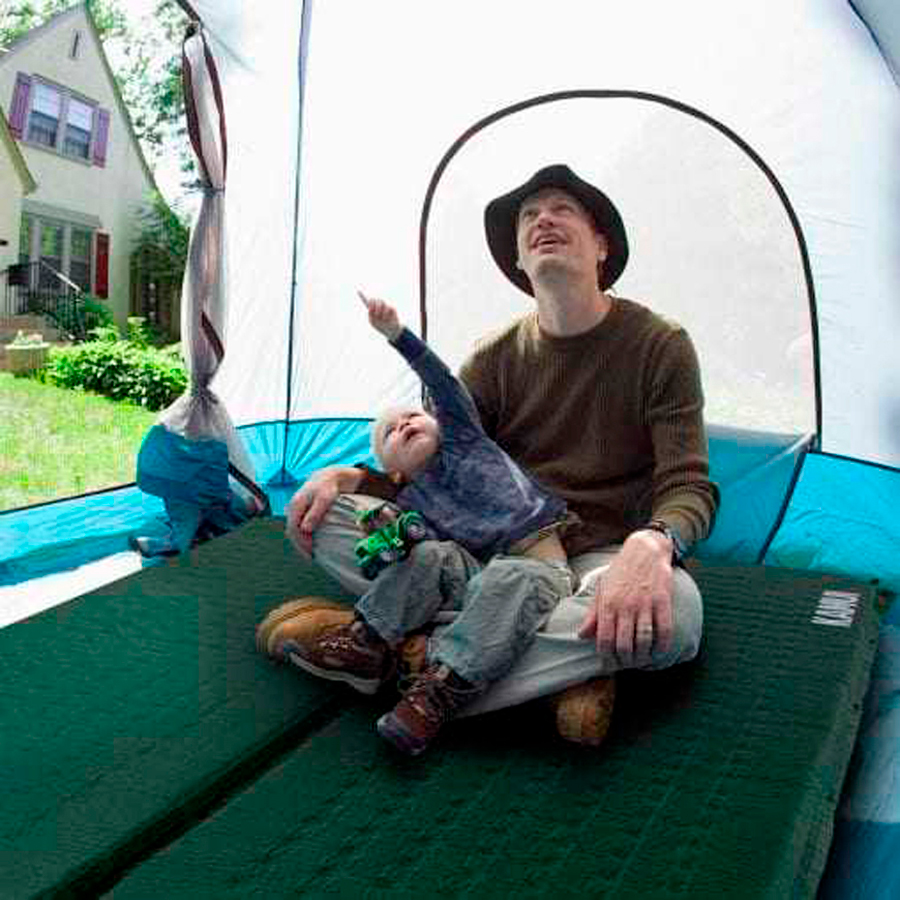 Unless you're okay with sleeping directly on the ground, a sleeping pad is a significant investment to provide better support under your sleeping bag. Think of a camping sleeping pad as a sort of mobile mattress. This portable mattress offers comfort through heat retention and cushioning.
Sleeping pads are available in a wide variety of types, each offering varying degrees of comfort and mobility. They can range anywhere from lightweight and thin to heavy, bulky, and plush.
There are three main types of sleeping pads: air sleeping pads, closed-cell foam pads, and self-inflating sleeping pads. One can blow up air sleeping pads manually with either lung power or a pump bag. Foam sleeping pads are often thin, lightweight, and roll or fold up for transportation. Self-inflating sleeping pads are a mixture of both air pads and foam pads; they're incredibly convenient and the absolute best of both designs.
Self-inflating pads usually are the most ideal for camping, although everyone's personal preference may differ. Be sure to bring one sleeping pad along for each person. This means you will have to think of those side-sleepers and people with bad backs. Although sleeping pads do come in lengths and widths, their design often allows only one sleeper.
A pillow may seem like a prominent camping tent accessory to bring along, but you would be surprised about how many campers either forget to bring a pillow or decide against it. Some think they can stack up some extra clothes or a blanket and use this as a pillow. Although you can do both of these things, using an actual pillow is a much more comfortable choice.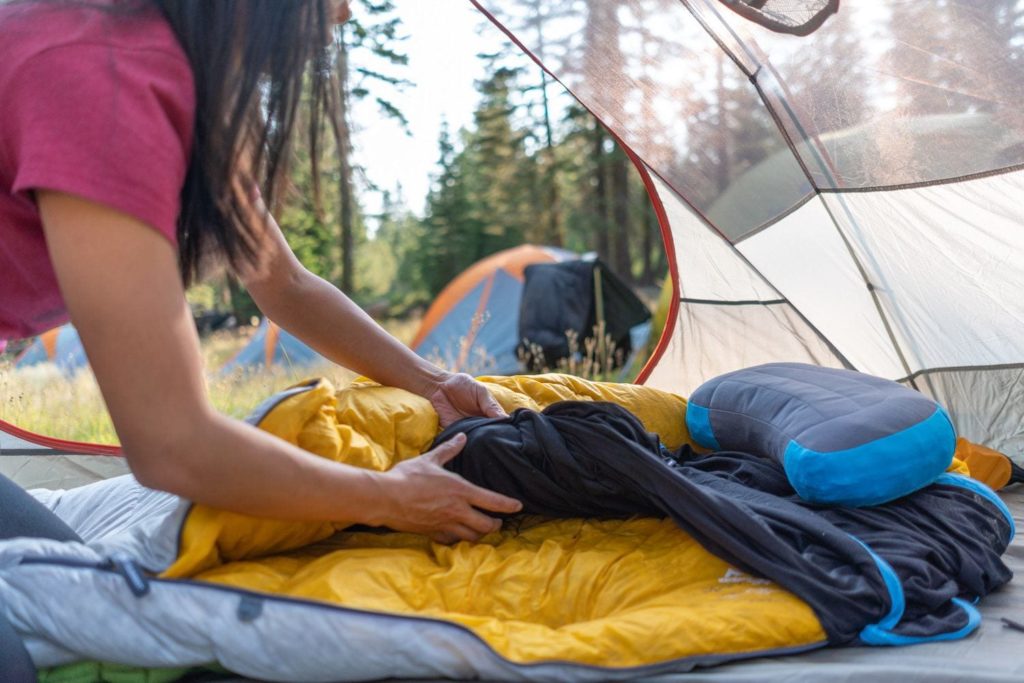 While ordinary pillows can do the trick, camping pillows are a superior option, as they are more durable and weather-resistant. Some options let to store clothing, making them both a pillow and a sort of clothing storage. Some camping pillows are self-inflating, while others are compressible fill.
It doesn't matter whether you opt for a camping pillow or one from home, be sure to bring some along.
Camping is famous for the idea of "roughing it" – to some extent – but you can still get a good night's sleep. Comfort inside your tent will help you to enjoy your trip as much as possible.
Even if you do not plan on being out in the backcountry for days at a time, it's still essential that you bring a quality first aid kit to keep in your tent.
Accidents can happen anywhere, but things are direr when you are outdoors and away from home and civilizations' conveniences and features.
When acquiring a first aid kit for camping, you can purchase a pre-made kit or receive all the most essential items yourself. Building your kid helps to know precisely what you have inside, and it allows you to organize it in a way that best suits your needs.
Regardless of which route you take with this, be sure that your kit has most of, if not all, the following items inside:
Antiseptic wipes
Antibacterial ointment
Compound Tincture Of Benzoin
Compression Bandages
First-aid manual or information cards
Assorted Adhesive Bandages
Butterfly Bandages / Adhesive Wound-Closure Strips
Gauze Pads
Non-Stick Sterile Pads
Medical adhesive tape (10 yds (ca. 9 meters). roll, min. 1″ width)
Blister treatment
Ibuprofen / Other Pain-Relief Medication
Insect sting relief treatment
Antihistamine To Treat Allergic Reactions
Sam Splint
Splinter (fine-point) tweezers
Safety pins
With a proper first aid kit, you can enjoy your camping trip with the added security that comes from knowing you're prepared for emergencies if something goes wrong.
Well, it's going to get dark at some point, and if you plan on being able to see, you're going to need some lighting. Flashlights and headlamps are all well and good and recommended as well, but lanterns are a much more efficient way to illuminate your whole tent and camping area.
Many people prefer lanterns to flashlights because they offer a more encompassing light source, rather than a targeted light that only illuminates whatever it's aimed at. With a lantern, the light dispersion appears to be 360-degree, which is much more conducive for campsites.
Sitting a lantern on a table or hanging it from a tree or post is an easy way to give the campsite enough light to be aware of your surroundings or relax and enjoy the site with your friends and family.
There are a variety of choices with lanterns, each with its advantages. Battery-powered lanterns are a popular version, allowing you to use the lantern inside your tent, usually hanging it on the ceiling in the center.
Propane lanterns are often the brightest, but they are inappropriate inside your tent. In some cases, it's probably best to have one of each if you can.
A footprint is a certain kind of cover or tarp that is perfect to put under your tent. You can fold or unfold it into whatever size best matches your tent.
There are several reasons for using a footprint. The most common cause is to provide the tent with some added stability and better padding when pitched on soil, which is usually uneven and may have some rocks and tree roots that can lead to discomfort.
Another reason is to keep the tent off the ground if there is moisture from rain or snow. The added layer keeps the bottom of the tent drier, along with all of your gear and personal items inside.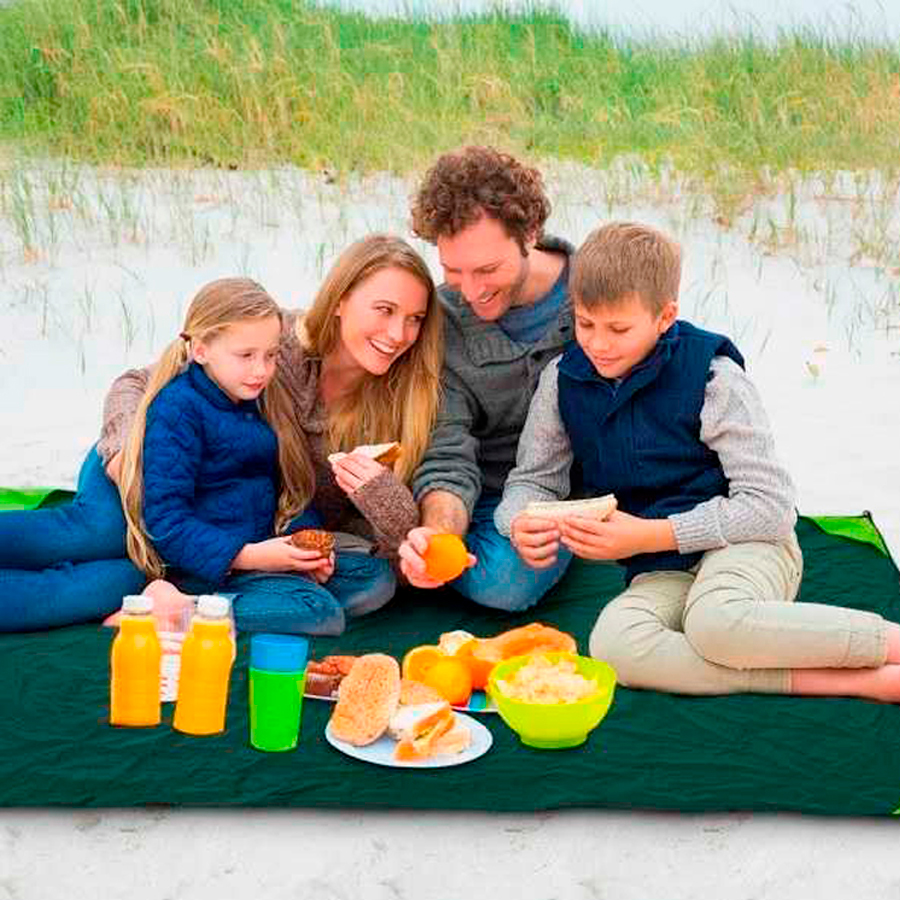 Moisture from morning dew can soak through the bottom of the tent as well, something many novice campers don't realize until they wake up with a damp tent the next morning. Footprints provide a barrier between the tent and any condensation that may form under the tent.
In addition to a footprint tarp, a standard tarp is always a good idea to bring along as well. Tarps are standard in use for wind and rain protection, for setting your other camping gear on, or even as a sun shield if you lack sufficient tree coverage. Make sure you at least have a footprint tarp before heading out.
No matter what sleeping arrangement you have made for yourself outdoors, a rain fly is a necessity. A rain fly for your hammock or tent will ensure that you stay dry during your trip, no matter the weather.
A rain fly is an extra piece of waterproof material that goes over the top of your tent set up. The use of a rain fly protects you and your tent from harsh weather conditions. These conditions aren't limited to rainstorms; rainfly protects against snow, wind, and cold temperatures as well.
The rain fly is often the final piece of a tent set up. It goes over, but not directly on top of your tent. This thin layer provides insulation and prevents condensation from forming on the inside of your tent walls. Almost every rain fly also includes a vestibule area, which is a great place to store your boots so that they are out of the elements and out of your way.
Many tents include a rain fly. Sometimes, the rain fly does not cover the whole tent and only covers the top portion of your shelter. Although these can be effective, they won't protect you from heavy rains or harsh temperatures. A rainfly that surrounds the whole tent is ideal. Set your rain fly up nice and taught for the best results.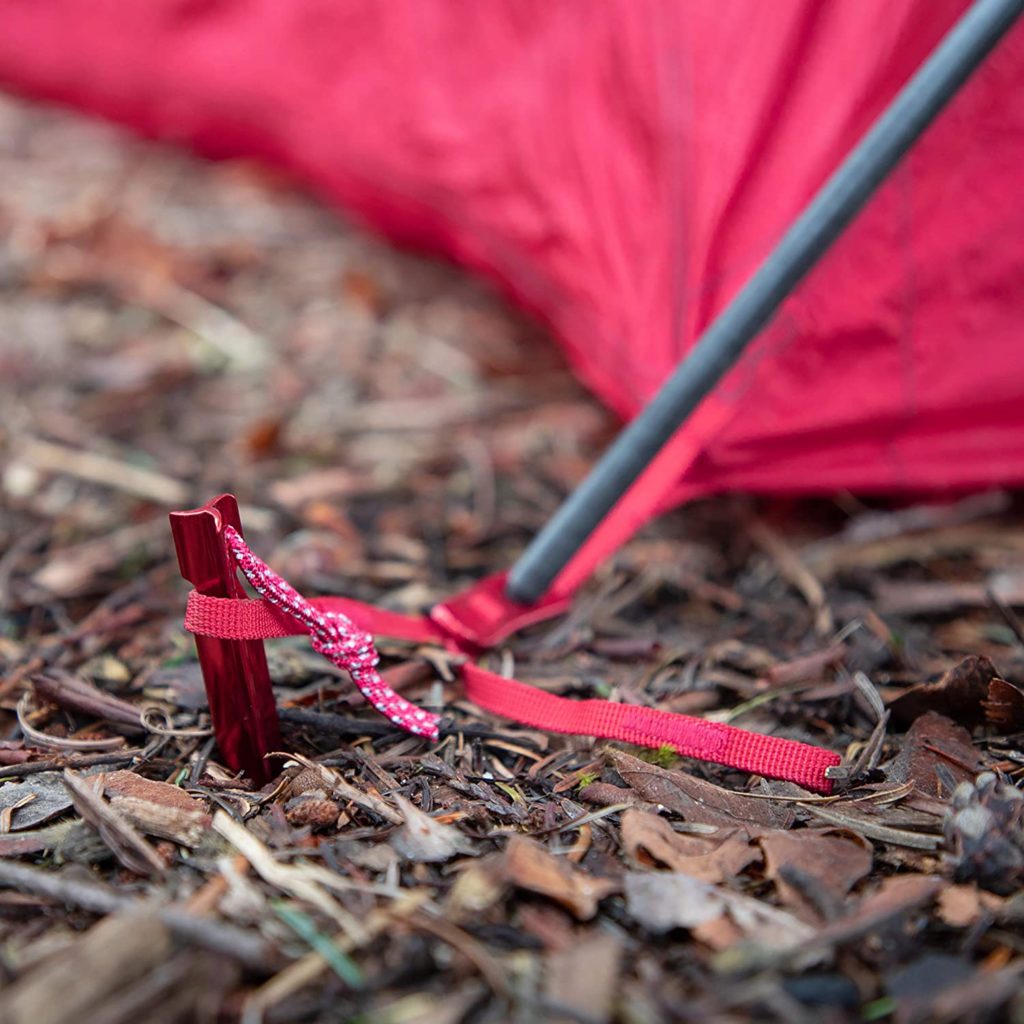 While nearly every tent comes with stakes to keep it adequately grounded, it doesn't hurt to bring some extra stakes with you as well, or even some upgraded ones. This can ensure your tent remains grounded even in case of high winds.
If you want to have a much easier time setting the stakes in the ground, a rubber tent stake mallet can make all the difference. These mallets can help you drive the stakes in, even when the ground is hard.
You're always going to want to stake down your tent and rain fly. Often this requires a paracord to connect your tent and your stakes. This paracord can become a safety hazard around camp at night because it is difficult to see.
There are a couple of ways you can improve the safety of your campsite. First and foremost, you can purchase a tent that comes with a reflective paracord. If you already have a tent and the paracord is, in fact, not reflective, you can buy the reflective tape.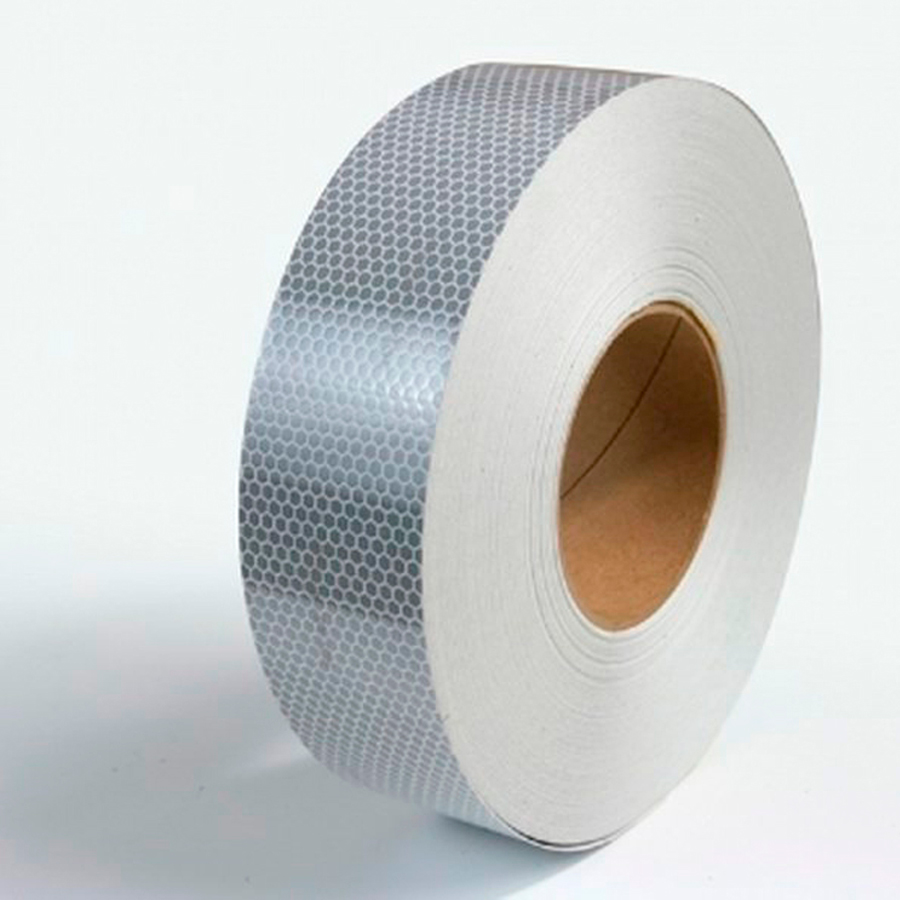 Reflective tape can be helpful; however, putting small tabs on your stake line will make it much easier to see in the dark. Other Items where reflective tape might be useful include tarps, towels, and food storage bags or cans. Using reflective tape on these items makes them easier to spot at night when you need to know where they are.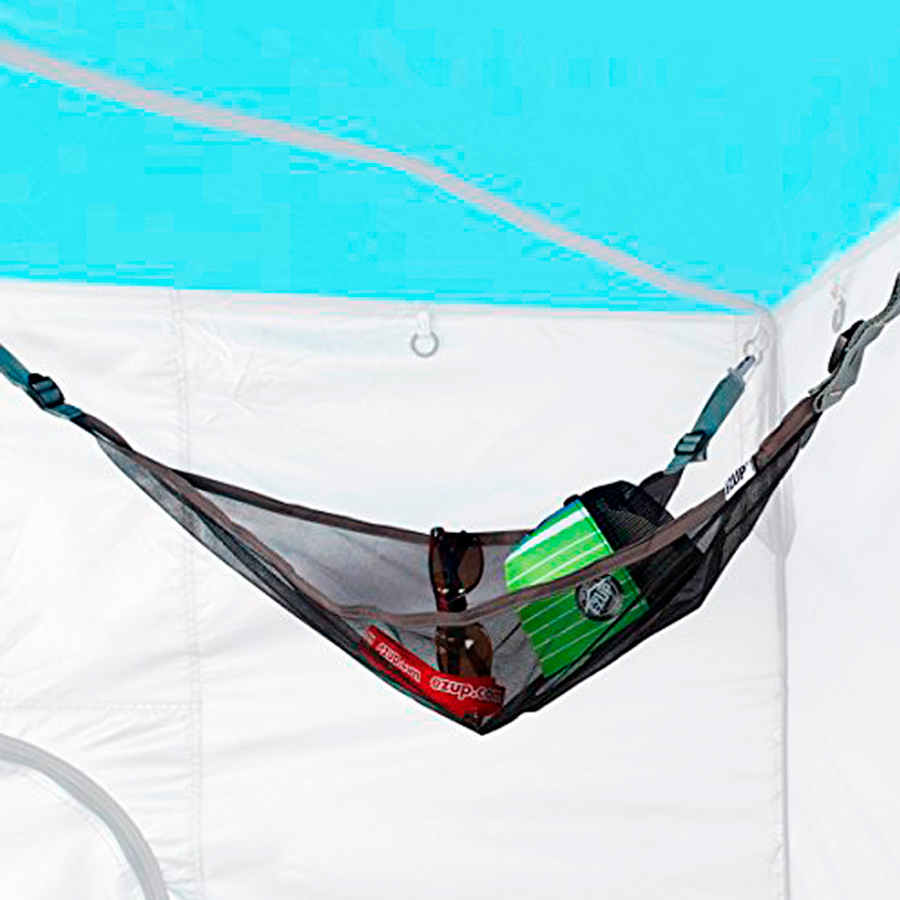 A gear loft is one of those tent accessories you don't think you truly need until you accidentally leave it home for a weekend. It provides a beautiful opportunity for the in-tent organization.
There are several different gear lofts; however, you can mostly chalk them up to a hammock for small camping items. The gear loft hangs above you while you sleep. This keeps essential items such as toilet paper, headlamps, cell phones, and pocket knives off the ground and away from condensation. It is so convenient to wake up in the middle of the night and know that any item you need is secure and easy to access.
Some tents have gear lofts designed to fit their specs precisely. Although purchasing the gear loft that matches your brand and style of tent is beneficial, it isn't necessary. Any sturdy yet packable gear loft option will do the trick!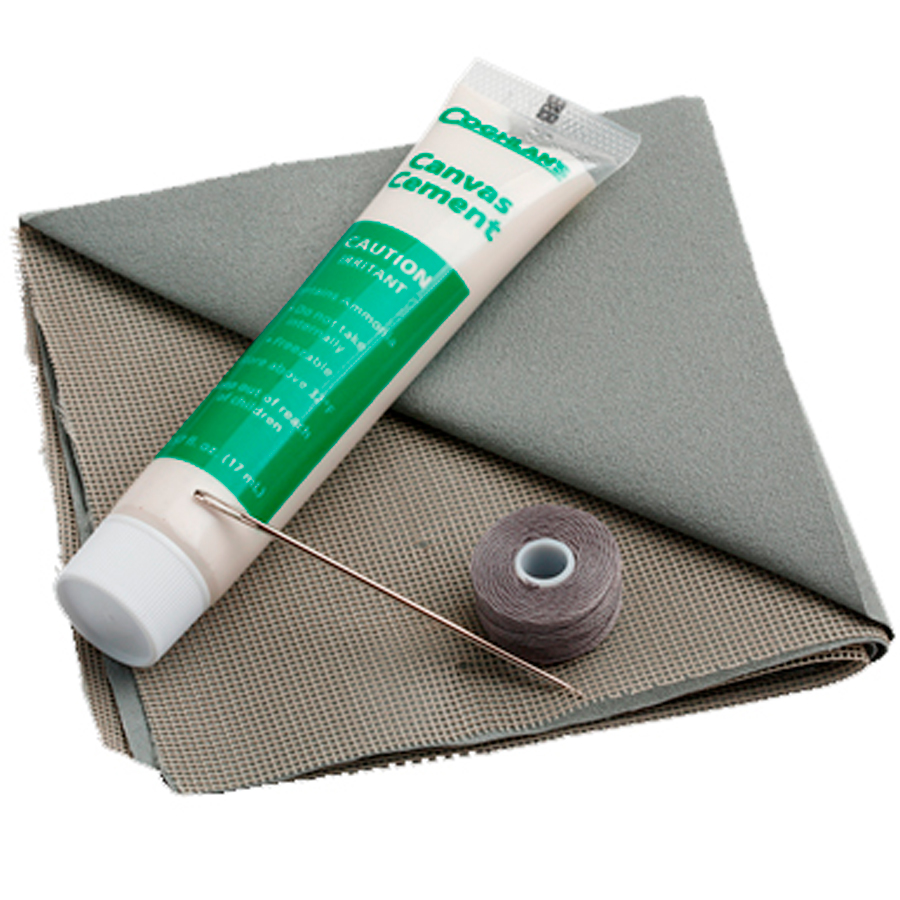 Everyone has a chance to face some difficulties, and sometimes, those things involve a giant rip going down the wall of your tent or along the floor. Tents aren't exactly the most durable shelter. Tent repair kits give you a way to patch things up in a hurry, which is more than appreciated if you are camping in cold or rainy weather.
Most repair kits have patches, glue, extra fabric, and a sewing kit as well. This is one of the cheapest items you can get for your tent. As a result, it can be the difference between a lousy camping trip or one that still ended up being great despite some accidents.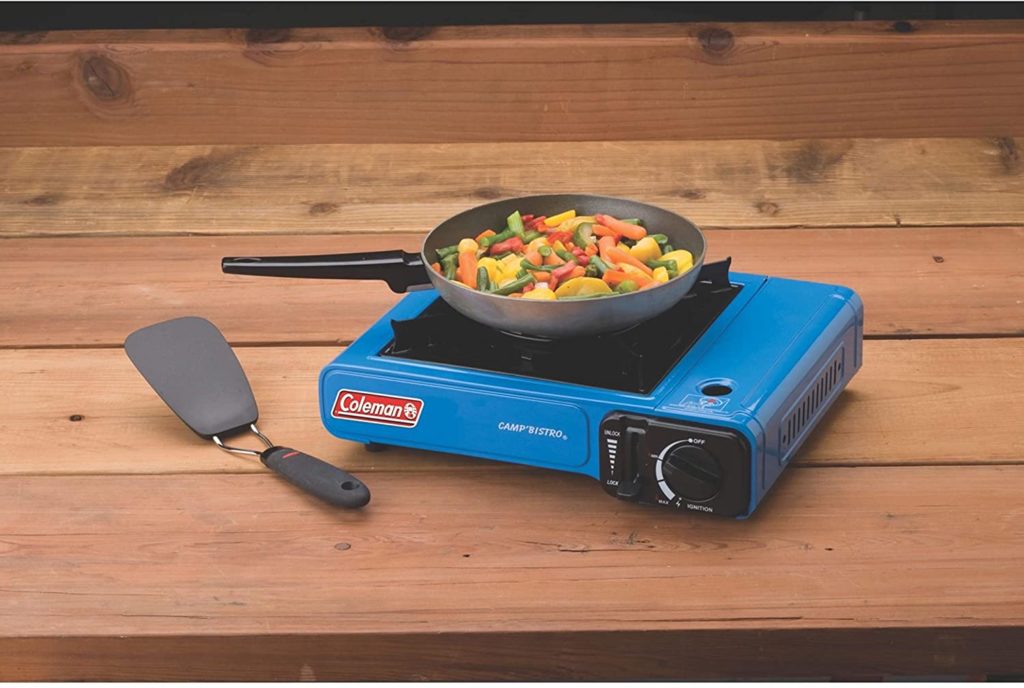 Chances are, if you're spending a few nights in the wilderness, you're going to want to eat a few hot meals. Peanut Butter and Jelly and protein bars make for a delicious lunch, but you can only eat so many. Bringing a camp stove on your camping adventures will boost the comfort of your stay.
They make camp stoves of all kinds. There are ultra-lite stoves, backpacking stoves, and stoves designed for car camping. Each serves a unique purpose. Liquid fuel stoves are the best way to guarantee a heat source for cooking and purifying water.
Unless you plan on sitting on the floor of your tent or the ground throughout your camping trip, chairs are always a great idea to bring with you. Camping chairs are often easy to maintain, light and convenient for packaging. Furthermore, they often come apart to break down into a more compact size. This makes camp chairs easy to bring along and easy to keep out of the way when not in use.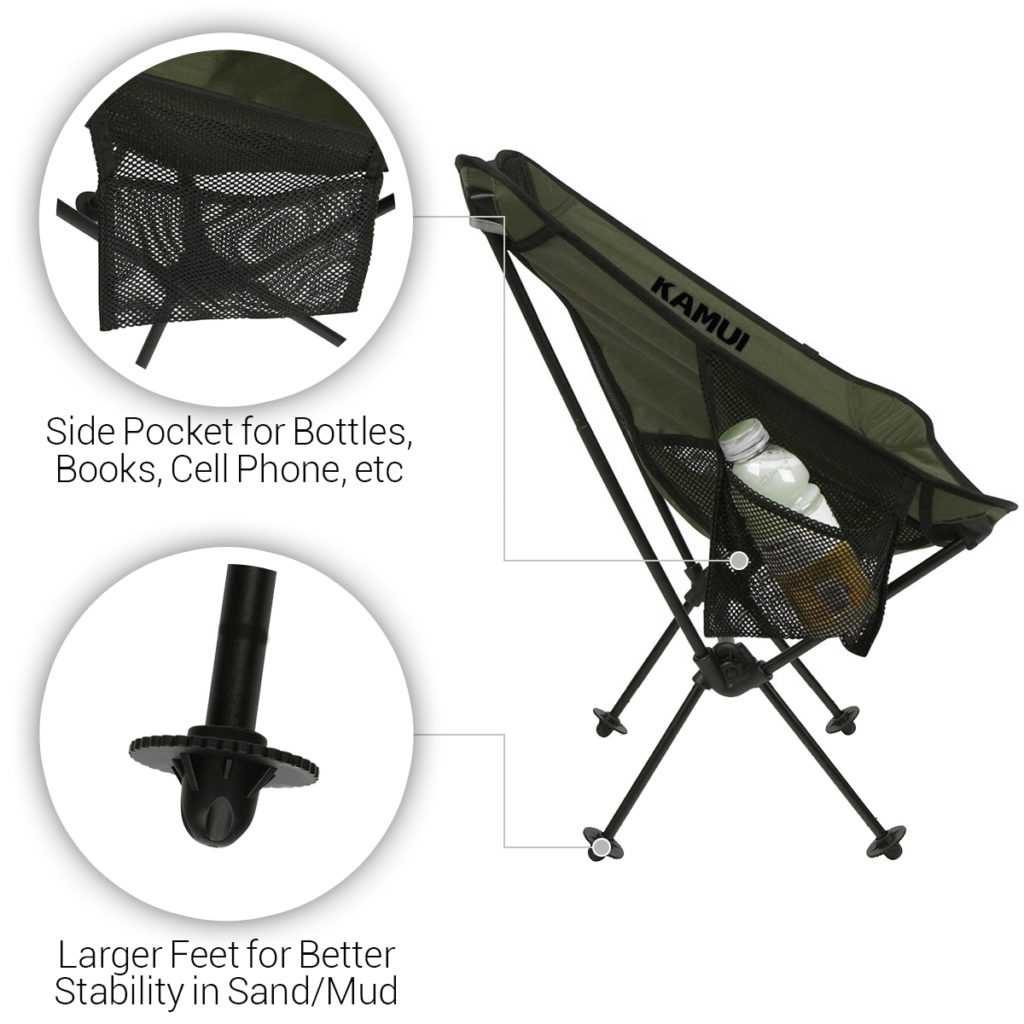 Whether your tent has a screened-in porch or some extra room on the inside, camping chairs are a great way to relax in comfort, both inside and out.
Many people associate camping with escaping reality. Getting away from your responsibilities and electronics is a real treat these days. But even if you don't want to check your email, you might wish to use your camera or phone to take some photos and capture memories.
After a day or two in the wilderness, a portable charging block would act as a great way to recharge your electronics. You can charge these blocks to full capacity at home, and it would be enough for 2-3 total charges of a cell phone. Portable charging blocks are one of those camping tent accessories with multiple purposes. You can charge personal electronic devices; however, they also work to set headlamps and lanterns.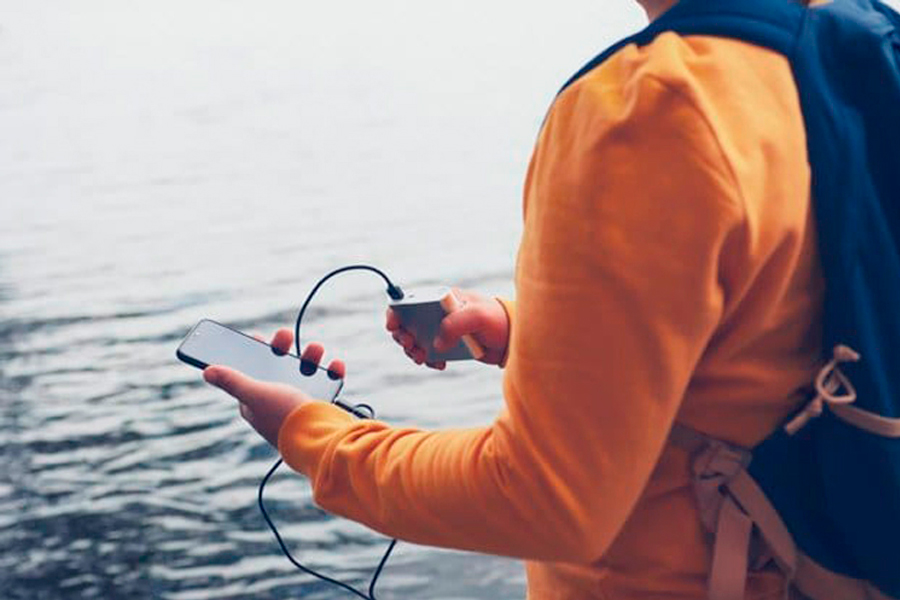 Charging blocks can also charge via solar power. Some charging blocks come with a solar panel on them, while others plug into a separate solar panel for charging on the go. Having this option is convenient for extended trips or multiple devices that you need to keep charged throughout a shorter stay.
A doormat serves an essential purpose. It keeps what belongs outside out of the house. While camping, a coward can help prevent excess dirt from entering your living quarters. Place a doormat at the foot of your tent's zip-up door to prevent unwanted dirt, leaves, and more from entering your sleeping space.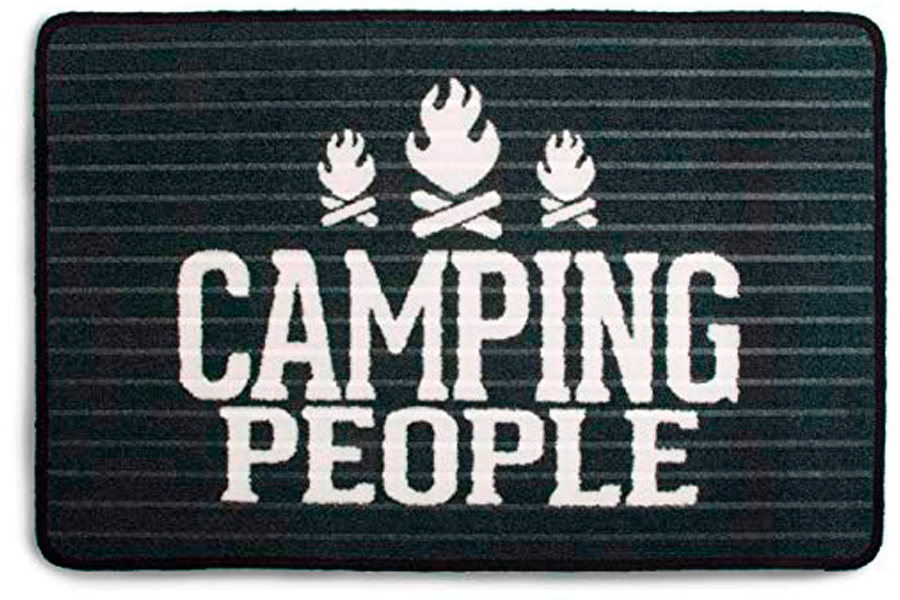 Doormats also liven up a campsite. They can add color and personalization on top of serving an essential purpose. Bring an additional door mat for inside your tent if you wish to leave your wet or dusty boots out of the elements. It will help contain the mess to one space making clean up a lot easier.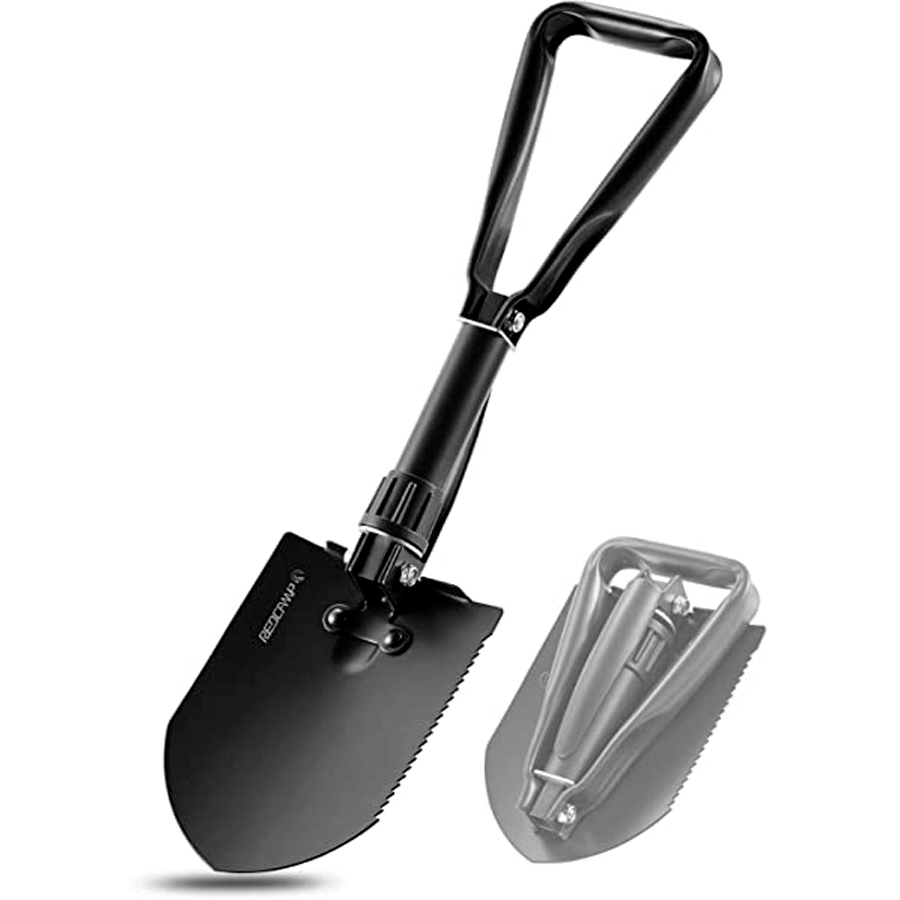 A shovel can be helpful for campers to dispose of waste properly. Proper waste disposal varies depending on where you are camping; you must look into these details before spending time outdoors.
In most locations throughout the world, burying human waste is the correct method for going to the bathroom on the trail. To properly bury human waste, one will need to dig a cat hole. Cat holes should be 200 feet from the course, campsite, and water. Once one finds his/her location, it is time to dig a 6-8 inch deep hole that is also 4-6 inches wide. In the end, it is vital to cover the cat hole and disguise it with natural materials to make it look inconspicuous.
As mentioned earlier, all locations have different regulations. In some areas, you must carry out all solid human waste. Please be sure to check the local governance of the land you plan to be camping on.
Entertainment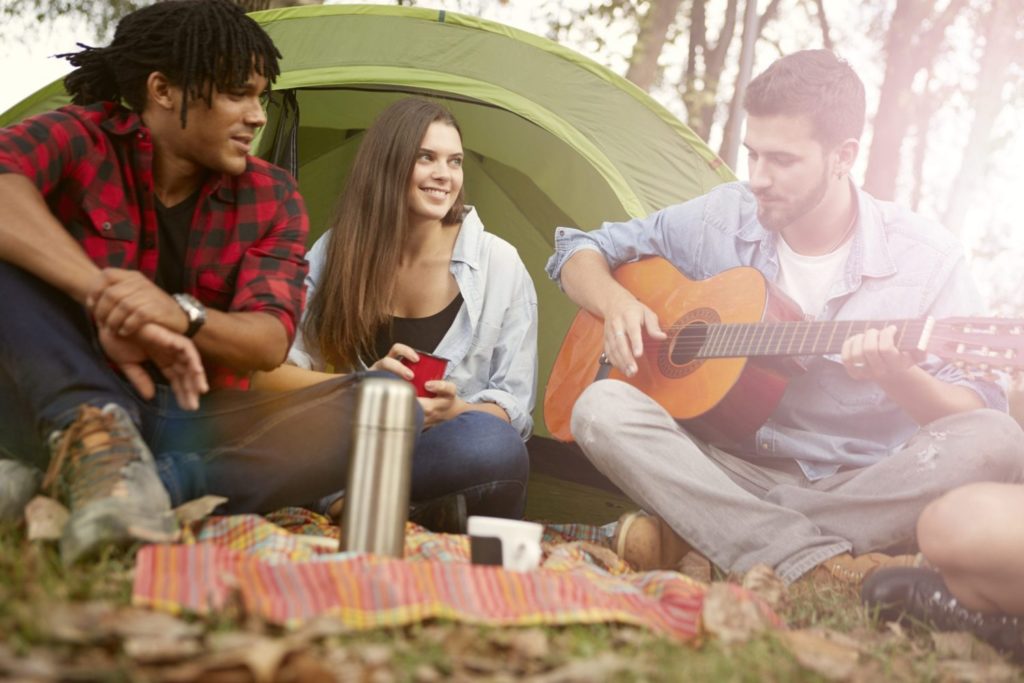 Spending the weekend in the woods can be the ultimate form of relaxation. Even the most relaxing trips call for some entertainment. There are a few camp-friendly items that will provide hours of family fun.
A deck of playing cards can be a ton of solo fun. You can play solitaire for hours! If you're with a group, there are endless card games to keep you occupied while camping.
A book, musical instrument, and art supplies are great for entertainment in nature as well. Read in a hammock, play a campfire song, or paint a gorgeous landscape.
Conclusion
While some of these items are essential to the very act of camping, others improve comfort and convenience. We suggest leaving home with all 17 of these items to ensure that you and your fellow campers have a successful, enjoyable, and safe camping trip, no matter where you plan on pitching your tent. Add these items to your packing list, and enjoy your time in nature!

Resources: