How To Sleep Outside Without A Tent: A Beginner's Guide
Whether you're looking to save space and weight or hoping to save money on your next camping trip, you can sleep outside without a tent in many ways.
In this post, we're sharing how to sleep outside without a tent in various situations. Some variations require specific gear while others simply require some creativity.
How To Sleep Outside Without A Tent in 7 Ways
1. Hammock
A hammock is the most common alternative to tenting. They're lighter to carry and arguably more comfortable while providing cover from the elements.
Although a hammock provides cover from the elements, it is thin and doesn't keep wind and cold out, as well as a tent. You still need a sleeping bag and pad to provide ultimate comfort.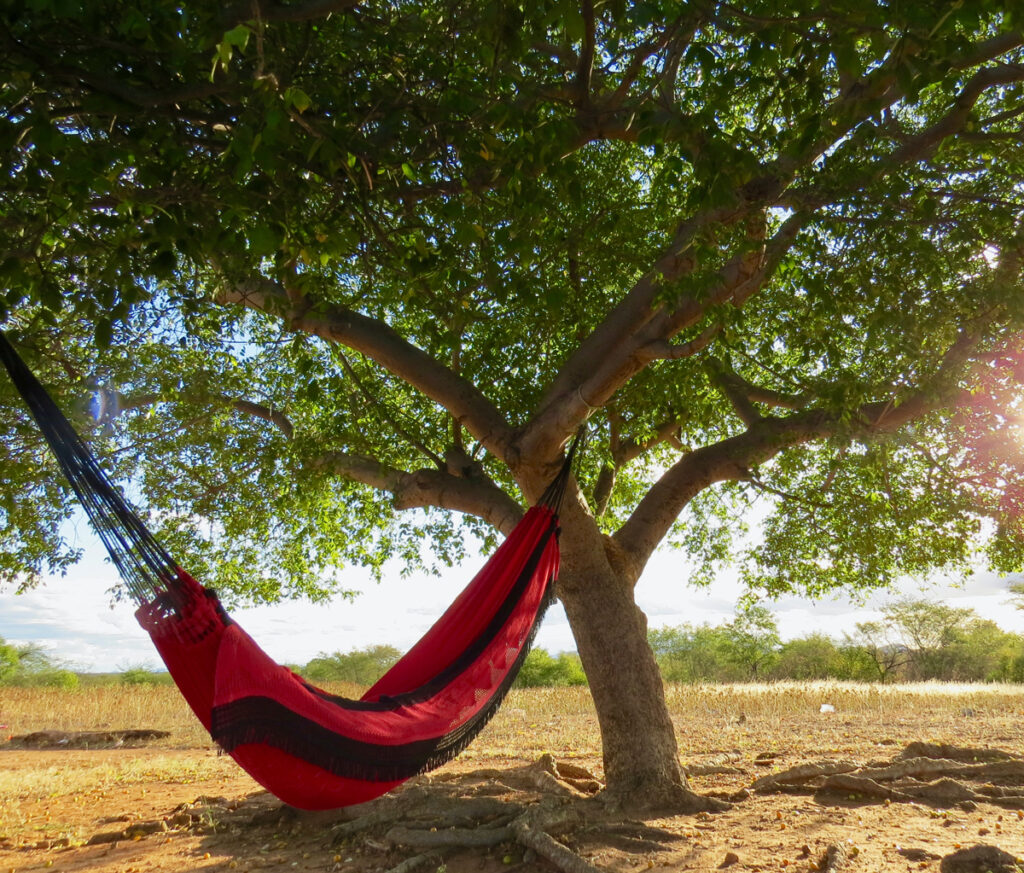 Additionally, there are places where hammocks can't be used. In areas without much tree cover, such as deserts and above tree lines, there would be no place to set up your shelter.
Pros:
Gets you off the cold, hard, and sometimes wet ground
They pack down smaller and are lighter than tents
With the addition of a bug net, there are no bugs guaranteed
Cons:
Specific conditions, such as tree distance and trunk girth, are needed
Requires trial and error to find comfortable positioning
Can damage trees, and there are places they are not allowed
2. Natural Shelter
Creating or finding a natural shelter in the wilderness is generally utilized in emergencies or when you're planning a longer-term stay.
The simplest structures to build are Lean-Tos and debris piles. A Lean-to is a one-sided structure with an inclined roof. Debris Piles are great emergency shelters. Pile a bunch of leaves and leaf litter together and climb into the middle for insulation and light reprieve from the weather.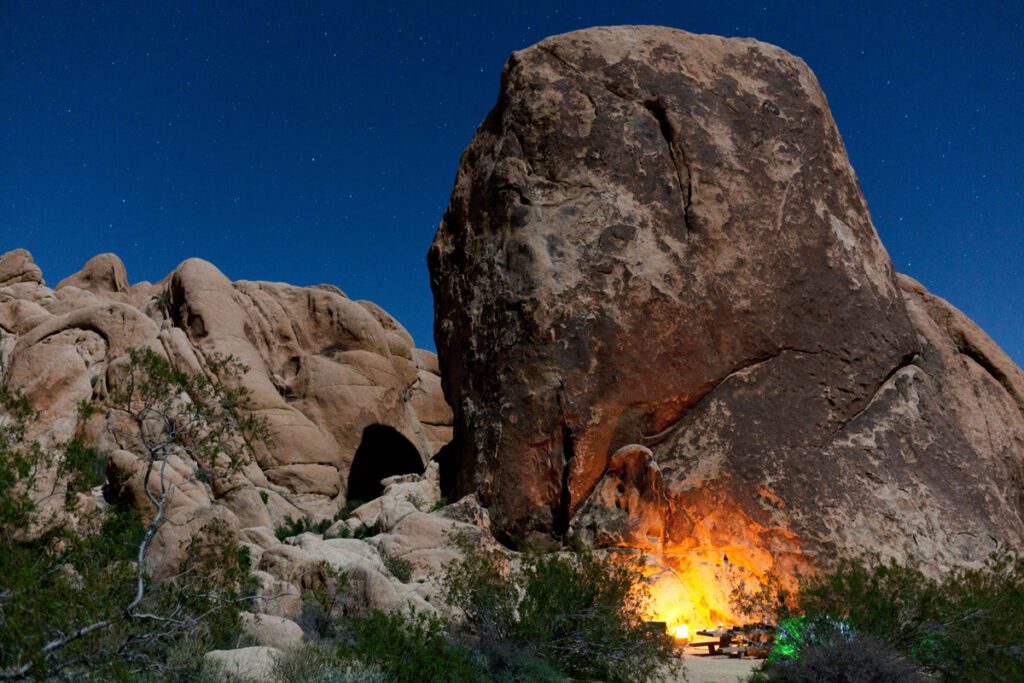 Caves, hollowed-out trees and logs, and rock overhangs make great natural shelters. It is essential to pay attention to what might already be using that space as a shelter. Look for fur, scat, and animal remains. If you notice these around the shelter, looking elsewhere is probably best.
Pros:
Requires little to no effort to set up
You don't need to carry anything extra with you
It will make you feel even more at one with nature
Cons:
Finding a natural shelter isn't guaranteed
You might be sharing your space in a natural shelter
It can take time to build/set up
3. Bivy Sack
Bivy Sacks, or Bivouac Sacks, are perfect for anyone who does a lot of solo backcountry camping. There are Bivy Sacks and Bivy Shelters.
A Bivy Sack is simply a waterproof sleeve that you slide your sleeping bag into. This helps keep your sleeping bag dry and increases the temperature by about 10 degrees.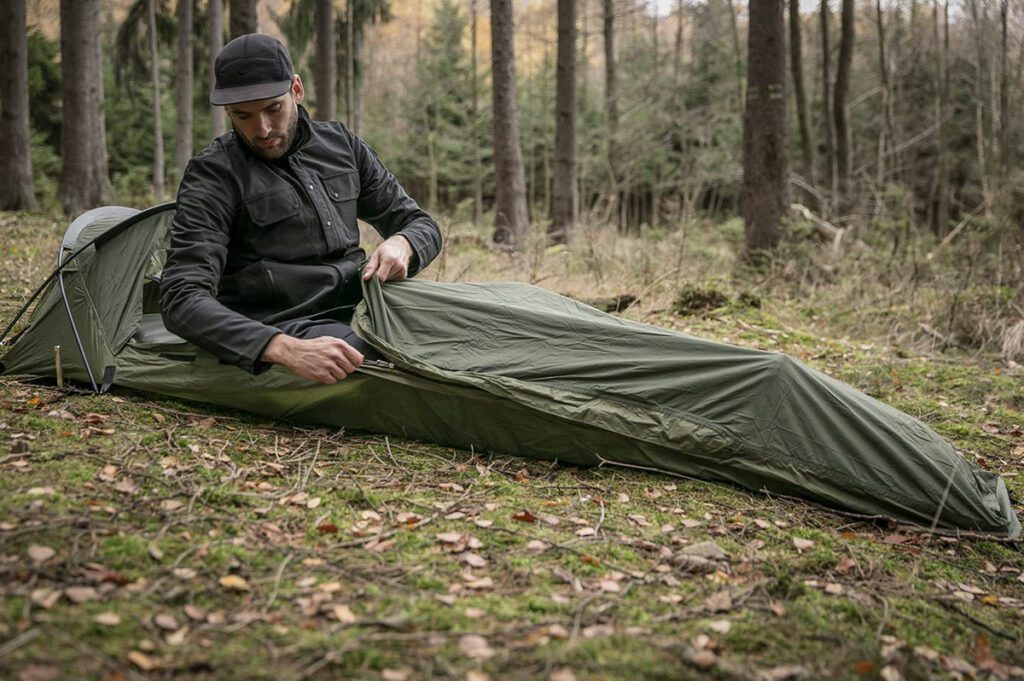 Bivy Shelters are low-rise tents. They are just high enough to keep the fabric off your face and securely close to prevent bugs and moisture from making it in.
Pros:
It is incredibly lightweight and easy to pack
Very simple setup and take down
It will keep you warm and dry and bad weather
Cons:
There's no room to move around inside, can be claustrophobic
You will need other arrangements to keep your gear out of the elements
Bivy Sacks do have room for moisture where it cinches closed
4. Tarp
Tarps are waterproof, incredibly lightweight, and easy to pack into a shape that works for you. These rectangular, waterproof pieces of fabric have multiple uses and allow you to adjust your sleeping situation to your area and the conditions you're experiencing.
Other pieces of equipment are needed to make a tarp work. Ropes, poles, and/or stakes are needed to set your tarp up in the best way for you. Ultimately, utilize your tarp to block wind and rain from a consistent direction.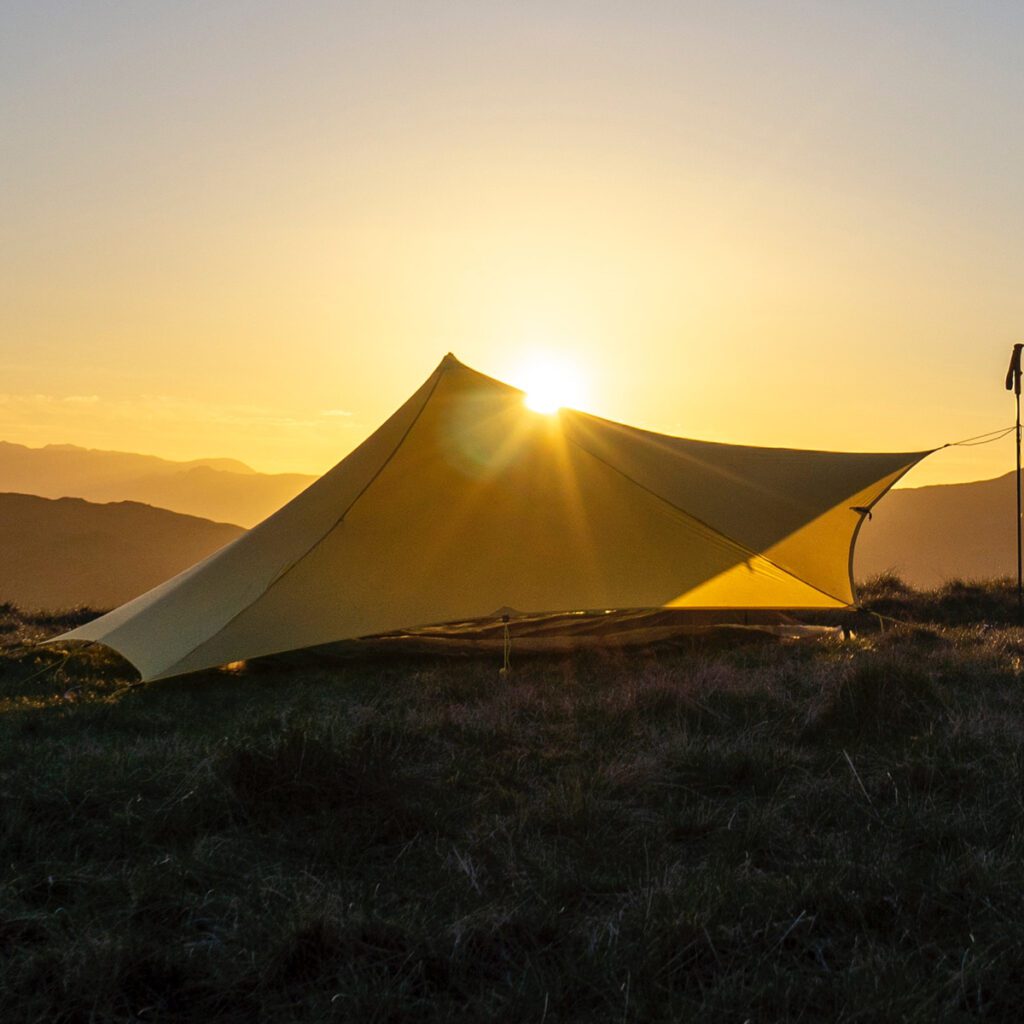 In fair weather, tarps can be used to sleep on top of. When you don't need to block rain and wind, your tarp can be a barrier between your sleep system and the ground. The ground tarp strategy helps to keep your sleep system from the moisture of the ground, and it helps to keep it clean.
Pros:
It is lightweight and doesn't take up a lot of space
A multi-use item you can use in multiple ways throughout your trip
Is open and airy providing airflow
Cons:
Doesn't provide the same protection as a tent
Lacks privacy since one side of your structure is open
Won't keep you as dry as a tent would
5. Cowboy Camping
Sleeping outside without a shelter is called cowboy camping. You may utilize a sleeping pad and sleeping bag, but you do not have any form of shelter around or over you.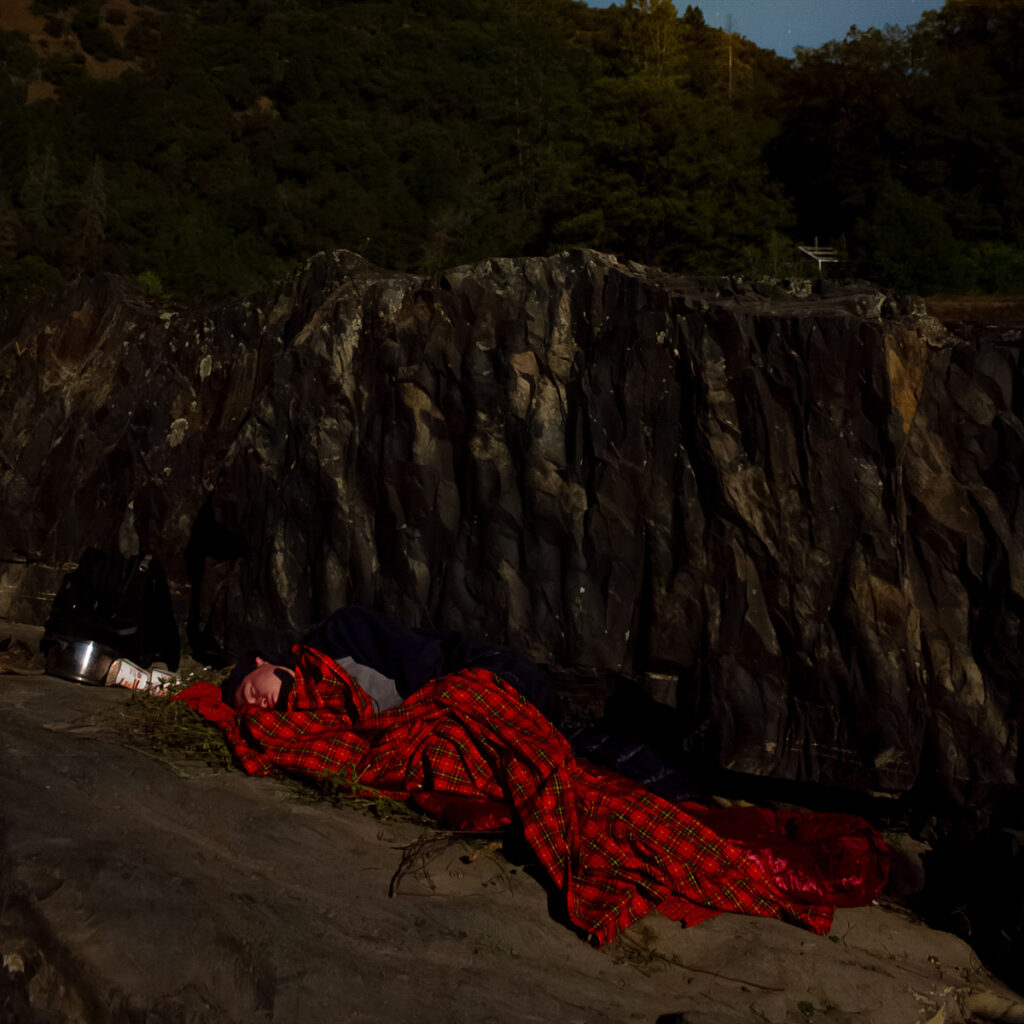 Generally, the term cowboy camping is used to describe sleeping out under the stars on a crisp, clear night. Many thru-hikers adopt the cowboy camping style due to its extremely lightweight setup. It also doesn't take much time to set up or break down camp when you're not using a shelter.
Pros:
It is incredibly lightweight and doesn't take up any space
Quick and easy setup
Enjoy stargazing and gorgeous sunrise views without leaving your sleeping bag
Cons:
No protection from the elements
You are one with the bugs
There isn't any privacy
6. Permanent Trail Shelters
Along many backpacking trails, there are preestablished shelters. Sometimes these shelters are free of charge on a first-come, first-served basis. Some trail shelters require payment and/or a permit to stay; sometimes, these shelters even offer amenities.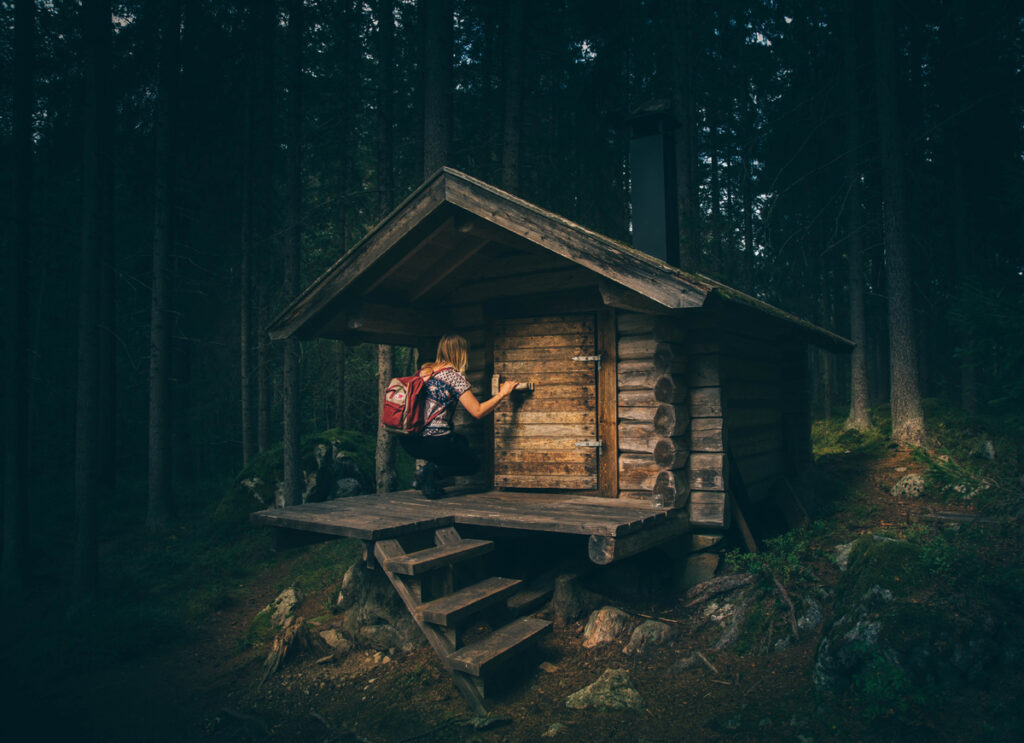 Most permanent trail shelters can sleep 8 to 12 hikers at a time. This makes them a great place to meet new like-minded people and share information about the trail you're on or where you're headed.
Pros:
Allows you to pack less for your sleep situation
No shelter setup time
Cons:
The shelter you want to stay in might be full
There is no bug protection.
Privacy is limited
7. Car Camping
Car camping allows you to spend the night outside with minimal setup and a lot of protection. Because you can have your whole sleeping area set up before you leave, you can ensure maximum comfort with little setup time once you reach your destination.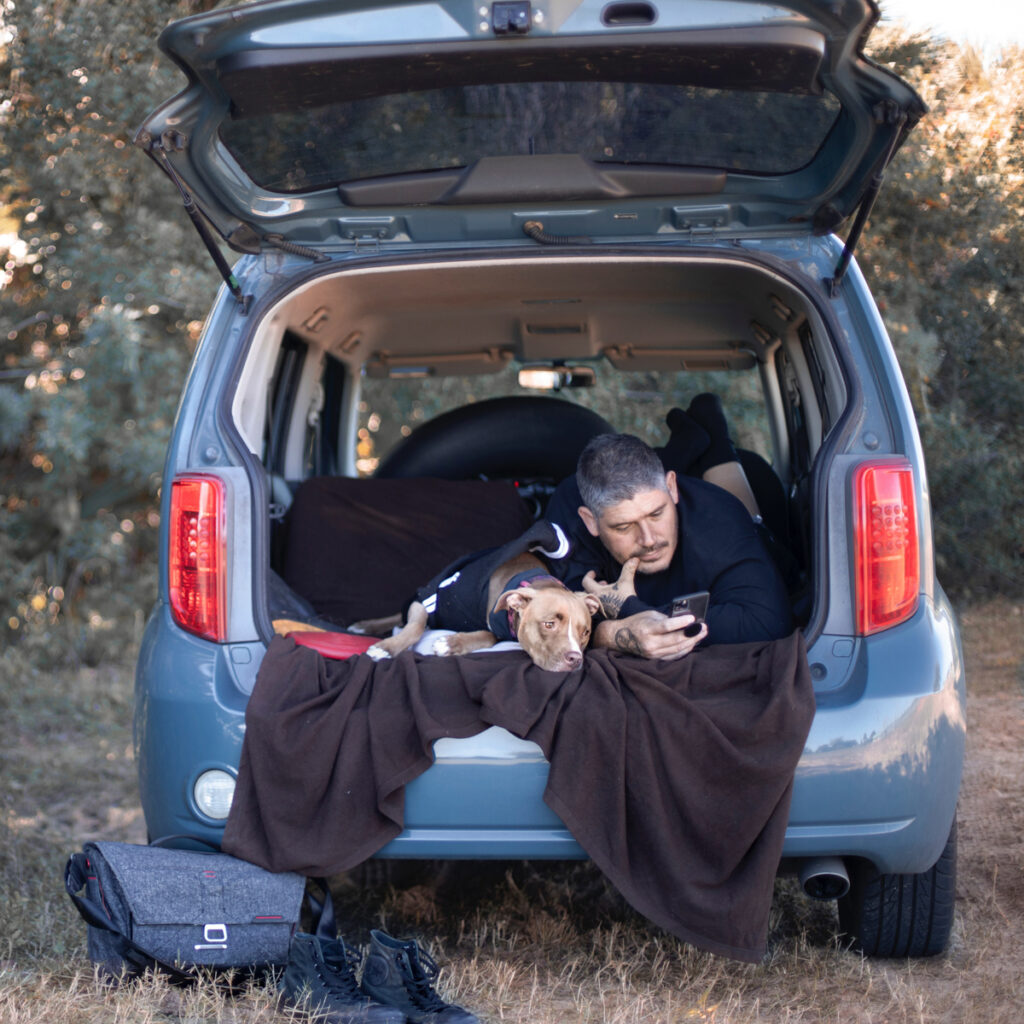 Make the back of your vehicle into a bed. You can do this with traditional sleeping pads or invest in an inflatable mattress that conforms to the shape of your vehicle. This allows you to car camp in various places and sleep outdoors without additional camping gear.
Pros:
Safer than a tent since you can lock yourself inside
Can create an incredibly comfortable sleeping space
Impermeable weather barrier
Cons:
You have to sleep where your car is parked
Leaves less storage space for gear while sleeping
You could be fined
How To Sleep Outside Without A Tent in Bad Weather
Although we don't recommend sleeping outdoors without a shelter in extreme weather, it can happen. This is why you should always be prepared for all weather conditions when camping.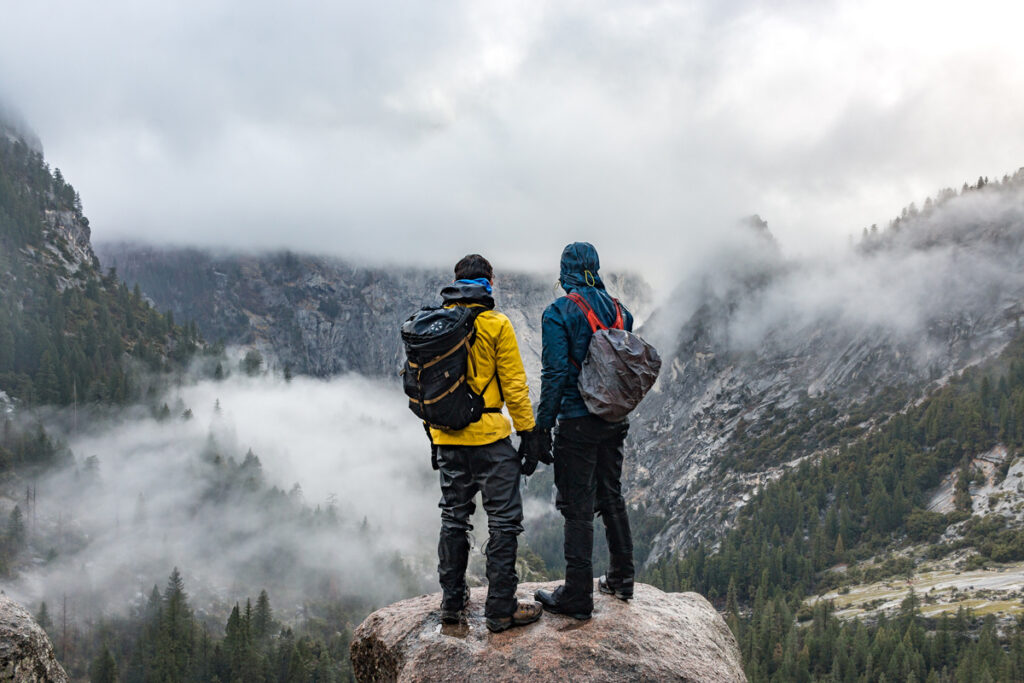 Cold
Creating a barrier between you and the ground will be the key to your comfort when sleeping outside in the cold. Ensure the sleeping pad or pads you are sleeping on have a high r-value to help protect you from the cold ground. Additionally, look for an appropriately rated sleeping bag.

Wet
Find a naturally sheltered area. Sleep in a hammock to stay off the wet ground or set up a tarp to prevent rain from falling on you while you are sleeping. Hang boots and backpack upside down from a tree to keep the inside as dry as possible.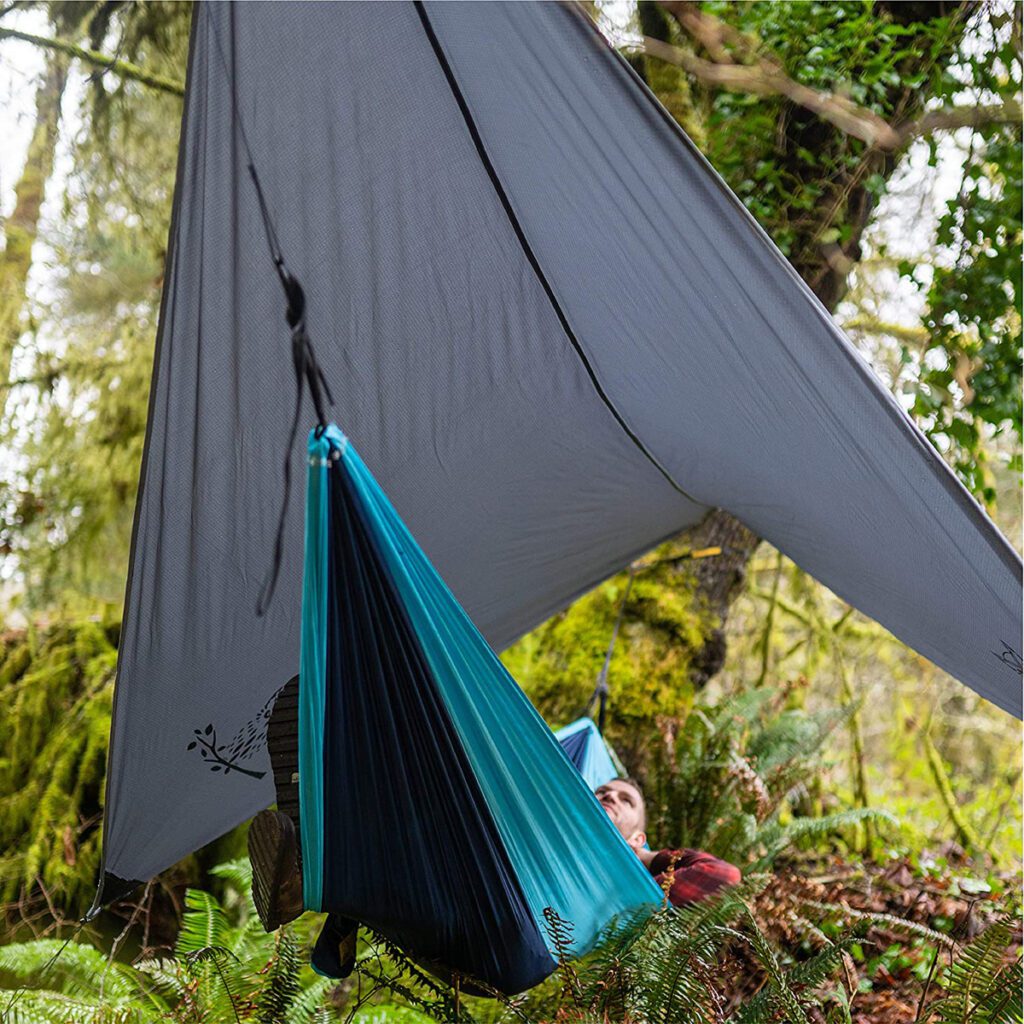 Wind
Find the direction the wind is blowing from creating a block. You can do this by setting up a tarp or finding a natural feature. If setting up a tarp, angle it down to the ground in the direction the wind is coming from and make sure it is well secured.
How Do I Protect Myself from Bugs Sleeping Outside Without A Tent?
When camping, you are sleeping in the bugs' home. Bug bites may be uncomfortable but can also spread diseases such as Zika and West Nile. Avoiding bug bites is crucial to your health and enjoyment. While you can't always avoid them, here are a few ways to try!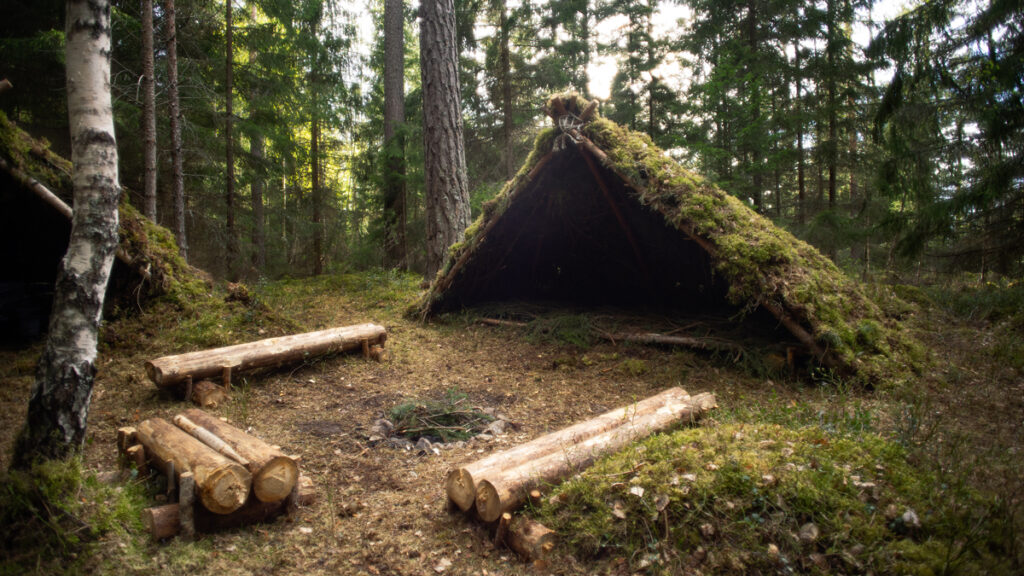 Mosquito Netting
Place mosquito netting around your sleeping area to protect you from bugs while camping. Certain setups, such as hammocks, have specific bug net systems that make set up and break down quick and easy. Be creative with your mosquito netting a design a great bug-free sleep setup.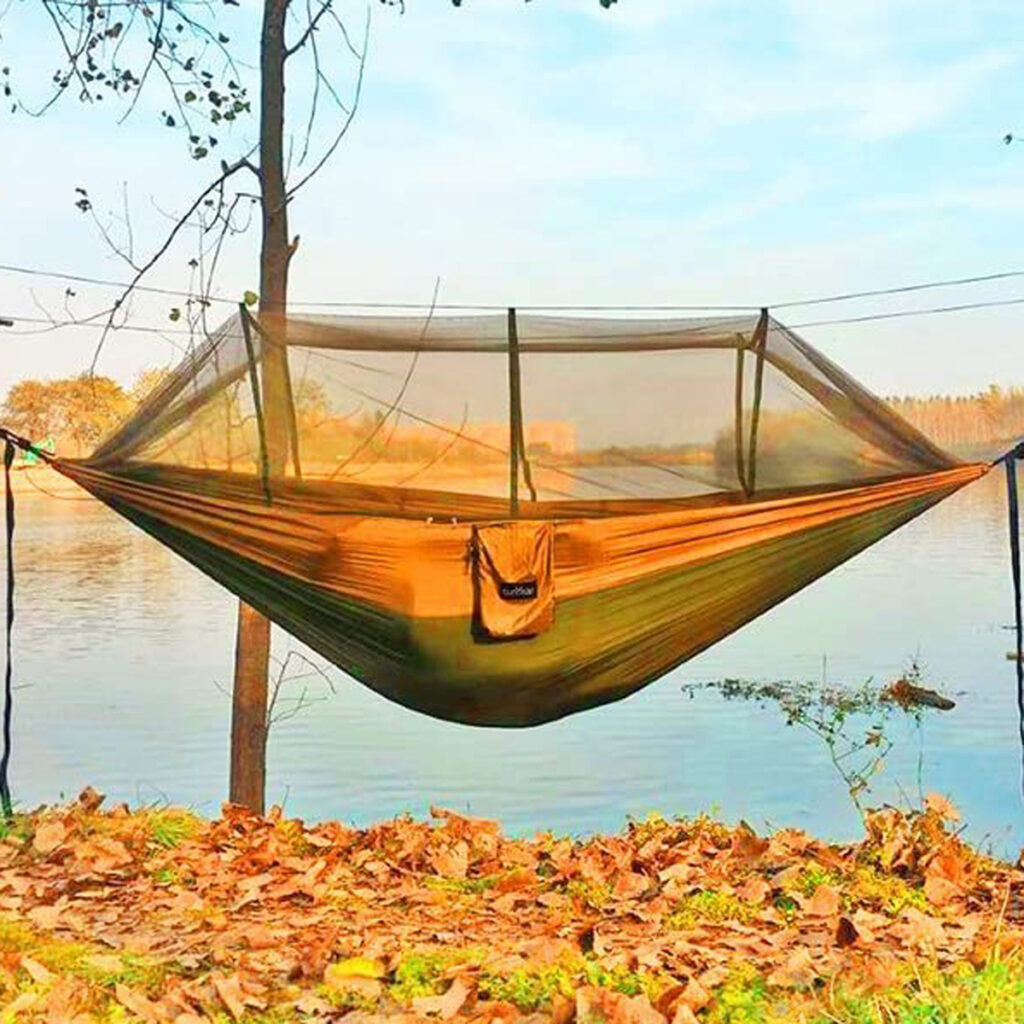 Bug Spray
Use good old-fashioned bug spray to keep the insect away. DEET insect repellents are by far the most effective. However, they are full of harsh chemicals. Bug sprays with picaridin as their active ingredient are better for their users overall.
Permethrin
Treat gear with Permethrin. Permethrin is an insecticide that, when put on clothing, repels mosquitos. You can treat clothing and gear such as boots, pants, socks, and tents or buy permethrin-treated clothing and gear.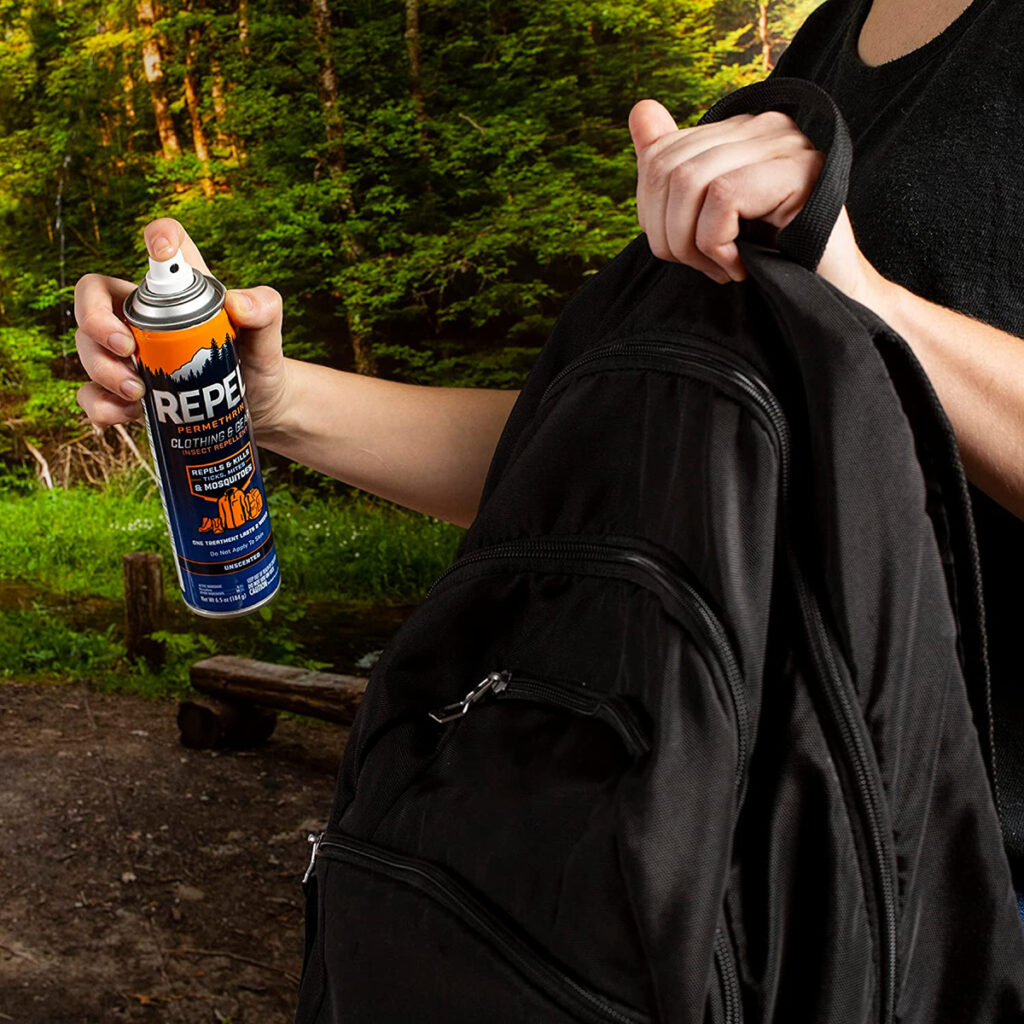 Thermacell
Enjoy a 20-foot zone of advanced mosquito protection with various rechargeable Thermacell systems. Enjoy a bug-free sleep without harmful chemicals on your skin or clothes.
Clothing
Wear long sleeves and long pants to keep bugs off your skin. Choosing thicker materials, such as wool and nylon will help prevent bits through your clothes. Additionally, wearing clothes in blue and green hues might also prevent bug bites as those are complex colors for bugs to register.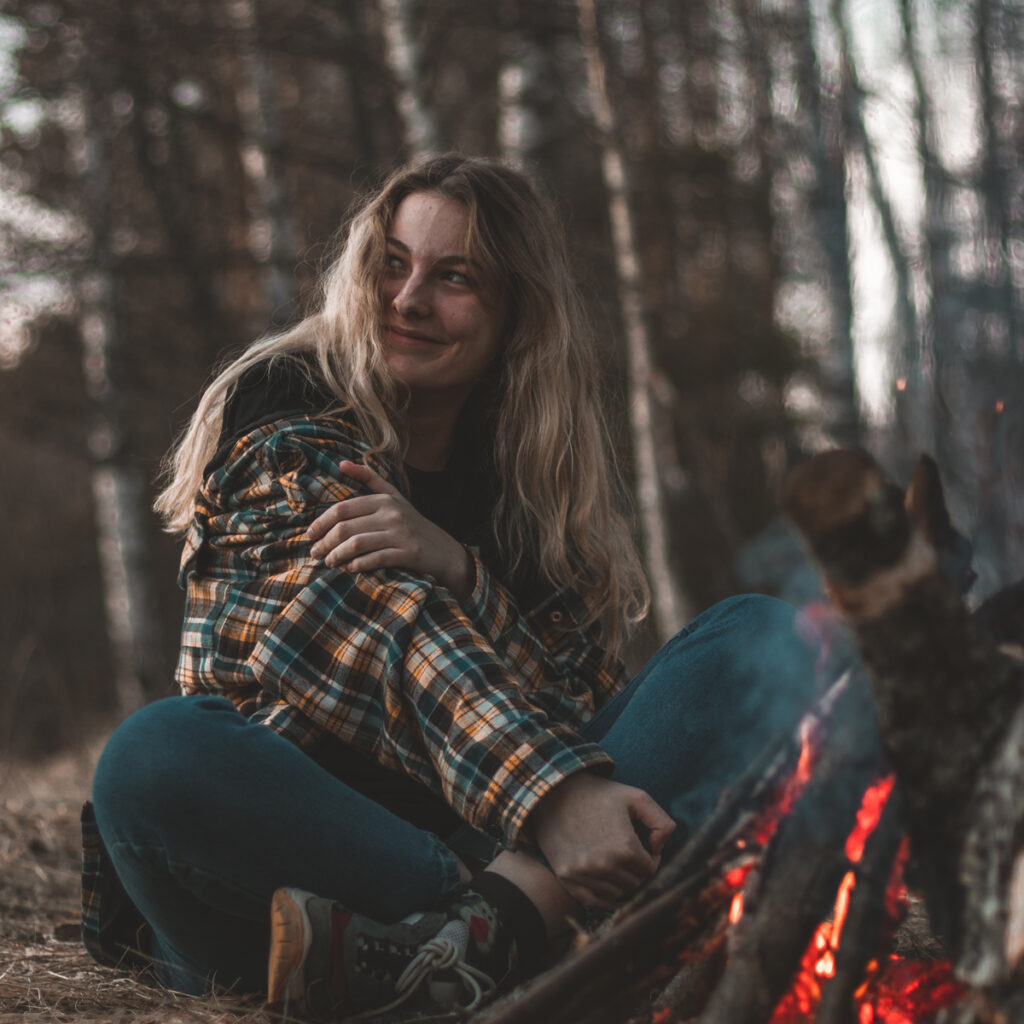 Conclusion – How To Sleep Outside Without A Tent
Without a tent, sleeping under the stars is your best bet. You can completely rough it with only a sleeping pad and bag or take shelter inside your car, a natural shelter or squeeze yourself inside a bivy.
As long as the weather permits and all safety measures are considered, sleeping outside without a tent offers alternatives that depend on available resources. It should be fun because it contributes to the adventure and brings us closer to nature.