Essential Tips for Camping in the Rain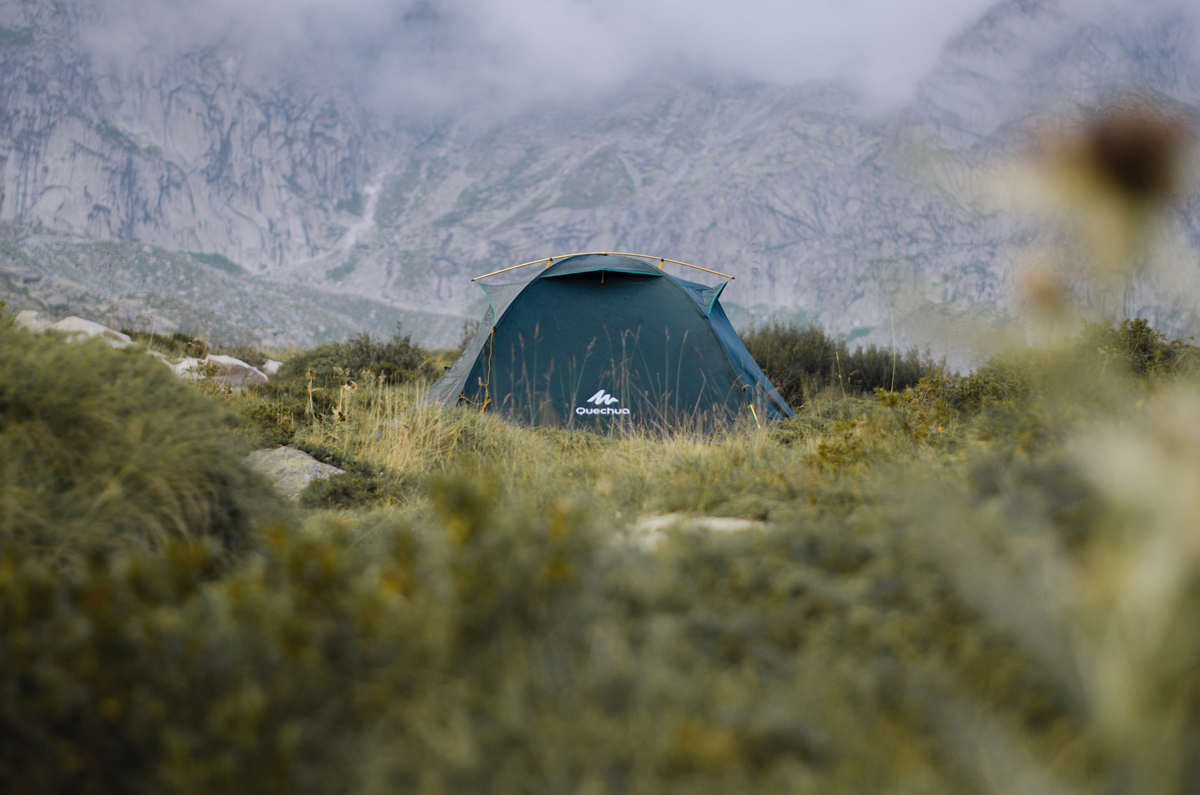 If you enjoy spending time outside and weekend holiday in nature, you'll find yourself camping in the rain at some point. Although rain might not be anyone's ideal camping condition, you can make the best of it with these 10 tips for camping in the rain.
Aside from comfort, a sleeping pad raises you off the ground a few inches. If water seeped through the floor of your tent, you and your sleeping bag should stay dry if using a thick enough sleeping pad.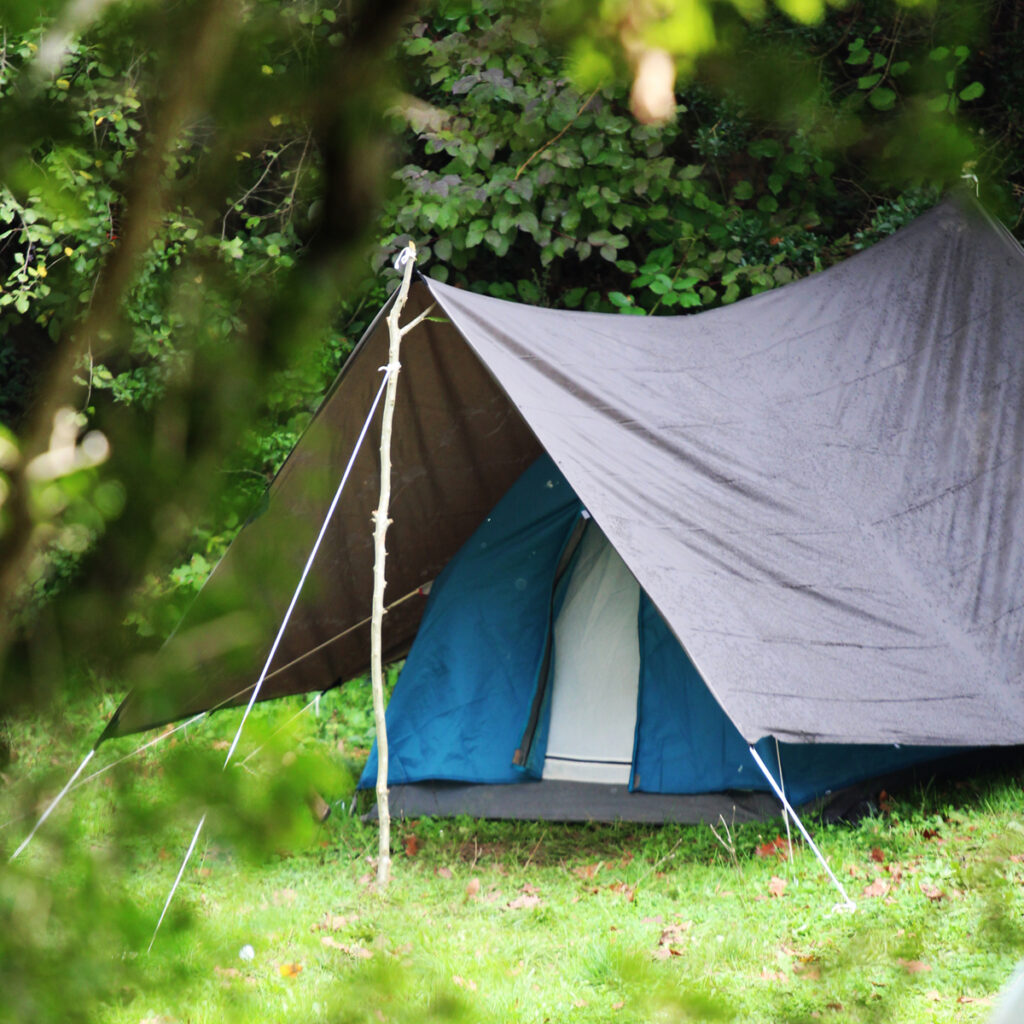 10 Tips for Camping in the Rain
Camping is a great time, no matter the conditions. Here are 10 tips for camping in the rain to ensure an epic, rain-or-shine vacation.
1. Waterproof Your Gear Before you Leave
If you haven't already waterproofed your gear for the season, take the time to rainproof your gear before you leave.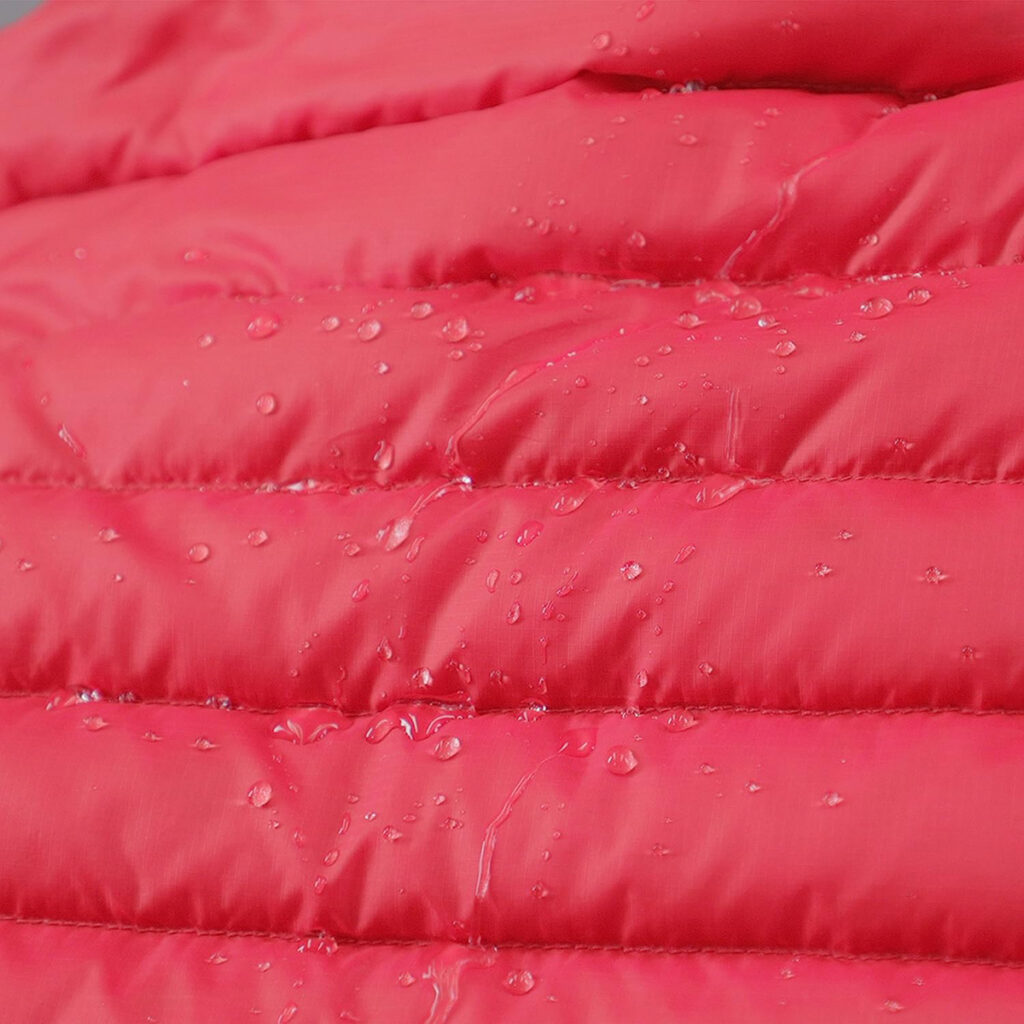 The best practice for maintaining the integrity of your waterproof gear is to wash it every 5-6 uses. This keeps the membrane clear of dirt, oil, and smoke which will block the membrane's pores, affecting its performance. After washing gear, throw it in the dryer for 20 minutes on medium-low heat to reactivate water-repellent treatments.
Regardless of how often you do this, you should wash and dry gear thoroughly before applying a spray on DWR treatment. Durable Water Repellent can be applied to tent rain flys. ground clothes, rain jackets, and more. Use a spray to ensure that only your item's exterior receives treatment, and let dry for 24 hours or more.
2. Don't forget your Rainfly or Ground Cloth
Your tent rainfly and ground cloth are essential to your comfort when camping in the rain.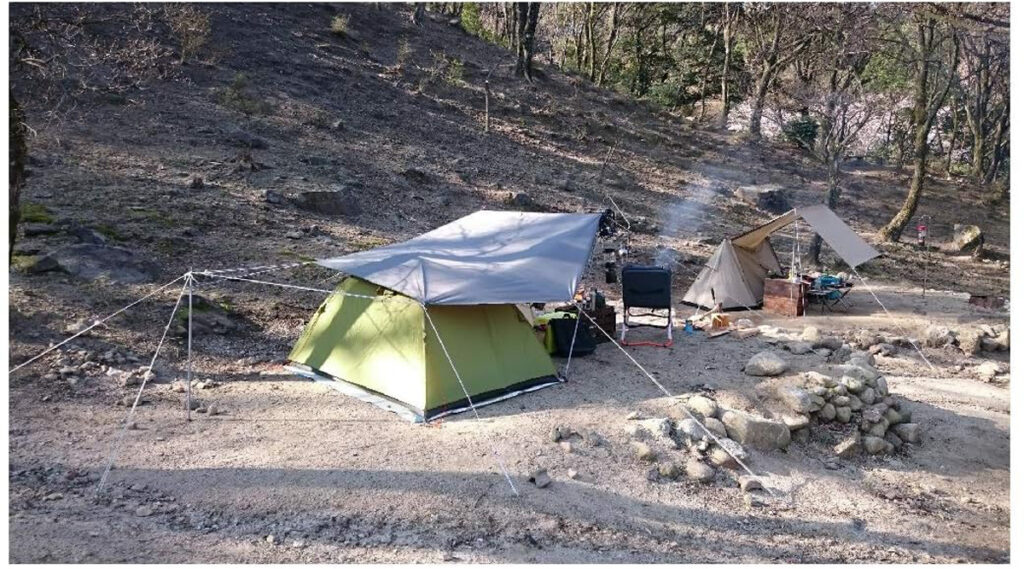 The rainfly is like a cover for your tent. It stretched over the structure to protect it from the elements. Many tents come with a rainfly that meets the specific footprint of your sleep system and rigs up to your tent structure.
A ground cloth is a waterproof sheet placed between your tent floor and the ground to protect from moisture. They're lighter and smaller than tarps and are often designed to fit your specific tent size and shape.
When used together, these two items help prevent unfortunate sleeping situations when camping in the rain. Nobody wants to take up in puddles! Please remember these two very important pieces of equipment.
3. Pitch Your Tent on High Ground
When you arrive at camp, look at your campsite and choose your tent spot wisely.
When it comes to tips for camping in the rain, pitching your tent on high ground is very important. Set your tent up for dry success by choosing the best location.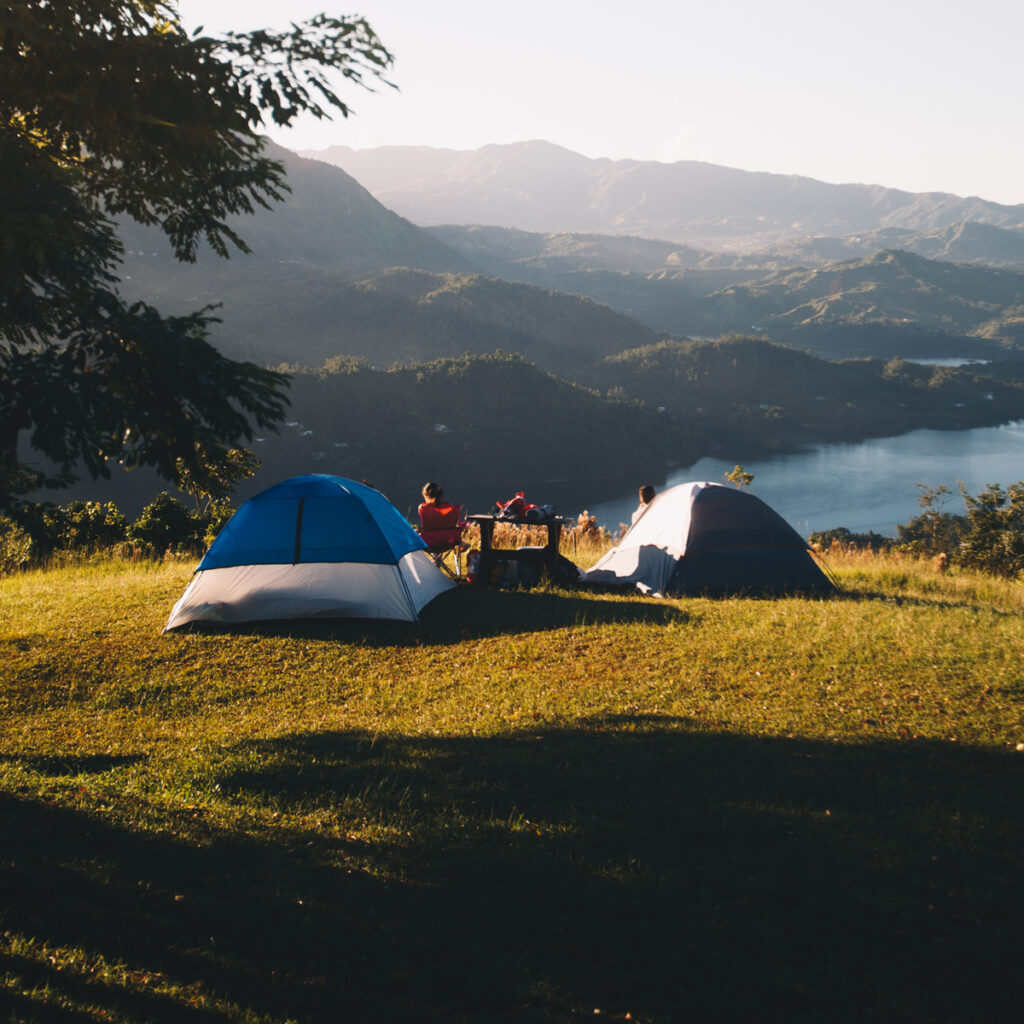 Setting up under a thick canopy of healthy tree limbs might help to keep you and your tent dry during setup. If there's no danger of falling branches, you can stay put or choose to move your tent after setup.
The best long-term location is flat ground with good drainage. Look for natural drainage routes if your campsite is at the bottom of a slope. Steer clear of these crevices in the dirt to keep your tent's floor as dry as possible.
4. Sleeping Pad
We recommend that everyone use a sleeping pad for insulation and cushion when tent camping.

KAMUI's self-inflating sleeping pad is made of water-resistant fabric and will raise you two inches off the ground. This means that both you and your sleeping pad are protected from moisture.
Additionally, KAMUI self-inflating sleeping pads can be connected horizontally and vertically with buttons. You can stack sleeping pads for additional back support and distance from the ground. If you're sharing your sleeping space with others, connect your sleeping pad horizontally to create a space where no water should seep through.
5. Bring Tarps
Tarps are great multi-purpose items to bring along to any campsite.
A tarp can usually do the trick if you're looking for sun, wind, or water protection. Bring tarps, bungee cord, and/or paracord so you can rig up your tarp however you see fit.
Hang it over your tent for additional rain protection or create a dry space for hanging out and eating dinner. Regardless of how you use it, you'll be happy to have brought it along.
If not for anything else, line your trunk with the tarp when it comes time to pack up camp so all the water can sit on top of the waterproof fabric.
6. Pack the Pop-Up
Once you bring a pop-up tent when camping, you'll never want to camp without one again.
Pop-ups make for a great reprieve when camping in the rain. A place where you can stand up, move around, and not get wet can make a huge difference in the enjoyment of your camping experience.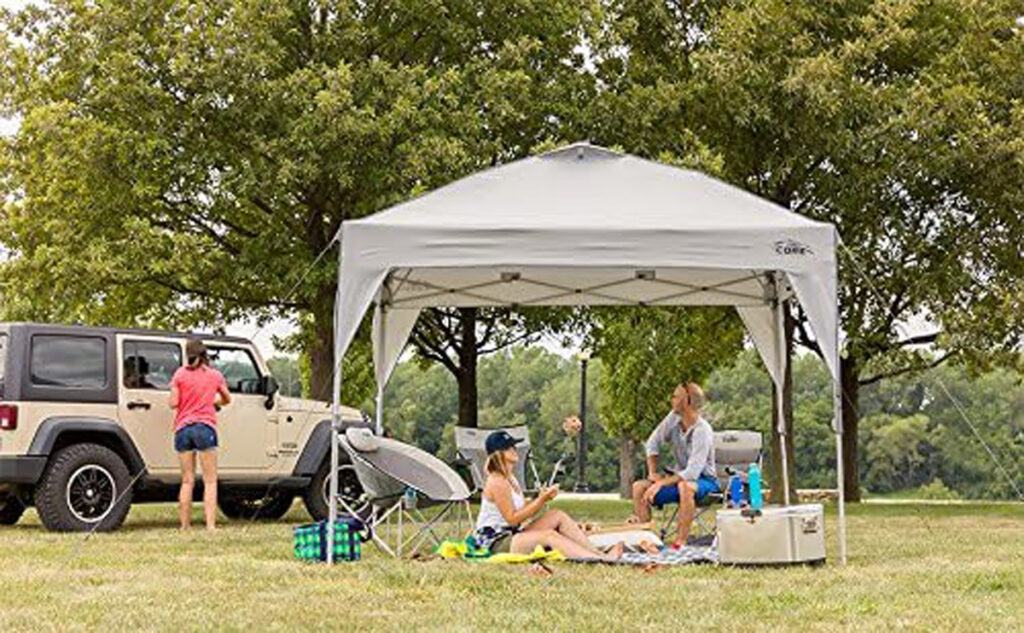 Place pop-up tents over your cooking area, create a hangout space with camp chairs and games, or place it over your sleeping tent for additional protection.
Linking multiple pop-up tents together is another great way to take advantage of dry space. Additionally, using tarps to extend the dry area to create walls is a great use of resources.
7. Stay Off the Ground with a Good Camp Chair
Anybody who enjoys camping should have a good camp chair, especially when it's raining.
When camping in the rain, you'll likely be doing a lot of sitting around. If you're going to be sitting, you might as well be dry and comfortable.
Portable camp chairs allow you to sit whenever you'd like with comfort throughout your camping trip. This is especially important when it's going to be wet, and you'll likely be spending a lot of time sitting under a dry space.
The KAMUI Camping Chair is great for its comfort, packability, and larger feet. These larger feet provide additional stability in sand and mud which you'll likely be experiencing when camping in the rain.
8. Don't Forget your Waterproof Gear
Forgetting your camping and hiking gear made for the rain would certainly make the trip less enjoyable.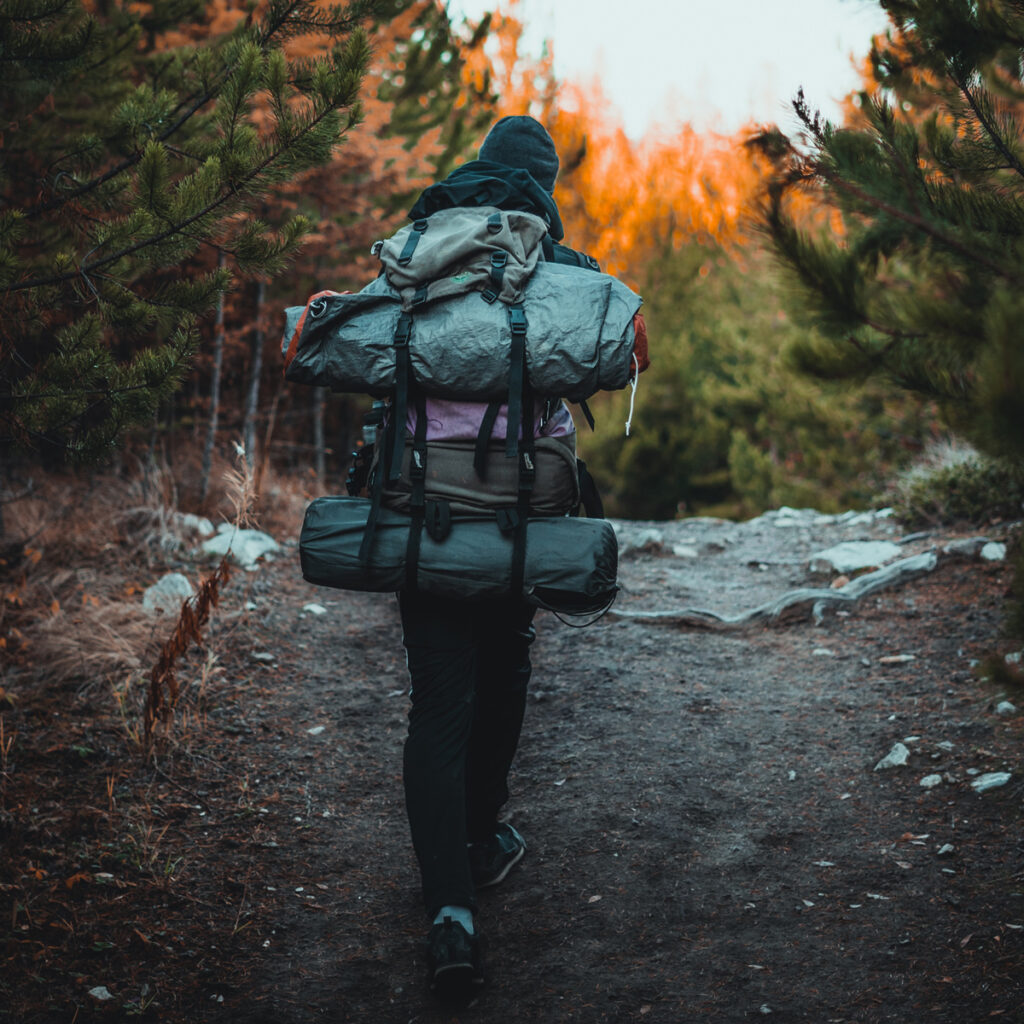 A rain jacket, rain pants, and waterproof shoes are necessary for outdoor activities in the rain. Adding a bucket hat also helps to keep the rain off your face.
Water-tight storage boxes are also great gear to invest in if you might be stuck outside in the rain. They're perfect for storing camp kitchen items and more while not in use.
Dry bags are also a great investment for outdoorsy folk. Keeping electronics, maps, and other at-risk valuables in a dry bag help to keep them dry in all kinds of weather.
9. Food that Doesn't Require Cooking
Standing outside in the rain and attempting to cook over a camp stove or a fire is pretty miserable.
If you know you'll be camping in the rain, plan on bringing food that doesn't require cooking. It's even a good idea to bring a few options on every camping trip just in case.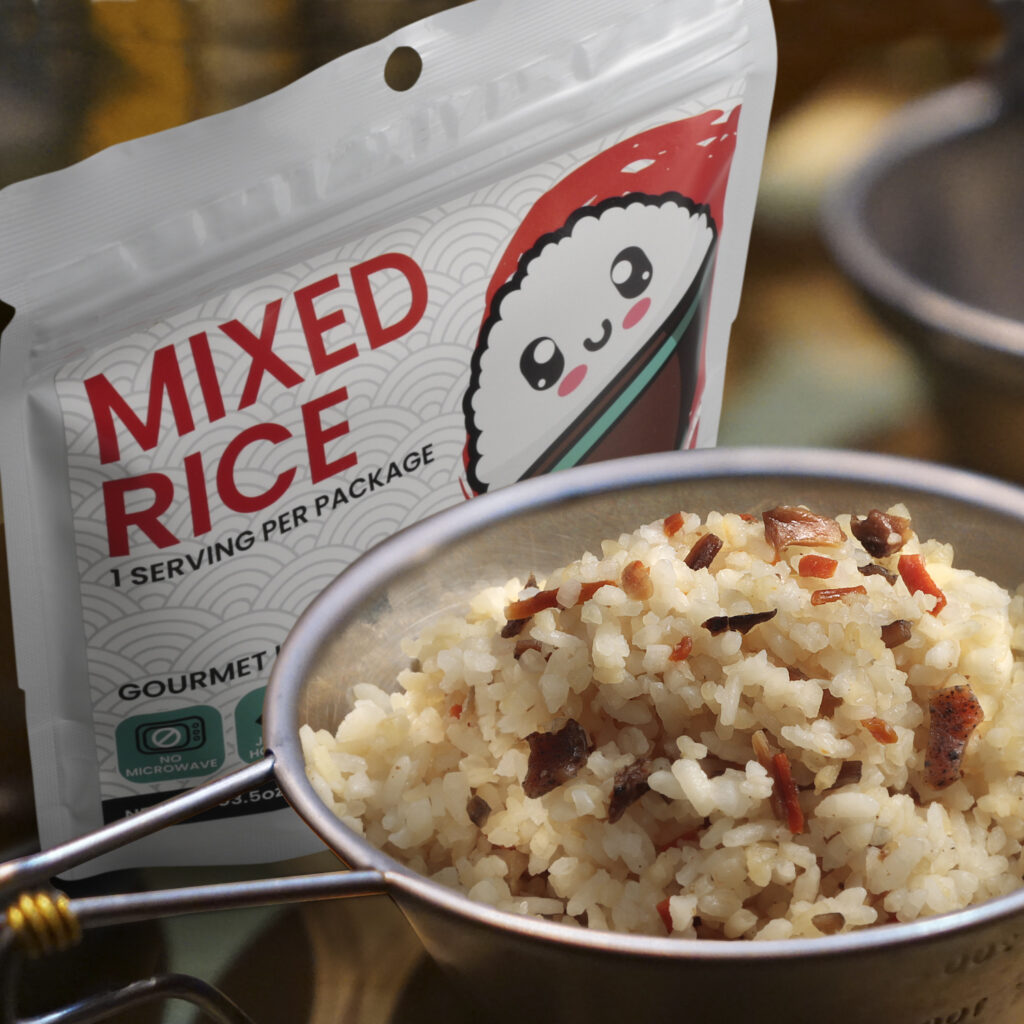 The effort to cook at camp in the rain is extensive and demoralizing. Being able to eat your meals without worrying about cooking makes the experience much easier.
KAMUI's Camping and Backpacking Food is great for camping and hiking trips. Whether consumed because of weather conditions or convenience, it is a great addition to any camping gear list. Add hot water to the pouch, and enjoy the taste of authentic Japanese food in 15 minutes. You can also use room-temperature water, but you'll have to wait around 60 minutes for the meal to rehydrate.
10. Fun Rainy Day Activities
If you go camping in the rain, chances of partaking in your normal outdoor activities are slim.
Pack fun activities you can do, rain or shine! Think of easy-to-pack, easy clean-up games that everyone can enjoy such as card games, multi-player board games, and charades-style activities.
If you are camping in the rain alone or with a partner, you may want to read, write, or create art while stuck under a rainproof shelter. Musical instruments are always a hit as well! However, I'd only recommend bringing them if you play them in a dry place.
If all else fails, embrace the rain and do some puddle hunting. With proper preparation, rainy day hiking, biking, and paddling can be a safe and enjoyable experience.
What Should I Do After Camping in the Rain?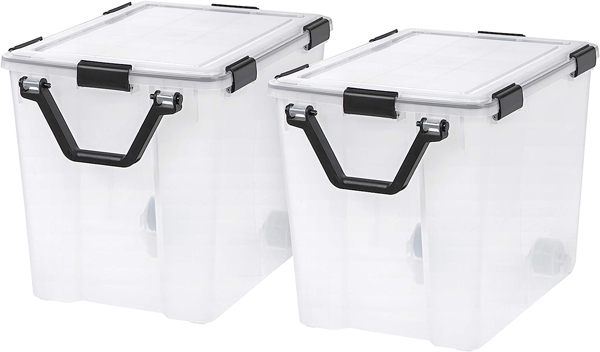 Air Out and Dry Your Gear
No matter why your gear may be wet, air out and dry it after every camping trip. This means setting up your tent to dry in the sun, a garage, or a living space and throwing other wet items over a clothesline and/or in the dryer.
Store Wet Gear in Bags for the Trip
Bring bags to store your wet gear to prevent your vehicle from smelling and becoming wet. These bags or totes can be reusable, or they can simply be repurposed clean garbage bags.
Wash Gear that Needs Washing
Some gear is going to require a wash. Whether it's because it is muddy, smelly, or otherwise dirt, throwing your gear in the washing machine after a trip is normal. You should be washing your camping gear every 5 to 6 uses to improve longevity.
Reorganize your Camping Supplies
Once everything is clean and dry, reorganize your camping supplies. Ensure everything you bring is accounted for and returned to its original location in preparation for future camping trips.
Take Notes for What You'd Do Differently
After a camping trip in the rain, take notes about what you'd do differently. Sometimes this requires planning, and other times, it requires a new gear purchase. Either way, it will allow you to be better prepared for future camping trips so that you have the best time in the outdoors.
Camp in Any Weather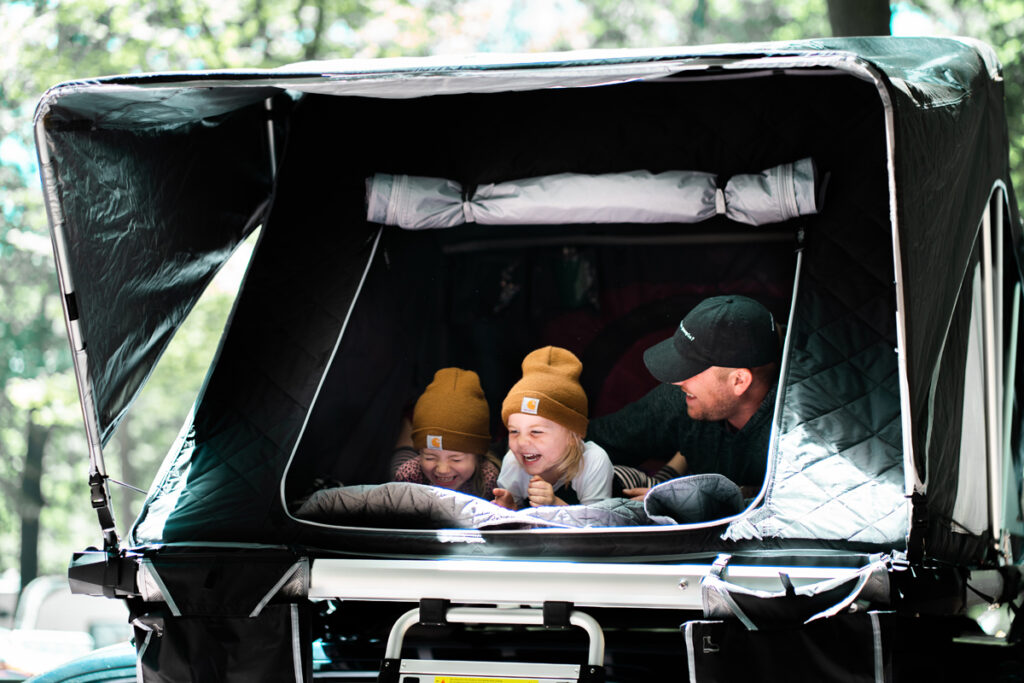 Don't let rainy days keep you from getting outdoors. You can enjoy camping in various weather conditions if you plan and prepare accordingly.
Make decisions with your safety in mind, get out there, and have an amazing time with our 10 tips for camping in the rain.