30 Most Popular Hiking Trails In US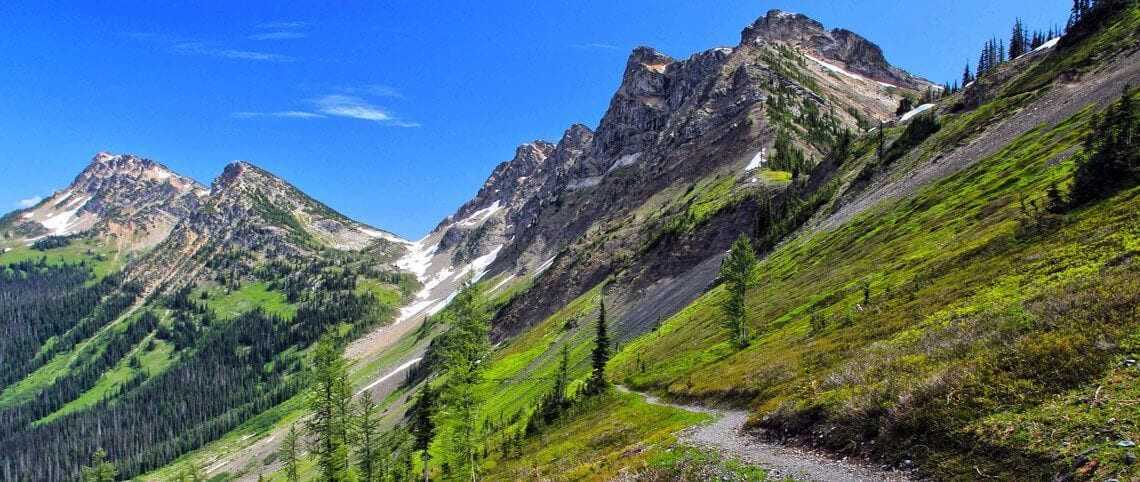 America is home to some pretty amazing hiking trails and considered some of the best in the world, and If you're looking to get a glimpse at the quintessential American landscapes, we compiled a list of 30 best hiking trails in the US. Since America is so diverse and has an amazing number of stunning landscapes, we decided to divide the list equal across the US.
10 Most Popular Hiking Trails In West US
The popular hiking trails in the western United States cover everything from short and sharp to long but satisfying, and there are landscapes and challenges there to suit every hiker from beginner to expert. Whether it's Grand Canyon hiking trails or something less obvious, there's plenty to choose from.
#10: Pacific Crest Trail
There are some trails that become so famous that they get their own movie, and that's exactly what happened with the Pacific Crest Trail. Cheryl Strayed wrote her memoir, titled Wild, which was later made into a film about her long journey on the trail that goes from the Mexican to Canadian borders. Commonly began in Spring, most hikers go from south to north and spend around five months on this amazing journey.
#9: Tahoe Rim Trail, California
Lake Tahoe is an American icon in itself, so if you're headed to the area sick of San Diego hiking trails, you can experience something a little different with the Tahoe Rim Trail. This trail will take around two weeks to complete so it's best for those with intermediate hiking skills and because it's a high ride route you'll have to give yourself time to acclimatize to the change in altitude. Once on it, though, you'll get to experience America's largest lake from a completely different view.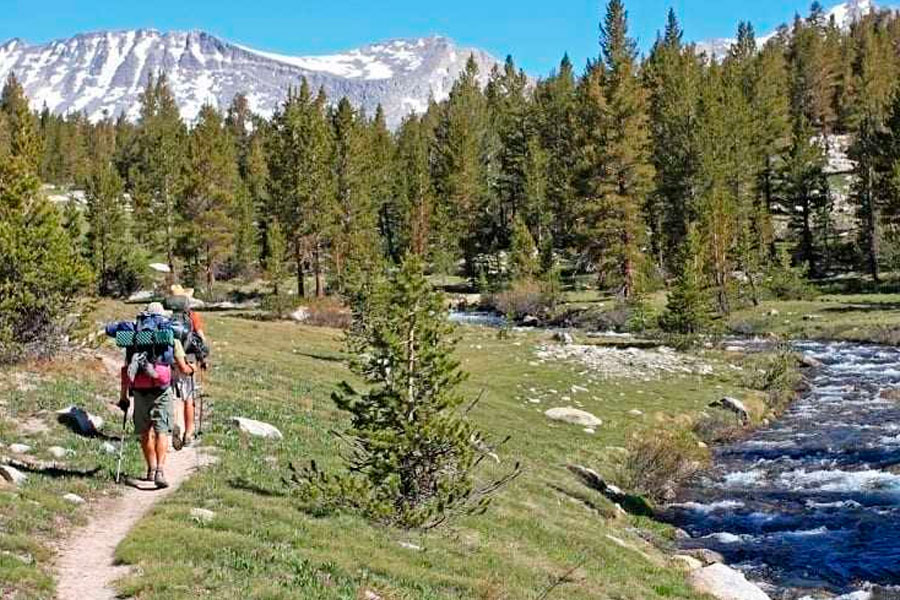 #8: Hoh River Trail, Washington
If you have a few days to spare and want to check out what a temperate rainforest looks like in the United States, the Hoh River Trail will simply amaze. It's a fairly easy trail to follow and flat for the most part so it's great for beginners who are ready for their next challenge up from a one day hike. The old growth forest is unlike anything you've seen before and you'll get a good glimpse of local wildlife like deer and elk.
#7: Simpson-Reed Trail, California
Found in the Jedidiah Smith Redwoods State Park, this amazing hike will give you an up close and personal look at the astonishing trees growing in the area. Many hikers like to pair this with a camping trip that lets them enjoy the surroundings for even longer, and it's blissful weather for a hike any time of year. The huge coastal redwoods that line the path will shock you with their stature.
#6: Barker Dam Trail, Joshua Tree
Many people travel to the Mojave Desert for a different perspective on life, and the Barker Dam Trail is one of the best ways to get it. This is a short journey that suits hikers of all skill levels and really lets you enjoy everything that this wonderful scenery has to offer. The main point of this trail is the dam which is over 100 years old and reason enough to go on the adventure.
#5: Weaver's Needle Trail, Arizona
When you're looking for a simple hike that you can take your four-legged friend along to, it has to be Weaver's Needle Trail. This 6.6-mile hike will give you a good workout and chance to see the beautiful wildflowers that grow native to the area. You can expect a bit of light traffic if you head out on the weekend which only proves just how beautiful the local landscape is on this moderate skill level trail.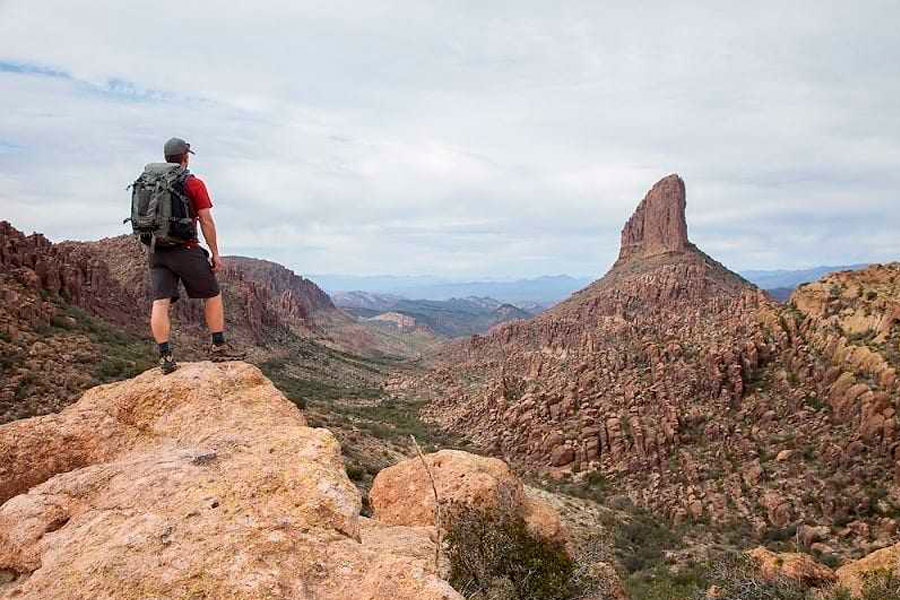 #4: John Muir Trail, California
Situated in the Sierra Nevada Mountains is the John Muir Trail, named after the famous preservationist. This is a backcountry backpack hike that shows off the mountain scenery that this country is known for. You'll need about three weeks to get it done but will likely want to spend even longer and enjoy the scenery and spend some time getting acclimatized. This trail ends at the highest peak in America, at Mount Whitney, with a staggering 14,505-foot peak.
#3: Ewoldsen Trail, California
The famous Big Sur is the long stretch of coastline that Californians know and love, and the Ewoldsen Trail is the best way to see it according to hikers. You'll only need to commit three hours to this amazing journey and will be rewarded with first-hand views of the stunning coastline and a fresh breeze on your back the entire time. The Ewoldsen Trail takes you through redwood forests, creeks, and finally to the best viewpoint of the ocean, so you'll get to see it all on this one trail.
#2: Oregon Coastal Trail
If you're a hiker to wants something a little different from your standard forest hiking trail, the Oregon Coastal Trail is the one for you. This Oregon hiking trail can take around a month to complete but in the meantime, you'll get to experience the coast like never before. Making your way primarily on the shoreline you will find native wildlife and crashing ocean sounds, as well as plenty of relaxing and idyllic places to set up camp along the way.
#1: Half Dome, California
Yosemite hiking trails really deserve a list on their own, but if we had to pick the best it would be the Half Dome trail. This trail will take around 12 hours or so for the average hiker, but you should be prepared to put in the work.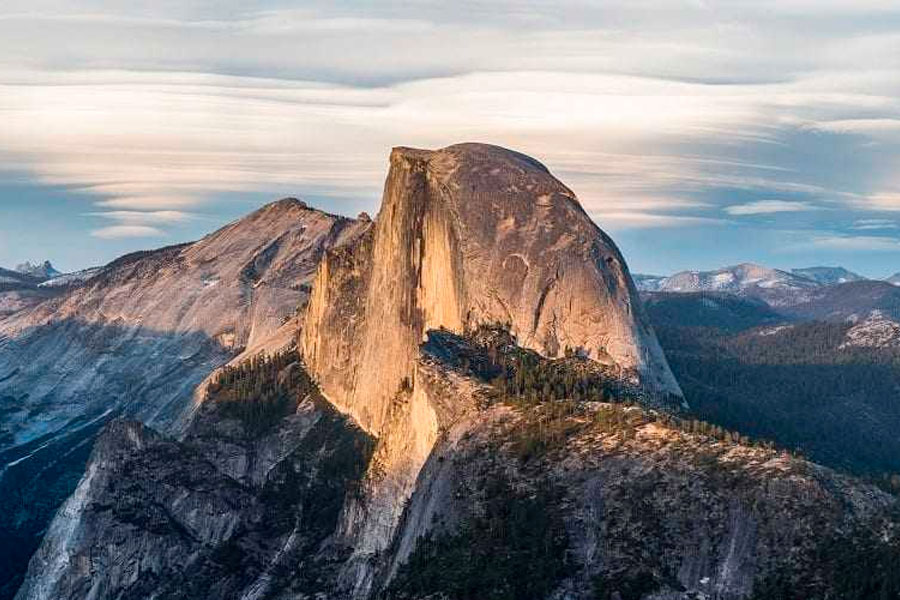 As rewarding as it is, there are hundreds of people rescued from this trail each year because they weren't up to the task. Those that are, though, will get to see a virtually untouched part of American history and ascent up the famous Half Dome cables.
10 Most Popular Hiking Trails In Central US
If you're looking to get a glimpse at the quintessential American landscape, you'll want to head straight for the center and walk any number of these beloved hiking trails on offer. With everything from the hiker's dreamland of Colorado to Arkansas hiking trails with a difference, we're counting down the 10 most popular hiking trails in Central US.
#10: Ouzel Falls, Rocky Mountains
This family-friendly hike gives you a quick glimpse at just how amazing the Rocky Moutain National Park Hiking Trails can be and might pique your interest to try something even more challenging. Spanning just three miles this amazing trail will take you to three separate waterfalls and even give you a chance to jump in and cool down if the weather is right. There are plenty of amenities including bathrooms and a ranger station if you prefer to stay close to civilization.
#9: Deer Valley Loop, Arizona
If you've ever wanted to see a cactus in the flesh then Arizona is the place to be, and more specifically so is the Deer Valley Loop hiking trail. This trail is quite short in length but the sights are truly amazing, with the best being views of a sweeping cactus forest that will blow your mind. Located in the Saguaro National Reserve, you'll see protected landmarks including Native American petroglyphs that add so much history and wonder to this trail.
#8: Porcupine Mountain, Michigan
Known as one of the more popular Michigan hiking trails, Porcupine Moutain allows you to experience some of the great lakes in the area. You'll witness everything from Carp River Valley to Lake of the Clouds on your journey with a slight change due to the change in elevation. At just four miles you can really take your time to enjoy this one and soak up the sights that Michigan wilderness has to offer.
#7: Windows Loop, Utah
Arches National Park is one of the most amazing visual sights you can witness in Central America, and a great way to see it up close and personal is on the Windows Loop hiking trail. This trail takes you right along the red rock formations and there are three sandstone landmarks to enjoy. If you're a hiker to likes to take some snaps along the way there will be plenty of chances for amazing sights and snapshot moments when you're on this short hike.
#6: Superior Hiking Trail, Minnesota
The proof is in the name for this one and the Superior Hiking Trail certainly delivers on what it promises. Situated at Lake Superior, one of the country's most beloved bodies of water, this long distance trail will take around a month to complete. However, you'll be rewarded with constant views of greatness with sweeping lake overlooks, scenic rivers, gorges, and local wildlife. This is a great spot to get a snapshot view of what Central America has to offer with a little bit of everything to see.

#5: South Rim Trail, Texas
There are plenty of great hiking trails along the Mexican border but none stand up to the South Rim Trail in Texas. Give yourself a full day to complete this one as although it's not that long it certainly can get high, reaching a peak of around 2,000 feet. This gain in elevation will be evident in your legs but you'll soon forget it once you reach the top and are rewarded with the view. You'll see the sweeping desert of Mexico like never before and it will certainly make the climb worthwhile.
#4: Yapashi Ruins Trail, New Mexico
This is an amazing hike that has a lot of history and if you're into learning more about Native American culture this is a spot you have to check out. The Yapashi Ruins were once home to an ancient people and you're still able to see how they lived with a monument that was four stories high when it was in use. The trail surrounding the area takes about two days to complete and allows you to explore the ruins in person.
#3: Colorado Trail, Colorado
Colorado is home to some stunning mountain vista views and the best way to see them all up close and personal is on the Colorado Trail. If you're looking for hiking trails near Denver or just something to take you through the mountainous state then this is a great choice. You'll need to commit about six weeks to achieve the hike but there are so many picturesque places to set up camp, just make sure you pack for colder weather.
#2: Four Pass Loop, Colorado
There are plenty of great Colorado hiking trails but the biggest and best has to be the Four Pass Loop. Located in the Maroon Bells Wilderness, you'll spend for days amongst some of the most stunning scenery you've ever seen. There are fields of wildflowers, deep and blue alpine lakes, and gushing waterfalls, so there's no shortage of views to take in over the journey. You can expect to spend four days on this hike unless you want to soak up the scenery and camp even longer.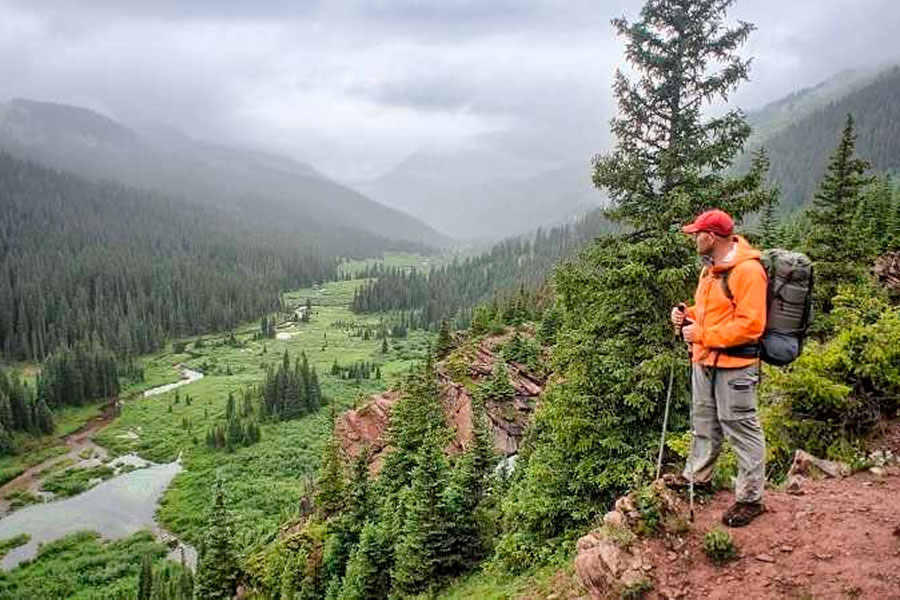 #1: Continent Divide Trail
For the most epic hiking trail in Central US, there's nothing that beats the glory of the Continent Divide Trail. This arduous hike runs between the Mexican and Canadian borders and if you want to complete the whole thing you'll have to give yourself around seven months to do so. You'll witness the rugged backcountry of five different states so it will give you more than you need and will take you through such landmarks as the Rocky Mountains and Yellowstone National Park.
10 Most Popular Hiking Trails In East US
The Eastern United States is home to some truly spectacular landscapes and what better way to discover them than with a good hike?
If you're wondering where exactly the best hiking trails near NYC are or where you can find hiking trails in Georgia, this is the place to be. We're counting down the 10 most popular hiking trails in the Eastern part of the nation for you to get out and enjoy.
#10: Jack's River Trail, Georgia
As one of the more remote parts of the east but nonetheless spectacular to hike, you'll find not too many people know about Jack's River Trail. This trail is part of the Cohutta Wilderness in Georgia and will give you a glimpse at some amazing waterfalls and babbling brooks. At only 16 miles long you can get this one done in a day or camp overnight and really soak it up.
#9: The Long Trail, Vermont
If you want a hiking trail that offers a piece of history and a bit of alone time, the Long Trail is the one for you. Known as the oldest hiking trail in the US, there's the perfect mix of rugged terrain and calming flat landscapes, and you'll also cross over the Appalachian Trail. Give yourself a month to complete this one and do so in the fall for absolutely spectacular views of the foliage.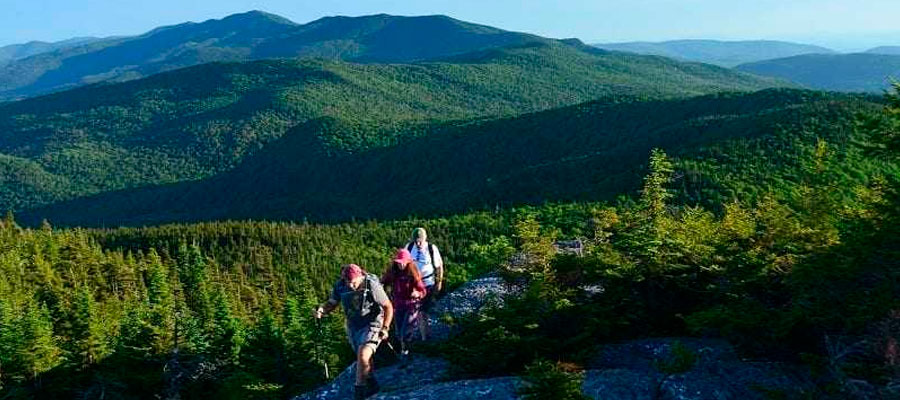 #8: Ocean Trail, Maine
For those hikers who love nothing more than a picturesque look at the ocean as they hike, you'll want to check out Maine's Ocean Trail. This trail is perfect for hikers of all skill levels and you might even want to bring the kids along too. You'll witness views of the ocean as well as hidden coves along the way. If you like to tie in some rock climbing with your hike, this is the spot to do it.
#7: Santa Rosa Ocean Beach Hike, Florida
People are too quick to dismiss Florida hiking trails but there are so many gems to be found there. Santa Rosa Ocean Beach Hike is a lighthearted hike that your entire family can enjoy and it'll give you a history lesson the process. With trails that lead to Fort Pickens, which was built in 1934, and make your way along an ocean beach for a hike with a difference.
#6: Bushkill Falls, Pennsylvania
It's the state that's covered almost completely by mountains which makes it ideal for hikers, but if you seem to be chasing waterfalls when you go out into the wilderness then you won't want to miss this. As one of the most scenic hiking trails in PA and America, you'll get to see eight different waterfalls and even spend some time camping in the area to truly appreciate everything it has to offer.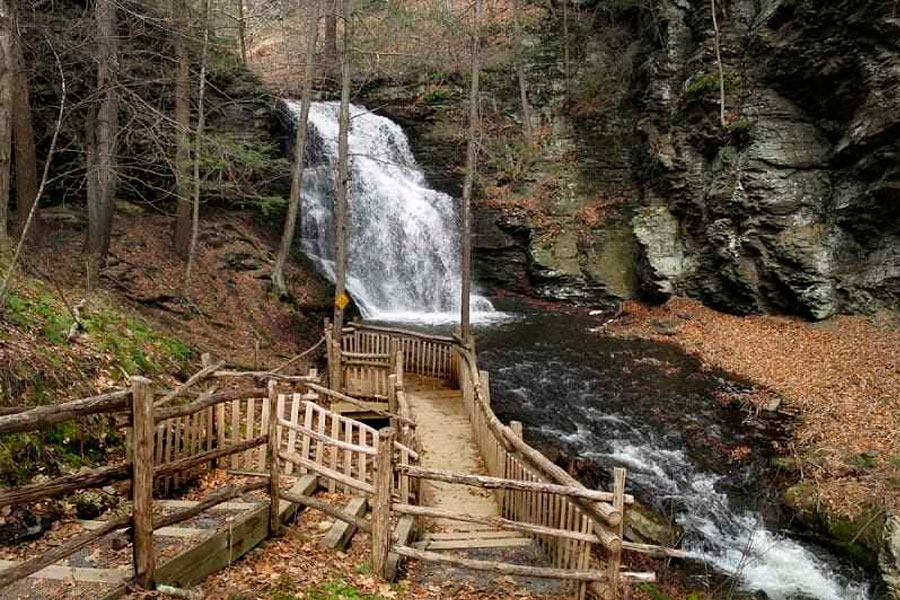 #5: Mount Cammerer Trail, Great Smoky Mountains
There are over 800 trails in the park alone but the Mount Cammerer Trail in the Great Smoky Mountains always comes up as a favorite. Taking about six or seven hours to complete you'll need to be experienced enough to tackle it as they contain some of the highest peaks in the USA. There are mountaintop meadows, babbling streams, hardwood forests, and amazing wildflowers, giving all of your senses a delight.
#4: Presidential Traverse, New Hampshire
This is a serious trail only intended for the physically fit and mentally strong, totaling around 23 miles but with a whole lot of elevation along the way. As one of the highest peaks in New England, the Presidential Traverse hike in the White Mountains has a gain of nearly 9,000 feet. This could be considered high altitude hiking for some so you'll need to be prepared and ready for the fact that most of the path is above the tree line. You'll be rewarded with a sky-high landscape view of this amazing part of the country, so it's worth the challenge.
#3: Rocky Top Trail, Tennessee
Rocky Top Trail is another trail that has some history behind it and it's said to be where the University of Tennessee's fight song was penned. You'll see why it represents a rough and ready attitude though as it's seriously strenuous and has quite a bit of elevation to gain. Once at the top, you'll have a 360-degree view of your surroundings which include lakes, coves, and fields that make up the gorgeous area of Tennessee. Be warned, the trail can get a little busy during peak season so be prepared to share the view.
#2: Art Loeb Trail, North Carolina
This trail was made as a tribute to a local mountaineer who loved the area, and it's a trail that's been designed for fellow mountain lovers. With 30 miles to cover you should prepare yourself for a bit of a hike but you'll get to witness some spectacular local wildlife and flora along the way as you make yourself to the summit. There are plenty of places to stop and enjoy the panoramic views and you can set up camp when you find somewhere particularly pleasing, just be warned this trail is best suited to those with plenty of experience.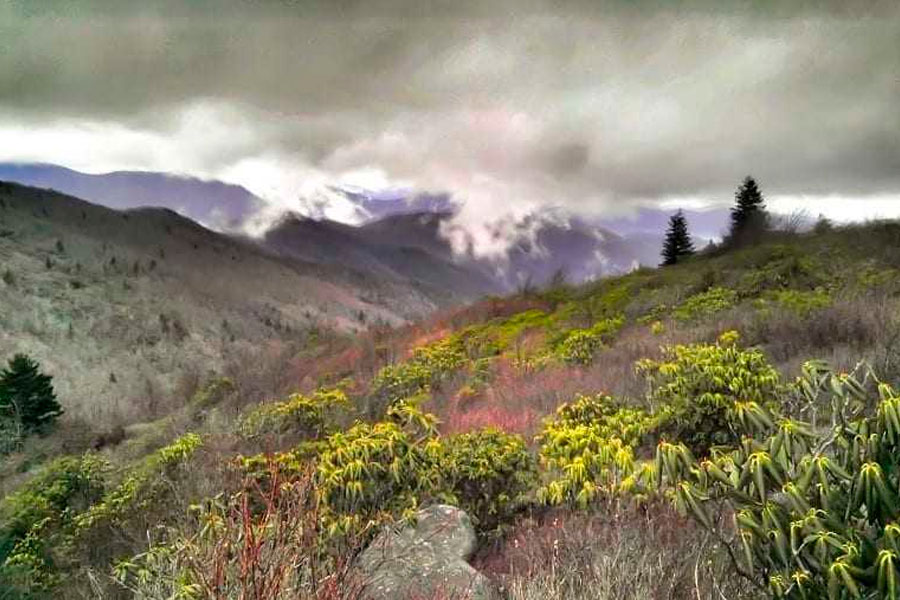 #1: Appalachian Trail
By far the biggest and best trail that Eastern US has to offer is the Appalachian trail and if you have a spare six months or so you might be able to complete it. This is a trail on every hiker's wish list and once you get started on it you'll see why. You'll make your way through 14 states and witness everything from Mount Khatadin in Maine to Shenandoah National Park in Virginia, giving you a glimpse at life on the east coast.
Resources: