How to Solve Your Tent Sleeping Problems with a Tent Blanket?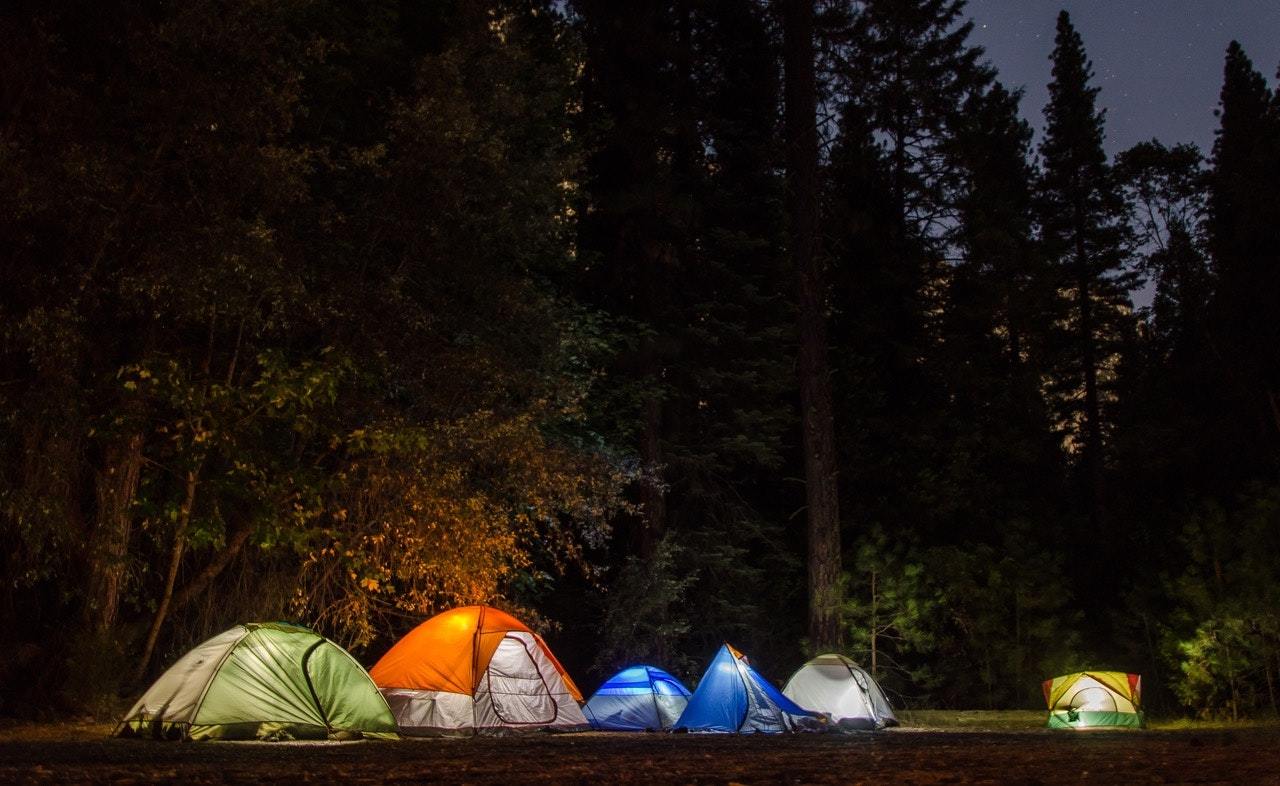 Are you planning on sleeping in your tent while it's cold outside? Then you need to understand how to use a tent blanket.
A tent blanket is there for many reasons and is one of the few very versatile items on your outdoor gear list. Bring it with you for your next camping trip, and you will see why! The picnic blanket has many uses, from sitting mat to tent rug, extra cover, or even tent doormat,
In this article, we will tell you how to use your tent blanket and why you need to bring it with you, exploring the pros, cons, and frequently asked questions about this amazing outdoor addition.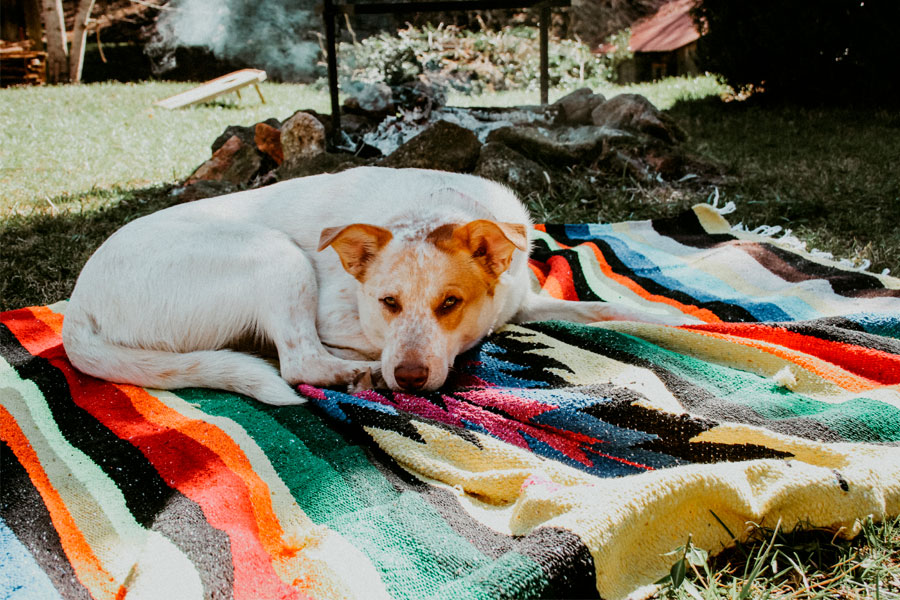 How to Use a Tent Blanket?
One of the things you must not forget while planning your outing is your tent blanket. That's why we have prepared some tips to tell you why this is the case. Next up are our tips on using a tent blanket and solving your tent sleeping problems with it.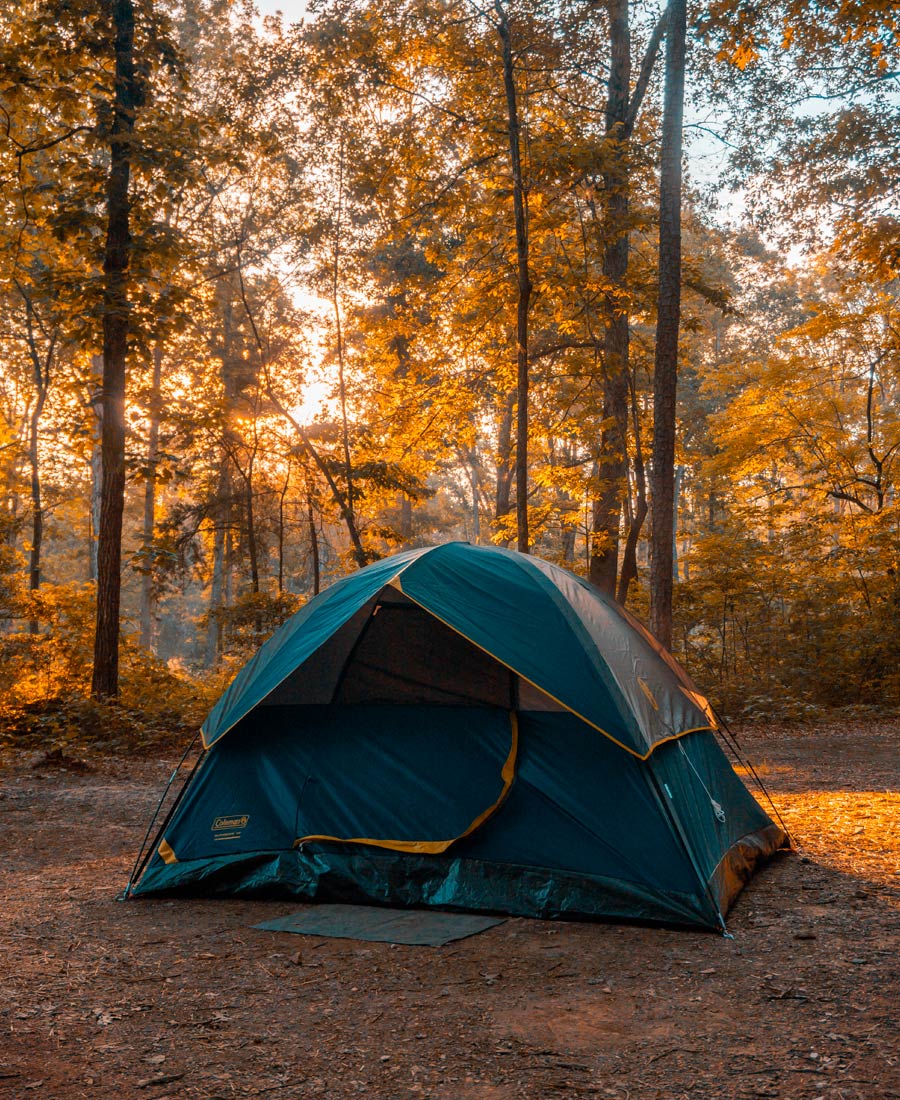 Tip #1: Use It as a Tent Rug
This isn't just another piece of gear you need to carry with you and never use. On the contrary, a having a tent carpet is important in some situations, to be used in this way: Put the blanket inside the tent and use as ground blanket on the tent footprint.
The way you can use it is to spread it across the whole tent footprint, inside of the tent. The camping blanket or tent rug can make a significant difference in the way you camp and the way you sleep during the same camping.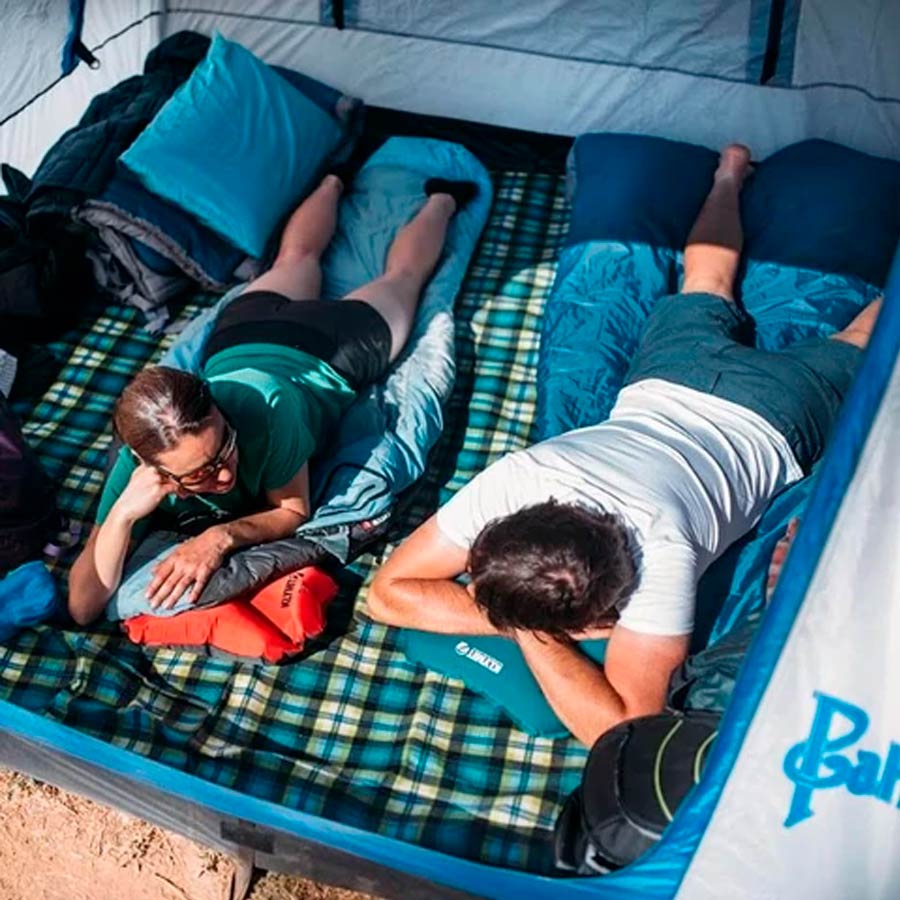 Here is why we bring our outdoor blanket with us, and use it inside of the tent, on the floor as a tent rug or tent carpet:
Insulation – An extra layer of fleece will give you more heat retention and a snuggly feeling when you enter your tent. But that's not all – use it to insulate your sleeping pad from the cold ground.
Comfort – Offer comfort to your kids and pets when they're sitting inside of the tent, with a cushioning layer for their seating.
Water-resistance – Some picnic blankets have a waterproof layer on their bottom, and if you place this layer on top of your tent footprint it will give you maximum protection from the wet ground.
This means, regardless of we're talking about parents, pet-owners, or cold-weather campers, using your camping blanket as a rug is a great idea if you're into an extra layer of insulation, water resistance, and cushioning.
Tip #2: Use It as a Sleeping Bag Cover
You can use your blanket as a cover for your sleeping bag. You can do this to maximize insulation and keep your feet hot during the whole night.
Do this as a part of your sleeping routine: Get into your sleeping bag and close the zipper on the side. Then proceed to take your tent blanket and place it over your sleeping bag. You can cover only a part of your body, like the feet or your back to get some extra insulation in that part.
Some people use quilts, but a tent blanket can serve as an extra cover if you're trying to camp on a budget. This doesn't have to be a camping blanket, but a throw blanket as well, anything you can use as a sleeping bag liner.
Quilts and blankets offer you an insulation notion when you're looking for something light, using up less space and less restriction. Never forget that a blanket can not replace a sleeping bag, and always bring your sleeping pad with you when camping. Blankets can only increase your sleeping bag's temperature rating by a few degrees.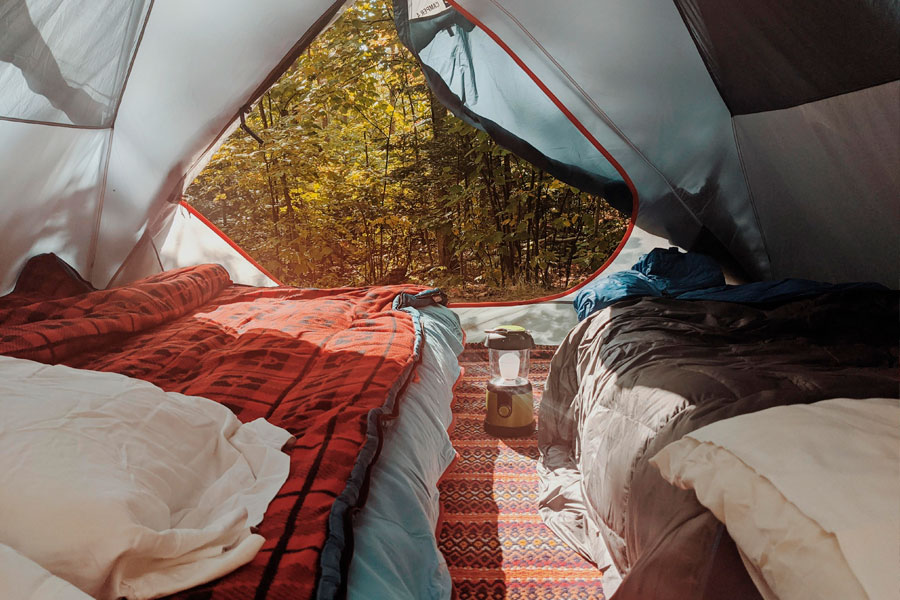 We definitely would not recommend using your camping blanket as a sleeping bag, because sleeping bags do have temperature ratings and offer insulation to your whole body. Unlike blankets, which only offer insulation to one side of your body, not including your feet or head.
Regardless, we do encourage you to use your tent blanket as an extra insulation layer or cover when sleeping inside your tent. Of course, this is not always, only when needed.
Tip #3: Use It as a Tent Doormat
A strategically placed camping blanket will help you keep your tent clean and tidy. If you choose to use your fireproof camping blanket as a tent doormat, here are the pros:
Waterproof – Some outdoor blankets have a waterproof backing, which you can use to keep moisture away from your tent. But, don't forget that your tent should also have a no-shoes inside rule.
Clean – When taking your shoes off on the blanket and inside of the tent, the blanket keeps your sleeping space clean.
Foldable – Is your blanket too big? No problem, fold it in half and use it as a doormat.
Can be used for seating – Just like the intended use of your blanket is, you can use it as a seat in front of your tent. Or even better, if you have a big tent, use it to cover the ground in your vestibule.
The purpose of a doormat is to be used as a shoe cleaning location, you can bend this rule and use it as a no-shoe entrance domain. It can help you keep your tent clean and as a seating location for both your family and your pets. This technique will achieve a homely feeling when camping, so using your tent tarp is something we strongly encourage on your next camping trip.
Our Choice: The KAMUI Outdoor Blanket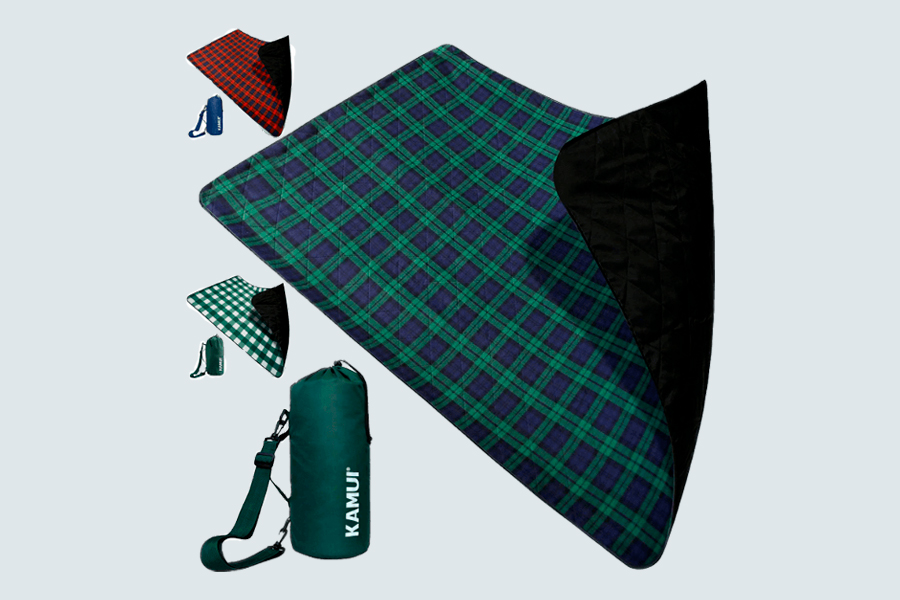 A blanket we love to use when going on a camping trip is the KAMUI outdoor blanket. We use it as a picnic blanket, for eating, extra covers, and all the reasons stated in this article. Here are some of the other reasons why the KAMUI outdoor blanket is our favorite choice:
Large size for seating 2 to 4 people
Carry bag for easy transportation
Easy cleaning due to machine-washable fabric
No moisture with waterproof backing
Multipurpose since it can be used for virtually any outdoor activity
FAQ
What can I put on my tent floor?
You can put a tent rug or outdoor blanket as extra insulation on your tent floor, and not to make it more comfortable with the fluffy blanket, but also to serve as a waterproof and insulating layer too. 
Are cotton blankets good for camping?
Yes, throw blankets can be used and an extra camping blanket. But, you should be aware that while they serve okay as insulation, are not as water-repelling and up for the job as an outdoor blanket, built for these conditions.
What are good blankets for camping?
Good camping blankets are the ones made for the outdoors, you can read more about this in our What makes a good picnic blanket article.
Do you need a blanket with a sleeping bag camping?
No, if the temperature asks for it, you should add a blanket to your sleeping bag. It's not mandatory!
Conclusion
Camping in any kind of weather is full of numerous adventures, and why should a little cold air be the end to this? But, if you want to camp with fewer crowds and bugs, but with the possibility to experience a beautiful autumn sunrise, why not head out during the low season? We understand that you might feel a little put-off if it's cold, but with the right insulation and preparation, it can go according to plan. We also talk about winter activities and how to keep your tent warm in this article.
In this article, we talked about tent blankets and how to use them, what they're best for and why to bring them with you on your next camping adventure. We hope our tent blanket article helped you with sorting out whether you need your blanket with you.
KAMUI Outdoor Blanket
Waterproof
Carrier bag included - portable
For 2 - 4 people
Machine washable