Winter Camping Alternatives: Exciting Indoor Activities for Every Family This Winter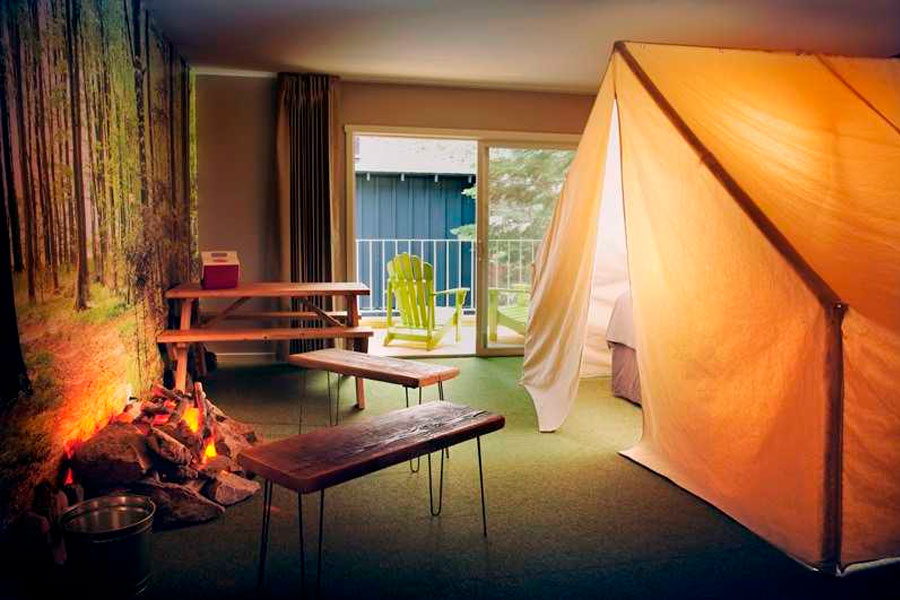 If you're among the millions of Americans who love to get into the wilderness for some camping, you probably dread when the winter months roll around and you can't seem to find any nice activities for your family. When camping outside isn't an option most of us are looking for winter camping alternatives.
For those families who feel as though they're sitting around on the weekend and waiting for the warmer months to come, there's no need to be bored and feel that you're missing out on camping just because it's too cold. In this article, we will help you with finding the right alternatives and new ideas for activities, that will keep you entertained.
We've come up with a few fun activities you can do during winter, that make great alternatives to winter camping, so the whole family can enjoy themselves while it's too cold to go outside. Here are our favorite ideas that we take part in during the cold winter months: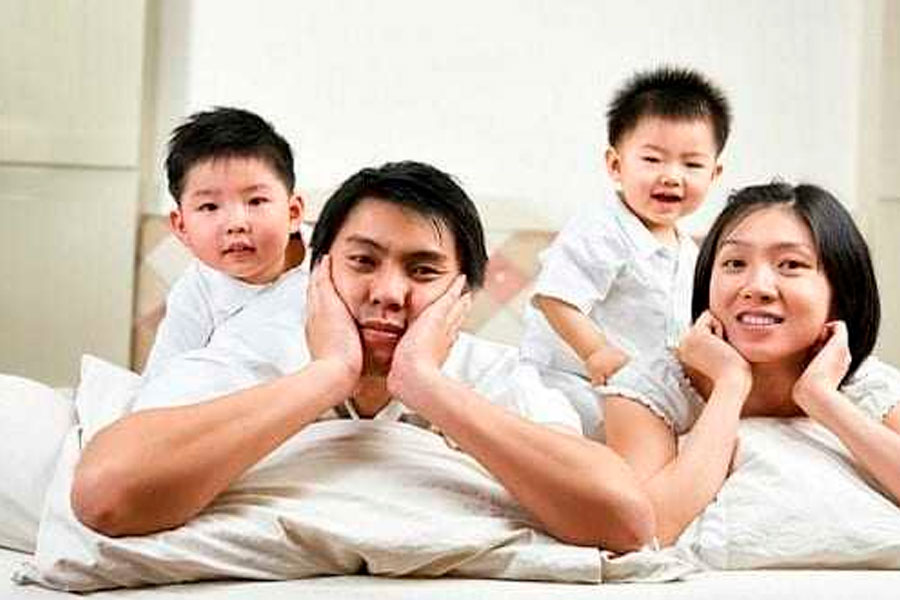 Board Game Night
There's nothing more entertaining than getting some old board games out of the closet, dusting them off, and getting the whole family to sit around the table. Next up is board game night! This can be a great way to have fun indoors, while it's simply too cold outside to go camping or do anything for that matter. It can be an excellent way to distract yourselves with something enjoyable and each other's company.
Depending on the age of your children or other members of the family, there are several board games you can choose from. Here are our ideas:
Monopoly
Guess who
Connect 4
Scrabble
Ludo
Snakes and ladders
Chess
Cluego
If you're looking for a camp-like feeling, use your camping chairs to set up camp. Place the chairs around a table, to give it the feeling that you're camping outside, and maybe consider playing in the light of a camp lantern, if you're looking for an authentic outdoor feeling.
Card Games
Just like board games, if you're used to camping with an extra deck of cards and using it as a pass-time, go with it. The goal is to recreate an indoor camping evening, like the one you would have outdoors. It will both make your kids excited for summer and keep them interested in camping.In addition, if you haven't so far added playing cards to your camping checklist, make sure to do so. They are small and light but offer an array of possibilities to be used for different types of games. Here is what we use them for:
Solitaire
Uno
Rummy
Poker
Spades
Crazy eights
Patience
Go fish
War
Telling Stories
If you love talking next to the campfire with your family, and if you're used to telling stories in camp, then this is a must activity for you. During winter, when it's cold, you can't find a way to bond like you do when camping. This is why you can try one of our winter camping alternatives, or storytelling.
It's pretty self-explanatory, add a camp lantern in the middle of a circle made out of camping chairs and let everyone choose their place. Once seated, start with a story for each person. Make sure the stories are not too scary for the smallest ones and let everyone tell their ideas.
Stargazing
If it's too cold to venture out overnight but you're still looking for some crisp, fresh winter air, why not plan a little outing to the backyard? Winter is one of the best times to get a clear sky and indulge in some stargazing and it's the perfect activity to include your kids in too.
Star watching can be fun and educational, so take this chance to teach your children about the wonders of the galaxy. You can take your camping tarps and floor mats out, and set them up in the backyard, ensuring that you're warm enough to protect yourselves. If you find that it's getting too cold, you can easily head back indoors to warm up.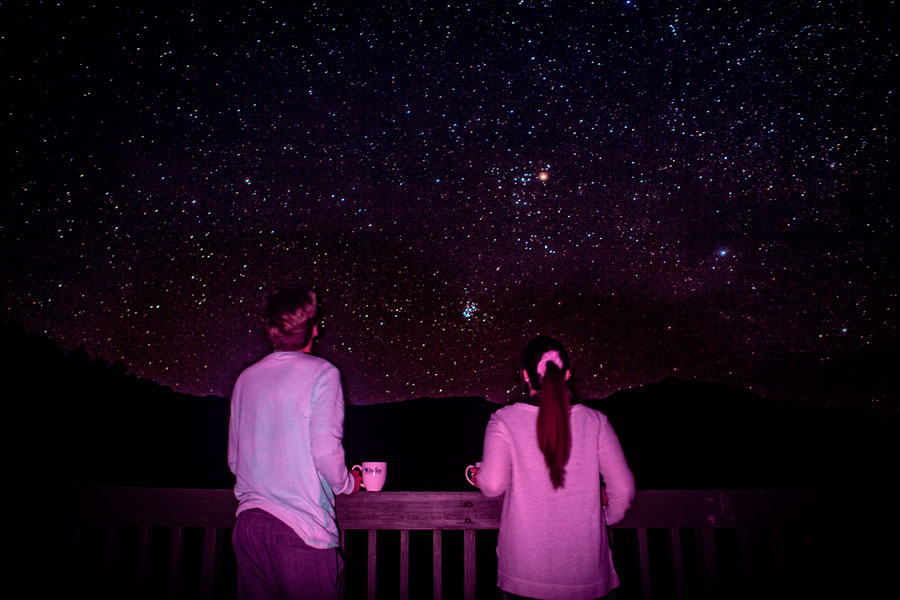 Camping In Your Own Home
If you're really in the mood to camp but don't like cold fingers, why not set up a campsite in your living room? This is a super fun way to do all of the things you like, without having to get too cold. This will make your family look forward to camping in the summer, and let them make some great memories with you.
This activity isn't just a time-saver, but a budget activity too. Everyone remembers when they were children, they would set up a blanket fort in their living room. This is similar, just with an actual tent. In the next heading, we will cover how to camp indoors as a winter camping alternative.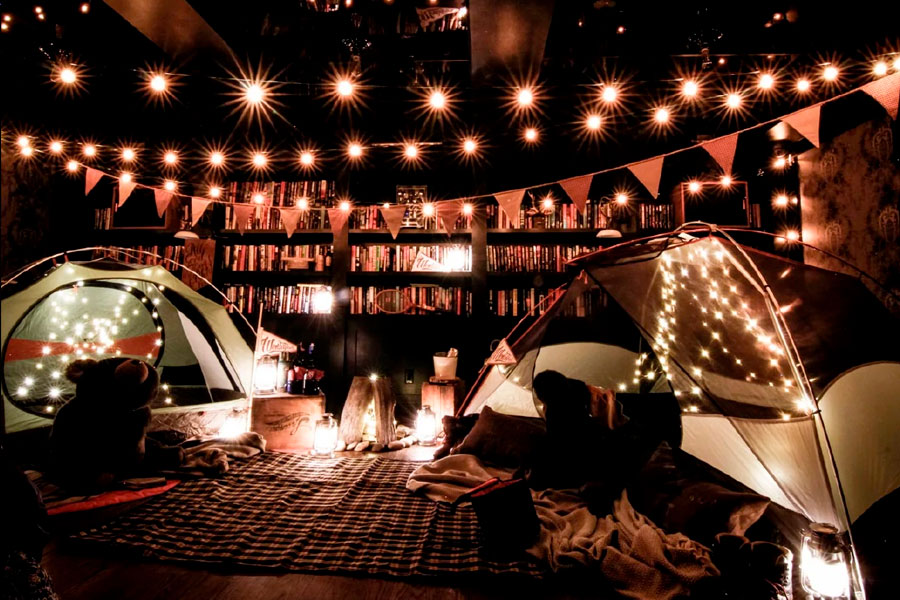 How to Camp Indoors
Here are the few easy steps to indoor camp:
Remove furniture and make some space: This activity takes up quite a bit of space and making sure you have enough is substantial to your experience.
Set up camp: Take the tents, chairs, and blankets out of the closet and start setting them up. Tents take up a lot of space so make sure you have enough.
Place sleeping bags and pads: Set your sleeping bags and sleeping pads into your tents.
Turn the power off: To make it more realistic, consider turning off the power supply to your home for the night so you can set up candles and use battery-operated devices just as you would in the wilderness.
Set up a fireplace: Not with real fire, but with a lamp, which you can cover with twigs and logs to make the light dimmed.
Unwind: Now you can sing songs, tell stories, and do all the other fun things you usually get up to when you're camping outside.
This type of activity will give you something to talk about with your other camping friends, and most importantly, let the kids replicate a camping night, not letting them forget how to set up a tent or use a camping chair. An indoor camping evening is definitely something both you and your children will remember, and it can even become a tradition for every winter to take part in.
If you're still looking for a way to camp outside and on the cold ground during winter, we have a great choice for you: The KAMUI sleeping pad. With an R-Value of 5.7, it will allow you to sleep comfortably even on a crisp evening. But on summer nights too, it's a great way to cushion your camping experience.
Making Smores
For kids, one of the best parts about camping is cooking around the fire and having fun creating their own campsite delicacies. Smores is undoubtedly one of the most beloved foods in American history, and for many of us, they remind us of camping when we were children.
There's nothing that says smores can only be enjoyed when you're camping, though, so the next time you're stuck indoors during winter why not cook some up with your kids over a gas stove or inside of a skillet?
Just get yourself some marshmallows, chocolate, and graham crackers and you'll be ready to go. These are a fun and easy treat you can create for the kids on the weekend to help them relive some of their favorite things about camping during the warmer months.
Big Screen Movie Night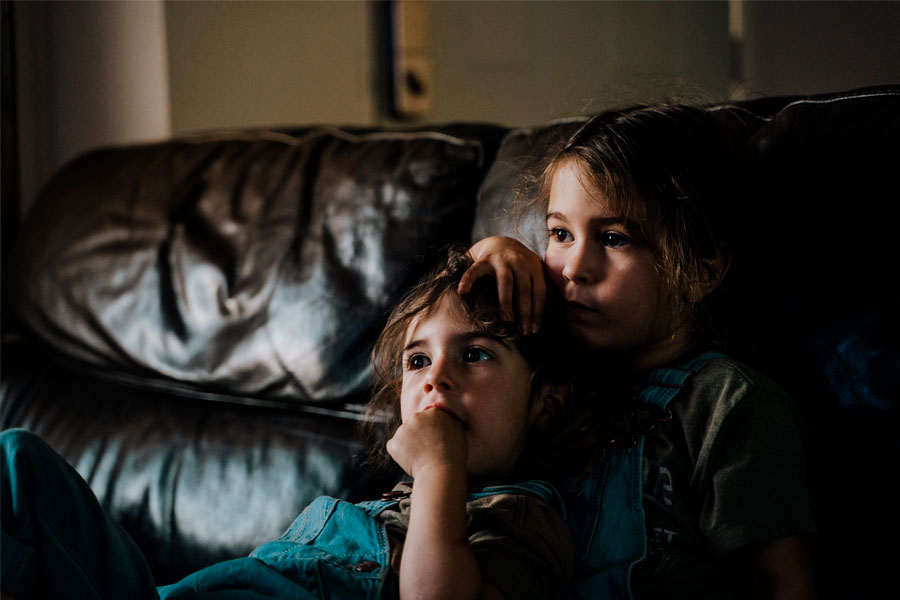 There's one thing that we don't usually get to do while camping and that's watching movies. So why not take this chance to combine the two beloved activities and use it as one of the amazing winter camping alternatives? To make your own cinema at home and get some use out of your camping gear during the winter, you can set up your camping chairs in the living room to watch some movies.
If you have a spare blank wall, you could consider projecting the movies onto there so that you get the real feel of the cinema. Have all of your favorite snacks and drinks on hand to complete the experience, and enjoy the comfort and warmth of using your camping gear indoors during winter. If you don't have an idea what to watch, here are our favorite outdoor movies.
Winter Camping Alternatives: Treehouses And Cabins
If you're still dying to get outdoors, and can't stand the closed walls anymore, but can't bear the thought of setting up a tent in winter, why not check your local area for cabins and treehouses that are available to rent out for the weekend? You can still bring along your camping gear and even set sleeping bags up in the living room if you really miss that glamping feeling.
Cabins in the woods give you the perfect chance to feel as though you're outdoors, but with all the modern luxuries that keep you warm and comfortable during the winter. Many of them come with their fireplaces and some even have central heating if you're looking for a complete luxury experience.
Conclusion
There isn't much that can compare to the fun of camping and getting outdoors into the wilderness, but it's good to know that all hope isn't lost just because it's winter outside. With so many fun ways to incorporate your most treasured camping activities inside and put your camping gear to good use even in the offseason, you'll never have to be without your favorite pastime.
We hope our guide helped you in choosing the right winter camping alternatives, and that you now have more ideas on what to do indoors when it's too cold to camp.
Resources